Today's article will be a little bit different from our previous posts. In today's article, I will compare the various aspects of WordPress Freelancer Developer and WordPress Development Agency.
As we all know, we live in a Digital world right now, so most businesses are going online. A business website or a website with a business blog is a must because there are potentially many customers on the web, and missing out on them is surely a big mistake. Having a web presence helps in promoting your brand better. It allows you to reach your target audience and engage with potential customers globally. Even if you own a brick-and-mortar business, you should also consider having a business website because no matter what you are catering to, there is a lot of opportunity for your business online in this modern time. Ninety percent of the world's businesses today use some form of digital marketing.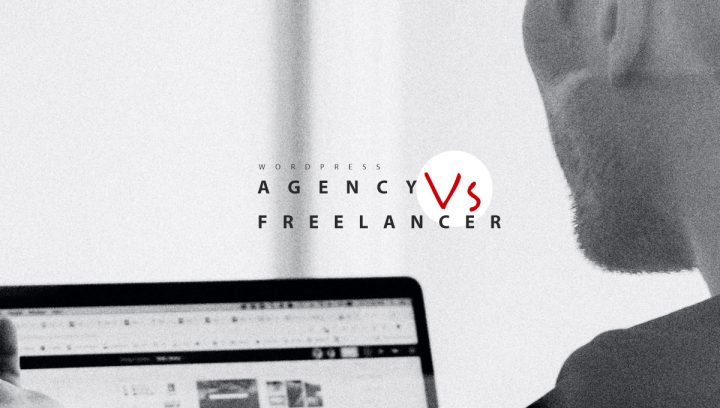 In this era of technology, creating a website has become very easy. Someone without prior knowledge of building a website can do it using WordPress. But that being said, we can't undermine the fact that creating a professional website that is robust and able to handle a lot of traffic still requires someone with great expertise in this field. One can develop a website alone, but it will require constant monitoring and maintenance. Anyone can make a simple website, but for business purposes, a website should be built keeping in mind that it can handle traffic in the future and is scalable; that can't be done without good knowledge. So, hiring someone with those skills is advisable if you are not that versed in building websites.
If you want to grow your business online and need a website but are unsure who to hire to build? A WordPress freelancer or a WordPress development agency, you have landed in the right place. I will discuss the pros and cons of hiring a WordPress freelancer and WordPress development agency. So, buckle up your seat belts, and let's ride.
First, let's see the basic differences between a WordPress freelancer and a WordPress development agency.
Who is a WordPress Freelancer?
A WordPress Freelancer is a single person having the ability to build a professional website. He works alone, and one can hire a freelancer on many freelancing sites like Upwork, freelancer.com,Codeable etc. A freelancer is a master in his domain. He manages all the work by himself. Working on the project, attending client's calls, billing and invoicing, etc. He has a fixed hourly or daily rate. He is a lone wolf.
What is WordPress Development Agency?
A WordPress Development agency is a group of professional WordPress developers. It is an organization with several developers under one hood, each with the expertise to build business websites from scratch. In development agencies, developers handle only website development, nothing other than that. Everything else is dealt with by someone else specially designated for that job. The accounts officer does billing, and dedicated project managers attend client calls. They are a pride of lions.
Now we will discuss the key points you should consider while hiring any of them and things to keep in mind while doing so.
So, who should I hire?
Well, the answer to that question is not that simple because it's not like "one size fits all". Hiring a freelancer or development agency depends entirely on your requirement and how much you are willing to spend. Your project requirement will decide your necessity. I will try to make things clear for you by talking about the pros and cons of both of them in detail.
Pros of Hiring a WordPress Freelancer
So, if you are new in business and want a website but don't have a lot of budget. In that case, hiring a WordPress freelancer is a good option because they are cheap and affordable. In the start, you have to do cost-cutting and manage overhead expenses, so if you are tight on the budget, then go for a WordPress freelancer.
Another benefit of hiring a freelancer is that they don't work according to the clock; they are quite flexible and would go an extra hour to meet the deadline. They don't follow traditional working hours.
You can hire them for a very short term. If you need only a little bit of work done, then you can have them and get your job done by paying them their hourly rate, and other than that, you can find a good freelancer online very easily.
Cons of hiring a WordPress Freelancer
Sometimes working with a freelancer becomes a headache because if you fail to hire a good one, then you will be the one who will have to guide him on every step. You will have to micromanage things, which could prove a pain. You hired him to help you out but, it will be the other way around.
Websites are not built for just a day; they are made to stay forever. If you got your website developed by a freelancer, but after sometime, some maintenance is required, then finding the same freelancer is just challenging as finding a good one because freelancers have limited resources. They are almost occupied every day with new projects. They work on a project-to-project basis. So, you will have to hire another freelancer, and since he hasn't worked on the project from the start, it will take him some time to understand the code and find the issue. So it might be a bit time and money-consuming.
Another problem with hiring a freelancer is that you don't have any legal contract with them. If they get any bigger project, they might ditch your project mid-way, and you can do nothing about that. You will be at square one once again. Everything will be needed to start afresh.
Freelancers sometimes take on multiple projects to meet their financial needs. They think they will complete each project on time, but working on many projects and extra hauling hours makes them exhausted. They get completely burned out and fail to deliver the project on the deadline.
Pros of hiring a WordPress Development Agency.
They have a good number of WordPress developers under their belt. So, if your project is big and you want a custom website, you must consider hiring them because they have great skills in building customized websites. Your project will be dedicated to specific developers and will be supervised by the project manager; you don't have to call and ask now and then about the progress of your project. You will be notified about the development on time to time basis.
If some problem occurs with your website, you can easily find the same development agency and get your job done. They have good resources and have been on the project earlier. They fully understand the code, so finding the error becomes easy for them, and they can quickly resolve it.
The major advantage of working with a WordPress development agency is signing a legal contract, so they are bound to complete the project. They can't leave it until they finish it because if they do so, you have the right to take legal action against them. They don't want to get into any legal tussle because it will damage their reputation and harm them financially. It gives you a sense of security.
They have a good number of developers, so even if something happens to your dedicated developer, they provide you with another developer, ensuring that your project gets delivered on time.
Cons of hiring a WordPress Development agency
They are expensive when compared to freelancers. But I want to clarify one thing expensive doesn't always mean that it's not cost-efficient. But suppose you don't have the budget. In that case, hiring a development agency is surely not a good option because while starting up a new venture saving an extra buck is prudent.
They have almost strict working hours. They work according to their time, so if you run into a problem at some odd hour of the day, you can't expect them to work for you. You will have to wait for their working hours. There can be exceptions, but mostly this is the case.
You can't hire them for a small job; they work on big projects. They work on long-term projects. Long-term projects are their primary source of income, and working on smaller projects won't give them the financial stability to have so many developers under the same roof.
Conclusion
So, it is quite evident from the above facts that WordPress freelancers and WordPress Development agencies have some positive and some negative points. They both are different in many aspects. It can't be said that one is better than the other, as everything else has some strong elements and some weak parts. So, it is entirely up to you to decide which will be better for your business. It would be best to determine why you need a website and how much you can spend without hampering the business operation. Considering these beforehand will help you save money and hire the appropriate one.