Minimalistic Blog & Shop WordPress Theme
Easly customize Blover theme using WordPress Theme Customizer. Discover all the possibilities.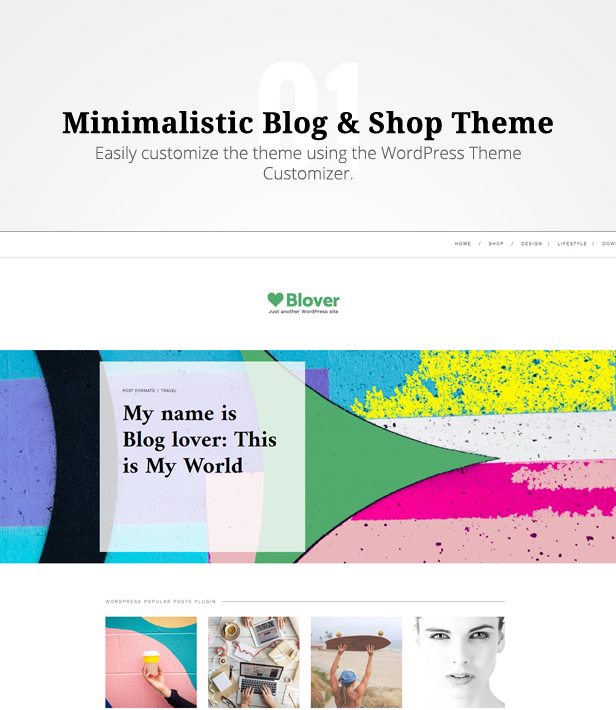 4 Homepage Layouts to Choose
You can choose from four home page layouts like: Masonry, Masonry with sidebar, Classic Layout & List Layout. Match your store & blog to you and your customers.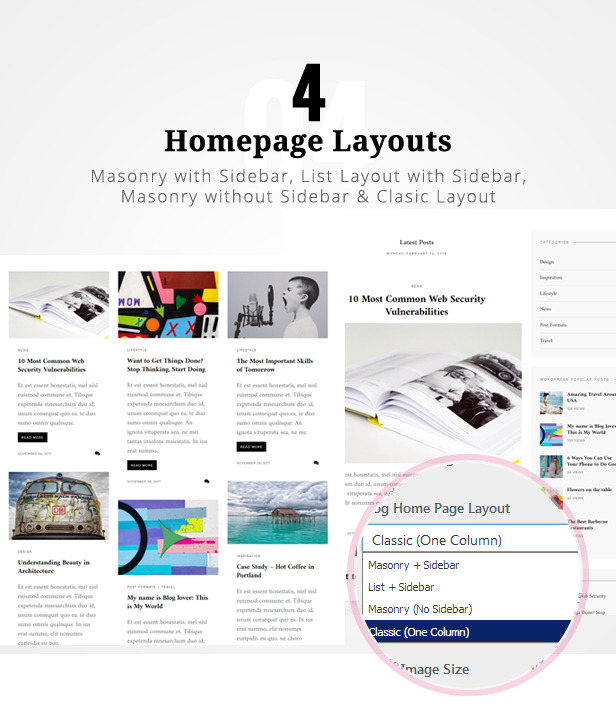 Two Shop Layouts
Show your products in the right way: full width or with left sidebar.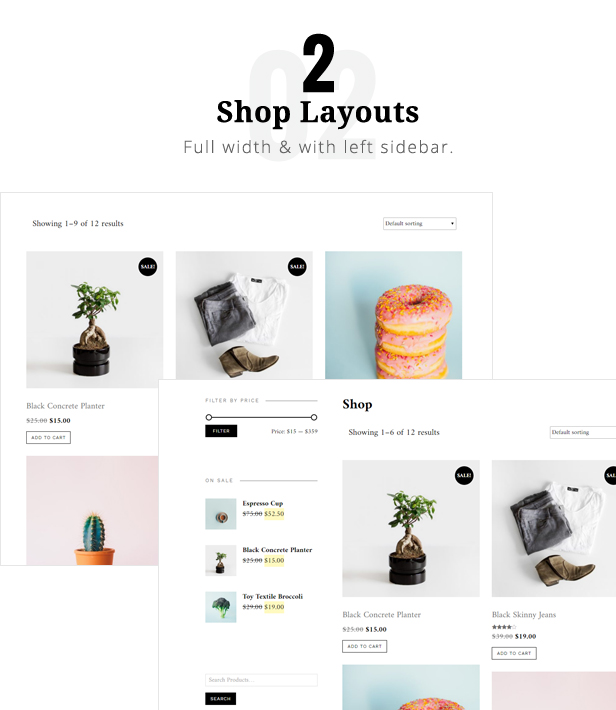 Two Menu Types
Left Main Manu with widget Area & Top menu.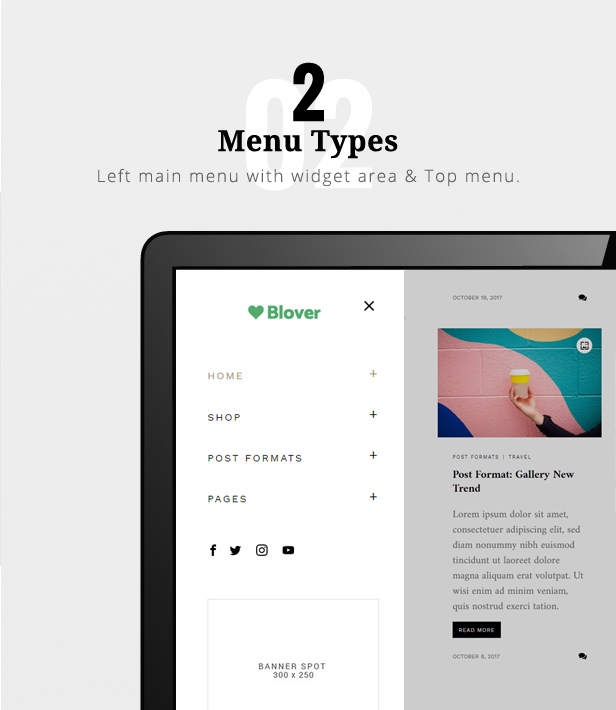 Post with or without an image
In our Blover theme you have many possibilities to display content. Post on Home Page can be with or without an image, you can display content or only titles, or even the photo itself. You have a choice. All options are available in WordPress Customizer, you do not need any specialized knowledge to do it yourself.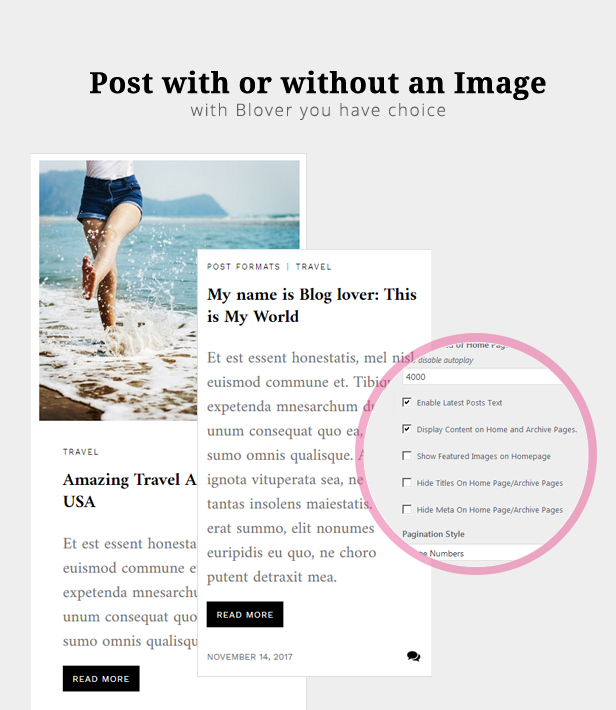 Post with right sidebar
Blover theme supports posts without any sidebar or with the right sidebar. Here you can put all widgets you need. In the 'Single Post' section you can change all available functions like Featured Image, Sidebar or Related Posts.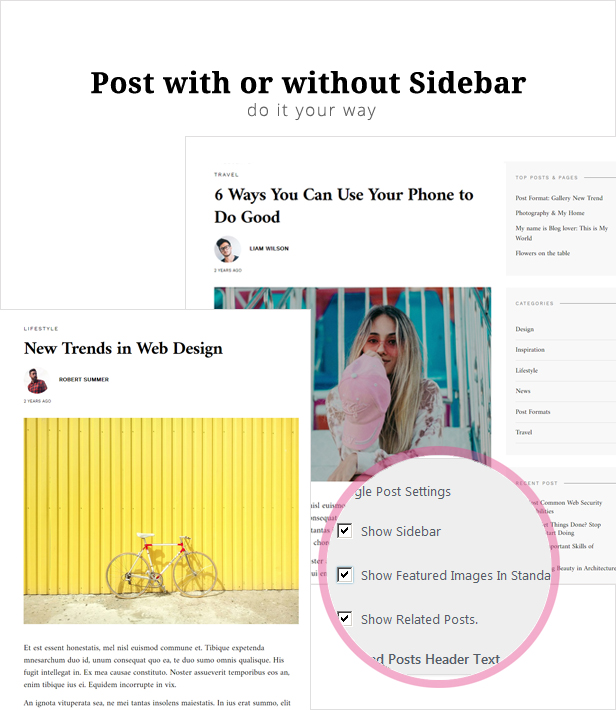 Instagram Feed Layouts
Unlimited instagram feed layout. Show your photos in the best possible way.
Three Pagination Style
You have 3 types of pagination to choose from: Load Button, Page Numbers & Infinite Scrolling. Make your blog unusual.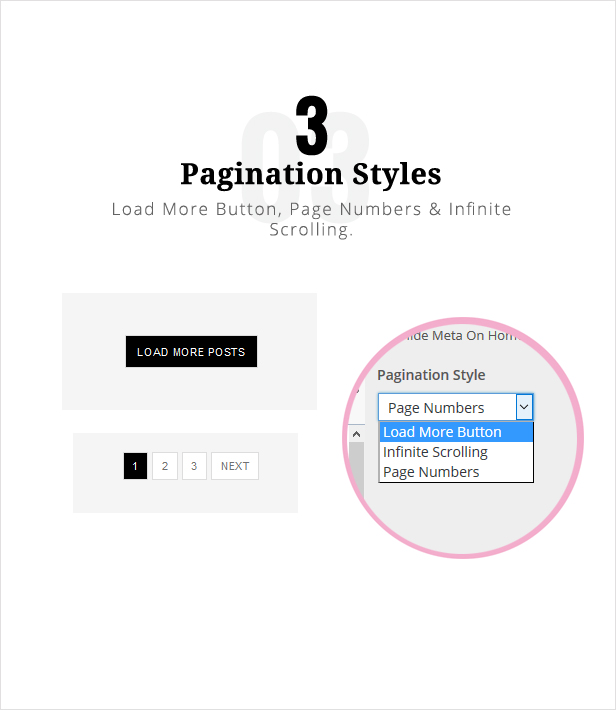 Footer for Better and Easier Navigation
You can find the Footer setting in the Footer Widget Area. Easily adapt it to your needs.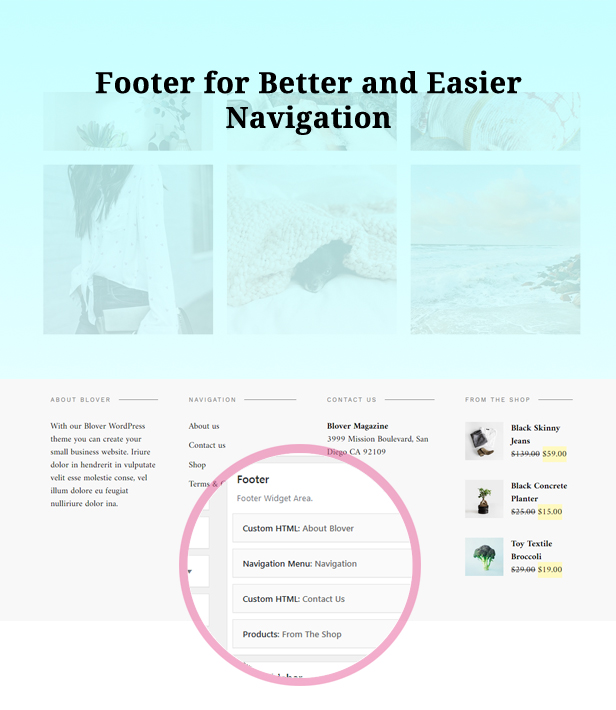 What Our Users Say
about Blover theme
Best theme! And best support possible!

Not only i love all Fat Themes themes, but their support was ALWAYS on point, helpful even when im asking moronic questions. The theme is super responsive, has so much to offer and is just for literally everybody

Great theme and queries answered super quick!

Happy so far!

Good design, great support

Good design, great support

great theme ever!!

Wow!!! Just poetic!
Changes to Blover
[1.4.4] - 2020-07-21
Fixed
[1.4.3] - 2020-07-21
Fixed
new theme check requirements
[1.4.2] - 2020-07-20
Fixed
[1.4.1] - 2019-11-29
Fixed
WooCommerce product gallery css issue
[1.4] - 2019-11-28
Added
support for WooCommerce product gallery
[1.3.4] - 2019-10-07
Fixed
[1.3.3] - 2019-01-28
Fixed
comments box overflowing article in some cases
[1.3.2] - 2019-01-23
Fixed
link color option regressions
[1.3.1] - 2019-01-21
Fixed
small link color option issue
Added
[1.3] - 2019-01-18
Added
Fixed
[1.2.3] - 2019-01-16
Changed
Screenshot changed to fit updated image policy on wp.org
[1.2.2] - 2019-01-02
Fixed
ajax cart count update issue
[1.2.1] - 2018-12-21
Fixed
excerpt length option not working
[1.2] - 2018-12-20
Added
option to display excerpts on blog and archive pages
Block Editor (Gutenberg) compatibility tested
Liveblog plugin support tested
Fixed
[1.1.6] - 2018-10-28
Changed
tested up to 4.9.8 (WP version)
author urls
[1.1.5] - 2018-07-10
Changed
Do not show social menu when empty
[1.1.4] - 2018-06-03
Added
Option to not load Google Fonts from Google servers (GDPR issue)
[1.1.3] - 2018-05-28
Changed
Compatibility with gdpr plugins improved
[1.1.2] - 2018-05-17
Changed
Description improved.
Tested up to 4.9.6
Compatibility with WP GDPR Compliance plugin added
[1.1.1] - 2018-02-13
Changed
Internal build process changed.
[1.1.0] - 2018-02-13
Fixed
PHP 7.2 compatibility.
Broken Read More tag
[1.0.1] - 2018-02-04
Fixed
[1.0] - 2017-11-20
Added