The "About Me" page of a blog or website is a personal introduction to your readers. Your profile page so to speak. It's the space just left of center stage where curious visitors go to find out more about the person behind the product, story, or brand. Your "About Me" page is also a very important part of your content marketing strategy. See also How To Make Money Blogging.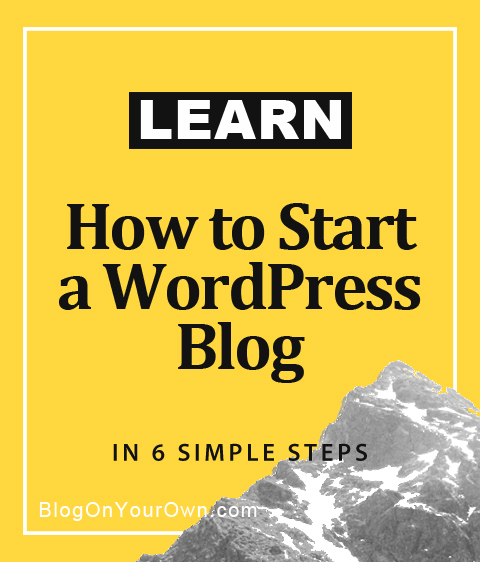 Much effort goes into every aspect of starting a blog. And every part of the best blog needs to be dealt with individually. But the final outcome has to come together as a cohesive end product. That said, your "About Me" page needs to get just as much attention as you gave to:
What is an "About Me" page?
First of all, it's an introduction
The "About Me" page is not the first page visitors usually land on. But it is often the page they will go to in order to find out how authentic your site is, who the person, or people, are behind the blog, and of course, what qualifications or experience you have on your topic.
About me page – It's an essential part of your content marketing strategy
If I read a blog post and like it, I almost always move on to the "About Me" page. Why? Well because if the content is interesting, well-written, helpful, or humorous, I want to see who is behind it. It's just a natural curiosity we humans have. And if I'm on a site that I can't quite "feel out", I go to the about me page to see if I can connect more with the brand or content by figuring out what drives the people behind the page. The about me page will tell me whether my instinct was right or wrong. And judging from the about me page I will decide if I trust that specific site for whatever reason. What to do to make your content interesting? Read: what to blog about and 99 ideas what to write about.
It's a description of what you offer your audience in terms of both service and value.
People want to know the brand they support has the same values they have. By supporting self-starters, go-getters, and small businesses that we align with, we create a community as consumers. And if your about me page is done right you create a solid client base of people with the potential to become loyal customers and subscribers.
About me page – It's a Call To Action (CTA)
Every opportunity you get to entice people to subscribe to your mailing list, or to purchase what you have to offer, must be utilized. The about me page is an ideal place to lay out all the aspects of your business and services to encourage people to click the subscribe button or click to receive bonus materials that not only introduce your product but also give your visitors useful and practical tools and info.
It's also a road map
This page should also tell people where to find you on the world wide web. And also in the world wide world! It should be a guide to what they can find on your personal blog or site, where else they can follow you, and how they can share your content.
How to Compose An About me Page That Hits All the Right Spots
Make it about your audience
Are you appealing to B2B or B2C? Your About Me page should be about your audience as much as it is about yourself. What interests do they have? What problems need solving? Is there a service to provide or a course to teach? So, contrary to what it sounds like, the about me page is less about you and more about what you can do for your audience.
Make this page an asset not a liability
An "About Me" page can be as detrimental as it is constructive. You want the page to be 100% accurate in terms of grammar and spelling yet you also want the tone to be friendly and conversational, without sounding too casual. The following "Tips and Guidelines" can be used to check off all the relevant points that must appear on the About page.
Grab a pen and notepad. Let's go!
Important "About Me" Guidelines to Follow
1. The 4 H's of an About Me page
An About Me page should have:
Humor – If your tone comes across with humor people will relate immediately. But don't try to be funny or tell jokes. There's a difference.
Humility – It's important to present your CV in an informal way that creates a balance between showing people your qualifications and experience without sounding like you are trying to sell yourself.
Honesty – People reading your About Me page want to know who you are when you're not at work. Let people know about your passions, challenges you've faced, how you got to this point, and what you want people to get out of your blog or business.
Helpful solutions – Are you providing content that educates, informs, reviews, or entertains. Is the content of value in some way? Often articles talk a good talk but add no real substance, and the reader leaves the site and forgets about it just as fast. Define your audience and then you can research what type of information they are after. Can you answer a question, solve a problem, provide a product to make life easier, or provide a service (like consulting, coaching, delivering, or caring)?
About me page example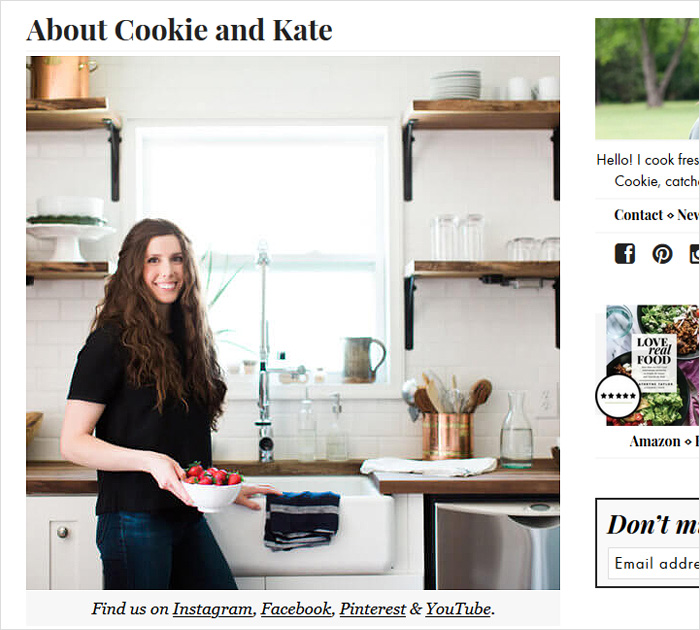 Cookieandkate.com – this about me page hits all the right spots. Good images, personable intro, clear directions, and includes a CTA. There is a short bio in the top right corner but also a lovely "Welcome Message" below the main image. And Kate's written content is infused with a wonderful sense of humor. Explore other popular food blogs.
2. The 8 Point Checklist for a Stand-Out About Page
1. Decide if you want to use first or third person

Decide from the start if your bio will be written in first person or third person. And stick to that for the entire about me page.
2. Keep it short

Keep your bio short and sweet. Don't tell your whole life story or try to include every step of your journey. (Keep that for content.)
3. Be authentic

Keep your tone authentic. This means when you read your draft out loud, it should sound like you are talking. It should sound natural, not stilted or generic.
4. Include an image

Add a photo of yourself. If there is a professional photo of you somewhere else on your site, let your photo on the about me page show you in a different scenario. And vice versa.
5. Update regularly

Return to your about page regularly to keep it updated. Add to your bio if you have completed new courses or cool assignments.
6. Include links

Include any links that can showcase projects you have completed for clients since you've had the blog. Add testimonials of one or two happy customers. Alternatively, if you have a long list of testimonials, you could dedicate a separate page to them.
7. Organize all information

Your "About me" page should have at least 3 sections.
One section is your bio

. This is a short piece introducing your interests, your qualifications, and previous experience. But it must be a summarized version. It's usually good to add your picture to this section.
The next section can be your backstory. Here you can add more detail and some humorous anecdotes (but keep it short and avoid jokes). The backstory usually leads up to how you came to be in this present business or blog.
The last section will be how to contact you and where you can be found around the web.
8. Check twice

Most important: Check your work, your spelling, and grammar. Then check again. And again. If there is one thing that turns people away, it's a mistake on your about me page. What this conveys is that you don't pay attention to detail. It also makes people doubt if you really are the face behind the blog. Because, again, why would you be so careless to not find and correct mistakes on this very important piece of content marketing strategy.
3. The 5 W's and an H of the About Me page
Most of you will be familiar with the "what, why, when, how, where, and who" formula. And applying this to your about page is a great way to make sure you add all the relevant info your users will need.
By making sure all these questions are answered within the about me page you are giving your visitors a pre-tour of your site. This saves them time because everything they want to know should be found on this page, in summarized form.
Go through these questions or compile your own. Jot down your answers and you're halfway there. Once you have all this info down you can shorten it, personalize it, and add images.
"What"
What is your name?
And What do you do?
Or What is your ethos?
What do you have to give your audience?
What experience do you have?
"Who"
Who are you?
Or Who is this blog written for?
Who will benefit from this content?
Who can you help? – recognize and call up your target market
"When"
When did you start your blog/website/business? This can be your backstory, briefly describing your journey from the start to the present.
"How"
How did you get to this point?
Or How can you help clients?
How can you be contacted?
"Why"
Why can you help your readers with the issues they have?
Or Why should they choose your business over your competitors?
Why are you an authority in this niche?
"Where"
Where can people reach you?
Or Where are you based?
Where do you deliver to? (If applicable)
Where do you come from?
Where are you going? (In terms of your goals and visions for both your blog and business.)
By jotting down the questions you get from using the "wwwwwh" formula, you see your entire strategy laid out before you. Not only are you creating a great page to connect with your audience from, but you also give yourself a clear view of what will be presented, and it becomes easier to see if you have left anything out.
The About Me Page Format
If an about me page feels like an afterthought when you start reading it, it portrays a lack of insight and perhaps inexperience on the creator's part. The about me page is a perfect opportunity to introduce yourself, connect with readers, promote your "Thing". Use it as a call to action. Leave contact details, subscribe options and introductory offers.
Your format will depend on the type of blog you have. This example below shows that an about me page can be kept simple yet still give readers all the info they need.
The About Me Page – Example 1
Thesupercarblog.com – The text is short but covers exactly what people will get from the Supercar news blog. There are images of the team. The sidebar shows updated and trending articles. There are share buttons just below the title. The layout is uncluttered.
The feeling you get is that these guys aren't trying to impress you with a whole lot of hype. They have confidence that their content and visuals will not disappoint. Even though men and women are into supercars, this site is geared at guys and written by guys. It's interesting to me that I "felt" it straight away. But it was in no way exclusively for guys. So it struck a perfect tone. Are you interested in other male blogs? Check out my article.
Compare this to a typical best mom blog "About Me" page and you'll see what I mean.
Example 2 – The About Me Page
You may also like
This example of Pat Flynn's Smart Passive Income business blog is another example of how less is more. The main focus is on the audience. And it is only in the next section below this welcome that he introduces himself.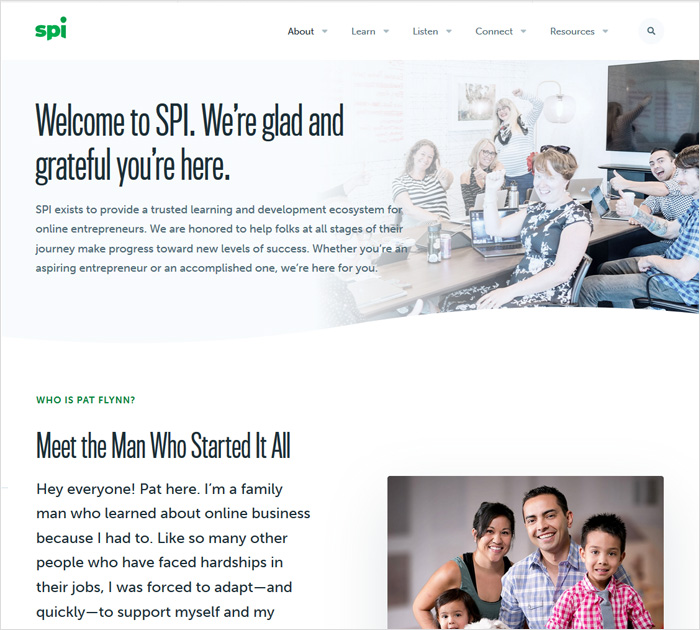 This is followed by the backstory and a link to his book.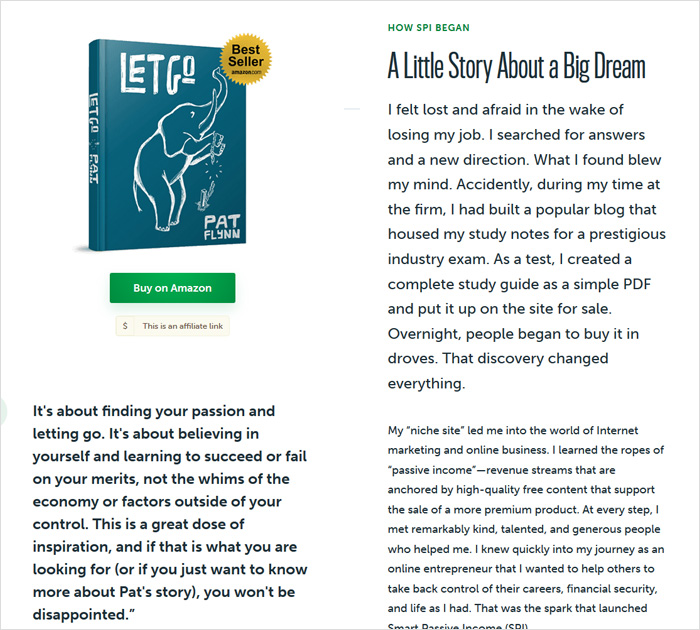 Next comes the core values of his business.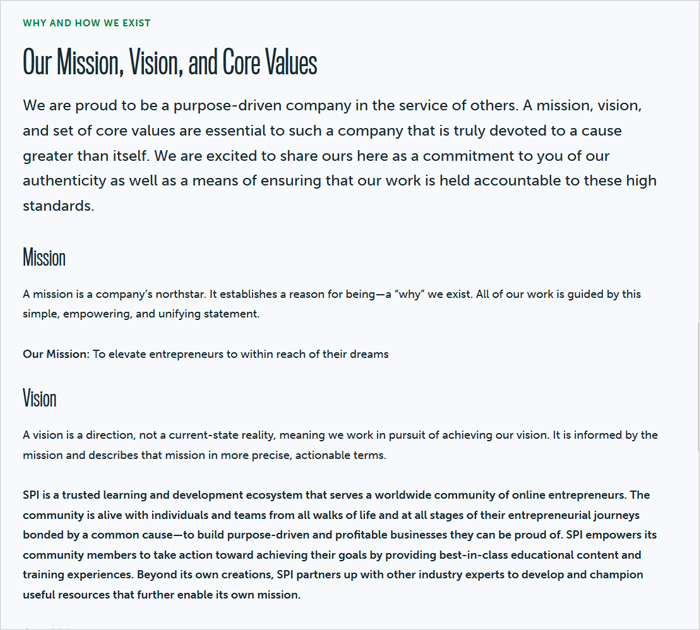 Then he introduces his team.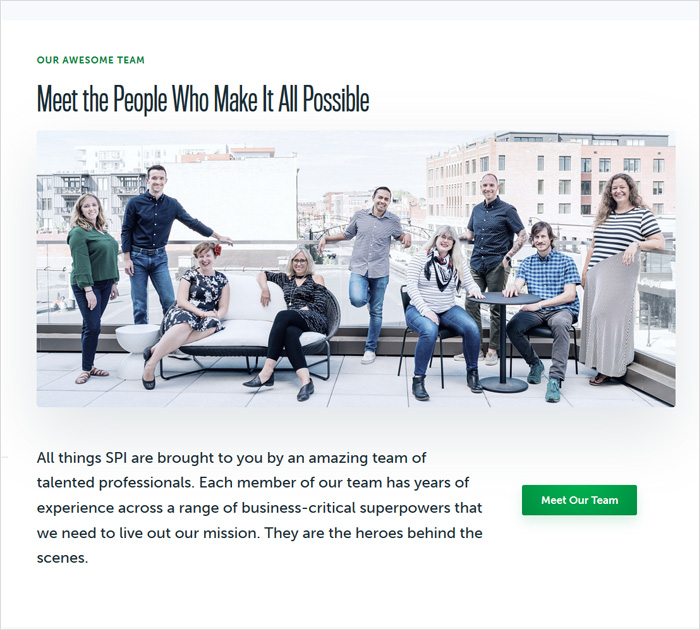 SPI's page is aimed at reassuring the potential clients that they are in the hands of a professional team geared to help them make their marketing dreams come true. So the emphasis is on values and trust and results. It portrays an energetic, dynamic team. Success!
Now compare this to The Blonde Abroad's "About Me" page. This blog is aimed at travelers but specifically targets solo female travelers (read more about Top Travel Blogs and Bloggers to Follow or the Best Blogs for Women.) The about me page sparks wanderlust and fun and freedom from the 9-5 grind.
The About Me Page – Example 3
Theblondeabroad.com – This popular blog is all about the visuals, and proves that a picture paints a thousand words. When you scroll through Kiersten's about me page you literally want to pack a bag and hit the road!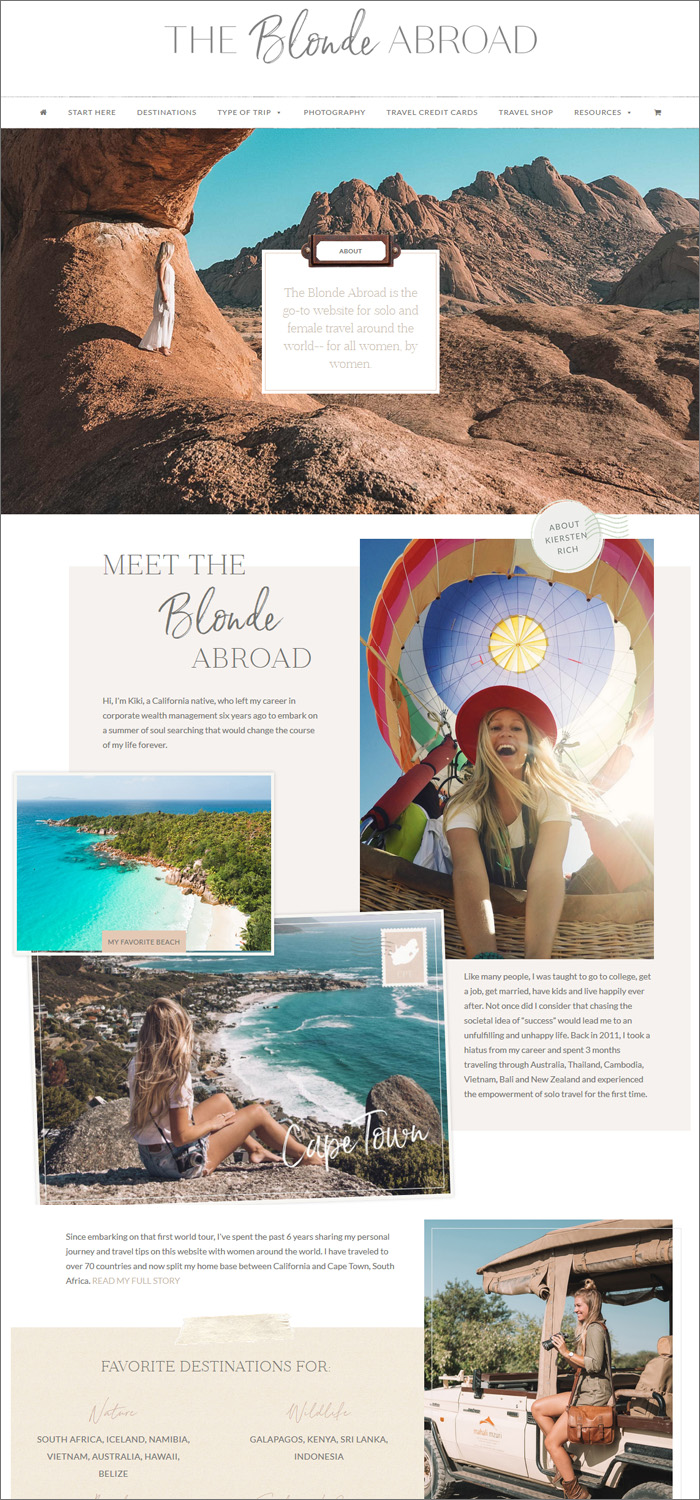 The page is vibrant and visual but also gives the reader links to various places on the blog, tells you where you can follow her next adventure from, and leads you to a CTA. The tone is friendly and helpful.
---
It's Not About Me It's About You
I hope this gives you everything you need to completely crush your about me page. Let's do a quick recap.
Your about me page is:
An introduction to both you and your brand.
An important part of your CMS (content marketing strategy).
A description of what you offer your audience in terms of both service and value.
A Call To Action!
A road map of your site.
If you have any questions or suggestions or need help with your blog's design and development please feel free to contact me or leave a comment.