8 post formats
Boyo theme supports 8 post formats. All of them have been created with one purpose in order to make your content even more expressive. A simple, readable form will allow the reader to focus only on the content you want to convey.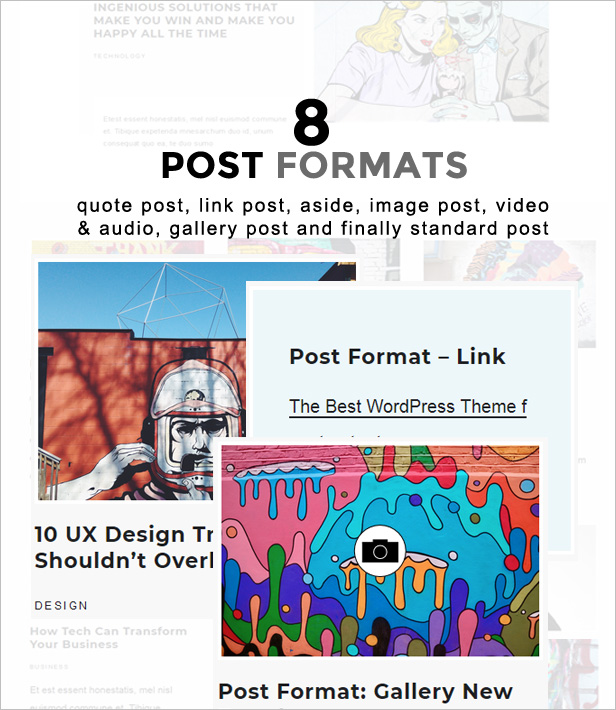 2 homepage layouts
Our theme supports 2 different layouts of the main page: Three column layout and classic one column. You can easily customize your site to your needs without coding knowledge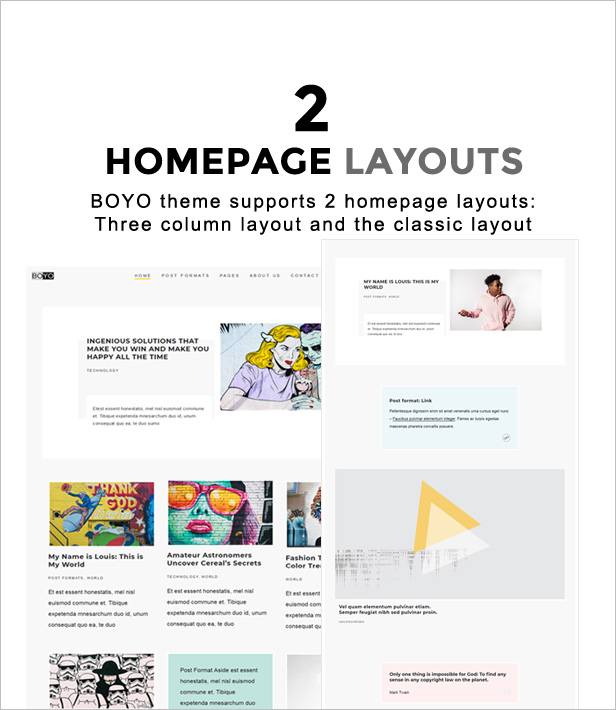 Many color options
You want to distinguish yourself from others, you want to have a unique, original website. This option will allow you to do this. Boyo theme gives you the oportunity to change the background color on both the home page and the posts page. Show yourself, create a page showing who you are.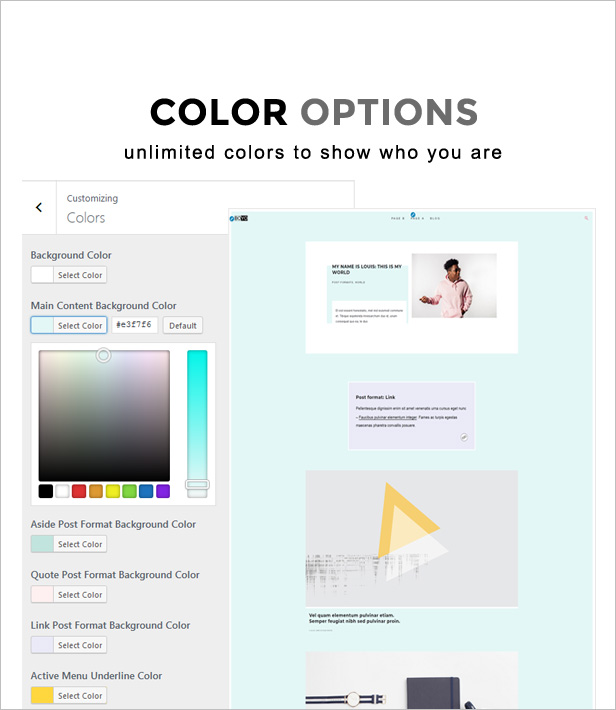 Sticky post
Highlight your posts using sticky post. BOYO theme has no sliders that disturb, disrupt the flow of the site. Boyo is designed for all Internet users. A calm, static layout will allow anyone to read the content on the site calmly. Boyo is designed for everyone.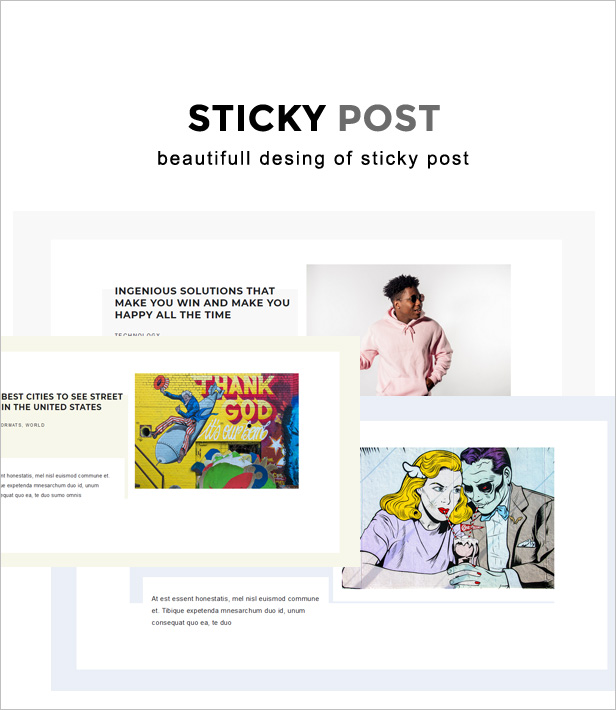 Perfect, clean design
Readable font, large spaces, clean form, minimalism and minimal design is a characteristic of our theme. Reading comfort is one of the most important aspects to attract the user. The appropriate font size, spacing between letters and lines. It all affects whether the user stays on your site. Boyo theme has been designed to provide the greatest comfort to the reader.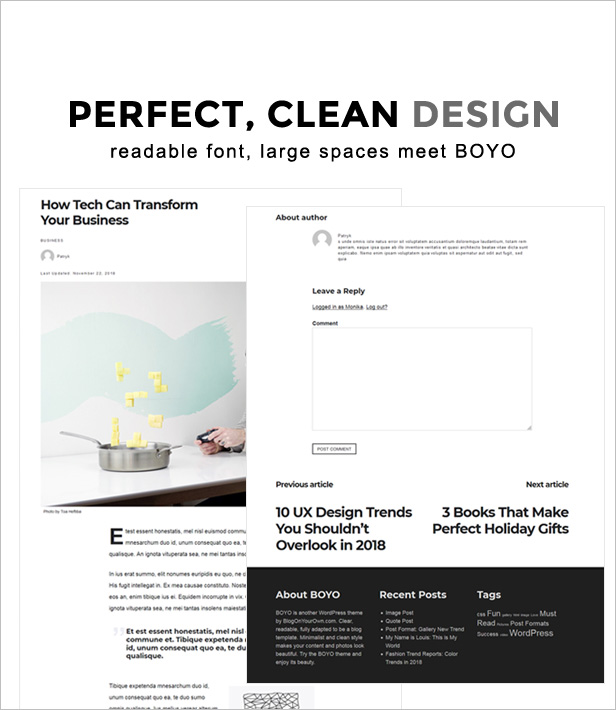 One click demo import
If you want your website to look the same as the Boyo theme demo, just click 'one click demo import' button and you're done. All settings will be imported into your website. You can start blogging quickly and easily without any hassle.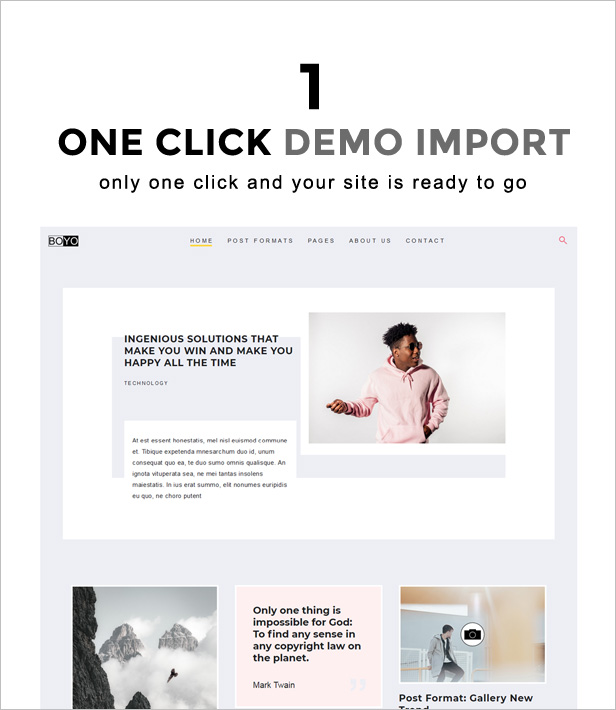 Responsive design & much more
All our free WordPress themes have responsive design, which means they look great on any devices.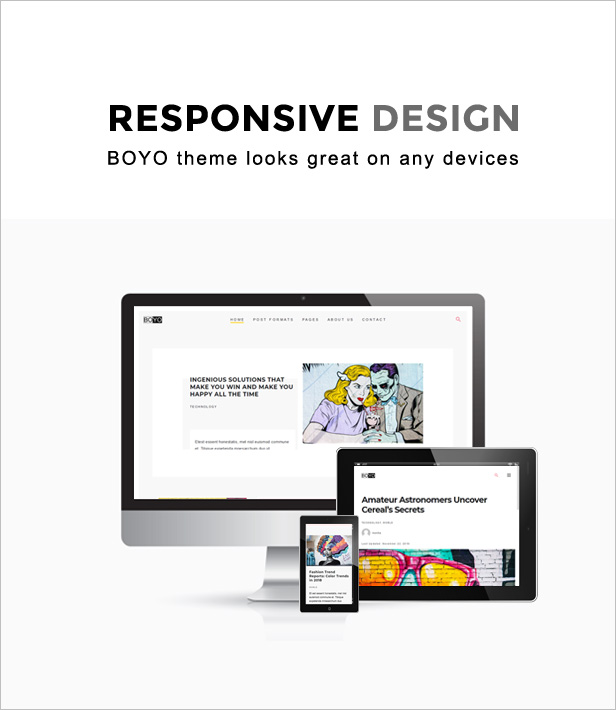 Changes to Boyo
[2.0.1] - 2019-09-13
Fixed
Submenu css background issue
[2.0] - 2019-09-13
Added
Full AMP support in standard mode
wp_body_open support
Fixed
Removed
[1.2.1] - 2019-01-18
Changed
All images in demo import replaced with placeholder image
[1.2] - 2019-01-02
Added
[1.1] - 2018-12-18
Added
Block editor (Gutenberg) related front-end styling
[1.0.3] - 2018-12-13
Changed
Tested up to 5.0.1
simplified archive.css content
Fixed
demo import xml file
archive layout when nothing found
[1.0.2] - 2018-11-30
Changed
Readme.txt updated
Alignment added for image widget
[1.0.1] - 2018-11-27
Changed
Screenshsot updated
Demo data
[1.0.0] - 2018-11-26
Added