Homepage Slider
Homepage Slider displays Sticky Posts with Featured Image. Loose supports various configurations of the slider. All options are visible in the WordPress Customizer.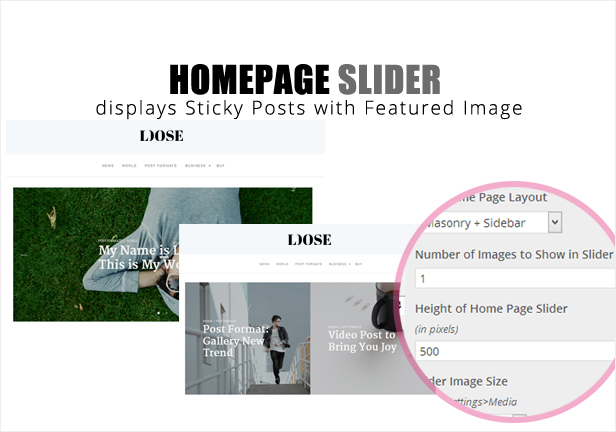 3 Homepage Layouts
Loose supports 3 different homepage layouts: Masonry with or without Sidebar and List Layout. Thanks to that you can adapt your website to your needs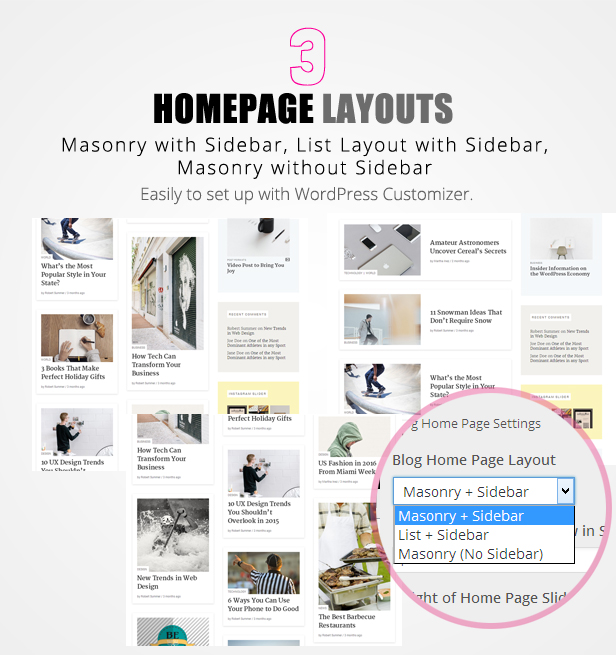 2 Menu Types
Loose supports two types of menus. One of them – left menu is the main menu that appears on mobile devices, the second – top menu is a supplementary menu, helps to insert additional content on large devices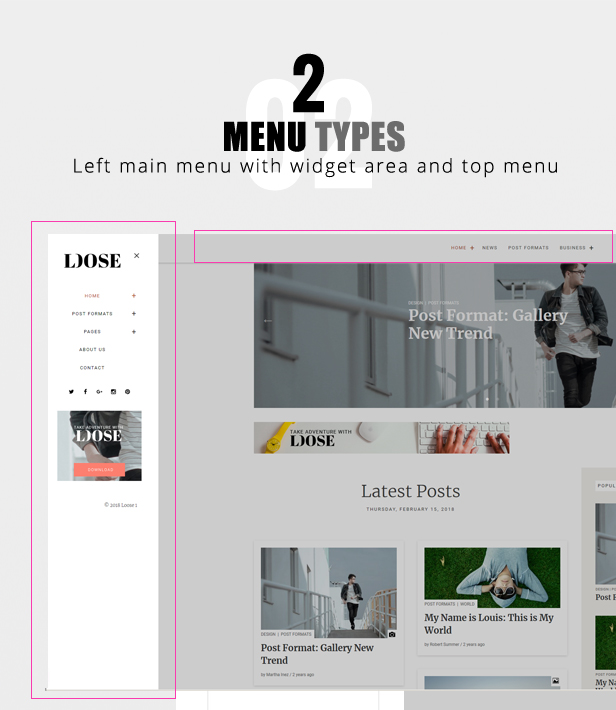 Color Option
Many color options will allow you to create very unique site. In our theme you can change the color of the header, background and sidebar. You can also give the right mood to some types of posts by changing their background color.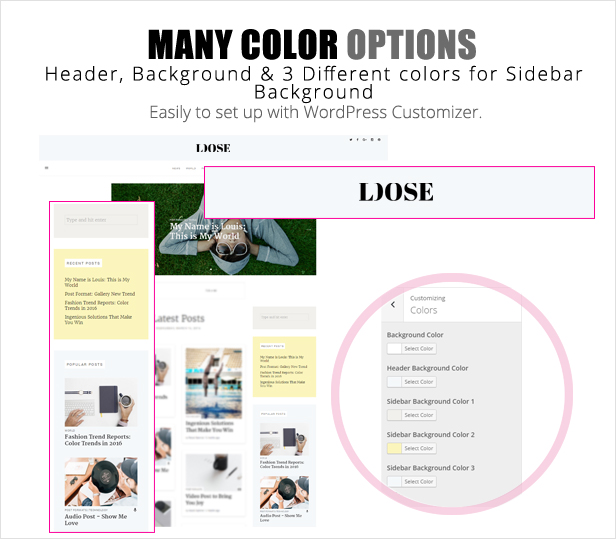 Different width on Homepage
What does it mean? It's just about how your home page and archive page are displayed. With Loose Theme you can specify width of your page. Decide what your site should look like.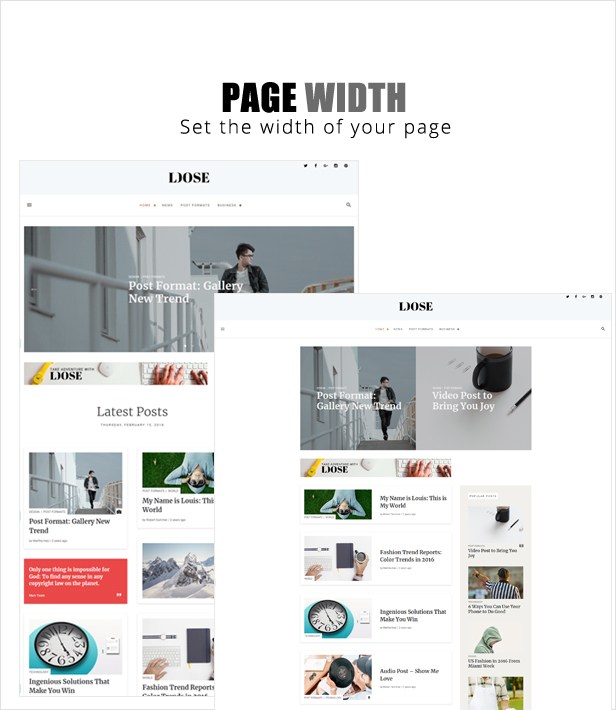 Post Display
Show your content in an interesting way, encourage the user to interact, stand out from the crowd. With Loose Theme it's not difficult. Loose has various options for displaying homepage posts. You can only display the title of the article, you can add excerpt or content. You can view only the featured image. You have a choice. Choose one of them – it's easy.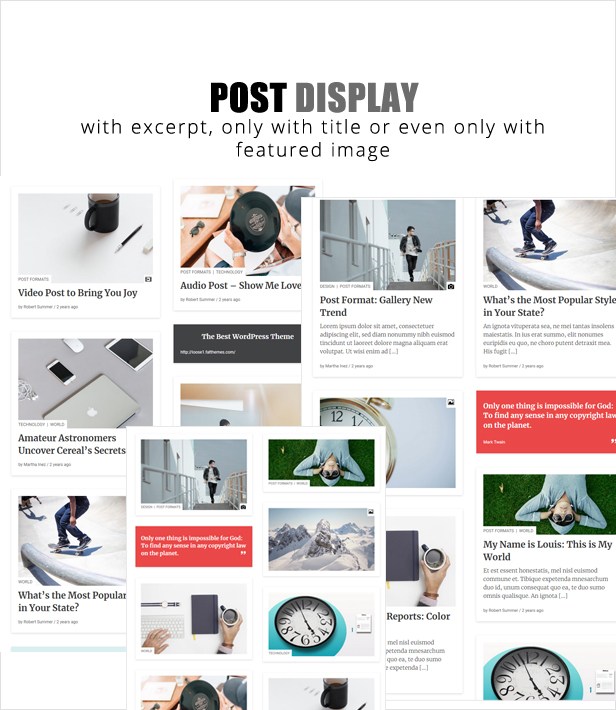 8 Post Formats
Our WordPress theme supports 8 post formats. All in beautifull design. Each type of post designed to be different and visible.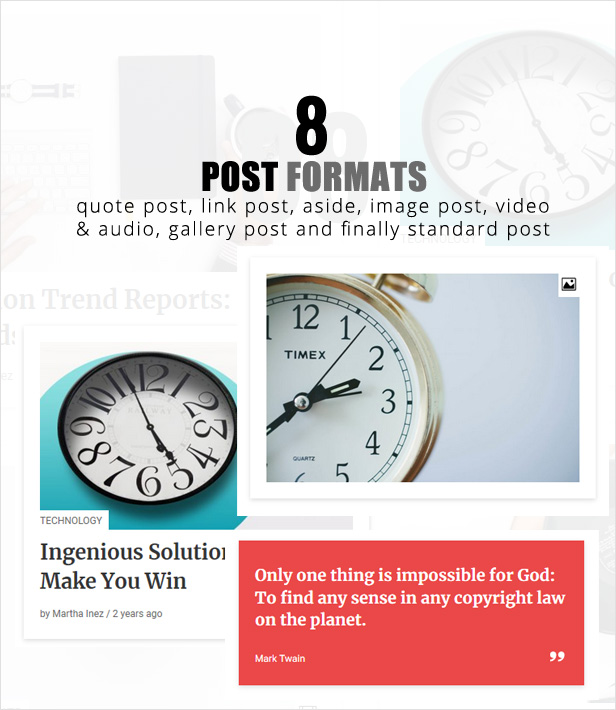 Responsive Design & Much more
Loose is fully responsive and looks great on any device.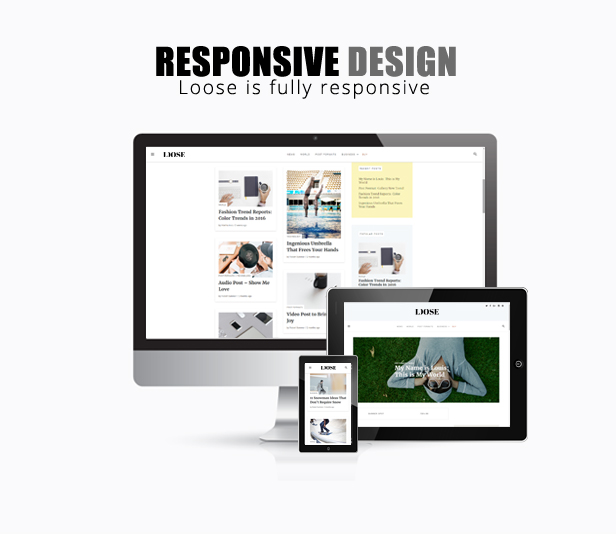 What Our User Say
about Loose theme
Absolutely Brilliant

I find this Loose to be an amazing theme, especially for a free one. Coupled with Elementor, this theme allowed me to do absolutely everything I needed. And FatThemes have been helpful and reactive when I had questions, even though this is entirely free. Very glad of my experience. Thank you.

One of the best themes you can get

I am really glad that I found this theme. It is very good looking and highly functional out of the box, but can be well customized if needed. Also the author is extremely helpful.

Great theme and even better…

…support :) Theme looks awesome and is highly customizable. And if any problems occur you can count on great support team! Keep going guys!

My Loose Theme Review

Loose Theme is a very user friendly, easy to modify theme. Looks good and I have received several complements from people who have viewed my website saying it looks good, and easy to navigate. Fat Themes (developers of Loose) have an excellent support team that is readily available to respond to user queries and respond in a timely manner! Overall, the service is remarkable.

Awesome Design

Nice design…!

Great support

Great support from Mr. Patryk Kachel Even though I'm complaining about a bugs in a free theme, and it occurs only on certain device, he took the case very seriously. He did a lot to recreate the bugs, and fix it accordingly. Not more than a week that the newest patch is updated to WordPress repository. Even after pushing the patch, he still updated me with the status, and asking for my confirmation about the bugs. Two thumbs up!
Change Log - Loose
[1.3.6] - 2022-09-30
Fixed
[1.3.5] - 2021-01-05
Fixed
image and gallery captions
[1.3.4] - 2020-09-22
Fixed
displaying issue in gallery block
[1.3.3] - 2019-10-07
Removed
recommendation for using Instagram Slider Widget
[1.3.2] - 2019-03-14
Changed
Removed
Shareaholic removed from recommended plugins
[1.3.1] - 2019-01-29
Fixed
Block editor (Gutenberg) and Slick gallery compatibility issue
[1.3] - 2018-12-20
Added
support for AMP plugin
Block editor (Gutenberg) support
[1.2.11] - 2018-10-28
Fixed
[1.2.10] - 2018-06-04
Added
Option to change link color in content
Fixed
Regex syntax to handle quote post type
[1.2.9] - 2018-06-03
Added
Option to not load Google Fonts from Google servers (GDPR issue)
[1.2.8] - 2018-05-28
Changed
Compatibility with gdpr plugins improved
[1.2.7] - 2018-05-20
Added
Compatibility with WP GDPR Compliance plugin added
Changed
Tested with WordPress 4.9.6
Fixed
Fatal error when no featured images in list layout.
[1.2.6] - 2018-04-18
Fixed
Fatal error when no featured images in list layout.
[1.2.5] - 2018-04-12
Fixed
Categories issues in posts.
Changed
Tested with WordPress 4.9.5
[1.2.4] - 2018-02-13
Fixed
Post formats layout issues.
[1.2.3] - 2018-02-08
Fixed
[1.2.2] - 2018-02-07
Changed
Tested up to 4.9.4 (WP version)
[1.2.1] - 2018-02-06
Fixed
[1.2] - 2018-01-26
Added
Multiple post formats.
Possibility to use excerpts.
[1.1.4] - 2017-10-18
Added
Double text domain issue solved
[1.1.3] - 2017-10-16
Added
Option to not show top menu when scrolling
[1.1.2] - 2017-08-15
Fixed
Social icons styling in widget areas.
Navigation not shown properly in iOS/MacOS.
SVG issue in chart plugins.
[1.1.1] - 2017-07-04
Fixed
small translation issue in footer.php
[1.1] - 2017-06-28
Added
Option to not show sticky posts only in slider
Fixed
Logo size issue in menu and footer
Messed categories in slider
[1.0.4] - 2017-04-19
Changed
[1.0.3] - 2017-04-09
Added
[1.0.2] - 2016-12-21
Added
Footer link to author website.
Removed
[1.0.1] - 2016-12-21
Fixed
[1.0] - 2016-12-21
Added