"Without promotion, something happens……nothing" – Quote by P.T Barnum – American showman and businessman.
Do you want to gain a solid target audience and increase traffic? Convert leads to sales? Establish a loyal customer base? Then you need to know how to promote your blog. The good news: only a small percentage of bloggers promote their blogs to full effect. So even new bloggers get a chance to make money from blogging if they make blog promotion a priority. And do it right!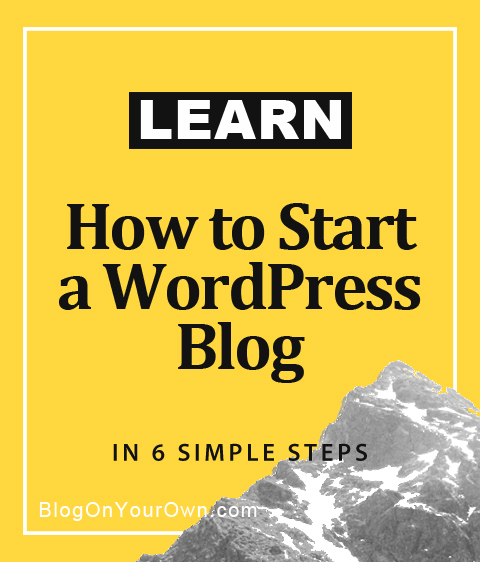 Blogs get perceived as a trustworthy and accessible form of digital content marketing. Your blog promotes brand awareness, products, and services. BUT you need to promote your blog if you want to get to your target audience and increase traffic. How you promote it is crucial to the success of both your blog and your business.
Today I'll introduce you to effective promotional blogging tools. I'll show you how to promote your blog using email marketing and social media platforms like LinkedIn, Twitter, Pinterest, Facebook, YouTube, and Instagram.
Bear in mind that the terms marketing and promotion go hand in hand.
Let's begin. And I'm going to kick off with this question….
Disclosure: Please note that some of the links below are affiliate links and at no additional cost to you, we'll earn a commission. When you purchase a product or service using one of our affiliate links, the company compensates us, which helps us run this blog and keep our content & themes free of charge to you. Know that we also only recommend products we personally stand behind.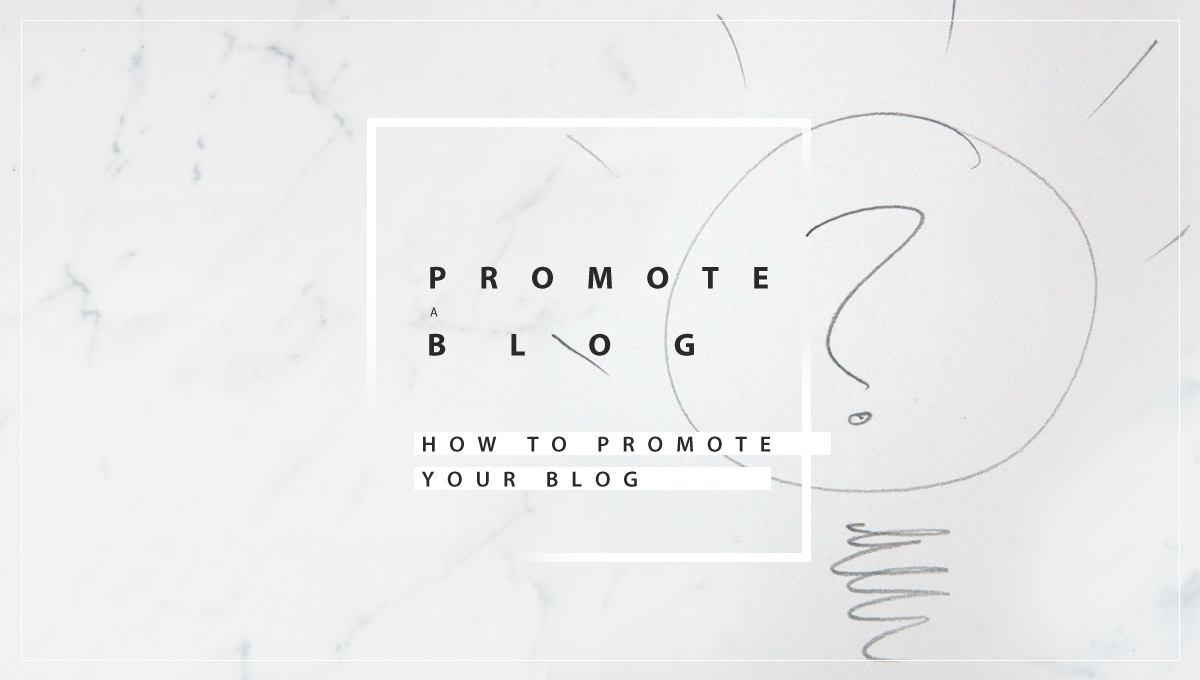 When is it time to promote your blog?
The short answer is, as soon as possible! Start creating hype before your blog gets published. But be careful. Promote too soon, and people will get bored waiting for your blog's "Grand Entrance." Once you go live, make sure readers who find it organically or through your promotion tactics are not disappointed. You don't want to lose readers before you've even started!.
It's important to get all your ducks in a row before you start your first promo campaign. Remember, like fresh content, you need to keep your promotional posts fresh, fun, and catchy. Repost and repurpose content, automate publishing schedules, and create visual content for stronger results. Plan your promotional strategies as you would your content marketing strategies. In fact, promotion is a big part of content marketing.
Before publishing, create positive hype from existing followers on Facebook and Instagram. By building interactive audiences, relationships form. And your target audience becomes more receptive.
Some of you will start a blog first and follow with a podcast or YouTube channel. Sometimes a blog gets added to an existing website. But, to keep it simple, let's assume you have none of the above, except maybe a Facebook page or an Instagram account.
Why is it so important to promote your blog?
Creating kick-ass, relevant, trustworthy content is only half the job. The other half is promotion. You need to promote your blog to:
Get traffic from new audiences.
Bring return traffic.
Get backlinks to your site.
Encourage social media shares.
Get people to opt-in to offers and sign up for emails and newsletters.
Create brand awareness and market your products.
What must I do before I promote my blog?
So finally, your blog, that's been in the pipeline for ages, is ready to get published. You've set up social media accounts with Pinterest, Instagram, Twitter, and Facebook. You've invited your Facebook friends to like your page. And every day you gain a few more followers on Instagram, Pinterest, and Twitter. This should mean you have:
And completed the following:
Chosen a blog theme,
Designed your blog to be user-friendly across all devices, especially mobile devices. It must be easy to navigate, scannable, and easy to read.
Added relevant social media share buttons, pop-ups for subscribing, and other necessary widgets.
Optimized your blog with plugins for SEO, speed, and security.
And if you're really on top of things, you'll also have a blog calendar for upcoming content, and another calendar with your content promotional workflow strategy, including promotion release schedules.
Here is a list of platforms, free and paid, that help you with project management and workflow.
Monday (monday.com)
Workzone (workzone.com)
Project Manager
Basecamp (basecamp.com)
Bitrix24 (bitrix24.com)
nTask (ntaskmanager.com)
Allthings (allthings.com)
Project Insight (projectinsight.com)
Hygger (hygger.com)
ProjectLibre (projectlibre.com)
Before I take you through 5 main blog promotion techniques; here are a few statistics on blog content marketing and promotion.
Study the market – What are your competitors doing?
Your blog's layout, the format you choose, the style you use, all these aspects add to promoting your blog. So promotion starts before you actively put out promotional junkets!
Use statistics to gain insight into what works, how users react to blogs, and what bloggers themselves do to promote effectively. The stats below are from OptinMonster.
The Blogging Landscape:
This is what you have to work with:
409 million people viewing 20 billion pages each month
70 million posts published every month by WordPress users
77 million comments each month
71% of blog posts are in English
77% of internet users read blogs
US internet users spend 3x more time on blogs than emails.
Blog promotion – Curate posts that will get found by search crawlers:
Because there are so many blogs getting published you must boost your blog in as many ways as you can. Structure, format, length, headlines, these all matter.
An average blog takes 3.5 hours to write. I don't believe this stat to be accurate. It takes at least 6 hours to put together an above-average blog.
Blogs with 2,000 words or more get better results.
Quality is more important than quantity. 66% of bloggers today post once a week. Before, they would post a few times a week. Promote efficiently, repost well-received content and update older posts. Create evergreen content. Use strategic tools that automate your content.
Websites with blogs get 434% more indexed pages. An indexed page is a page that gets picked up by search crawlers because it contains quality content for relevant search phrases. It is the Indexed pages that show up in search results, and drive organic traffic to your site.
Companies that blog get 97% more links to their websites!
Titles with 6-13 words perform the best.
65% of users remember visual content as opposed to only 10% who can retain written info. Multimedia posts work best.
Just by adding Alt Image text to SEO, you can boost traffic by 25%. (HubSpot ran this test.)
Get the edge on competitors by getting the most out of published content:
Only 38% of bloggers update their older articles. Doing this gets better search results, more links, more traffic, more social shares, and new customers.
34% of these bloggers report positive results.
Analytics are essential. Only 5% of bloggers don't use analytics.
95.6% of bloggers promote on social media.
How To Promote Your Blog – On Your Own
Here is a list of the basic promotion strategies you can implement, on your own, at no extra cost to you.
1. Basic (free) DIY social media promotion – Sharing is caring
The truth is, you won't break much ground by posting your latest content across social media platforms, and getting your friends to like and share. But this type of promotion is still vital. It connects you to your micro-niche. And 1000 followers is all you need to make money from blogging. It also keeps you motivated and relevant. The online business community spills over into many niches and industries.
Build relationships with your followers and Facebook friends. Stay authentic. The intangible power of cyber communities is severely underestimated when measured against out-dated systems and results.
But people are catching up. (Almost 96% of bloggers promote via social media channels!) So keeping these channels of communication open, between micro-pockets of people, helps us use the internet in a tangible, meaningful way. Not all promotion has to be for material gain. So that's a big, fat YES! to keep on sharing your posts manually with Facebook friends and family!
Instagram, Twitter, Pinterest, LinkedIn, TikTok, YouTube, and lesser-known social media platforms are all viable and valuable channels to network through.
Promoting your blog on social media is not just simply posting content and sharing. It's also necessary to have a promotional strategy that includes advertising your newest content. This can be done by having a schedule, posting promo snippets at regular intervals, and creating promo posts using multimedia. Visual content gets remembered 50% more than written. Use a mixture of infographics, video, and images. Curate each post to suit the specific platform.
2. Blog promotion – Keyword research
How do users find content?
By searching.
When people Google, they use questions, topic titles, and phrases. Find the most frequently used words and search terms. Incorporate them into your headlines and content.
Make use of SEO tools like:
Answerthepublic.com – free
Alexa's Keyword Difficulty Tool – free trial
Alexa's SEO On-page checker – free trial
SEMrush – from $99 per month (7-day trial)
Mangools – from $29 (free trial)
Moz Keyword Explorer – 30-day free trial
Google search bar – free
Keyword Surfer – free
Keyword Keg – YouTube tag generator – from $38
KeywordTool.io – free and better than Google keyword planner
Ubersuggest Keyword tool – free
How To Promote Your Blog – With A Little Help From Some Friends
Next-level promotion is when you have exhausted the free avenues and you need to fork out some cash for effective, strategic promotional tools. Of course, most software comes with a trial period or a very basic free plan. Which incidentally, is how these guys promote their products. (Like a blogger who offers free digital content in return for an email address.)
1. Content Promotion Tools
Your blog is your content, so blog promotion is also called content promotion.
You promote your blog by increasing traffic. The more eyes that see your awesome content; the more likes, shares, subscribes, and conversions you get.
Posting fresh content on social media only increases traffic when you have an established following. Even resharing content a week later does not have much impact. You need promotional tools to drive traffic.
Content promotion tools can boost your content to dizzying heights. They are essential if you are serious about getting the edge on competing blogs in your niche. It makes no sense to spend time and money creating gripping content, only to have it remain in the dark! Here's a list of 5 content promotion tools, with a brief description of how they can benefit your promotion strategy:
5 Effective Content Promotion Tools To Increase Your Traffic and Engagement
1.1. Quuu Promote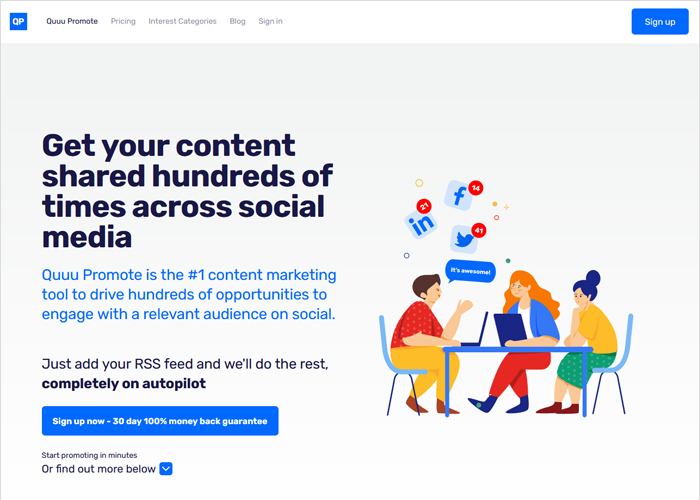 Quuu Promote is a tool that automates your social media promotion. Once your content is loaded into the tool it gets shared across Facebook, Twitter, LinkedIn, and Google+. Each post gets customized for a particular social media platform.
By dropping the URL into the allocated space bar, the data gets imported and changed into a tweet or a post for Facebook. You can preview, edit, change images, and approve. Quuu then targets real account users in the specific industry you are focused on.
You pay for hundreds of organic, active users that will share your content specifically with your targeted followers. Be sure to correctly categorize your post. Reposting is just as easy. You can keep good content circulating as long as results are coming in.
1.2. BuzzSumo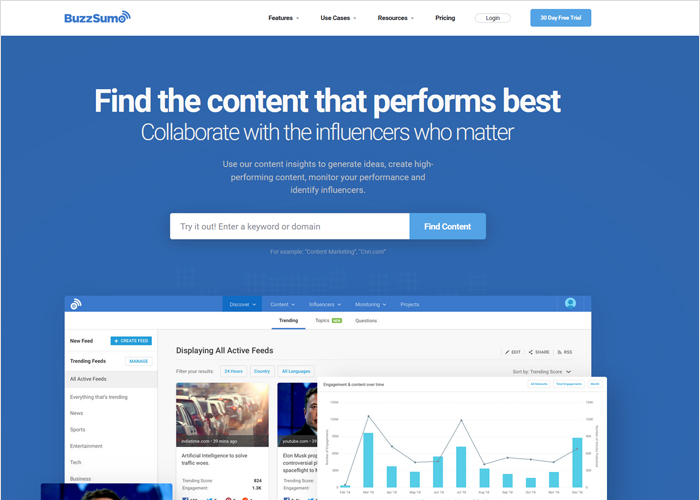 BuzzSumo will generate ideas based on popular posts that perform well. It helps you to understand your competitors and your target audience better. BuzzSumo finds content that is doing well. You get the advantage of then curating content you know people are searching for.
Type in any URL and get the analytics like social shares, keywords used, who is sharing your posts, and where they are being shared (backlinks).
1.3. Zapier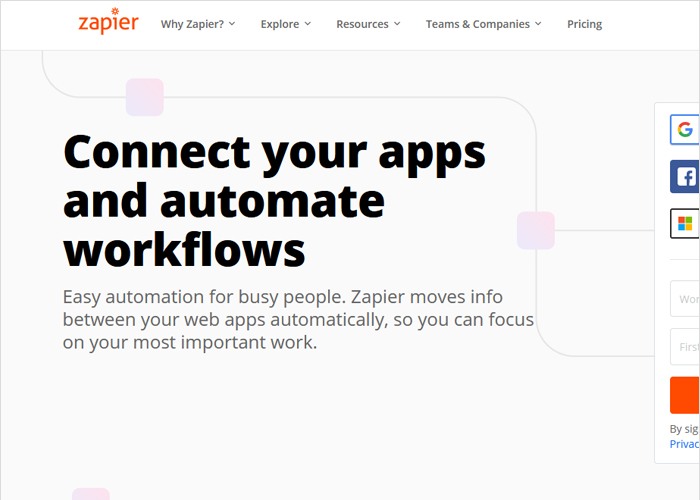 Get all your content workflows and your entire content marketing toolkit integrated and organized. Zapier automates the whole process. It covers:
blog content calendars to
content marketing strategies to
Facebook Lead Ads to
importing data to your CRM and then
automating email campaigns through software like MailChimp.
And if that's not enough, it then goes on to remarket. With one click, preset automation templates are at your disposal.
1.4. Social Media Management Tool – Sprout Social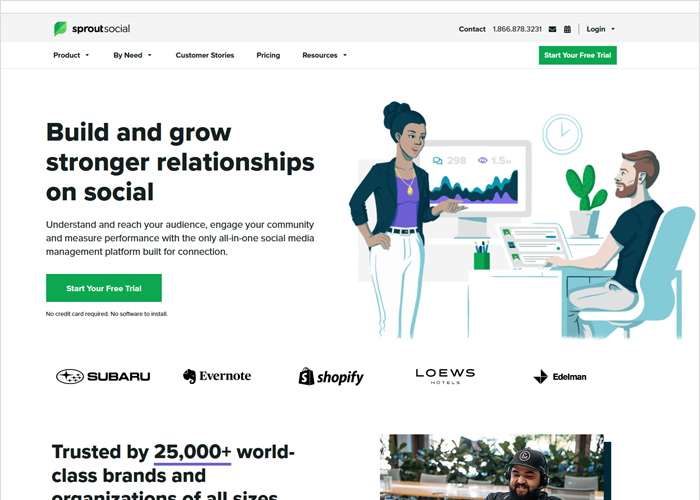 Sprout Social is an amazing CRM (customer relationship management) tool, combined with social media assets. Publishes content, curates social scheduling of your posts, uses diverse analytics, and orchestrates direct social engagement.
An outstanding feature, the Reporting Suite, helps you build reports on every aspect of your promotional strategy. Stay on point with analytics from Twitter, Facebook, and Instagram, etc. Reports allow you to follow the movement of messages, tags, trends, feedback, competitors, and more.
When you promote content to specific groups, based on your target audience, the ROI is high and promotional strategies perform efficiently.
1.5. Later for Instagram Marketing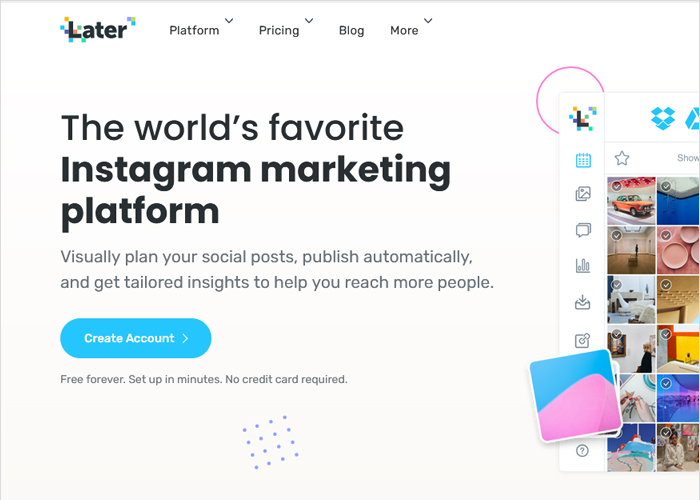 Over 90% of the world's internet users use mobile devices while laptop users have dropped to below 50%. Gen Y and Gen Z (16-35yr olds) remain the largest group of consumers. Having an Instagram account and establishing a following of engaged users is a crucial part of your promotional strategy.
Later is the #1 software tool for Instagram marketing. And it's free. Forever! Create an account and start planning visual social posts, schedule automatic publishing, and get intel on how the market is reacting to your posts. Analyse and form reports on Instagram clicks, likes, page views, and sales from each post.
2. SEO Promotion
SEO is a vital aspect of your promotion strategy. Done right, it allows search engine crawlers to pick up your content and get it ranked. Thorough keyword research must be done. Each page needs a focus keyword. On-page SEO tools save you time and money, checking that each web page is optimized for SERPs.
2.1. On-Page SEO Checkers
On-Page Checkers automatically check each page on your site, making sure it's optimized for visibility and ranking. A good on-page checker will analyze the findings and check for duplicate tags and content, as well as broken links and keyword optimization.
Manual checking takes hours to complete whereas these tools speed up the process, leaving you free to concentrate on other tasks.
Here is a list of SEO tools you can use to carry out this vital task.
SEOCrawler
Ahrefs Keyword Explorer
Moz On-Page Grader
Copyscape
Yoast SEO
SERPSim
Google's Rich Results Test
Google Developers PageSpeed Insight
2.2. SEO Marketing
SEO marketing covers all aspects of SEO. The search engine's job is to crawl, index, and rank. Basic SEO involves:
Keyword research
Technical SEO
Building links
Establishing authority and
Measuring and tracking your SEO success.
3. Social Media Promotion
Keep an eye out for our detailed "How-To" posts on blog promotion via social media platforms. For now though, here is a brief outline of the various techniques that get used for social media promotion.
3.1. Paid Social Media Ads
Paid ads on social media platforms are on the increase. Here are 7 reasons why it "pays" to pay for these ads.
Boosts target audience marketing
Tailored to suit your budget
Extends your reach
Promotes your blog content
Reaches customers across all devices (particularly mobile users).
Collects intel on market insights
Builds brand awareness
3.2. Online Influencers
Send out emails to specific targeted members of your niche market or use content promo tools to find real accounts. Send personalized promotional content and ask these people to share on your behalf.
3.3. How to promote your blog on Instagram
One great way to promote your blog on Instagram is by using Instagram Stories. Use multiple frames to hold attention until the last frame links to your bio, and gets you to the blog post. You can also take a screenshot of your post, add a description, and hashtag it.
3.4. How to promote your blog using Pinterest
Create a descriptive copy,
Curate creative images,
Build multiple boards,
Apply for "Rich Pins",
Open a business account or change your existing one to business,
Pin at the right time (study the data).
3.5. Promote your blog on Facebook
Boost your post an hour after posting
Use Facebook Ads manager
Check campaign metrics like cost of CTR (click-through rate), CPC (cost per click), and cost per mil (cost per 1,000 views). It'll help you decide. how to extend your boost budget and reach.
Create attention-grabbing headlines.
Target your niche market audience.
Use quality images. Avoid free stock images.
Write ad copy that entices users to actually read the article.
Use Custom Audience Feature on Facebook.
Add emojis to your copy.
3.6. How to promote blog content via LinkedIn
LinkedIn is a social network aimed at business people. It is a far more targeted site compared to social media platforms like Facebook and Instagram. Certain blog niches do well here. Business, marketing, industry, tech, personal growth, all these niches will get better results in finding a target audience here. Where Pinterest revels in recipes, home decor, DIY, and fashion, LinkedIn is for sharing business-orientated content.
3.7. Using Twitter for blog promotion
Twitter is ideal for promoting blog posts. Don't fall into the trap of just tweeting a link or filling the space with hashtags. Instead, captivate by adding context. Entice with a hook, line, and sinker snippet about what's in the blog. The limit on characters allows you to get to the point but still elaborate economically. That is why tweets work, they are short and sweet enough to pique the interest of busy people.
4. Guest Posting
Writing content for other sites, for free, is known as guest blogging. It's a great way to build relationships with other bloggers in your niche. It sends new traffic to your site and helps with link building.
5. Promotion and Email Marketing
Email marketing is not dead!
Email marketing may seem outdated when you have so many social media platforms and blogs that keep people busy. But studies and surveys carried out by companies like the Radicati Group and Mckinsey and Company, indicate otherwise. In fact, the number of email users is still growing and is set to reach over 3 billion by 2021.
Email marketing is 40 times more effective than social media marketing. The key is to keep email content relevant and to a minimum. You need a strategy in place and you should keep emails specific. Email marketing done right will increase sales, get new customers, and keep those customers.
These are the 4 main emailing strategies that help with promoting your blog, brand, and business:
Loyalty: Build relationships that connect customers to your brand. Personalized emails deliver excellent responses.
Location: Tell people where to find your brick and mortar store and how they can get your products both online and off.
Promotional: Alert subscribers to exciting new content and products. Introduce specials discounts and promotions.
Information: Keep customers up to date on future events and give feedback and results on surveys and reviews.
Email marketing remains the most cost-effective means of marketing, with a 4200% ROI! 89% of marketers say email is their primary channel for generating leads. And 47% rate it as the most effective channel for marketing, with 39% saying social media and 33% going with content and SEO marketing.
How to promote your blog – End Results
Before I go, let's recap.
Promotion is key to getting your blog content seen by the right people, your target audience. The 5 main promotion strategies for blogs are
email marketing,
guest blogging,
social media marketing,
SEO marketing,
and using promotional tools. They automate many processes that help measure and analyze behaviours of users, competitors, and customers.
Blog promotion is as important as content creation. Despite the enormous volume of blogs that get churned out monthly, it remains a growing platform for content marketing, brand awareness, and generating new leads.
To keep up with the competition, promotion and content marketing must stay relevant and on-trend. This means incorporating multimedia into both blog posts and promotional campaigns. Videos, infographics, and images add to the effectiveness of promotional strategies.
Find out as much as you can about how to make money from your blog by reading our best content. If you'd like to be informed of new content please subscribe to our newsletter down below.
May 2021 bring much joy, success, and inspiration to both your blogging and your personal lives!
Love Monika