In the boundless skies of cloud computing, Amazon Web Services (AWS) is the shining star, offering a constellation of services and solutions that illuminate the path to digital transformation. But in this cosmic journey, where do you find the guiding constellations of knowledge? Look no further than the vibrant cosmos of AWS blogs.
Imagine these blogs as celestial bodies, each emitting a unique brilliance of insights and expertise. Whether you're a fledgling stargazer, an interstellar traveller, or a seasoned cosmic explorer in the AWS galaxy, these blogs serve as your telescopes to distant realms.
In this odyssey, I invite you to embark on a voyage through the top AWS blogs. These AWS Blogs are crafted by certified wizards, cloud poets, and passionate explorers. These blogs are your secret maps to the AWS terra incognita, where architecture, security, serverless magic, and more await your discovery.
So, prepare to embark on a cosmic adventure. These blogs are your star ships, ready to propel you through the AWS universe. Granting you the cosmic wisdom and power to navigate the cloud-scape with confidence and creativity.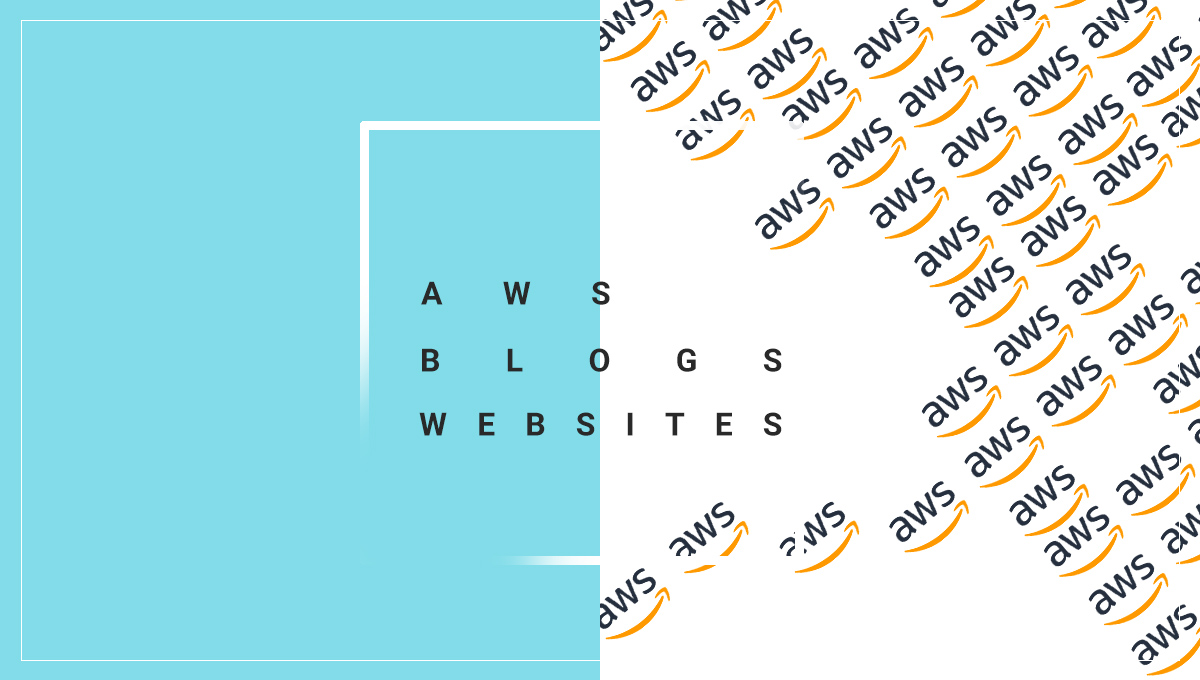 Top AWS Blogs on Our List
1. The AWS Official Blog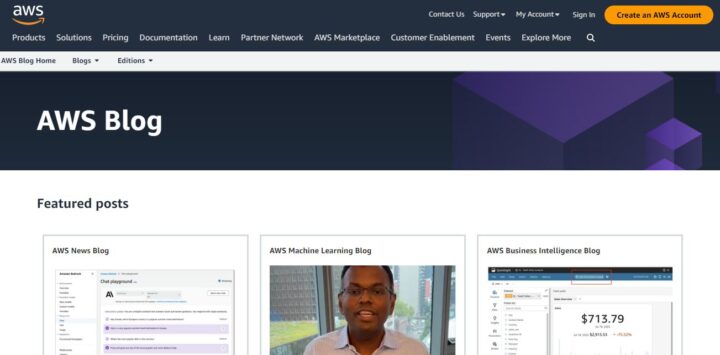 The AWS Official Blog is the authoritative source for Amazon Web Services (AWS) updates and insights. It offers in-depth technical guidance, architecture patterns, and real-world success stories, along with a strong focus on security and compliance. This educational resource is invaluable for AWS certification preparation and keeping up with the latest cloud trends. It promotes community discussion and is available in multiple languages. Hence making it a globally relevant platform for AWS users of all backgrounds. This blog is an essential tool for developers, IT professionals and cloud enthusiasts.
You May Also Like: Best Personal Blogs
2. The Cloudonaut Blog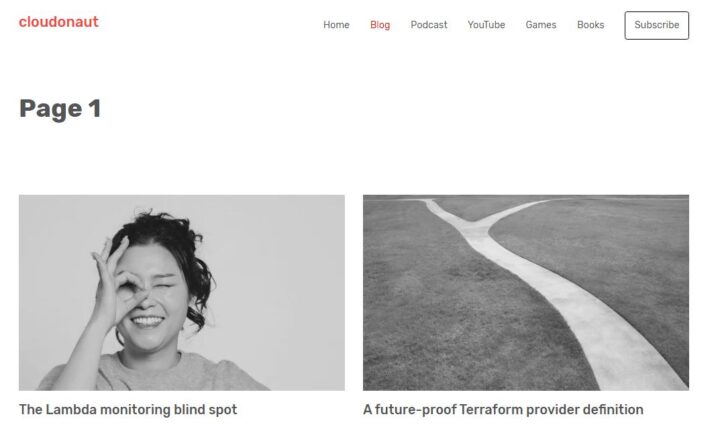 The Cloudonaut Blog is a another great AWS Blog for those navigating the intricate landscape of Amazon Web Services (AWS). This blog is known for its comprehensive AWS tutorials and in-depth insights into cloud architecture best practices. Authored by experienced AWS professionals, the Cloudonaut Blog offers a treasure trove of practical guidance. Thereby making it indispensable for developers, sysadmins, and cloud architects seeking to harness the full potential of AWS services. It focuses on simplifying complex AWS concepts and sharing real-world experiences. With its commitment to clarity and expertise, the Cloudonaut Blog stands as a trusted compass for those embarking on their AWS cloud journey or looking to deepen their cloud expertise.
You May Also Like: 8 Stock Trading Blogs To Follow
3. Cloud Academy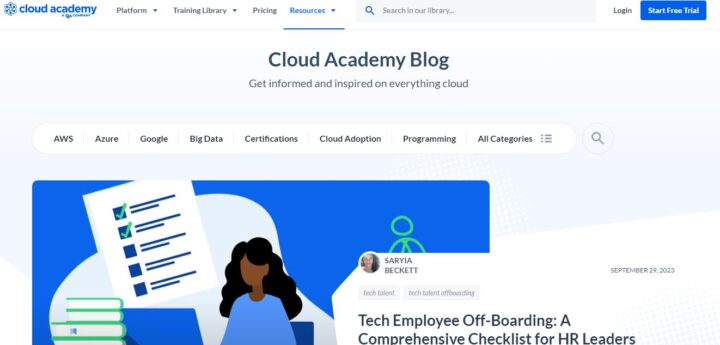 Cloud Academy, a luminary in cloud training and certification, extends its mission to enlighten the cloudscape, particularly the realm of Amazon Web Services (AWS), through its dynamic blog. It offers a plethora of educational content and practical insights. With a focus on AWS and certification prep, it provides hands-on labs, industry trends, deep dives into cloud tech, and real-world stories. Regular updates ensure readers are always on the cutting edge of cloud knowledge. In essence, the Cloud Academy Blog is a guiding star for those navigating the expansive cosmos of cloud computing, illuminating the path to expertise.
You May Also Like: What is Core Web Vitals (CWVs)
4. 2nd Watch Blog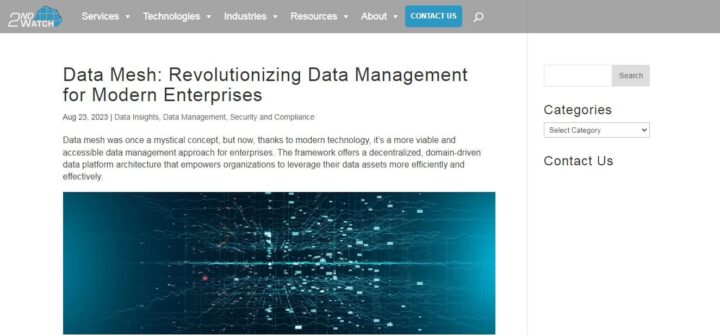 The 2nd Watch Blog is a dynamic hub within the cloud computing universe. It offers a unique perspective on Amazon Web Services (AWS) and cloud technologies. As an organization with deep expertise in cloud solutions, 2nd Watch brings its wealth of knowledge to this digital canvas. Its blog an invaluable resource for IT professionals and businesses alike. This blog offers practical wisdom grounded in real-world experiences. It excels in AWS content, providing in-depth insights into AWS services, architecture, and cost optimization. Through compelling case studies, it showcases how businesses harness AWS and cloud solutions.
It also offers insights into emerging cloud trends, emphasizes the importance of security and compliance. Moreover it shares strategies for cost efficiency, and delivers diverse perspectives from cloud experts. With coverage of industry-relevant topics like machine learning and serverless computing, the 2nd Watch Blog serves as an compass for navigating the complex cloud landscape, ensuring that readers are well-prepared to thrive in the ever-evolving world of cloud computing.
You May Also Like: Why Hiring a WordPress Specialist is a Wise Investment for Your Business Website
5. Stelligent Blog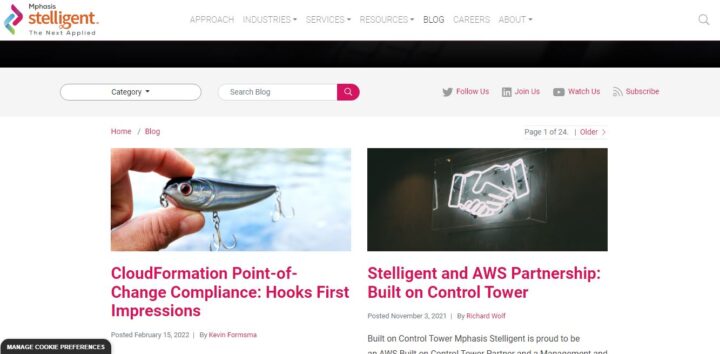 The Stelligent Blog, an authoritative resource in the realms of AWS and DevOps, embodies practical wisdom and innovation. As an AWS Partner renowned for its expertise in Continuous Integration and Continuous Delivery (CI/CD), Stelligent extends its commitment to cloud excellence through this blog.
Distinguished by its depth of knowledge, the Stelligent Blog is a valuable repository of AWS insights and DevOps best practices. Authored by seasoned professionals, it offers guidance on optimizing AWS services and implementing robust DevOps workflows. What sets it apart is its strong focus on CI/CD. It provides detailed guides and practical strategies for automating software delivery pipelines on AWS.
The blog doesn't stop at theory; it offers tangible implementation advice with code examples, tutorials, and step-by-step instructions.
Comprehensive in its coverage, the Stelligent Blog spans a wide range of AWS services. From AWS CodePipeline to AWS Lambda, and includes case studies illustrating successful AWS and DevOps implementations.
Furthermore, the blog keeps pace with industry trends, analyses AWS developments. Moreover it fosters a vibrant community through engagement and regular updates. All in all the Stelligent Blog serves as a guide for those navigating AWS and DevOps, offering a rich source of insights and strategies to elevate their cloud and DevOps journey.
You May Also Like: Photography Blogs to Inspire
6. GorillaStack Blog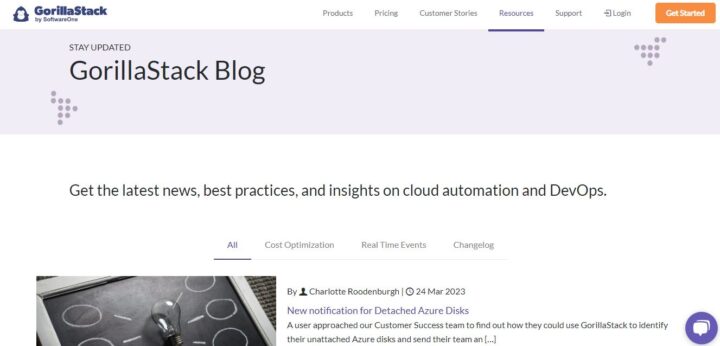 GorillaStack, a renowned player in the AWS cloud optimization and automation arena, extends its commitment to cloud excellence through its insightful blog. This blog stands as a valuable resource for cloud practitioners. Especially for those keen on optimizing AWS resources and automating their cloud workflows.
It offers a rich repository of tips, best practices, as well as real-world insights to help organizations maximize the efficiency of their AWS deployments. Whether you're looking to curtail cloud costs, automate routine tasks, or enhance resource utilization, this blog provides the guidance.
You May Also Like: Tech Blogs You Must Follow
7. PluralSight Blog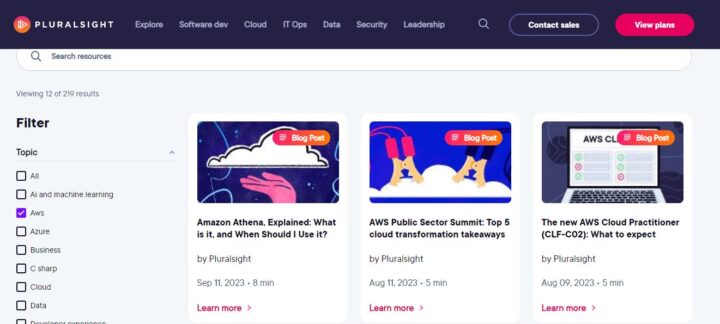 PluralSight Blog is an essential component of the PluralSight platform. It is a renowned online learning hub dedicated to cloud computing, with a strong emphasis on Amazon Web Services (AWS), Azure, Google Cloud Platform (GCP), and other cloud-related subjects. This blog is a great knowledge resource for cloud enthusiasts and those looking to enhance their cloud technology knowledge.
The PluralSight Blog delivers a wide array of cloud-centric topics. Including tutorials, guides, and articles suitable for all skill levels. It simplifies complex cloud concepts through step-by-step tutorials and how-to guides, catering to hands-on learners. Additionally, it keeps readers informed about the latest trends and updates in the cloud industry, aiding professionals in staying up-to-date with the ever-evolving cloud landscape.
PluralSight's blog also assists individuals in preparing for cloud certification exams by offering study resources and exam insights. It regularly showcases real-world use cases, demonstrating how organizations leverage cloud solutions to address challenges effectively. With contributions from cloud experts and a thriving community engagement aspect, the blog promotes an interactive and informative environment. It is a go-to source for cloud enthusiasts, offering free and premium content, diverse learning paths, and regular updates.
You May Also Like: Best Graphic Design Blogs
8. The Alestic Blog
The Alestic Blog, curated by Eric Hammond. It stands as a venerable cornerstone in the realm of Amazon Web Services (AWS) knowledge sharing. Eric, an esteemed AWS Community Hero, has cultivated a blog that has become an essential resource for AWS enthusiasts, practitioners, and developers alike. Key highlights of this blog include insightful AWS deep dives, a repository of AWS scripts and tools, and a continuous stream of updates that keeps readers abreast of the latest AWS developments. The blog thrives on a sense of community. With Eric actively engaging with his readers and responding to questions and comments. Its expertise spans a broad spectrum of AWS topics, with a pronounced focus on serverless computing and Amazon EC2 instances. Eric's hands-on approach and commitment to knowledge dissemination have garnered him recognition as an AWS Community Hero, making the Alestic Blog an invaluable companion for those keen on learning about AWS.
You May Also Like: Must Follow Sustainability Blogs
9. The N2WS Blog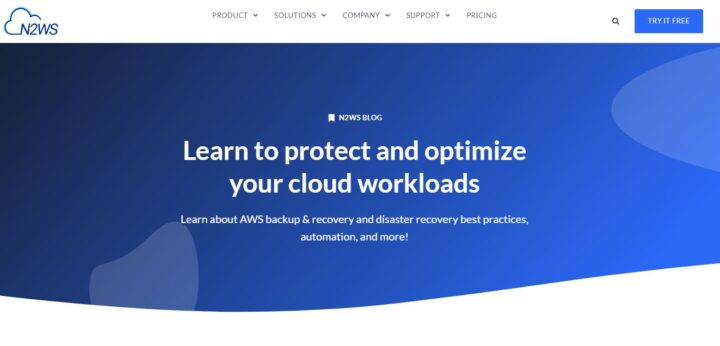 The N2WS Blog, a digital fortress in the kingdom of cloud, serves as a trusted sentinel guarding the precious treasure trove of data within Amazon Web Services (AWS). As an ally of the revered Veeam clan, N2WS specializes in the arcane arts of AWS data protection, backup, and recovery. This blog is the sacred scroll, unravelling the secrets of data resilience and the dark arts of business continuity in the ethereal realm of the cloud.
Picture it as a treasure map, guiding intrepid AWS explorers through the treacherous terrain of data protection. It unveils the path to optimizing AWS backup strategies, shielding against the perils of data loss, and ascending to the cloud's highest peaks, where AWS best practices reside like ancient scrolls.
Yet, it is also the spell book of disaster recovery, illuminating the incantations to conjure forth recovery plans that defy the tides of downtime. For those who seek to safeguard their AWS realm, the N2WS Blog is the magical key to unlock the secrets of data protection and preservation in the cloud's enchanting domain.
You May Also Like: What is Headless WordPress
10. Summit Route Blog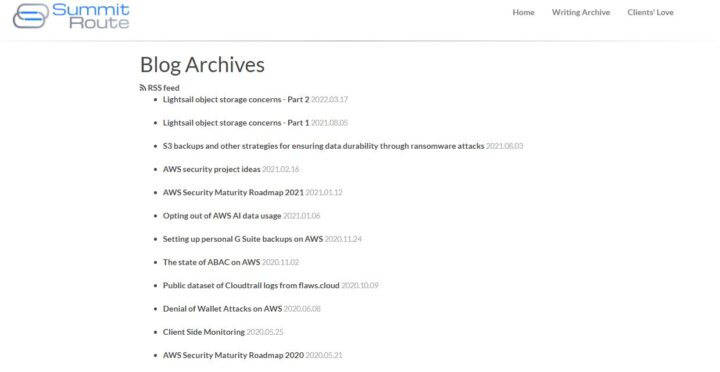 This AWS Blog is a valuable source of knowledge in the field of cloud security, with a special emphasis on Amazon Web Services (AWS). Scott Piper, an AWS Certified Solutions Architect and a respected security expert, curates this resource for security enthusiasts, cloud practitioners, and developers who seek to enhance the security of their AWS deployments.
The blog is distinguished by its profound AWS security expertise, rendering intricate security concepts comprehensible. Scott delves into complex security subjects, dissecting AWS services and configurations, providing readers with invaluable insights to effectively identify and address security risks.
What distinguishes this blog is its pragmatic approach. Scott offers practical guidance, including in-depth tutorials, scripts, and best practices for implementing robust security measures. Furthermore, he explores AWS compliance and governance, assisting organizations in maintaining compliance with industry regulations.
Active engagement within the community is a hallmark of the blog. Scott actively engages with questions, fostering meaningful discussions within the security community. With regular updates that keep pace with evolving security trends and AWS developments, Scott Piper's Blog serves as an indispensable resource for individuals looking to strengthen AWS security and navigate the ever-evolving terrain of cloud security.
You May Also Like: How To Setup WordPress on Google Cloud
Conclusion
The world of Amazon Web Services (AWS) is ever-evolving, and staying informed is paramount for professionals and enthusiasts alike. The top AWS blogs provide an invaluable compass to navigate this dynamic landscape. Whether you're seeking the latest AWS updates, in-depth technical insights, best practices, or hands-on tutorials, these blogs offer a wealth of knowledge.
From the authoritative AWS Official Blog to the practical wisdom shared on individual blogs like Alestic Blog. Each of these resources contributes to a thriving ecosystem of AWS expertise. They cater to a diverse audience, whether you're a beginner taking your first steps in the cloud or an experienced AWS architect looking to fine-tune your skills.
As the cloud continues to shape the future of technology, these blogs will undoubtedly remain indispensable companions on your AWS journey. By following and engaging with these blogs, you'll be better equipped to harness the full potential of AWS. So, bookmark your favourites, stay curious, and let the knowledge shared in these blogs empower your AWS endeavours.