Podcasts are a rapidly growing and increasingly popular form of sharing content. The number of podcast listeners is increasing day by day. So it's a perfect time to start a podcast.
Do you want to join the podcast community?
Our simple guide on How to Start a Podcast will take you through every step, from planning your podcast to publishing it. We also explain how to submit your podcast to the various directories, how to promote your show and grow your audience.
Our guide on how to start a podcast will take you through each of these stages:
Disclosure: This post contains affiliate links. It means that we get a commission when you click a link and purchase. Thanks to this, we can share free themes and free content. It doesn't cost you anything.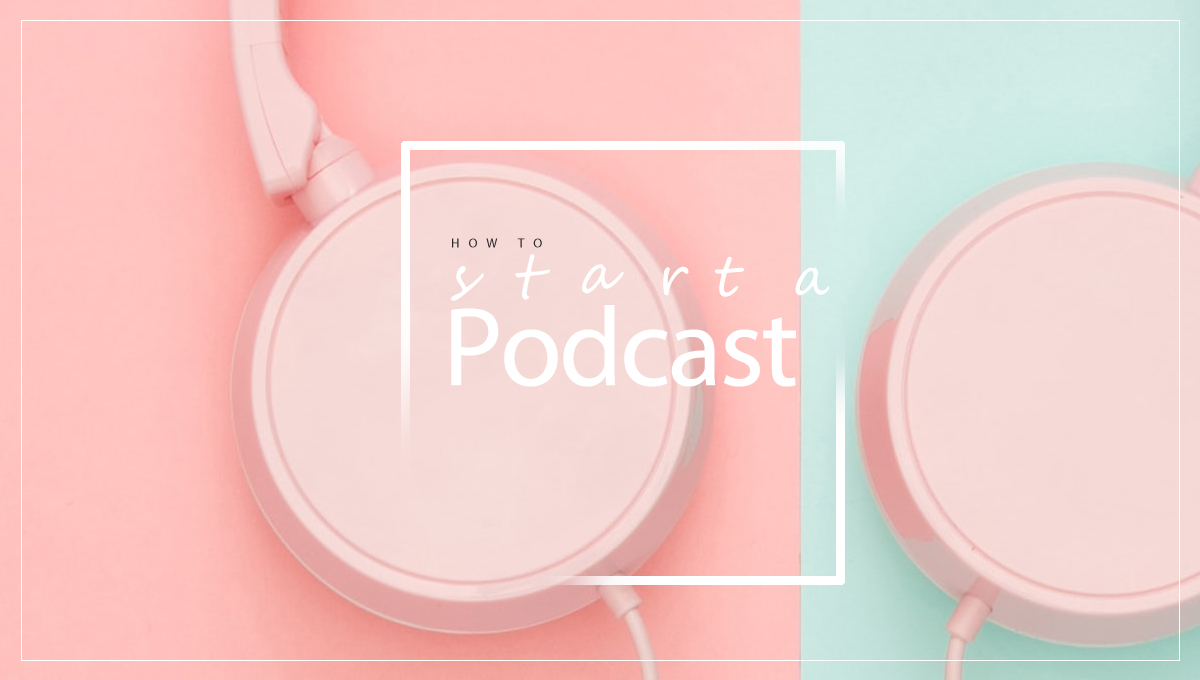 So, how do you start a podcast?
1. Refining and Planning Your Podcast
Before we get into the technical side of podcasting, you must grow your concept from an idea to a work in progress. You start the process by asking three questions.
Why do I want to start a podcast?
Who is my target audience?
What do I want my listeners and subscribers to get out of my podcast?
Planning and refining your podcast concept is the most critical stage of the podcasting process. From here, you will be able to identify and clarify why you are doing this, what you want to achieve through the podcast and how you will achieve it.
You will also be able to identify the demographic you want to attract, and you can aim your title, topic, content, and cover art at your target audience.
---
REMEMBER
When you start a podcast, content is key, but you need to get listeners by pulling them in with a popular topic, a concise title, and excellent cover art.
---
There are many reasons to start a podcast. Do you want to
Educate?
Inform?
Inspire?
Share and connect?
Entertain?
Promote business?
Increase customer base?
Make more money through ad revenue or affiliate marketing?
You may want to achieve one, some, or all of the above. And you may be doing it as an independent creative, an activist, an educator, an entrepreneur or a freelancer. Are you a professional sportsperson, a teacher, or an alternative health practitioner that can share expertise from a unique perspective?
Your answers will reflect your unique blend of attributes. Develop content that brings your strengths, expertise, and interests together. Doing this gets you closer to a winning podcast formula.
The answers to the first question are actually the same as the answers to the third. For example, if you want to inspire, your listeners will be folks who want to be inspired. If you want to entertain, your audience will be those who want to be entertained, and so on and so forth. But there's another angle you can use to make your content easier to find. Statistics.
Some stats – how to start a podcast
These stats will help to refine your process with regards to capturing your prospective audience:
The current US population is around 329 million people. Of these 329 million people, 70% know what a podcast is. 50% have listened to a podcast before.32% listen to at least one podcast a month. And 22% listen weekly.
Almost 50% of listeners are between 25-45 years old. This is not taking into account the listeners in the rest of the world!
68% of podcast listeners are most likely to be postgraduates, with 45% having college degrees and 56% being undergraduates. This, in turn, reflects the annual earning capacity of podcast listeners. Stats claim a whopping 45% earn more than $250,000 per annum.
Edison Research, and groups like Nielsen, have even figured out what the average podcast listeners' groceries look like over a week. Crazy, right? But it goes to show that podcasting is now recognized as a growing medium in broadcasting and entertainment, replacing analog radio in a digital age. It's a good time to start a podcast.
The research also shows that roughly half the listeners are male and the other half female. In the States, 54% listen on iOS devices and 43% on Android. 80% of the population who listen will listen to a complete episode. Fascinating stuff.
The most popular categories when starting a podcast
And lastly, the 5 most popular categories are:
Society and Culture
Business
Comedy
News and Politics and
Health
Armed with this type of information, you get to decide exactly which demographics you want to target, or alternatively, create content for.
Once you are happy with your answers, you can jump into the next exciting stage on how to start a podcast, which is:
Firstly, choosing a topic of your podcast
Secondly, choosing a name for your podcast
Thirdly, choosing a format
And finally choosing episode lengths, titles, and how often to release new episodes.
First – Choosing a topic
You are the captain of your podcast ship. And choosing a topic should be a no-brainer. So why are there so many articles giving this specific task such importance and magnitude?
Because if you get your topic wrong, you set yourself up to fail. Whatever topic you choose, be sure of these 3 things.
Be passionate about the topic
Know your topic and have a strong passion for it. Can you speak on this topic over 52 episodes? Can you help listeners to solve problems that come up in this topic?
Know your audience
Will your topic appeal to a mainstream audience, or is it a niche subject?. Check out stats from accurate analytics and research sites. How much of the market can you potentially catch with your topic?
Stay relevant
Does your topic hold enough business relevance? Are your listeners potential customers? Does your brand or product align with your topic? For example, can your topic sometimes be news-based and, at other times, cover hot issues yet still remain an extension of your brand? If so, you will do well. Often your topic can get complimented with another topic that still holds relevance to your brand and listenership. This will give your podcast longevity and keep it interesting, but still relevant.
Anyone starting a podcast purely to make money is going to fail. Unless, of course, you love the subject of money and can come up with at least 52 episode titles that deliver relevant and good content.
Basically, your chosen category and your podcast topic must align in order for people to find you on the directories.
Second – Choosing a name for your podcast
This process is an extension of the previous section. The topic and title must align. Again, so that your target market can find you. Once a listener starts listening to one of your episodes, there is an 80% chance they'll listen to the entire episode. And it just takes one listen to get a subscriber. So every episode counts. And your topic must be evident in your podcast name.
The name of your podcast should be short and sweet and roll off the tongue. It must be descriptive enough to catch the listeners' attention and accurate enough so that when they start listening, they get what they expect. And if the content is good, you can be sure they'll subscribe.

Third – Choosing a podcast format
Choosing the right format is crucial. The format is the delivery method for your content. It organizes and brings structure to the content. It also helps to maintain the consistency that runs from the name to the topic to the episodes.
There are 8 main formats that podcasters use. And, while the format is not set in stone, it is a good idea to stick with your chosen format. A good podcast is one that gets published consistently and covers the relevant topic consistently. So it follows that your format should be consistent and complement your topic.
---
REMEMBER
Consistency is key and applies not only to the format you choose but also to how regularly you release episodes and how consistently you stick to your chosen topic and publishing schedule.
---
The 8 most common podcasts formats are:
1. The Monologue
This is the most challenging format of all. This is where you host the show and are the only speaker. Even if you add interview clips and music to break up the speech, the narration must flow throughout. This is not a recommended format for first-time podcasters unless you are confident that you can keep listeners entertained and interested in the entire episode. The positive aspect of the solo format is that you can record whenever you want and don't have to try and schedule times when it is convenient for other hosts and/or guests.
2. Conversational/Co-hosting
This format will consist of a co-host and is a much easier format to use in terms of keeping up a flow and engaging the listeners. Conversations create a strong connection with your listeners. It's as if you're overhearing a private conversation, so immediately the listener feels included. The problem with this format is that you have to both be available to record. If both hosts are committed, this won't be a problem. Some podcasts have multiple co-hosts. A good example is Pod Save America, hosted by 4 former aides to Barack Obama. These guys come with heavy credentials and contacts to die for. For the average podcaster or newbie, it is hard to beat the competition in this field, using this format.
3. Interview format
This is the most popular format for listeners. Guests bring with them conversation. Often their own fanbase will "tune in," increasing your listenership for the episode, and hopefully gaining you new subscribers. You will need to sharpen up your interview skills before embarking on this type of format. And you'll need contacts. If you have a wide network of contacts in your field, then finding guests will be easy.
The trouble is listeners then become dependent on who the guest is and not on what your content has to offer. The difficulty with this format is finding suitable guests for every episode.
A great example of this podcast is The Joe Rogan Experience. Rogan is undoubted "King of the Podcast." He has nailed every aspect. Keeping sole ownership of his content and being a well-known celebrity has gone a long way for him. His notoriety has ensured that he can get famous guests. When he interviewed Elon Musk, listenership for that episode shot to unprecedented numbers, even his numbers drop when he doesn't have a guest on for the day. His podcast runs longer than 2 hours. Not many podcasters can get away with this length of time.
4. Fiction Storytelling or Podcast Theatre
This style of the podcast is the most creative and the least popular for listeners. It is also more challenging to produce and edit. Here you can be as creative as you like. You will need to produce a written script and, depending on the narrative, may want to get voice actors in to help tell the tale.
5. Non-Fiction Storytelling
Think True Crime or News & Politics or the many podcasts that follow the same format as HowStuffWorks. These podcasts can have short episodes, and each one deals with an interesting fact or subject.
6. The Panel Podcast Format/Roundtable
Instead of interviewing one guest, a panel of guests are invited to take part in a debate or discussion. If you are hosting a panel of guests, you will need immense pre-planning, a tight script, and reliable and fast internet connection, that is, if some guests are not appearing in person. Or get editing software, like Zoom, for long-distance recording.
7. Hybrid format/Variety show
This format can be completely of your own making. As long as you use it consistently and stick to the topic. Perhaps you want to create a co-hosted podcast that is released weekly. You could mix it up by having one episode a month that features a guest. Maybe you are going solo but want some variation, so you create a format with three or four segments within each episode. You could start with your intro and a news segment, then you could discuss your topic of the day, and then you could end with a segment dedicated to reviewing music or food or Netflix series. This type of podcast would be a great fit for the Society and Culture category.
8. Repurposed content
When you take content from another medium, like a blog or a book, and you make a podcast out of it, you are repurposing content (or recycling it). The podcasts where books are read or stories are told usually fit this category.
And finally, the next stage in my guide on how to start a podcast:
Choosing how to detail your episodes
So you have a name for your podcast. You've chosen a topic, and you've settled on a format. Now you need to decide how your episodes are going to be structured.
Ask three questions
Will you have seasons or run a series of episodes, under one central theme, or will each episode deal with a separate topic?
How long will each episode be?
How often will new episodes be published?
As with all the planning that has taken place up to now, the episodes will need to be consistent. Research shows that 20-30 minutes per episode is a good length of time. But if your content and format run for a shorter or longer period, that is fine, as long as you keep it roughly the same time. Don't sacrifice good content due to time constraints. And don't drag it out to make it longer.
Episode titles
Episode titles need to be descriptive enough to hook new listeners and interesting enough to keep regular listeners coming back. For example, if you are doing a podcast in the Health category, you may want to break the episodes up into 4 or 5 episodes, either calling it a season with a title for that season or giving it a main title, to be followed by 4 or 5 episodes dealing with this sub-topic. You could have something like Season 1: Chronic lifestyle diseases of our time. And follow up each episode with titles like:
Diabetes
Heart Disease
Obesity
Arthritis
Asthma
Season 2 could be titled: Alternatives to allopathic treatment and episodes could be titled:
Introduction to Functional medicine
What role does diet play?
Stress: a leading cause of illness etc.
Stress in itself could then become a complimentary topic further on, and you could do a whole series (season) on what stress is, how to combat stress through different techniques, and introduce a different technique each episode.
Depending on your format, you could interview health experts that compliment the topic. Or if you have a hybrid format, you could offer up a show with two or three segments in each episode.
---
REMEMBER
Episode titles must align with content so that listeners get exactly what they expect. Ending each episode with a short segment on the next episode is a good idea so that listeners have something to look forward to and keep coming back.
---
Now it's time to move on to the technical side of starting a podcast, and we kick off with what equipment you need to record a podcast.

2. Recording Equipment for Your New Podcast
Before deciding what type of equipment to purchase ask these questions:
Where will my podcasts be recorded from?
How many people will be involved with each episode?
Will there only be indoor recording, or will I sometimes be recording outside?
Will my equipment be connected to a mixer, or will I connect directly to my laptop via USB.?
To start record your podcast, you will need:
Headphones
Use closed-back headphones so that the mic doesn't pick up the background noise. It may be strange, at first, to hear yourself speaking, but you hear the sound quality immediately, and you can rectify any imbalances, which saves you from recording a whole take, only to go back and fix the quality afterward.
Recommended headphones – for all budgets
Samson SR950 – under $50
Yamaha HPH-MT5 – under $100
Audio-Technica – under $150
Microphones
Choose from the basic USB "plug and play" mics to the more advanced dynamic and/or condenser mics. You will need to identify the polar pattern of the mic you choose. Microphones pick up sound from different directions. The direction determines the mic's polar pattern.
USB mics are suitable for solo recording sessions, but for recording multiple hosts, you'll need microphones with an XLR output. There are two main types of mics, condensers, and dynamics. Dynamic mics are better for recording multiple hosts. And you'll need XLR cables. To accommodate multiple XLR microphone cables, you'll need an audio interface and a podcast mixer.
If your recording location has background noise (ambient noise), a dynamic mic will be the better option. Condenser mics are way more sensitive to ambient noise so they would perform better in locations where ambient sound is negligible or reduced.
Recommended:
USB microphones: Blue Snowball or Blue Snowflake
Dynamic: ATR 2100-USB
Condenser: Blue Yeti (good audio quality with Linux)
Mic stands and/or boom arm mic stands
Allows you to position mics to harness the best sound from polar patterns. Some mics will come with a stand. Boom arms improve maneuverability, which improves sound quality. It is a good idea to get shock mounts; some mics come with shock mounts. Shock mounts minimize unwanted foreground noise and vibrations.
Recommended:
Boom Arm: Heil PL-2T
Universal Shock Mount: Rycote InVision
Podcast mixer
It allows you to record sound from multiple sources. You can then use the mixer to create balanced output by adjusting input levels from the multiple mics.
Recommended:
mixer for beginners: Yamaha MG10
mixer for podcasters in general: Rode Rodecaster Pro
Audio interface
Is the hardware that connects the recording software, transferring sound signals (analog) to digital format. You will choose according to your output/input range. If you are starting off try the Focusrite Scarlett 2i2
Laptop or PC
Must be fast and reliable in order to transfer large audio files for editing and storage. Good network speed for recording will be 5-10 Mbps.
Recording/editing software
Choose according to your needs. Although you can record audio anywhere, you will need to edit it using the software. If you record directly into the software, your post-production process goes a lot faster.
Next step on how to start a podcast – let's look at some popular editing software now.
3. Choosing Editing Software When Creating a Podcast
In order to polish your podcast recording, you will need podcast editing software. There are free basic options to get you started. To master the software it is better to choose software with less features. Once you have mastered the basics, you can decide whether to stay basic or upgrade to a paid version with fancier features.
Once you become a regular podcaster, you can upgrade your audio editing software to a complete DAW (Digital Audio Workstation). Here you get to add on software suite components and run them all through a unified graphical user interface (GUI). You get open-source GUI's like GTK and Qt. But this type of editing software is more advanced than what we are discussing here.
Podcast editing software packages to get you started
I am briefly introducing you to 9 podcast editing software packages. Two of which will be ideal for recording and editing long-distance interviews.
1. Adobe Audition (formerly Cool Edit Pro)
Compatible with Mac and Windows. Highly recommended. Free trial. Tutorials included.
Use this software for producing music and podcasts. You can choose to take the entire Adobe suite (or, for a lesser price, just select the Adobe Audition.) The features allow you to do all the necessary tasks involved with the editing. You can mix audio, add segues, fades, music intros and outros and also create templates and customize your workspace for all your podcasts. There are background noise reduction features, and it has a batch processing function and an EQ feature. EQ is the equalizer needed to engineer audio. The result will be a more polished, professional sound.
2. GarageBand
This complete music/audio creation station comes free with Mac and iOS devices. It is not compatible with Windows 10 or Linux. There are ways to get it on your Windows PC, but there are better alternatives. Below we give you these great alternatives. But as far as GarageBand goes, it is the ideal editing software to use with your Mac and iOS devices.
GarageBand is simple to use and has an easy-to-navigate interface. It comes with built-in audio filters and loads of free plugins. It can also take third-party plugins. Previously Inter-App Audio was used to link third-party plugins, but Apple has dropped that for Audio Units (AUv3). You get 2 compatible AUv3 apps now – instrument apps and effect apps.
3. Audacity
Compatible with Linux/GNU/Windows and Mac OS. Open-source and free.
Audacity can be used with USB audio interfaces. It captures live streaming audio, can record live audio from mics and mixers and can digitize sound from other recordings.
Audacity captures multiple tracks to different software, allowing for post-recording mixing and mastering. It has a built-in library of filters and effects for easier recording. The library can be expanded with your own VST (Virtual Studio Technology) plugins, as long as they're not VST synths or real-time VST effects.
Audacity comes with powerful features like:
Silence Finder
Truncate Silence
Sync Lock
Saveable EQ
Multiple import/export options, including WAV, mp3, AIF and even Ogg Vorbis
Audacity covers everything you will get from a paid editing software package. You can:
Record
Edit
Export/Import
Perfect sound quality
Receive analysis
Add plugins and effects
And more.
4. Auphonic
Post-production tool to enhance and polish sound quality after editing.
Post-production tools like Auphonic are automated and can save you hours of time. This type of software is automated, and it works by using algorithms that analyze and process audio.
It reduces ambient noise, adjusts input/output levels, and allows for integration with external apps and plugins. It is simple to use and ideal when starting a podcast.
There are limitations, and if your podcasting career takes off you'll probably want to improve on areas where this software falls short. Because it is automated, it will often miss the mark, as it does not pick up perceived loudness and doesn't allow for manual tweaking of fading and cross-fading.
5. Camtasia
Screen recorder and video editing software. Compatible with Windows and Mac. Once-off payment of $250.00. Install on two machines per user. Free 30-day trial and money-back guarantee.
If you want to republish your podcast as video (mp4), then installing software that records both sound and video might suit you better. If your podcasts involve educating, then you will have the option to create webinars, tutorials, training videos, demos, and more.
6. Open Broadcaster Studio
This is free and open-source broadcasting for real-time video/audio capturing and live streaming. It supports platforms like Twitch and YouTube Gaming.
It has built-in scene management. You can toggle between different video/audio outputs, like webcams, screen captures, and pre-recorded video/audio. It allows you to edit live streams and insert titles, and other elements, into the broadcast. The software includes built-in recording for live broadcasts. You can also archive and rebroadcast later.
7. Open Shot
This has been cited as one of the best video editing tools for Linux. It is simple and covers most editing tasks. For a more complex, open-source video editor, you could try Cinelerra.
What about recording long-distance interviews? Here are two software solutions.
8. Zoom
For long-distance interviews with multiple participants.
Originally designed for conference calls and meetings, Zoom offers the perfect platform for podcast interviews with multiple guests. It allows you to host interviews with up to 100 participants and up to 40 minutes. For free!
Yes, they have a free option that is perfect for podcasters starting out, but it's also great for giving webinars and workshops, developed for video and web conferencing, it is already set up for podcasters on a much smaller scale. Their paid plans are only $15 – $20 per month, and you can add up to 300 participants.
You could host an episode and have some interviewees talking from their zoom phones, which allow for PSTN calls over the internet. This means there are no time delays, and your long-distance interview can be done live!
9. Squadcast
Recording podcasts in a cloud. Ideal for multiple interviewers at different locations.
Like Zoom, Squadcast is all about creating collaborative conversations from all around the globe, without time delays. Unlike Zoom, Squadcast only offers solutions for 4 members, a host, and 3 guests. But the beauty of it is that all the audio is recorded on separate tracks, uploaded to the Squadcast cloud, and stored there until the host wants to download the audio tracks (in either wav or mp3 format) for further editing.
At present, Squadcast is supported by browsers like Chrome, Firefox, Opera, Brave, and Edge. Apple is still getting Safari up to date for support. The same goes for devices. Android can be accessed through mobile browsers, but iOS and iPadOS are still being tweaked for Squadcast.
These are only some software samples in a long list of available editing and post-production software solutions.
Next step on how to start a podcast – Let's move on now to recording your first podcast.
4. Recording Your First Podcast
As a seasoned podcaster, you could have an entire DAW (Digital Audio Workstation) set up. As a newbie, using one software suite (from the ones mentioned above) should be sufficient
Most software will have similar features and methods of laying down tracks, organizing episodes, and creating master templates.
Create an outline for each episode and find music
Before you push the record button, you will need to outline your podcast. By this stage, you should have settled on what format to use and have a strong idea of your content. A very simple podcast outline may look like this:
Pre-roll
Intro music
Intro to the episode
Interview/monologue/content (jot your outline using bullet points for simple, clear structure)
Post-roll (which includes a call-to-action)
Outro
Pre-roll
The pre-roll recording can't be a master track because the episode number gets announced each time. You will greet and welcome your audience, throw in a unique opening line (build your branding) and give the number of the episode. This helps you and listeners to keep things in order, especially if your episodes are part of a season or series.
Intro Music
This will be recorded and saved as a master template because you will use the same track for each episode. Your software will have music you can use, but it is preferable to find music that compliments the tone of your show, expresses your personality and is catchy enough to leave an impression. Think of the intro music as part of your branding strategy.
Intro to the episode
This is where you introduce yourself, any co-hosts, special guests, and the episodes content. Depending on your podcast's ad revenue strategy, you will also need to insert ads unless, of course, you are going to be placing them in your main content section. Then it will form part of your audio track (if doing podcasts with guests or co-host). You may want to insert music or sound effects along the way. The more efficient you become at editing, the easier it will be to jazz up the episode with additional sounds. Just remember to stay on topic and keep it streamlined. Too many fades, effects, segues, etc. will affect the overall sound quality and flow of the show. Whatever you choose to do, remain consistent. That's why it is a good idea to record and edit as many episodes as you want before publishing – just to get practice in.
Main Content
Podcasting requires a number of skills.
Scripts: You will need to write scripts for audio. Solo or co-hosted, every episode needs a script to work off. You may improve, of course, but you need to stick to the topic, and a script gives your show the content structure it needs to keep listeners interested.
Interview techniques: You need to practice your interview technique as well as your presenting and announcing style.
Workflow strategies: Get your workspace organized and set up workflow techniques. Any workflow technique is based on input, transformation, and output. So it just means how you will organize your podcast from beginning to end. Record, edit, publish.
Edit: Although you have software to help the editing process, you will still need to learn how to lay tracks. When you edit, you join the different segments, and each one has to have a fade in or fade out. You need to adjust input/output levels, reduce distortion, and ambient noise. During the recording/editing process, it is a good idea to mark various points on track so that when editing, you know exactly where the issues are that need tweaking.
Add music: Learn how to edit and add music and interviews from multiple tracks. Has your software got a built-in library of music, filters, and sound effects? If not, you can source music from royalty-free sites (pond5.com), or buy a subscription to a site that will supply music (artlist.com). Or find a musician on fiver.com and get original music for your show. Aud
Cover art: Design or choose the cover art for your podcast.
Using the mic for best results
Before you record, make sure you are familiar with your mic. Speaking into the mic sounds simple enough. But a good mic technique saves you time when editing as you will experience less feedback, distortion, and ambient noise.
Remember these points when using your mic:
Closeness: Too close, and your mic will enhance low frequencies. Too far and there will be interference.
Position: Make sure you don't speak straight into the mic. Stand it to the side and speak past it.
Location: Record in the most quiet space you can find. Try soundproofing the space. Opt for a stand-alone recorder if your computer is too noisy.
Use your headphones to monitor sound and adjust your position or voice for the best recording results.
Record your dialogue. If you are interviewing, use separate tracks for each voice. This makes it easier to edit afterward when you will be laying tracks, adding music and fades, and finally, mastering.
Now we can move to the fifth step on how to start a podcast. We will take care of music, cover art, and editing of the podcast.
5. Edit Your Podcast, Add Music and Covert Art
Now we come to the editing, and I'm going to give a step-by-step guide on how you would do this, using both GarageBand and Audacity.
4 Editing pointers to remember when starting a podcast:
Record tracks separately: This makes editing faster and easier. You can fix fade ins/outs and cover or delete distortions, distractions, and ambient noise.
Create a snag list: Also called a punch-list and originally used on construction projects. A snag list is how you keep track of exactly where, on the tracks, problems crop up. Pinpoint sound discrepancies or where i/o levels need adjusting.
Edit twice: Do the first edit to fix content. Then edit for noise and distractions. Often you can fix distractions by using fade ins/outs.
Don't try to be perfect: Edit your episode properly, but don't get side-tracked, aiming for professional perfection. Keep it simple, and over time your experience with editing will evolve organically.
Editing in GarageBand (installed on Mac and iOS)
First Open GarageBand, choose Empty Project (not Voice) and click "Choose." Then click on Audio, make sure input 1 is selected, and click "Create." Next, create a Master Template for every episode. How?
Change the beats (top left LED counter) to time.
Switch off the metronome and "count in" in the top right corner.
You will select Audio 1 for your first track, audio 2 for your second, etc. Hit the +(in the top left) to add.
Your Audio 1, 2, 3, etc. will be renamed. Pre-roll, intro music, intro voice, interview (track 1 for a host), interview (track 2 for guest), post-roll, outro music.
This folder will be your Master Template – Episodes.band. Your tracks with master templates for intro/outro music will be converted from.band to.mp3. You can drag and drop files that you will use in each episode. So, for example, you may have an mp3, WAV, or AIFF file labeled Intro Music. You will drag and drop that into your master template file into the Audio 2 space, which you have renamed Intro music. The other "audio tracks" will be different every time, so you will drag and drop each time. It is just the intro and outro music that will always be the same, so that is a fixture in the Master Episode Template.
Once you've laid your tracks and equalized and amplified your sound quality, you save as 001.band for your first episode. Every time you edit a new episode, you will click on your Master Template, add relevant audio tracks, and save as the next episode 002.band, 003.band, etc.
How to record your pre-roll and edit your segments into a seamless episode
Open your master template.
Mute the intro music in the track below pre-roll.
Then highlight pre-roll and hit the red record button on your interface. And record a pitch-perfect pre-roll for episode 1.
Push stop when you are done and then hit play to hear your recording.
To edit, you'll go into the audio segment, and before you get to the click sound that was made when you stopped the recording, you'll clip it by hitting "command T."
Then you'll drag your intro music to the right place and create a seamless join.
You repeat this process until all your tracks are joined.
Create separate files and folders for the different segments. Then when you edit, you can join all these tracks seamlessly. And keeps your workspace organized and accessible. Your files can be organized into folders with titles like:
Episodes
Graphics
Recorded interviews
Screenshots (to provide analytics)
Editing in Audacity (free and open-source)
Audacity, like GarageBand, has all the manuals you need to get the most out of your editing software. This link will take you directly to Audacity's tutorial page on editing an audio file.
Before we get to the publishing, let's quickly cover how to find music for your podcast. And not so quickly, how to design cover art that will get you listed with top directories.
Adding the Music
Music tracks get added and edited by dropping and dragging or by following prompts and options of your chosen software. Many software packages will come with a library of music. Some won't, but there will always be options, and it is easy to find music. Not so easy choosing it, though.
Test music tracks against audio by doing some trial runs and see if the intro voice and the music compliment each other. Don't worry if you are not musical. It is more about the quality of the music and how the music sounds for the show, along with the voice/s and content.
Avoid copyright issues
To avoid copyright issues, which could result in bans and fines, and stop your success, always use music that is either original (composed by you, or paid for by you to use). Or go onto the many sites available that offer royalty-free downloads. Often you will find free music, but if you can afford it, it is always better to pay for the use of certain tracks. Not only will you be supporting musicians, but you'll also have music unique to your show that won't appear on other sites.
When starting your podcast, remember that all podcasting aspects connect so your music must:
Become part of your branding.
Find intro and outro music that sets a tone that you want to send that is consistent with your theme, topics, content, and personality.
Make sure the music is either free stock, royalty-free, has no copyrights, or is paid for (by you) to use.
Get a musician (fiverr.com) to create an original piece for your show.
Use sites like audiojungle.net or artlist.io. or soundstripe.com
Design your Podcast Cover Art/Podcast Logo
Cover Art is an important aspect of your podcast. Here are some hacks on how to design cover art to meet the requirements needed to be picked up by iTunes. You will also want to get time in the iTunes New & Noteworthy slot.
Cover Art must work in Apple
This is the first criteria. First, get your podcast submitted to iTunes and then submit to the other directories.
Size
Your image must be 3000x3000pixels (max.) or 1400×1400 pixels (min.) It is also important to design your images for different conversions. So it must look good showing up on a mobile device browser and a pc. To get the best look for your images in Apple, compress your files.
Your images will appear in a range of sizes, so test different pixelations.
Export images at 55x55pixels to see how they will appear on smaller screens.
Other
File extension: JPEG (.jpeg) or PNG (.png)
DPI (dots per inch): 72dpi
RGB colorspace: So in other words not black and white
Consistency
The artwork must convey the subject matter.
Less is more
Fewer words, more logo. Visuals get more attention than words these days. So the image must catch their attention and describe the content to hook listeners.
Fonts
Keep fonts simple and clear, unless your podcast is about fonts.
Try to get something original
Don't use images that are used often, like mics and headphones, unless your podcast is about podcasts or broadcasting. Make sure your cover art is polished and clear.
Get it featured on iTunes New & Noteworthy
Once your podcast appears on New & Noteworthy, it will stay there for 8 weeks (this includes the time it appeared on iTunes before being picked up by N & N), so time it right. Ideally, you want to publish about 3 episodes on your feed before submitting to iTunes (now called Apple Podcasts). Have the 4th episode ready to publish and add a short promo and call to action, if you don't already have one recorded.
Your logo is your brand
Bear this in mind and use the image of your cover art as often as you can across as many platforms as you can. It is your "front store display." Use it as an avatar on your social media pages and on embeddable players, like Pocket Casts.
Hire a designer
Hire a designer if you are not great at design yet. Try sites like 99Designs, Fiverr.com, or Gigbucks. Even better, hire us or someone like us, who can.
---
REMEMBER
Good content, good sound quality, a well thought out topic and title, properly designed cover art, and consistency will guarantee your podcast's success.
---
Let's move to the next step on how to start a podcast – how to export and publish your podcast.
6. Export and Publish Your Podcast
Once you have taken care of every detail and your podcast is ready, the next step is to export and then publish the podcast. So let's start with exporting the podcast using GarageBand.
Export Your Podcast using GarageBand
First click on File and click Save (this saves your audio file as is)
Next click Share
Then click Export Song To Disc
This is where you will change info:

You can change "Name" if you want to
Change "Where" to Desktop
Choose "Format to" mp3, AAC or AIFF
And change Quality: This will depend on what format you use. AAC will have different bit rates compared to mp3.

Then click Export
A window will appear and say, "Bouncing."
Another will appear that says, "Converting to."
On completion, it will be saved to Desktop and ready for you to send to your next platform (hosting site/email/social media, etc.)
Note on bitrates: mp3 formats are the most compatible. Uncompressed files offer the best quality. Different formats require different bitrates. Mp3 files work best with 92kbps for mono and 192kbps for stereo. But 124kbps is also popular with some successful podcasts.
Publish Your Podcast with a Podcast Hosting Platform
To publish your podcast, you have to find a podcast hosting platform. Platforms through which you can host your podcast include Buzzsprout, Transistor or Podbean. Please note that when you purchase hosting using our Buzzsprout, Transistor or Podbean affiliate links, they compensate us, which helps us make our blog & themes free of charge to you. Know that we recommend only products, tools or services that we have tested.
This allows you to use their services to get your podcasts out there as smoothly and hassle-free as possible. Most times, once you log in with your host provider, you will be guided through the various tasks. Coupled with your editing software, the whole podcast process becomes an efficient, polished product.
The cool thing about podcast hosting platforms is that they will often also provide promotion, editing options, analytics, and monetization methods. Some hosts will have their own directories and embeddable players. And all of them are set up to submit your podcasts to the top directories. We suggest that you allow them to submit your podcast but advise you to also submit on your own to as many directories as you can find.
So you upload (export) your show to a place that will house your complete show. And then from there, it will be published (listed) to various directories, and to your own website.
There are a few differences I want to highlight before we get into the steps you will take to get your podcast "on the air."
Podcast directories
Each directory will have their own requirements that your podcast must meet, in order to get picked up by them. Apple Podcasts (iTunes) are still the frontrunners in this field, and getting picked up by this directory is a top priority. Most good hosts (all listed above) will automatically submit your show to their chosen top directories. And these directories almost always include Google Podcasts, Apple Podcasts, Stitcher, TuneIn, and Spotify. Other popular directories include Pocket Casts, iHeartRadio, PodBean, Castbox, YouTube, and many more.
However, if you want to add your podcast to other podcast directories, you will need an RSS feed URL.
RSS feed
Before you launch your podcast, you will need to complete one last task, the RSS feed (Really Simple Syndication). This is when you, or your podcast hosting provider, add the data that is vital for getting your podcast recognized by directories. It is also the way your subscribers will receive notification of new episodes.
How to create an RSS feed
On all the best podcast hosting sites you can easily find an RSS feed URL. All you have to do is log in to the podcast hosting dashboard, and you'll find everything you need. All the best podcast hosting sites create an RSS feed for you automatically.
Buzzsprout – log into your Buzzsprout account, then go to the Directories, next click RSS Feed tab in your Buzzsprout dashboard.
Transistor – log into your Transistor account. On the dashboard, click the Overview tab, on the right you'll see a link to your RSS feed.
Podbean – log into your Podbean account, next go to the Settings > Feed.
See how easy it is?
However, if you don't have access to such information, don't worry. You can create an RSS feed by using freeware, like RSS Builder, Fetchrss.com, or Feedity.
---
ID3 Tags – What are they? Why do you need them? How do you add them?
When someone downloads a podcast episode, particular info is displayed.
Name of episode
The date the chapter was published (chronological order)
Name of podcast
Genre( you must enter "podcast" here so that it gets recognized as such, don't add categories)
Description (show notes) of episode's content
Podcast cover art or logo
URL show notes web address – Not always needed.
Copyright info – not always needed. You might want to create a copyright license like Creative Commons.
This information is called metadata.
An ID3 tag is what attaches the metadata to the mp3 (audio) file.
Some of this info is found automatically by iTunes and certain media players when they pick up your show from your RSS feed. But their ID3 editing is not the greatest. Always tag each file yourself to ensure optimum compatibility with top directories.
Overwhelmed? Don't be. All these processes can be done by you with the help of software. And many hosting platforms offer these services as part of their package.
For Windows: MP3tag (free), ID3 Editor ($15), EasyTAG (free)
OS X: ID3 Editor ($15)
Linux: Puddletag (free), EasyTAG (free)
Most tags today are ID3v2 Basic. If your software gives you the option to copy this version to the old version 1 tags, do it for wider compatibility on older systems.
A word of advice
You should still personally submit your podcast to these directories. Why? Because if your host provider submits on your behalf, they immediately gain a certain amount of control and recognition from your show. This could be detrimental to you further on when your show becomes successful. On the upside, your host has your best interests at heart, to a certain degree, and they do make life easier for you in terms of monetization methods, promotion, and marketing, and by providing analytics that will track various aspects of the show, in order to grow it.
Also, make sure you understand the terms and conditions of all the platforms you deal with, whether it's your host, like Blubrry or Buzzsprout, or a directory like Spotify. You don't want to end up with a podcast episode that is littered with ads you never placed.
Now I'm going to the next step on how to start a podcast – how to submit a podcast to the various directories.
7. How to submit your podcast to multiple directories and make it appear on your website.
How to submit your podcast to Apple Podcasts (formerly iTunes)
First, create an iTunes account. Go to www.apple.com/itunes/downloads website or download the app from Google Play.
then log in at www.itunesconnect.apple.com/login
Add your new show
Enter your RSS feed address
And click on "Validate"
If it doesn't go through, go back to check if you have filled in all the relevant data.
Once validated, double-check your details and click "Submit."
Expect to wait up to 2 weeks. They will notify you via email and, when ready, will send you a link to your new show.
How to submit your podcast to Spotify
Use this form. Spotify has a page that lists the most popular hosting platforms and gives you the links to follow. Find your host and click on that link.
How to submit your podcast to Google Podcasts and Google Play Music
Google Podcasts and Google Play are two different things. So if you want your podcast on both, follow these steps.
For Google Play: Go to https://play.google.com/music/podcasts/portal. If you already have a Google account, you'll automatically be directed to add a podcast. Click on it. Paste in your RSS feed URL.
For Google Podcasts: Check if your RSS feed has been picked up. Google is different from other directories, where you must manually submit. Google being Google, finds it automatically. To verify that it has been picked up, paste your RSS feed URL into the Google link generator (search.google.com/devtools/podcast/preview) and click "generate."
How to submit your podcast to Stitcher
Create a profile as a Partner/Content Provider
Next, Log in and click "Add Show."
Then paste in your RSS feed URL and details
And finally, Submit and wait for approval
How to submit your podcast to Castbox
If you host with Castbox, you automatically have "ownership" of your show. But if you want to submit your show, then you need to "claim ownership."
First, go to https://castbox.fm/login and create an account
And go to Creator Studio
Click on "Channels" tab
Click on "Claim Ownership"
Then paste your RSS feed in a pop-up window.
How to submit a podcast to iHeartRadio
To submit your podcast to iHeartRadio go to https://www.iheart.com/content/submit-your-podcast/
As you can see, it's easy to submit to the various directories. Your hosting platform will likely have the relevant links for you so you can do your submitting directly if you want to.
But let's look at how you can get your podcast to appear on your website, and after that, we'll give you some tips on how to grow and promote your show.
Add your podcast to your website.
What you need for your podcast to play from its own site is an embeddable player.
Many hosting platforms have their own embeddable players, so you can either use the player your pod's hosted on, or you can embed the player of your choice. Once you have the player, you will go to your podcast dashboard and look for the "share and embed" option. If you can't find that, there will be something similar. From here, you are just a few clicks away. The instructions will be available, and you can copy and paste the relevant info so that your podcast episodes will appear on your site and be updated every time a new episode is published.
Free players
Try RadioPublic's player. It's free, and you can embed single episodes or entire podcasts. Podcasts from all hosting platforms will play through this player, and it works across multiple devices.
All you have to do to get started is open a free RadioPublic account. It is really simple. Copy the embed code and add it to your website. Support and FAQ's are readily available if problems crop up.
But as I mentioned, most podcast hosts have embeddable players that you can use. There are so many players to choose from, so take your time and check it out. Often a hosting provider will offer to build you a free website when you host with them – many support WordPress sites. Always check the small print to make sure you understand the terms and conditions. This is especially true if you want to retain all ownership rights to your content.
Now, let's move to the next step on how to start a podcast – promote, grow, and monetize your podcast.
8. Grow and Promote your Podcast when starting a podcast
You may think starting your podcast was the hard part. But think again! You must have a good web strategy in place to grow your audience. All your hard work and attention to detail will be for nothing if you don't make an effort to get your podcast heard in as many places as possible.
Start a podcast with Apple Podcasts
As mentioned above, Apple Podcasts is still king. So getting validated on iTunes is paramount to your marketing strategies. And also mentioned above is the importance of appearing on the iTunes New & Noteworthy list. There is a small window (8 weeks), so plan ahead.
Launch with 3 episodes
Why 3 episodes? First, you want to be picked up by New & Noteworthy, and you only have 8 weeks, so it works best if you have 3 or more episodes on your feed before submitting to Apple.
Submit to many directories
Don't leave this to your hosting provider. Do your own submitting. Submit to as many directories as you can find, no matter how new or obscure they may be. And resubmit to the directories that your hosts submit to, on your behalf.
Call-to-action
Add a small blurb for your podcast during each episode you publish. This whets the appetite of listeners for the next episode and reiterates for the listener your topic, title, and vision.
Social Media Platforms
Use Twitter, TikTok, Instagram, Facebook, and many other social media platforms to push your podcast. Try to add the cover art, which should be designed to promote your podcast too. If there is a title and an image that go together, this cements the podcast in listeners' minds.
You can use apps like Canva to frame quotes from upcoming, or past, guests. Add soundbites and video clips. All these tactics are so easy to implement these days, thanks to the constant tweaking across all platforms to deliver the best user experience possible.
Ask your followers to share.
YouTube
Create a YouTube video of your podcast. Make the title one that will be SEO friendly. You want search engines to pick your podcast up.
Website/Blog/Emails
If you have blogging experience, you'll know all about marketing your site. It is the same strategy for your podcast. If you can link your podcast to a business and a blog you create a brand. Again, posting call-to-action requests and adding CTA's to your episodes keep reminding listeners of what is to come. If you get your current listeners excited, they'll spread the word.
Create interest with fun events
Promote your podcast by having giveaways, competitions, and taking surveys. The more interactive you can make it, the more your audience will grow.
Be consistent to build a loyal fanbase
It is one thing to get new listeners and another to keep them. So be consistent with the quality of sound, quality of content, and consistency in releasing new episodes.
Pay attention to analytics
Find gaps in the market where a demand for your brand could be needed. Stay relevant. And on topic. But don't be scared to think outside the box when you have all these stats and scores in front of you. Utilize the information any way you can.
Cash in on guest interviews
Guests bring with them a fanbase. If your guests are alerted as to when and where their episode will be aired, they will pass it on, to their followers.
Monetizing your podcast
This is another way to grow your business. Once you have built up an audience, there are many ways to create streams of income from your podcast, from merchandise to ad placements. Often your host provider will offer ways to monetize your podcast. When you start a podcast, the beginning can be difficult but don't be discouraged.
Take-Away
We have now briefly covered everything you need to know before starting a podcast. Armed with this info you can start immediately. Refining your concept, create topics, titles, scripts, and outlines. Get the right equipment and start recording as soon as possible. Find a hosting platform and launch your new podcast.
And remember: Consistency is key. Content is key. Sound quality is key. And above all, have fun with it. Podcasting is a great way to share content and connect with like-minded people. It is also the freshest platform at the moment, so there is still a lot of room to capitalize your business through this podcasting medium.