This ultimate guide on "How To Make Money Online" is aimed at both novices and veterans of the remote/freelance workforce. Whether you are self-employed, full-time, part-time, or working for a boss, making money online is getting more popular each passing week.
Do you want to find freelance, or contract, work online? Or do you want to start your own online business? No money to invest? Sign up with gig apps and start earning. This post is going to give you all the information you need to get started.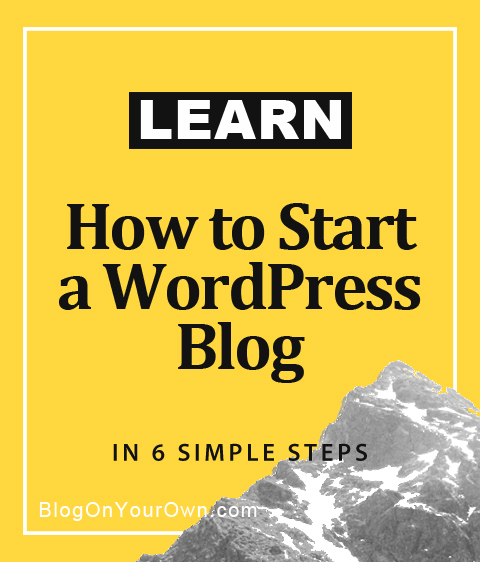 If you're deciding to look for online job opportunities then you're probably asking questions like:
What type of online jobs do I qualify for?
Do I need work experience?
How much will it cost?
What remote jobs can I get as a college student? Read more in the article: Best Online Jobs For College Students.
Can I work online part-time as a teen? Find out more here: The Best Online Jobs for Teens.
Can I get an online job that allows me to use my university degree?
Which companies are hiring people to work from home?
Can I, as a stay-at-home mom, earn a living working online?
Can I become self-employed through online work?
What is my earning potential?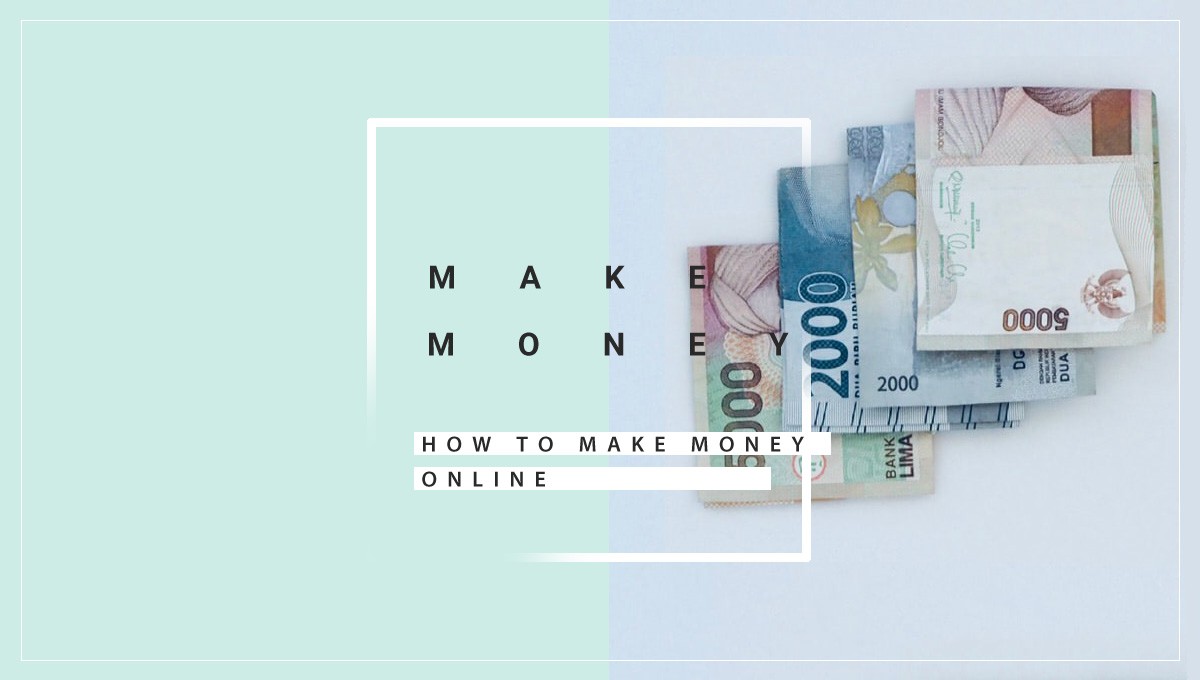 Remote work
The term working from home, or telecommuting, is getting replaced by the terms working remotely, mobile work, or distributed work. In Canada, people call remote work workshifting and in the UK it's referred to as smart working.
New digital economies have developed because so many people get online work now. And it is common to hear terms like:
Gig economy
Gig app economy
Freelance economy
Sharing economy
Side hustle economy
On-demand economy
Rideshare economy
Digital economy
We even have our own digital currencies (cryptocurrencies), independent of central banks. It truly is a brave new world.
So let's jump in.
16 Ways to Make Money Online:
1. Become a Freelancer
Whether you are a writer, a graphic designer, a web developer, an app developer, a coder, a caterer, a consultant, a musician, an artist, a stay-at-home mom, or even a student – freelancing is a dominant force in the online economy. And offers financial independence and freedom from conventional work hours
2. Be part of the Gig App Economy
You can get part-time gigs by joining a number of app services like Uber, Lyft, (rideshare economy) Wag, Rover (dog walking and pet sitting) and Care.com (babysitting gigs), Uber Eats (food delivery) and many more. You can also use apps like TaskRabbit, Fiverr.com, and Gigbucks (apps to find micro gigs).
3. Online Coaching/Consulting
Teach yoga, become a life coach, offer financial advice and business solutions, coach people with addictions to food or drugs (may need other qualifications).
4. Online Tutoring Jobs
Tutor STEM students, teach English, hold online coding camps for kids. Or create tutorials on how to use make-up, play games, bake, cook, paint, draw, writing (see 13 Remote Writing Jobs Websites) and anything else you are good at.
5. Online Admin Jobs
Virtual assistants jobs, data capturing, project management, web research, and transcription are remote administrative positions.
6. Online Investment/Consulting Jobs
These jobs can include selling insurance, day trading, becoming a marketing or sales executive, or even a software engineer.
Consulting, whether it is managerial or financial, is a billion-dollar industry. Analyzing business data, formulating strategies, and conducting market research can all be carried out remotely, from a home-based office.
Become a venture capitalist. Investing in startups can be a good way to diversify your portfolio.
Start Your Own Online Business:
Monetize your blog by introducing passive streams of income. Many bloggers build blogs, generate traffic, get the blog to make a profit, and then sell it. Blog -flipping!
Podcasting is hot right now. Although podcasts have been around for a while, the last few years have seen a huge jump in the number of podcasts getting broadcast daily. Selling ad space on podcasts can bring in a tidy passive income. In addition to a blog, you can start a podcast. With a blog, a podcast, an online shop selling merchandise, and various passive streams of income, all of a sudden, you are making money online! And becoming a brand.
9. Start an e-commerce business
Open an online store, using a platform like Shopify. Start a dropshipping business, again using Shopify as your online storefront. Or combine them. You can buy and sell online through eBay and similar platforms. Hunting down bargains, rare books, antiques, and collectibles means you can go on buying adventures while keeping your "shop" open 24/7. Host regular live auctions from your own website/podcast. It's a great way to bring new traffic and promote your blog, brand, or business.
10. Sell Digital Products
Or create digital products that can be sold by others on your behalf. These include ebooks, whitepapers, templates, and tutorials.
Become a Digital Marketer:
Marketing strategies are the cornerstones to successful businesses. Find your niche and help others market their dreams effectively.
11. Social Media Marketing
Manage social media platforms for businesses.
12. Content Marketing
Most marketing strategies today rely on content.
13. SEO Marketing
Online business has to be promoted and designed to be found by search engines.
14. Email marketing
It helps businesses to use software and strategies to increase their customer base.
15. Affiliate marketing
Sell products for companies using content marketing strategies. Promote and review products and earn a commission. Alternatively, you could market your own brand, produce goods, and create courses that others can sell on your behalf, as affiliate marketers.
16. Make Money Online By Joining The Freelance Economy
Goodbye 9 to 5. Hello Freedom!
But don't get too excited. Freelancers are serious self-employed workers. It takes discipline to work as a freelancer. You will need certain things in place, depending on which industry you freelance in. You will need the "tools of your trade".
So a quiet "office" space, a laptop, and a good internet connection are a given for freelance writers. You may need studio space if you are a dancer, a choreographer, a yoga/fitness instructor, or an artist. Freelance photographers need reliable, quality equipment, the relevant software, and, at times, a darkroom. A chef needs an arsenal of pots, pans, spices, crockery, and cutlery, and depending on the nature of the contracts, reliable transport. Even freelance IT experts, designers, and developers will have their own "arsenal of "choice" weapons".
How much money do freelancers make?
Freelancing by its nature is volatile. How much work you get and what you earn is based largely on:
How much effort you put into marketing yourself.
And how experienced you are.
Which sector of the freelance industry you work in.
How reliable you are.
Your ability to keep learning and updating your skill set.
But whatever niche you freelance in, the fact is that freelancing is a growing industry. It already brings in $1T annually, makes up 35% of the US workforce, contributes 4.8% to the GDP, and is made up of 57 million freelancers. This information was calculated by Upwork and the Freelancers Union, with help from Endelman Intelligence.
The infographic below highlights the latest findings. Courtesy of Upwork/Freelancers Union.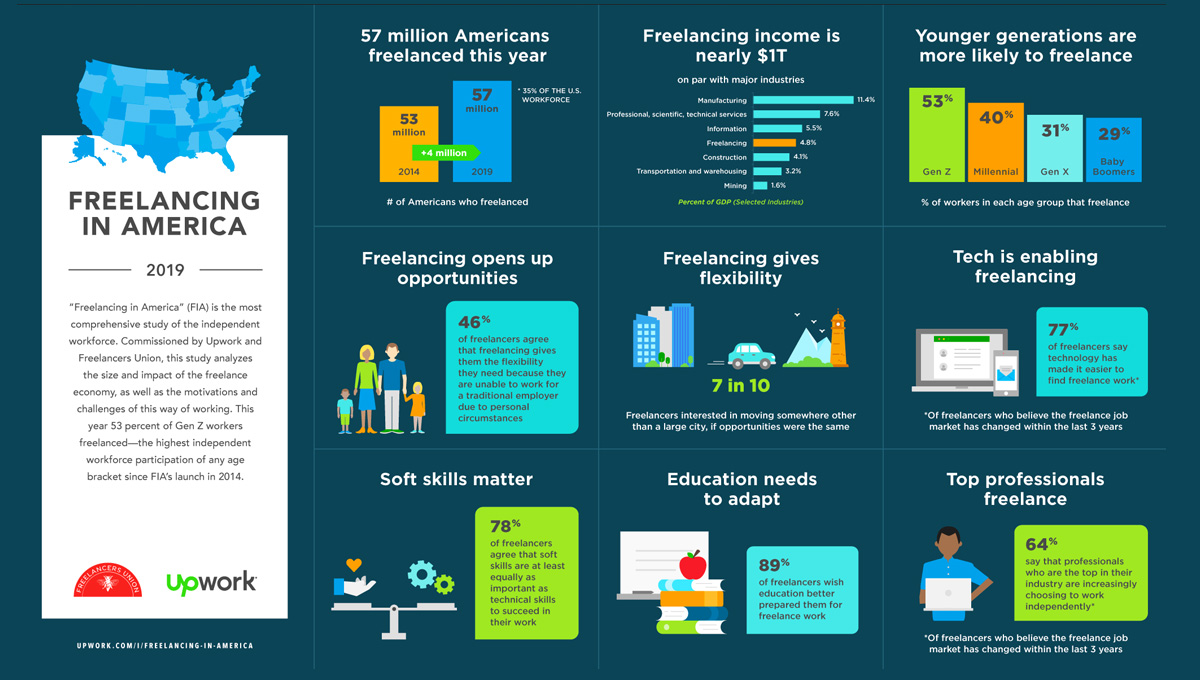 Become a Freelance Writer
Freelance writing jobs can be anything from writing content to proofreading and editing. Be a ghostwriter and help people to get their works of fiction, or memoirs, out there. As a freelance writer, you could find yourself writing e-books, resumés, scripts, business proposals, and content for everything from blogs to brochures, to landing pages and websites, to ad campaigns and copy.
Many business people will hire writers to research, compose manuals and tutorials, or create copy for various content marketing strategies, like blogs and whitepapers.
Earning Potential: $24,000 – $115,000 per year.
(If a writer earns $115,000 per year: – At $100 per hour this equates to 3 hours of writing a day! If you charge an average of $25 per hour, you'd need to write for 12 hours every day to earn this figure.) Some freelance trivia for you…you're welcome.
Entry-level: $1-20 per hour
Intermediate: $20-40 per hour
Professional: $40-80 per hour
Expert: $80-100+ (Over 40% of expert writers earn more than $100 per hour.)
(stats courtesy of clearvoice.com and payscale.com)
Become a Freelance Designer
Design is all around us from the cap on our toothpaste to the IKEA furniture you buy and build, to the cities and towns we live in, to the systems we use to create organizations. Design is such an intricate part of our lives, we often are not even aware of how deeply design is entrenched in our lives.
There is always available work for designers. And freelance design work is just as wide and varied as everyday design concepts are.
These are some of the job categories available to freelance designers:
Animation
Motion graphics
Product design
Brand Identity and strategy
Art & Illustration
UX/UI design
Frontend design
Physical design
Video and Audio Production
Presentation
And many more!
As with all freelance gigs, the pay varies substantially. As an entry-level designer you could make $15 per hour but if you specialize in UX/UI, pump that up to well over $45. Top designers can command $150 per hour for their work!
Earning Potential: $26,500 – $uncapped (or around $98,000)
The reason I wrote uncapped is because as a freelance designer you have the potential to make buckets of cash. It just depends on your experience, your pricing strategies, and the complexity of the contracts.
Solid TIP: If you know your work is good, charge per project and not per hour.
A friend of mine completed a website for his corporate client and charged $4,000, which is a realistic price. But it only took him 5 hours. Had he charged an hourly rate of $150…. It's too sad to even finish this sentence! And if he had been working for a company….Let's not go there either.
According to simplyhired.com, here's what a designer can expect to earn annually with the following job titles:
Graphic Design intern – $25,300
Graphic Designer – $38,350
Senior Graphic Designer – $55,100
Senior Designer – $83,300
Art Director – $76,600
Creative Director – $109,000
Web Designer – $62,000
Visual Designer – $77,000
Become a Freelance Consultant
Consultants are people, and companies, that advise individuals and businesses on how to implement strategies and find solutions. The applications for consultancy are vast and this type of freelance work is growing in popularity as more people from corporate backgrounds find themselves leaving the security of a traditional job for the far more fulfilling option of creating their own companies, or becoming freelancers.
Of course, this career would not exist online without the video conferencing and video integration software that now abounds. To become an online, or freelance, consultant is possible without prior experience but having experience in this field before you go solo will definitely have advantages. If you don't have experience there are a slew of quality online consulting courses that will set you up to become a consultant.
A consultant consults. Your field of expertise will determine what type of consultant you become. You can consult with individuals who are looking to invest finances or start their own businesses. Consultants can advise large corporations on how to strategize, raise capital, grow their business, run campaigns, or keep up with emerging trends.
Consulting positions include:
Cryptocurrency consultant
Financial investment consultant
Career guidance consultant
Marketing consultants
Managerial consultants
IT consultant
Grantsmanship
Environmental Impact consultant
Earning Potential: $52,000 – $170,000 per annum.
At an average of $26 per hour, consulting fees can be as low as $15 and as high as $85 per hour. In order to find your price range, find out what your type of consulting would pay in a traditional consulting firm, and add on 30%. These stats come from glassdoor.com, indeed.com and monster.com.
Courses on how to start and run your own consulting business:
Udemy.com – Start and run a successful consulting business
Coursera.org – Successful Negotiation: Essential Strategies and Skills
Inst.org – Management Consulting Course
Iapcollege.com – How to Become a Business Consultant
Enjoy Flexible Work Hours Working Online within the Gig Economy
Stats show that Millenials and Gen Z value flexible hours over job security. As a result, we have what is called a gig economy. The gig economy is extremely diverse. Apps and smartphones have revolutionized part-time work. By using certain apps, customers and service providers connect.
There has been a huge emphasis placed on online work that can be done by almost anyone, but that doesn't pay that well. And because I've covered these types of jobs in previous posts, I want to focus this post more on the online work that brings in serious money.
These sites offer legit gigs with decent earning potential, as well as low-paying part-time work. If you want to start making money online check out what these sites have to offer in terms of part-time work with flexible hours.
Upwork
Flexjobs
Fiverr
Gigbucks
Swagbucks
Get-Paid.com
PeoplePerHour
Rev.com
mTurk
Uber
Lyft
Ubereats
And many more.
Educate and Create by Compiling Online Courses and Tutorials
This niche is rapidly expanding. Us humans have an unquenchable thirst for knowledge and the desire to be the best version of ourselves that we can be! If you have a passion for sharing what you know with others, the potential to create and market your own online courses has never been so accessible.
Have experience in a certain area but don't have teaching experience? You can take a course on how to make a course! Creating online tutorials and courses involves more than putting learning materials and modules together. You will need to market your material. But how?
You could start a blog and market it yourself or you could hire a freelance marketing consultant, or an online marketing company, to help you. But you could also offer an affiliate program and get professional bloggers, that monetize their sites through affiliate marketing, to promote your stuff.
Take an online course on how to put together quality, informative, educational packages. If you can create courses filled with evergreen content and value for money, the sales may keep you in the pound seats for years to come!
Some of these sites teach people to create online courses while others offer software and hosting so that you can create your courses with them and sell through them.
Thinkific.com
Thinkific is a business that offers software that builds online courses.
Thinkific offers a free version that allows you to create 3 courses. The next level up costs $49 per month. You get email integration, drip content, an unlimited number of courses, custom domain, affiliate reports, and Zapier triggers (toolbox). You also have the option of manually downloading the courses.
Articulate.com
Articulate offers live and on-demand training, authoring apps, stock assets, a project review app, and more. Grasp design concepts and project management. You will learn to design courses for both PCs and mobile devices.
Articulate offers a free trial. The complete package for individuals costs $999 for the year. Team packages cost $1,299 per user, per year.
"How To" Tutorials
If you already have a blog, you may find starting a podcast or a YouTube channel is a natural progression. "How To" online tutorials are a fun, light-hearted way to show your audience how to cook, sew, garden, sing, paint, draw, play games, etc. YouTube channels can be monetized and depending on how much traffic you get and how many people subscribe, you can earn $7.80 per 1000 clicks. But google takes 45%.
Webinars/Workshops
Course content can be used in conjunction with webinars and workshops. They can act as a supplement to an online course or they can be completely stand-alone events that generate traffic. The participants of a workshop or webinar may purchase an online course as a result. Webinars and workshops can be streamed live. They are often free of charge, but not always. They are sometimes created to be gated content for the most polpular blogs.
Online Tutoring and Counseling Gigs
The requirements for online tutoring gigs, especially TEFL (Teaching English as a Foreign Language), have become stricter because the market is saturated. So you need to complete specific, accredited courses.
Tutoring is not restricted to teaching languages. Teachers, psychologists, counselors, life coaches, and health/fitness/yoga instructors can find freelance work on many platforms like:
Upwork – online hiring platform with tutoring jobs.
Skooli – tutoring platform.
Udemy – tutoring platform and online courses. Udemy teaches you how to create online courses, offers a platform for tutors to work from, and sells a vast array of online courses to learners.
TutorRoom – sells tutoring software that allows tutors to accept payments, create schedules, and virtual classrooms. TutorRoom also sells online courses.
Wyzant – You can create your own tutoring business and list your services on Wyzant.
Codementor – work as a coding tutor through codementor.io
Online coaching is usually carried out face to face via video conferencing apps and software. Become a business coach or a life coach. Many people are setting up their own best blogs to teach others how to become business and life coaches.
If you are already an experienced coach perhaps it's time to move your coaching session to an online platform. Or find freelance coaching jobs through platforms like:
Jooble.org
Virtualvocations.com
Simplyhired.com
You may also like: Sports Blogs That Will Inspire and Motivate
How to Earn Actively and Passively from Combining a Blog with Coaching
Example: You have a passion for optimal health, and you want to work in the wellness niche. So you become a Functional Medicine Coach and set up an online coaching business.
You can then make money from your blog, which is promoting Functional Medicine through the content on your blog. You decide to complement this by opening an online store to sell health products. At the same time, you also monetize the site through affiliate marketing. And you offer online Functional Medicine coaching sessions. Group workshops are another option. With the appropriate video integration software, you can coach multiple people at the same time.
In addition, you can create online coaching courses, or other health and wellness courses, to sell through your site, as well as offering your digital content to affiliate marketers in a similar niche. You could also create digital products called gated content. Gated content is long-form content like ebooks and whitepapers. Offering these products for free, in exchange for a visitor's name and email address, is part of a sound content marketing strategy.
The Final Decision
Although many people look for companies that hire remote workers, even more people are choosing to start their own online businesses from home. Making money online can be achieved with minimal financial outlay. But realistically, starting any business is going to require some start-up funding. The ways to make money online, that I've discussed here, are not get-rich-quick-schemes.
To run a successful business, online or elsewhere, requires motivation, stamina, a solid business plan, patience, and passion. A willingness to embrace new techniques and learn about unfamiliar business strategies already shows that you are on your way to financial independence and freedom from a rigid 9 to 5 existence.
Making Money Online is a Lifestyle Choice.
What online business model has grabbed your attention today? Leave a comment; I'd love to hear about your experiences making money online.