Today I am reviewing the Best 6 CMS Platforms to build a website (Content Management Systems) based on what they provide and what you should look for in a CMS. Some are made for any and all websites, from individual blogs to those of medium-sized businesses to those of multinational conglomerates. Because every business has different needs, a wide range of content management systems (CMS) are available, each with its own set of features, bundles, and pricing tiers.
Before I review 6 of the most reputable CMS Platforms available let's look at:
What is a CMS?
What does a CMS do?
What are the different types of CMS Platforms?
Why do you need a CMS?
And what must you look for before making your decision?
Are you ready to begin? Let's go!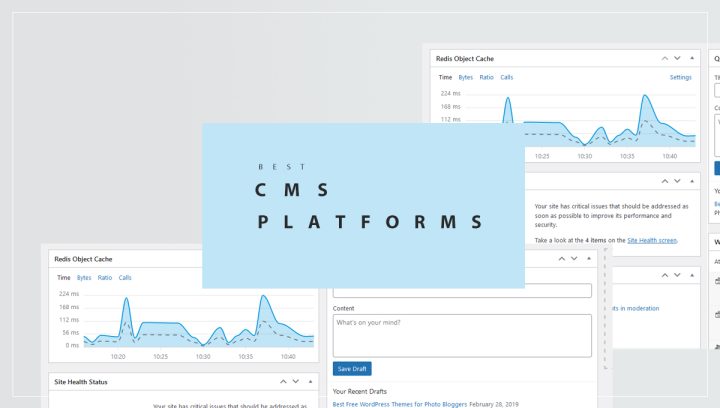 What is a Content Management System (CMS)?
A Content Management System is software that allows you to manage your content without needing to know how to code or maintain back-end and front-end programming. Front-end development takes care of the visuals that users see and use as they navigate your blog to buy products, read your content, subscribe to your mailing list, and share your content across social media platforms. (If it's attention-gripping content with valuable and useful information, of course!)
Back-end development is the code that takes care of the servers and makes sure your site is connected to the right portals so that the front-end and back-end function as a single unit.
Front-end developers work in languages like Java, HTML, and CSS. Back-end developers use JavaScript, Python, and PHP.
If you are inclined to develop you can become a full-stack developer, which means you get to work on both backend and frontend development. But maybe the most important feature a CMS needs is the ability to add an eCommerce platform. A year or two back, CMS platforms were very focused on blogs, publishing blogs, promoting content via blogs, and creating features to allow other streams of income through your blog which you managed with your CMS, like WordPress, Drupal, Joomla, etc.
That's why many favoured open-source content management systems over proprietary ones. Because proprietary (closed-source) CMS platforms couldn't add plugins that provided online stores. But now having an online store, or at least the option to add one, is essential. So, the emphasis has shifted to CMS platforms that are also eCommerce platforms, like Magento, for example. WooCommerce is also very popular now, as is Shopify. Although Shopify identifies itself primarily as an e-commerce platform and the CMS aspect is secondary.
What does a Content Management System do?
The goal of any good CMS is to make the storage and management of your content as simple and straightforward as possible. The goal of any good content management system (CMS) is to provide its users with an easy, pleasurable experience. It needs to be built with features and functionalities that make navigating your site simple for visitors, and it must be made such that it:
Appeal to your target audience.
Give clear indications of what your company is about.
What you specialize in or the services you provide.
What you sell.
The resources you offer.
What you stand for as a company or brand.
What are the Different Types of CMS Platforms?
There are mainly two different types of CMS – the open-source and closed (proprietary) source.
Open-source Content Management System is self-hosted and free. And gives the authority and freedom to modify coding. Sometimes open-source CMS platforms charge extra for plugins and hosting, apart from building your site. Headless CMS platforms are also fast becoming more popular but we will see learn about it in another article.
Open-Source CMS
Open-source CMS platforms share all the code with the user. Even if the user doesn't know how to code, they still have access to the code. Anyone interested can contribute or modify the existing code and they can also create their own changes while customizing their sites. You can get more involved and contribute to new features, new versions, or even assist with bug fixes. You can make plugins and apps that others can use for free or a little cost.
Closed-Source CMS
Closed-source Content Management System does not give users access to code. It is the sole property of the owners of the CMS. They often offer free hosting and website building but you have to pay licensing fees and this model comes with more restrictions. What you don't get is a unique domain name, the ability to monetize, and the choice to remain ad-free.
With self-hosted CMS platforms, like WordPress.org, you can download the software for free, use it to design and customize your own site and it's only if you want to go live and publish content across the web that you need to buy yourself a hosting package.
The advantages are that you get your own domain name, the choice to remain ad-free or choose ads you want on your site. You also get the chance to monetize your site in various ways. You can start an online store, become an affiliate marketer, sell online courses, publish content, run campaigns and promotions, and make money from ad placements with different payment systems like PPC (pay per click) and others.
There are also several other differences and those will be addressed in future articles.
Differences such as On-Premise vs Cloud-Based and SaaS (Software as a Service), headless CMS vs decoupled (these deal with new architectures within the CMS), etc.
The traditional CMS is one with a frontend and backend that are tightly coupled. The backend publishes, constructs, and manages content while the frontend delivers it, across multiple platforms and devices.
But the content management system software that most users will use is cloud-based, SaaS software. There are many pros and cons to both systems, but as I said we are looking at CMS platforms that an individual or a small to medium-size businesses will require so they must have these features:
Affordable.
Easy to set up.
Easy to maintain and keep updated.
So What is Our Recommendation
Cloud-based technology has made it easier, safer, and cheaper to keep up with the fast pace of technological advancements in the computing world. And because both Patryk and myself are advocates and huge fans of open-source software we try to encourage our readers to embrace open-source. Open-source CMS platforms let you become self-sufficient by using software and other digital conveniences with freedom.
Here are two lists. One names open-source CMS platforms and the other is a list of closed-source or proprietary CMS platforms. Because freedom is also about choices, so all the open-source CMS platforms on this list come with easy access to e-commerce plugins or are already set up for online stores and catalogs.
Open-Source CMS Platforms:
WordPress.org
Drupal
Adobe Commerce (formerly known as Magento Commerce)
Joomla
Sitecore
Monday.com
Closed-Source CMS Platforms – also known as Website Builders
Website Builders vs CMS Platforms
A website builder differs from a CMS because it is an easier option to get a website up and running fast and with no difficulty. Website builders are usually free and you also get free hosting. The CMS software that helps you do this, retains the rights over your site. You may not sell, install plugins or remove the ads that appear on your site. You cannot monetize your site and if you want to migrate to another platform, often you lose your traffic and have to start from scratch and will have to build up traffic again to get ranked and found by the search engine crawlers that index your pages so that you can be found through search queries.
Using a CMS to build your own website requires a steeper learning curve but with the help of tutorials and open-source software that:
Provides themes.
Functionalities that allow plugins.
The freedom to customize.
You end up with a free CMS and you only have to pay to register your domain name and for hosting which is minimal if you are a start-up or a small business. If you already running a profitable business, then your budget will allow you to take a slightly more expensive hosting package that comes with perks like unlimited space and bandwidth, SSL certificates, extra subdomains, better security, and many other essential features.
So What to do If you think it's not your Cup of Tea
Established businesses and larger corporations may have in-house developers working on all this stuff but if you are not one of these businesses, you can hire open-source developers through reputable companies like Codeable. You can then be rest assured that your site stays up and keeps running and doesn't develop any snags on the tech side. And all you need is to focus on effective digital content marketing strategies which again, you can do in-house or hire a freelancer from the outside. There are options for all types of businesses and budgets, even for the personal blogger who wants to design, customize, and monetize their own site.
Why do you need a CMS?
Digital marketing is the way forward for businesses and services in today's commercial space. A CMS allows you to keep all your information in one place, within an organized framework. You need the infrastructure of a reliable CMS to keep tabs on analytics, keep up to speed with campaigns and promotions, and make use of plugins that automate certain tasks, like e-mail replies, social media postings, and SEO marketing.
A CMS is needed to maintain the integrity of your business by offering user-friendly interfaces, providing fast consistent and always available customer support for both customer queries and your own problems that may crop up with frontend features and functionalities. Any downtime will have a negative impact on potential sales and will also lead to the loss of new traffic.
A CMS handles all aspects of digital marketing. With a CMS you can optimize SEO (search engine optimization) and SEM (search engine marketing). And a CMS allows you to produce, publish, edit, house, and market your content, business, services, or brands.
What to look for in a CMS and what to avoid
Open-source CMS Platforms offer:
The freedom to monetize your site,
A choice to add an online store, or use a CMS that is developed as an eCommerce platform already.
The option to migrate to another hosting platform with all your content.
The choice to design your site to be ad-free,
Access to all the code, frontend as well as backend.
You to be a contributor or you can just customize your own site if you know how to code. But with WordPress.org, this is not needed. You have loads of templates and plugins to choose from.
When choosing a CMS, you will want to look for features like:
Support, resources, and tutorials
Speed
Security
Scalability
24/7 uptime, meaning your site should be available to visitors and drive traffic 99.9% of the time
The ability to add plugins, these are essential for added security, SEO, analytics, and email marketing.
User-friendly dashboard and easy-to-navigate site.
Design that is responsive, suited to all devices like smartphones (mobile-friendly sites take precedence).
Unlimited bandwidth.
Unlimited storage
The ability to install WordPress.org with just a click.
Hassle-free migration that allows you to take traffic and content with you.
Ability to keep adding pages when your catalog expands or your company diversifies.
These features generate traffic, sales, conversions, brand awareness, online presence, and customers.
Mistakes To Avoid While Choosing a CMS Platform.
Avoid using a CMS that is too advanced for your technical skills. Even though you don't need to know how to code with open-source content management systems, you still need a system that offers tools to add plugins and make payments easy and secure for customers. Our 6 listed CMS platforms deliver all these factors so all you need to do is choose one that appeals to you. Support, technical advice, the option to hire freelancers, access to code, and an affordable hosting platform that is compatible are the things you need. Check out our other articles on choosing reliable, user-friendly, affordable hosts like Bluehost(Our recommendation), HostGator and more.
Disclosure: Please note that when you purchase hosting using our Bluehost affiliate link, they compensate us, which helps us make our blog & themes free of charge to you. Know that we recommend only products, tools or services that we have tested.
Also, this article hasn't gone into any details about headless systems or cloud-based software, which is a completely different ball game. So, for now it's all about the traditional backend and frontend development of the system, just to keep things simple.
BlogOnYourOwn users receive an exclusive special discount with our Bluehost coupon code. Click this link to buy your hosting at a special price.
So Let's Jump In
Based on all the information I have given you above, here are the Best 6 Content Management Systems for your blog or site. I have only compiled a short list of features for each one because I'm not reviewing to compare price but just giving you leads on what is out there and liked by many. Also, this article is aimed at smaller enterprises, so many of the CMS platforms available won't be mentioned. These deal with systems designed for in-house developers. Some companies create their own.
CMS Platforms are not the same as DAM platforms (Digital Asset Management). A CMS is designed to publish and create content. A DAM is more for larger organizations and focuses on media and marketing over multiple channels and platforms. If your brand or company grows, you can add a DAM to your CMS. But is not a necessary component to get your business up and running and optimized for search rankings.
6 Best CMS Platforms to Build a Website On
When compared to closed source CMS platforms, like Sitecore, Bynder, and Apostrophe, open-source options always work out to be less expensive, especially when it comes to licensing fees.
So here is the much-awaited list of most Popular CMS platforms for individuals or small to medium business.

The traditional front runner of open-source CMS.
Constant new versions come out so bugs and other issues are quickly resolved.
Continual improvements in all areas from speed, scalability to security.
Staggering number of responsive template designs and plugins that stay ahead in terms of support and compatibility with all devices.
Awesome developer and designer community to be a part of.
Easy 3rd party integrations
Easy to add content
Great community support
Free and open-source
High security
Over 46,460 modules to suit your specific requirements
SEO optimization
Multilingual

Ecommerce focused.
Catalog management.
SEO centered.
Complete site management.
The ordering process, from checkout to payment to shipment, is simple and easy.
Mobile friendly.
User account friendly.

Joomla 4 – stable
Improvements with functionality and coding
Improvements with better SEO features
Easy installation
Responsive, mobile-first design
Bootstrap 5 – better integration framework for HTML. CSS, and Java
New backend and frontend UI that makes template integration easier.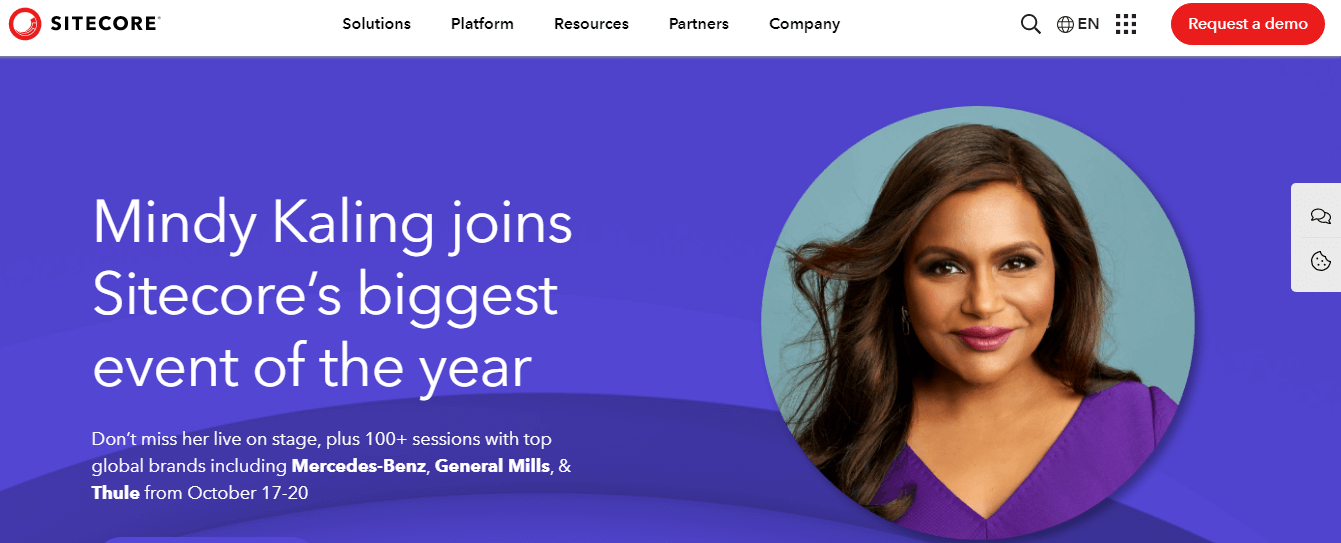 Sitecore is an excellent CMS and DAM but it is very expensive so it's suited to businesses who run multiple websites or manage many clients.
Sitecore is both a CMS and a DAM (Digital Asset Management)
DAM is ideal for large corporations that function across multiple platforms and can manage all digital tasks.
As a CMS, Sitecore manages marketing content for a single website whereas the DAM manages many websites, on many channels.
As it says on the Sitecore experience platform landing page, it combines customer data and analytics.
Makes automation and AI(Artificial Intelligence) available, and is customer-focused, to help customers through their personalized journey by making sure your content is contained in a hub.
It also offers other services, like cloud-based solutions, storefronts, order management, search and merchandising.
The internet ads make monday.com look more like a workflow chart or a content calendar. However it is a CMS because it has all the features and functions needed to publish content. And because there is so much focus and templates to get deadlines, targets, content, campaigns, and collaborative tasks done, it is ideal for blogs run with teams and different departments. Content marketing, branding, promoting, and good communication are easy with this product.
It's not open-source. And the cost is affordable. There is a free option for individuals and the standard package is $30 per month for up to 10 seats.
Concluding the Best CMS Platform choices
As you can see, content management systems are not all the same. The have different price and feature. Some focus on traditional backend and frontend development, while others are cloud-based or headless.
Open-source gives you access to all coding, Closed-Source does not. Open-source spells freedom, monetization, e-commerce, and independence, closed-source comes with hidden costs and limitations. New CMS platforms are entering the market and are challenging traditional systems like WordPress, Joomla, and Drupal.
Some of you may be keen to start your own site using a CMS like WordPress. Some of you may want to hire developers to deal with certain technical aspects that you don't have time for. But the focus should be primarily on content creation and managing it. Plug-ins allow features like SEM, SEO, and automated marketing with email and social media platforms.
Content creation is just one part of content management. You still have to publish, promote, and build traffic and a reputation.
I hope this article has been informative and brought you closer to choosing the ideal CMS for your brand or business. If you have any comments or queries, please feel free to contact me.
Happy Blogging!
Monika