WordPress is an excellent tool for beginners. To create a WordPress website or start blogging, you can do everything yourself. And it is not so difficult. If you want to start a blog, you can follow our guide. Step by step, we'll show you how to create a website and start blogging. If you do not want to do it yourself, but you are thinking of creating a beautiful WordPress website, you will have to find a top WordPress developer to make things happen for you.
Disclosure: This post contains affiliate links. It means that we get a commission when you click a link and purchase. Thanks to this, we can share free themes and free content. It doesn't cost you anything.
Whether you are creating a WordPress blog or a stunning business website by yourself, or if you want something more advanced or highly professional, one day, you may need expert help on your site.
It seems that finding a WordPress freelancer should not be too difficult. WordPress is becoming more and more popular, which is why every day, more and more freelance developers are dealing with this niche. However, do all of them have the skills and the right knowledge?
Top platforms to hire freelance WordPress developers
Related Posts
Finding the top freelance WordPress developer can be a challenge for you if you've never hired any. Where to find the best WordPress specialist? Where to find help? Don't worry. There are a few great places.
In this article, you will find all the essential things that you must consider when you are searching for the best WordPress developers. Let's have a look at how you can find the right developer, where are the best places to hire a WordPress freelancer with the right skills and experience.
You must know that there are tons of freelancing platforms, where you can hire a WordPress developer. Some are better, and others are worse. That is why you must be careful.
Are you ready to start your blog? We'll help you get started. All tips on how to do this can be found in our article: How to start a blog. Start today. It is effortless!
There are platforms, like Codeable.io, Toptal, Upwork, Freelancer, People per Hour, Fiverr, and many more. On each of these platforms, you will find a lot of freelance WordPress developers. Still, the fundamental question is: are they checked by anyone, does the platform care for it to be represented by people with appropriate knowledge, experience, and skills?
Let's take a closer look at the platforms, as mentioned earlier. Let's see what they have to offer.
1. Codeable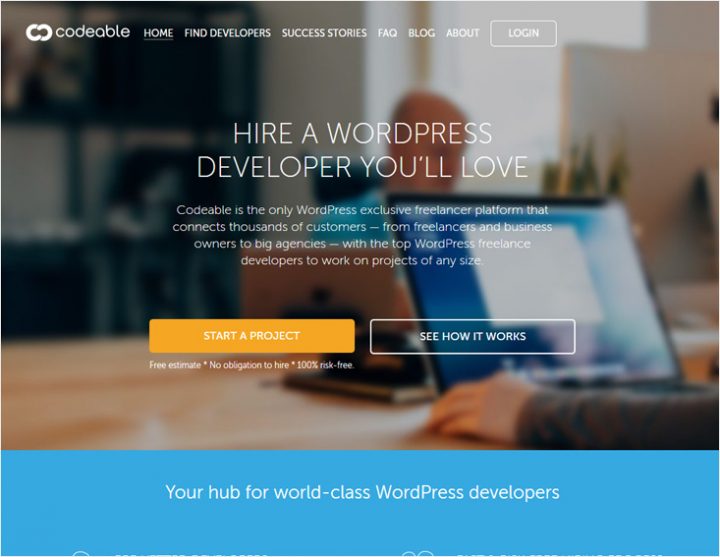 Please note that when you use Codeable services with our Codeable affiliate link, they compensate us, which helps us make our blog & themes free of charge to you. Know that we also only recommend products we personally stand behind.
Codeable.io is the WordPress exclusive freelancer platform that connects thousands of customers (from freelancers and business owners to big agencies) with the top WordPress freelance developers to work on projects of any size.
Advantages
The great advantage is that the platform focuses exclusively on WordPress related work. That is why it is carefully prepared only for WordPress specialists. So if you are looking for a professional, trusted WordPress developer, this is the perfect place for you.



What's more, Codeable thoroughly tests every future developer. Thanks to this, you can be sure that they are not random people, but qualified, carefully selected, and vetted WordPress experts, who are available for any WordPress job.
Including help in customizing themes and plugins, help with installation, website optimization, creating custom plugins, themes, websites, and much more.
One of the great things is that it offers you a money-back guarantee. If you are satisfied with the work with a WordPress specialist, only then your fund will be released. You don't have to pay the developer upfront – you need to make a deposit.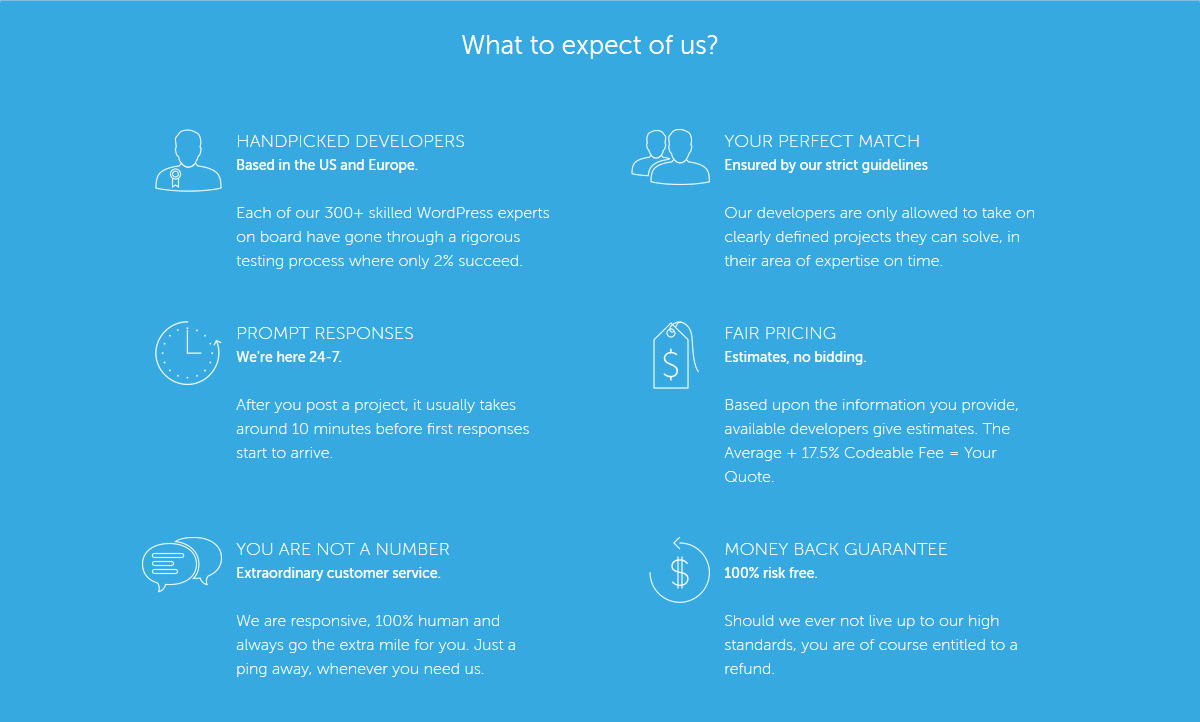 Above all, they have an excellent payment system that benefits both the remote WordPress developer and the customer. You can keep getting alterations until you are satisfied with the work of the WordPress expert. Once you are happy with the work, you can express your satisfactory level by rating the freelancer and releasing the funds.
Pros:
The verification process means that only the best WordPress developers are available,
Focuses exclusively on WordPress, so it's easy to find experienced WordPress specialists,
The best quality of services on the market,
Money-back guarantees – working with Codeable is free of risk. If you are not satisfied with the results of the experts' work, they will provide a full refund,
Great Support.
Cons:
The rates start from $ 70 per hour. It seems a lot, but remember that each project is priced individually, so the amount per hour may be different.
In my opinion, Codeable.io is the most excellent choice if you want to get the best quality at a reasonable price.
Here you may read our extensive Codeable review.
2. Toptal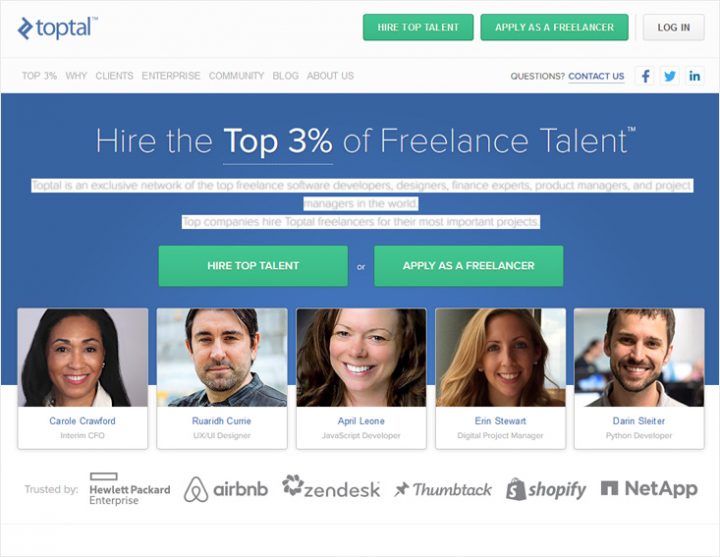 The next portal offering the best freelance from various industries in the world is Toptal. Here you will find freelance software developers, designers, financial experts, product managers, and project managers. Experts from almost every industry.
Like Codeable, here too, every freelancer undergoes a very rigorous verification process, so you can be sure that you work only with the best specialists. It involves higher prices, which you will have to pay for the service. They pride themself on accepting only 3% of candidates who apply for membership on their site.
Pros:
Only the best specialists are available to hire,
The portal supports various industries, not just WordPress,
You can also find here other necessary specialists,
Cons:
Prices start at $ 60 per hour,
It's harder to find top WordPress developers here because the portal offers freelancers from the most diverse industries.
3. Upwork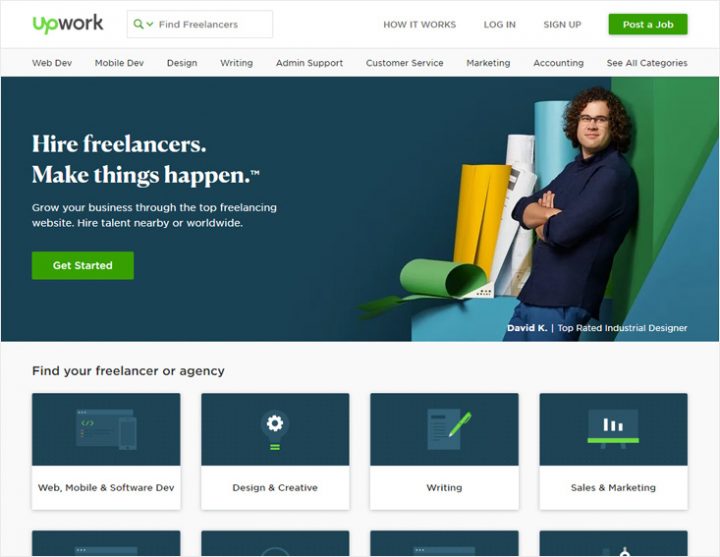 One of the largest freelance platforms on the web is Upwork. You will find here not only remote WordPress developers but also freelancers of many other specialties from writers to engineers. Thanks to that, in one place you can use the services of other specialists you need.
They offer freelancers with varying degrees of skills. The platform does not check every new candidate, so here are poor as well as excellent WordPress developers. Hence their prices are also diverse. The same service may cost you more or less, depending on the WordPress expert you hit.
You will have to spend a lot of time to find the right developer for you. But on the other hand, if you have time, a lot of patience, and a very tight budget, you can hire here an excellent specialist at a very reasonable price.
Pros:
One account and the possibility of employing various specialists.
Cons:
The platform does not check developer skills, that's why you'll find many bad WordPress freelancers here,
You do not know who is sitting on the other side of the screen,
It takes a lot of time to find the right WordPress developer,
The prices of the best ones are usually high,
It happens that the platform blocks the account of a given freelancer without explaining why, and you have to look for a specialist again.
4. Freelancer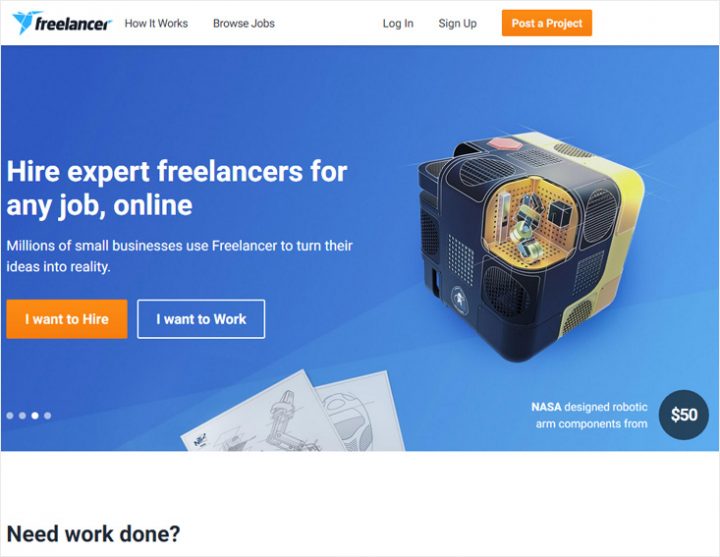 Another massive platform on which millions of freelancers are registered is Freelancer. Here freelancers are not checked in any way. You do not know who you are working with.
You can find here remote WordPress developers working at low rates, which will help you save your budget. However, remember that the most economical price does not necessarily go hand in hand with a good quality of work.
Freelancer.com is focused on freelancers of various specializations, which is why you will find here not only WordPress developers, but also designers, writers, and programmers.
Pros:
One account and the possibility of employing various specialists,
It is often cheaper than others.
Cons:
The quality of work can disappoint you,
The platform does not check freelancers; that's why there are many poor ones.
5. WPHired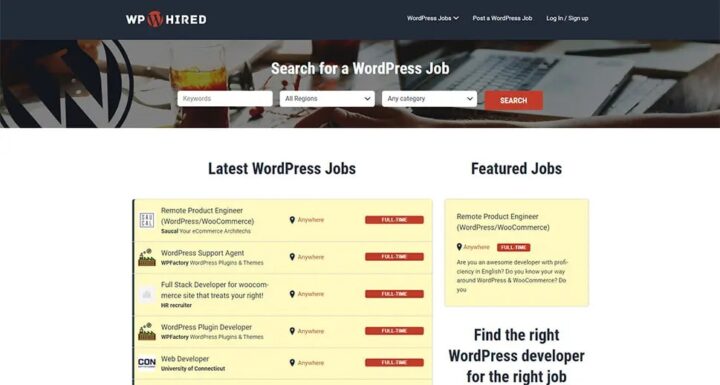 Like Codeable WPHired too caters to only WordPress Development Services. It was launched in 2010 by Jerome Degl'innocenti who himself claims to be a WordPress Fanatic. What I personally liked about it that once you post a job then a developer can use filter such as location and job type to find the job, which I think may help in connecting the right client to the right WordPress Specialist.
Here you can post your job for free for 30 days and if you wish to display your job posting for more than 30 days then you have to select one of their paid plans, which is not expensive too.
Pros
Free unlimited Job posting for 30 days.
Platform specifically targets WordPress professionals, which means you're likely to attract candidates with relevant skills and experience.
Employers can easily search and filter through candidates' profiles and resumes, streamlining the hiring process.
Cons
Free Job Posting only is for 30 days
There is no screening of freelance WordPress Developers, so you will have to vet them personally, which can be time consuming and if you have little knowledge of WordPress then you might get stuck with a less qualified WordPress Developer
As a niche job board, it may have a smaller user base compared to larger, more established job platforms, which could potentially reduce the overall number of applicants.
While WPhired focuses on WordPress professionals, some candidates may still prefer to use more popular job boards with a broader scope, which means you may miss out on those candidates.
6. WordPress Jobs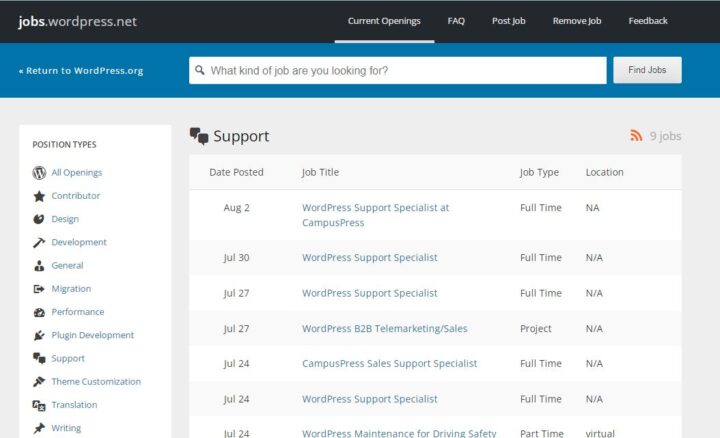 Well looking for WordPress Specialists on WordPress, I think is like searching for water in a river. WordPress Jobs is the official job board for WordPress-related job opportunities. It is operated by the WordPress community and is a platform where employers could post WordPress-related job listings, and job seekers could find opportunities related to WordPress development, design, support, and other roles within the WordPress ecosystem.
Well here too you can find a pool of talented WordPress Developers. You could post a job for free on this board and additionally you can categorize your job needs like if you need help with plugin development then you could add it to category Plugin Development. This way a WordPress Specialist who is looking for job related to plugin development will only apply to your job, there by reducing the miscommunication and wastage of time in finding a developer for your specific needs.
But here too no vetting is done by WordPress, so the expertise of developer cannot be guaranteed.
Pros
WordPress Community: Being the official job board for WordPress, it attracts a specific and targeted audience of WordPress professionals and enthusiasts.
Quality Candidates: Since the platform is dedicated to WordPress-related roles, job posters are more likely to receive applications from candidates with the required skills and experience in the WordPress ecosystem.
Community Trust: Being an official WordPress job board, there is a level of trust associated with the platform, which can enhance the credibility of the job postings and attract serious candidates.
You can post a Job for free and categorize your specific needs
Cons
No vetting done by WordPress, so you have to screen the applicants yourself which could be time consuming and frustrating
Posted Jobs are only listed for 21 days
Advantages of freelancing platforms
If you are exploring your options and checking various platforms, then you will be able to choose the perfect WordPress developer out there. You always have to look for an experienced and highly skilled professional in the field.
The good thing about these platforms is that you will be able to interview different people, and you can check out their previous work. By exploring different freelancing platforms, you will be able to come up with a great solution, and you will be able to choose the right professional for the job.
More importantly, most of these freelancing websites provide you great value for your money. They have an excellent payment system that will help you prevent all sorts of scams. You can always get a refund if you are not receiving the work as promised.
Conclusion
There are more and more WordPress users in the world. Hence the demand for WordPress development services is continually growing. Today, thanks to a large number of freelance internet platforms, finding a remote WordPress developer is not that difficult. For all who need help here and now it is excellent news.



On the other hand, you have to remember that you always get what you pay for; therefore, if you want to have a job done well, the lowest price should not be your priority. In my opinion, only on platforms that test the skills and knowledge of their developers, you can be sure of high-quality services and professionalism, but the choice is yours.
Good luck 🙂