In the vast digital ocean where threats cast long shadows and data breaches remain a perpetual worry, remaining well-versed in the realm of cybersecurity isn't merely a matter of choice; it's an absolute necessity. Cybersecurity blogs have arisen as indispensable compasses for experts, enterprises, and individuals alike. Cybersecurity Blogs offer a fortified defense against the ceaseless transformations of the threat landscape. In this journey, we embark on an exploration of the preeminent cybersecurity blogs that serve as our guiding beacons through this ever-shifting digital terrain.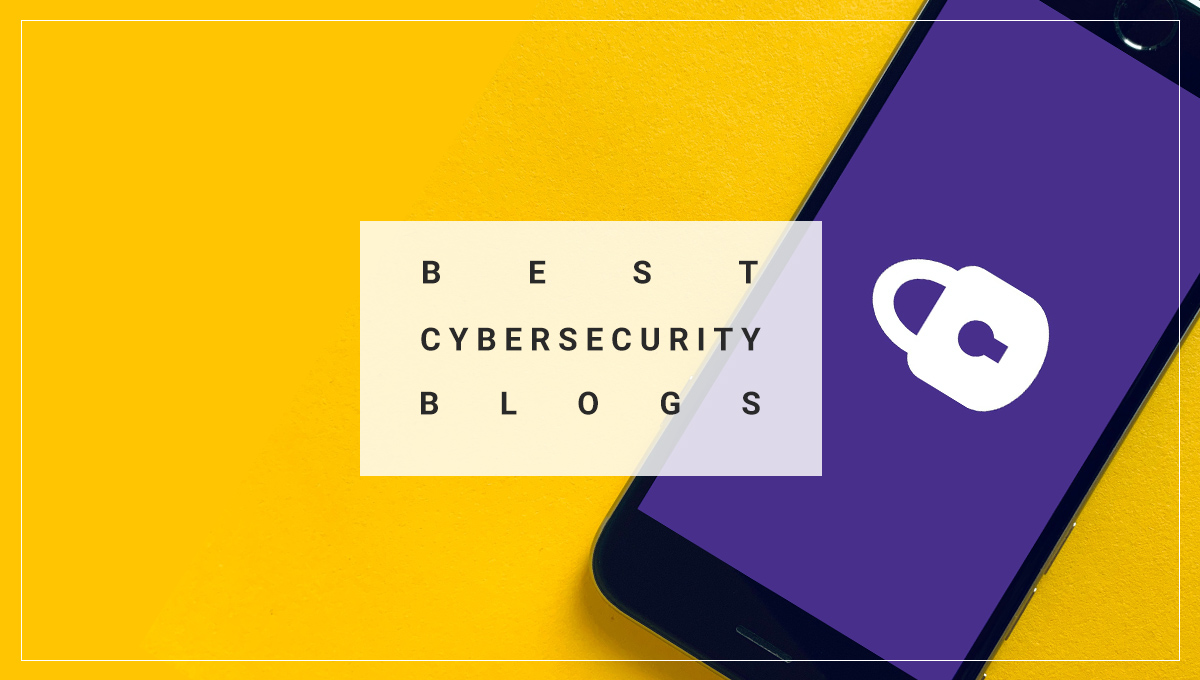 Best Cybersecurity Blogs
1. KrebsOnSecurity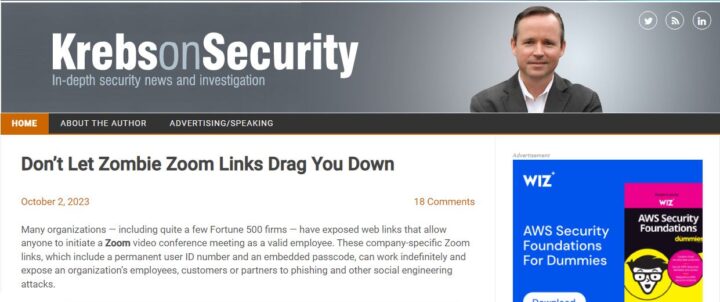 KrebsOnSecurity was founded cybersecurity expert Brian Krebs. It is a renowned investigative journalism blog. It is dedicated to uncovering and analysing cyber threats, data breaches, and emerging trends in the digital security landscape. With a reputation for in-depth reporting and great insights, the blog has become a trusted resource for cybersecurity professionals, organizations, and the general public.
KrebsOnSecurity is widely recognized for its meticulous investigative reporting, often revealing security incidents and data breaches before they make headlines. Brian Krebs's expertise shines through as he provides expert commentary on a range of cybersecurity topics. From the importance of robust password practices to the ever-evolving tactics of cybercriminals.
This blog fosters an engaged community of security enthusiasts who actively participate in discussions, contributing to the depth of the content. In addition to covering security incidents and vulnerabilities, KrebsOnSecurity educates readers with informative resources on cybersecurity best practices.
Brian Krebs's dedication to shedding light on the dark corners of the internet has led to the publication of a book, "Spam Nation,". And a documentary, further solidifying his position as a leading authority in cybersecurity journalism. KrebsOnSecurity's unwavering commitment to accuracy and its invaluable contributions to the field make it an essential source for staying informed.
You May Also Like: 24 Best Personal Blogs
2. Schneier on Security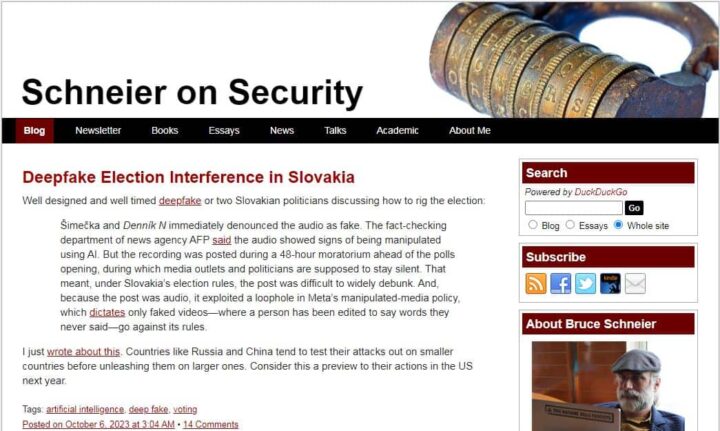 Schneier on Security, authored by renowned cybersecurity expert Bruce Schneier, is a highly regarded blog in the cybersecurity community. Schneier's blog offers authoritative insights into a wide range of cybersecurity and privacy topics, making it an invaluable resource for both professionals and enthusiasts.
Schneier's expertise in cryptography, privacy, and security is evident in his in-depth analysis and commentary. He provides a balanced perspective on critical issues such as government surveillance, encryption, and data protection, emphasizing the importance of safeguarding individual privacy while addressing security concerns.
The blog's content spans a diverse array of subjects, including cryptography, emerging threats, cybersecurity policies, and also the societal implications of technology. Schneier's ability to distill complex topics into understandable and thought-provoking discussions has earned him a dedicated following.
Schneier on Security is not only a source of information but also a platform for promoting meaningful discourse on the ever-evolving landscape of cybersecurity. Bruce Schneier's dedication to promoting a secure and privacy-respecting digital world makes his blog an essential resource for staying informed and engaged in the field.
You May Also Like: Best Lifestyle Blogs to Follow
3. The Hacker News – My Favourite in This of Cybersecurity Blogs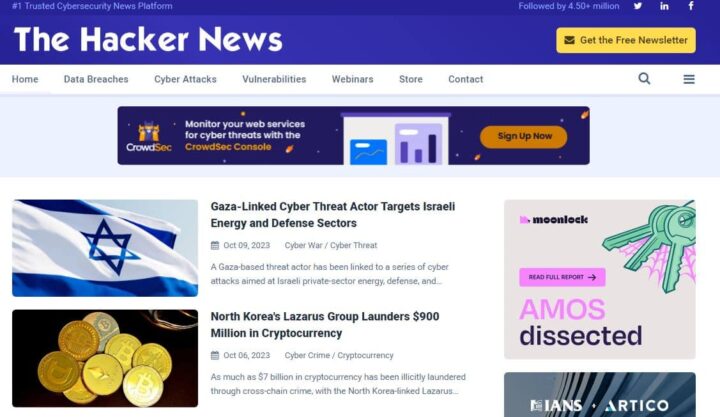 The Hacker News is a well-respected cybersecurity news and information platform. It serves as a vital resource for individuals, organizations, and cybersecurity professionals. Renowned for its timely and comprehensive coverage, the website reports on a wide range of cybersecurity topics, including data breaches, hacking incidents, vulnerabilities, malware, and also emerging threats.
One of the distinguishing features of The Hacker News is its commitment to providing technical insights. It not only highlights the latest cybersecurity developments but also delves into the technical aspects of these issues, making it particularly valuable for security practitioners seeking in-depth knowledge.
The platform also offers a valuable repository of security research, including reports and findings from security experts and organizations. This research helps readers understand evolving threats and trends in the cybersecurity landscape.
Furthermore, The Hacker News encourages community discussions, comments, and an active social media presence. Thereby creating a collaborative space for cybersecurity enthusiasts to share knowledge and insights. Whether you're a cybersecurity professional or simply interested in staying updated on digital threats and security, The Hacker News is an indispensable resource for staying informed in the world of cybersecurity.
You May Also Like: Best Health Blogs
4. Dark Reading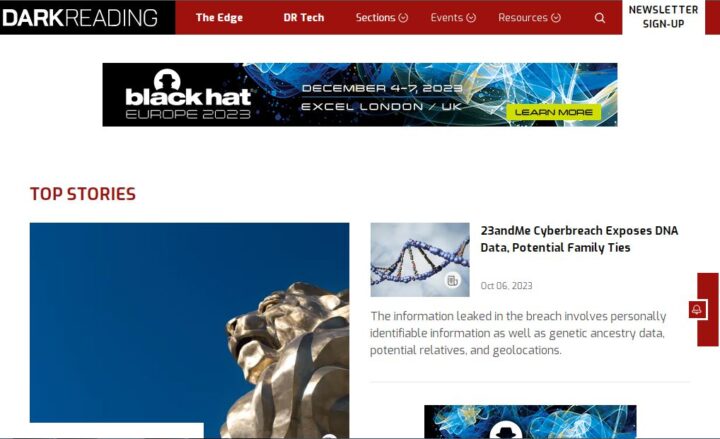 Dark Reading is a great cybersecurity news and information website known for its detailed reporting and analysis of the latest security threats, vulnerabilities, and industry trends. With a focus on providing valuable insights for security professionals and decision-makers, Dark Reading offers a wide range of articles, blogs, and resources. Its content covers topics such as cyberattacks, data breaches, threat intelligence, security policies, and emerging technologies. Dark Reading serves as a trusted source of information. It helps organizations stay informed about the evolving cybersecurity panorama, equipping them with the knowledge needed to protect their digital assets and mitigate risks effectively.
5. Threatpost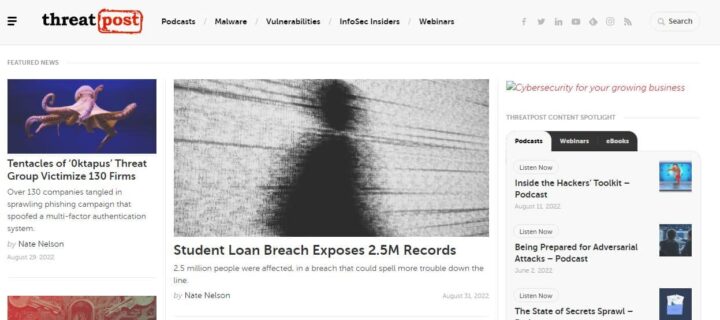 Established in 2009, Threatpost has gained trust as a great cybersecurity blog. It's known for its unique reporting and expert analysis, encompassing a wide spectrum of cybersecurity subjects, including data breaches, vulnerabilities, and emerging risks. With content diversity, ranging from news articles to comprehensive investigations, Threatpost serves both novice and seasoned cybersecurity professionals. By encouraging community involvement and delivering educational resources. Threatpost plays a crucial role in keeping individuals informed and enhancing their cybersecurity knowledge in today's increasingly digital environment.
You May Also Like: Best Christian Blogs
6. Naked Security by Sophos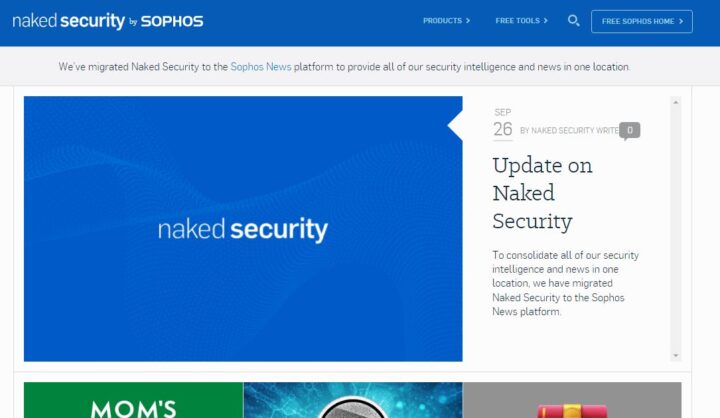 Naked Security by Sophos is a reputable cybersecurity blog and educational platform. It is curated by Sophos, a globally recognized cybersecurity solutions provider. This blog is distinguished by its dedication for offering accessible and informative content on a wide spectrum of cybersecurity topics, catering to both cybersecurity professionals and the general public.
At the core of Naked Security's offerings is expert analysis and commentary, providing a deep understanding of cybersecurity threats, vulnerabilities, and evolving trends. Its educational content excels at translating complex security concepts into easily digestible articles, while also offering actionable advice to enhance online safety.
The blog's news coverage ensures that readers stay informed about major cybersecurity events, data breaches, and notable security incidents. Moreover, Naked Security delves into the intricacies of malware, phishing, and various types of cyberattacks.
You May Also Like: The Best Personal Finance Blogs
7. SANS Internet Storm Center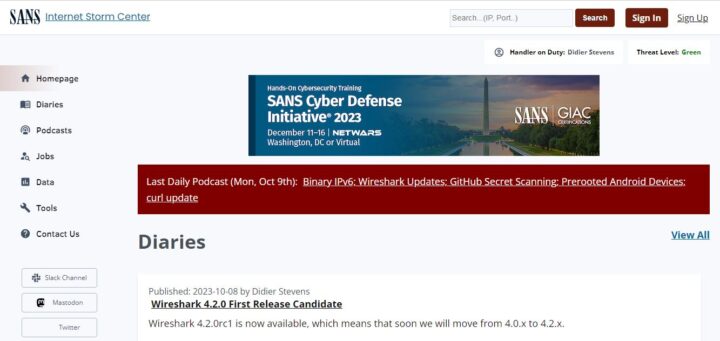 The SANS Internet Storm Center (ISC) operates a vital cybersecurity blog that is a go-to resource for professionals and organizations. Offering daily threat updates, expert analysis, and vulnerability disclosures, the blog keeps readers informed about emerging threats, cybersecurity trends, and best practices. It provides valuable incident response guidance and showcases cutting-edge security research. Additionally, the ISC blog empowers readers with practical security tips and community engagement opportunities. It serves as a platform for collaboration, where experts and enthusiasts can share insights. The blog's devotion to free tools and resources further supports cybersecurity professionals in their mission to protect against evolving cyber threats, making it an essential reference for the cybersecurity community.
8. CSO – One of Best Cybersecurity Blogs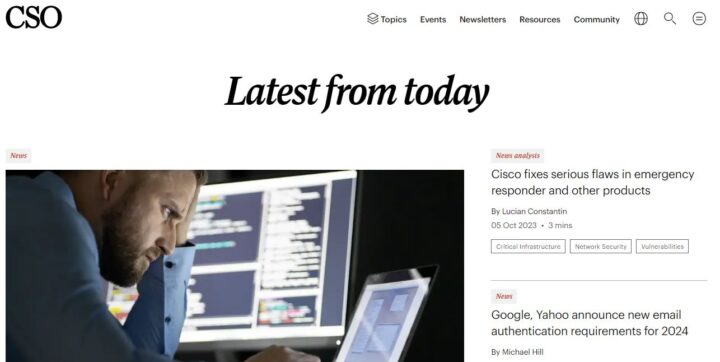 CSO is a prominent online platform dedicated to cybersecurity and risk management. It serves as a crucial resource for cybersecurity professionals, business leaders, and tech enthusiasts by delivering comprehensive insights into the dynamic world of cybersecurity.
With a vast library of in-depth articles and analysis pieces, CSO covers an extensive array of cybersecurity topics, including threat intelligence, data breaches, compliance, and emerging technologies. Expert contributors, including cybersecurity specialists and thought leaders, provide valuable insights and practical advice.
CSO offers real-time news and updates on cybersecurity incidents, vulnerabilities, and emerging threats, ensuring that readers stay well-informed. It also provides security best practices, vendor/product reviews, and guidance on compliance and regulations.
Webinars and virtual events hosted by CSO offer opportunities for knowledge sharing and networking. The platform further promotes community engagement through discussions, comments, and the sharing of experiences among cybersecurity professionals.
You May Also Like: Best Self Improvement Blogs
9. InfoSec Institute Blog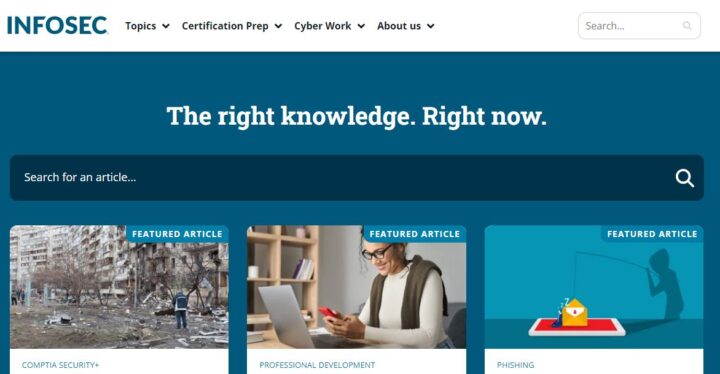 InfoSec Institute's blog is a valuable cybersecurity resource that delivers concise and informative content to cybersecurity professionals and businesses. With a focus on practical insights, the blog covers a wide spectrum of cybersecurity topics. Including threat intelligence, risk management, compliance, and the latest industry trends. Expert contributors and industry practitioners share their knowledge and provide actionable advice. This helps readers stay up-to-date with the evolving threat landscape. The blog's commitment to education and security awareness empowers individuals and organizations.
10. SecurityWeek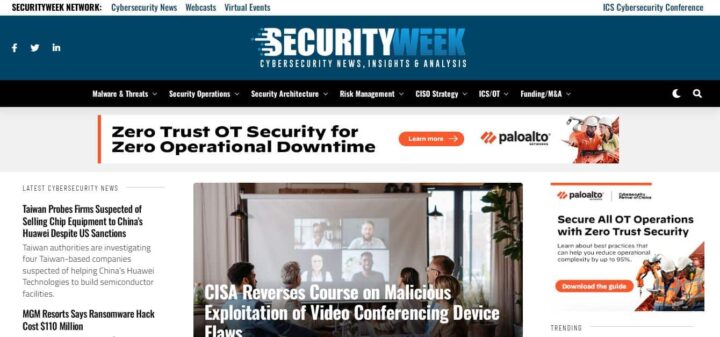 SecurityWeek is a prominent cybersecurity news and information hub, delivering swift and pertinent coverage of worldwide cybersecurity events. Prioritizing breaking news, expert analysis, and threat intelligence, SecurityWeek serves as an indispensable source for cybersecurity specialists. The platform offers a comprehensive array of articles, reports, and insights from cybersecurity professionals, enabling readers to make well-informed decisions and reinforce their security measures. SecurityWeek's dedication to providing timely and pertinent content ensures that its audience remains vigilant and well-prepared in the continually changing cybersecurity arena.
You May Also Like: Best Graphic Design Blogs
11. CISO Series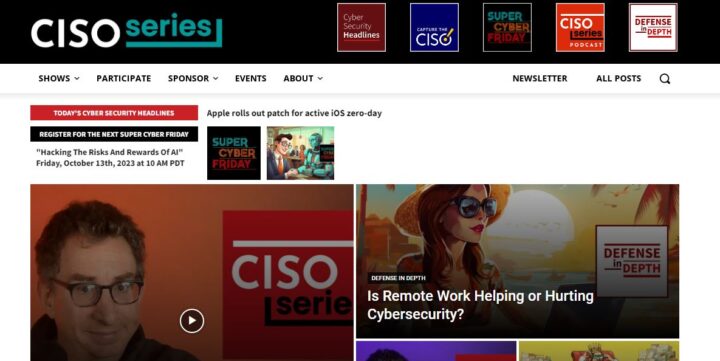 The CISO Series blog is a distinguished platform specializing in cybersecurity topics. It delivers succinct, informative content tailored for cybersecurity professionals and organizations. With a keen focus on industry insights, threat intelligence, and expert analysis, the blog serves as an invaluable resource for staying abreast of global cybersecurity developments. Notable contributors and thought leaders share their expertise, offering practical guidance and facilitating informed decision-making. The CISO Series blog's devotion to providing in-time, relevant content equips its audience with the knowledge necessary to navigate the dynamic and ever-evolving world of cybersecurity effectively.
12. Zero Day Initiative (ZDI) Blog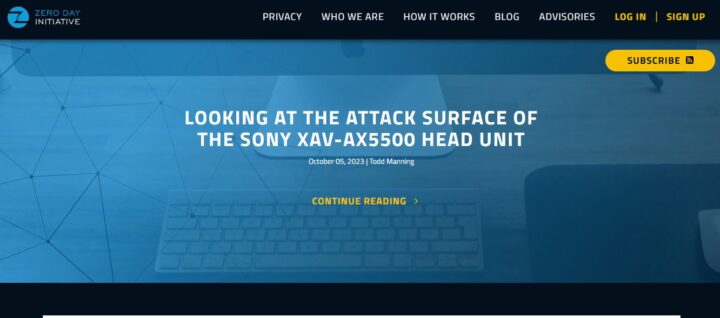 The Zero Day Initiative (ZDI) Blog is a prestigious platform dedicated to cybersecurity matters. It offers concise, informative content tailored for cybersecurity professionals. With a strong emphasis on industry insights, threat intelligence, and expert analysis, the cybersecurity blog is a must follow. Esteemed contributors and thought leaders share their expertise, providing guidanc. The ZDI Blog's content equips its audience with the knowledge required to tackle cyber threats effectively.
You May Also Like: 8 Stock Trading Blogs To Follow
13. Securelist by Kaspersky Lab
The Securelist blog, under the stewardship of Kaspersky Lab, stands as a reputable platform dedicated to the discussion of cybersecurity related topics. It provides concise and informative content tailored to meet the needs of cybersecurity professionals. With its central focus on industry trends, threat intelligence, and expert analysis, this blog serves as an essential resource for staying updated on global cybersecurity developments. Distinguished contributors and cybersecurity experts share their valuable insights. If you want to stay ahead of cyber criminals then this blog is a must follow.
You May Also Like: Must Follow Sustainability Blogs
Conclusion
Staying informed and up-to-date on cybersecurity is essential in today's digital age, where threats constantly evolve and adapt. Cybersecurity blogs serve as indispensable tool for individuals seeking to strengthen their defenses against cyber threats.
These blogs offer a wealth of knowledge, expert insights, and real-world case studies. By regularly reading and following these top cybersecurity blogs, you can fortify your knowledge. And improve your security posture, and make informed decisions to safeguard your digital assets. In the fast-paced world of cybersecurity, information is power. And these blogs are your trusted sources for staying ahead of the curve.
Remember that cybersecurity is not a one-time effort but an ongoing process. Continuously educating yourself through these blogs and staying vigilant against emerging threats is the key to protecting yourself, your organization, and your digital presence in an increasingly interconnected world. Stay informed, stay secure, and stay resilient.