Christian blogs are as rich and varied as the faith itself. You will find scripture, theology, philosophy, guidance, inspiration, and so much more. The Christian landscape is peppered with hundreds of different sects, cults, and denominations. Some legit, others not so much. The one constant is a belief in a triune Godhead, with Christ as the only begotten Son who died on the cross and rose again, three days later.
Christians believe that God is one and three at the same time. Even here, different denominations hold varying beliefs. And when it comes to doctrines and eschatologies the different groups can appear miles apart. All this makes for fascinating research. And bucket-loads of content!
The content of Christian blogs will appeal to everyone who has an open mind and is willing to broaden their understanding of this, often persecuted, religion and the people who follow it. But more often than not it will appeal more to people who actively follow a Christian lifestyle.
What Type of Christian Blogs are Popular?
Some Christian blogs have content that appeals only to niche audiences. Others give practical information on everything from homeschooling and organic gardening to prayer and meditation. Christians will delight in the sheer volume of free resources available. And for Bible enthusiasts, these blogs are truly manna from heaven!
Not only can you download software and apps that assist with Bible studies and offer free (and paid) courses, you can also find Christian-based social events, conferences, camping, and adventure tours, and blogs that promote Christian -owned and run businesses (see also: how to make money blogging.) Christian personal finance blogs, Christian lifestyle blogs, Christian food blogs, you name it there's a niche for it within the Christian blogging genre.
Some numbers
Considering that there are 2.5 billion Christians spread across the world, it's not surprising that over 100,000 Christian Blogs exist! Christians make up roughly 30% of the world's population. And out of the 2.5 billion Affiliated Christians, roughly 50% are Catholic and 20% are Protestant. The remaining 30% are a mix of Orthodox, Independents, Evangelicals, Unaffiliated, and Pentecostal. This statistic comes from the Centre for the Study of Global Christianity (CSGC).
So you can only imagine how my mind boggled when I began my search for the Best Christian Blogs of 2020! I love compiling my Best Blog lists because I end up discovering hundreds of unique blogs. And bloggers! This one was no different.
In this blogging genre, you'll find blogs belonging to Church websites and ministries. You'll also find blogs that serve to teach and spread the knowledge of the Bible. Then you get blogs that feature Christian news stories. These stories are often controversial, current, and relevant to what's happening in the different Christian communities scattered across America. But obviously, it's not only American Christians who create Christian blogs. So I've tried to find an interesting cross-section of Christian bloggers from around the world.
Who Are the Christian Bloggers?
Some Christian bloggers combine their business and their faith. This is possibly because they want their target audience to be Christian-based. But the most helpful Christian blogs are those that can offer guidance to people who are searching for truth, comfort, and hope. Christian blogs that stick to biblical truths are the most beneficial. With so many charlatans, false prophets, and scam artists lurking online trying to exploit the naivete of well-intentioned Christians, I have left out blogs that don't adhere to biblical truths.
Christian blogs are often personal blogs, started by people who want to share their testimonies and bring Glory to God in all that they do. Christian bloggers range from moms and dads (see: best mom blogs) to preachers and missionaries. You get Christian survival bloggers, Christian food bloggers, and even Christian lifestyle bloggers. Many Christian bloggers write as guests for other blogs. It's one of the many blogging genres that has a thriving online community, creating a space where news is, more often than not, good!
Often, brilliant blogs get overlooked purely because they don't rank on the first page of Google. I make it my mission to find blogs with value. They must look amazing, be relatively ad-free, and consist of well-written, well-researched content. Sometimes I come across real treasures but I don't get to feature them because they no longer publish new posts. Today, I'm showcasing 27 Christian Blogs that I have fallen in love with. And I hope you will too!
Let's jump right in!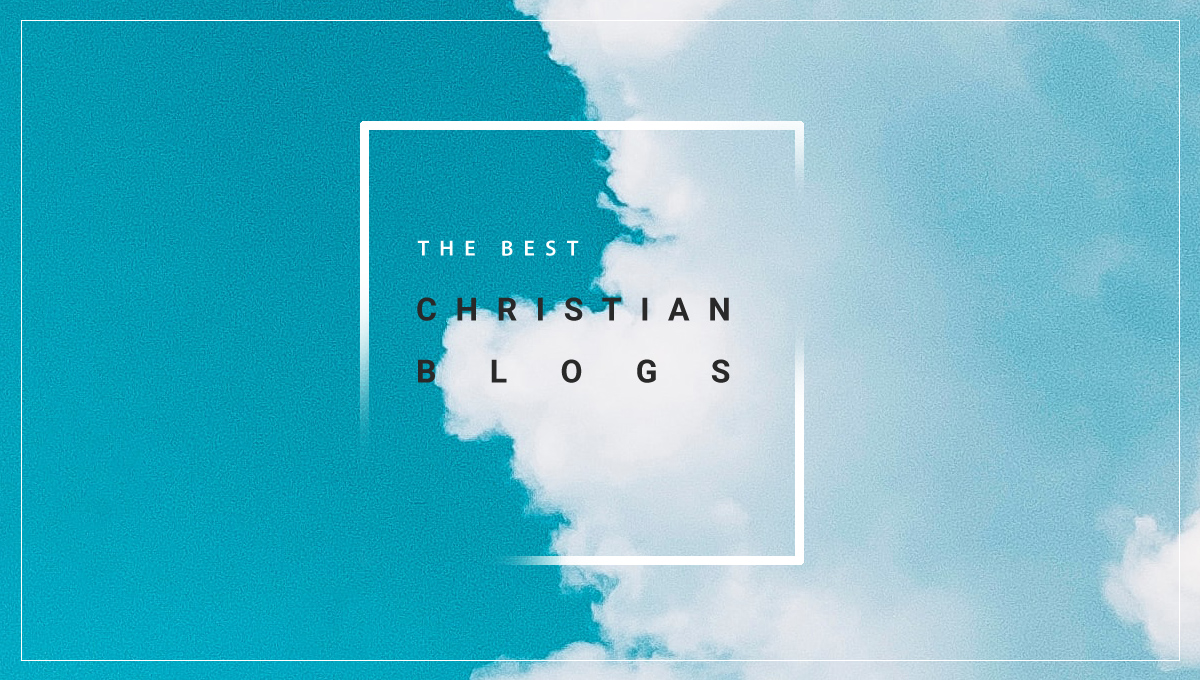 27 Top Blogs in the Christian Category
There are too many Christian blogging niches to name them all. So I've rounded up a few blogs from each of the following niches. (If you think I've missed any important Christian blogs out, drop me a comment down below.) I love hearing from you guys. All quoted scripture that appears in this article is taken from the King James Bible.
There just isn't enough space to describe all the wonderful blogs in this genre. I've found many inspiring & popular blogs from the following Christian blogging niches:
Christian Blogs of Ministries and Churches
Blogs that are in some way unique
Christian Blogs for Women
Personal Finance Blogs
Lifestyle Blogs
Blogs that focus on teaching the Bible
News Blogs
And this is far from a complete list. Below are 27 of my favorite Christian blogs from a small selection of Christian blog niches.
Christian Blogs belonging to Bible Ministries and Bible Churches
The ministers, pastors, and preachers that are featured in this section are the cream of the crop. They deliver sermons that are biblically accurate, doctrinally sound, and very inspirational. In a world that wants us to compromise on everything, these men remain steadfast in their mission to stay true to the Word, without compromise. Their sermons enrich, enlighten, and provide a good dose of spiritual nourishment for hungry souls.
The men preaching here are all strong advocates of the gospel. In many modern churches, teaching the Word is almost completely absent from regular worship. Instead, the emphasis is on the emotional input and output of attendees. And as any discerning Christian understands, there will come many false prophets out to deceive and exploit Christians. (Matthew 24v4: "And Jesus answered and said unto them, Take heed that no man deceive you.")
1. Grace To You (gty.org)
Unleashing God's Truth, One Verse at a Time. Since 1969
This is the ministry of John MacArthur. He started preaching in 1969, at the Grace Community Church, in Sun Valley, California. What started as a simple way to bring the sermons to members of the congregation that were too sick to attend, became a global outreach ministry. They now broadcast radio sermons, webcasts, podcasts (learn: how to start a podcast), audio sermons, and a live streaming Grace to You TV channel. MacArthur is also a prolific writer and his many books are available from the Grace To You website. His 3,300 plus sermons are available to download, for free.
It started with reel-to-reel recordings and the ministry grew with technology (see my: best tech blogs). Today this independent, self-funded, nonprofit company traverses geographical and technological borders, spreading God's Word.
About John MacArthur
John MacArthur is an exceptional expository preacher. Expository preaching is a style that unpacks bible books, verse-by-verse. It also pays attention to the grammatical and historical importance of the scriptures. Sticking to biblical principles and standards allows for an enriched, deeper understanding of the spiritual knowledge found in the Bible.
The Grace to You blog is just one of the site's free resources. Often, the month's posts follow a set theme. For example, September featured God's wrath, June highlighted His Holiness, and May, His Providence.
Here are some recent blog post titles:
Responsibility and Reward
Watching, Waiting, and Working
Replacing Worry with the Right Focus
2. Cross Examined (crossexamined.org)
"Christian apologetics seeks to build bridges to unbelievers by presenting reasons and evidence that Christianity is true, rational, and worthy of belief."
Started in 2006, by Frank Turek, this evangelical, inter-denominational ministry focuses on Christian apologetics. Cross Examined is a ministry that ministers to the youth, especially college students. Due to intellectual skepticism, 3 out of 4 Christian youths leave the church during college.
This blog will be fascinating and intellectually stimulating for anyone interested in apologetics as a discipline, as well as debating and holding conversations that deal with the social and cultural issues that seem to attack the worth and legitimacy of the bible.
The website is the platform for Cross Examined to share audio, video, TV, and upcoming events. They also offer online courses and have loads of resources.
You may also like: How To Make Money Online.
The blog is of high quality, with well-written posts from academics, fellow Christian apologists, and guest writers.
The blog categories are as follows:
Does Truth exist?
Does God exist?
Is the New Testament true?
Are miracles possible?
Theology and Christian Apologetics.
Legislating Morality, Culture, and Politics.
You'll find blog posts with titles like:
Ever Heard Of The Kezazah Ceremony?
Is Scientology Compatible With Christianity?
Why Is God's Word So Hard To Understand?
What Does It Mean That "God Won't Let You Down?"
For anyone interested in Apologetics, you may enjoy the sermons and speeches given by Voddie Baucham, find him on YouTube or go to his site (voddiebaucham.org). His stuff is controversial and relevant. He is currently Dean of Theology at the African Christian University of Zambia. Before this, he was a pastor at the Grace Family Baptist Church, in Texas.
3. Ligonier Ministries (ligonier.org/blog)
"To proclaim, teach, and defend the holiness of God in all its fullness to as many people as possible."
This is the ministry of R.C. Sproul. This is an excellent resource on all levels. Teachers and preachers will find a range of resources. Sproul's daily devotions and blog posts deliver spiritual messages of encouragement. And food for the soul.
Much focus is placed on the training up of new ministers and missionaries. Very dedicated, informative blog. You can find the blog button in the top right corner of the website.
4. One Passion Ministries (onepassion.org/blog)
For God. For His Glory. Forever
This is the ministry of Dr. Steve Lawson. Recently officially retired, he continues to give talks and sermons as a guest speaker because he is so much in demand. Besides being an excellent preacher he is also a great teacher.
He teaches Expository Preaching. This is a very important job. New ministers need to be schooled in expository preaching so that they don't get lost by interpreting and teaching doctrines and theology based on their imaginations, or what is popular in society.
His blog is OnePassion blog, you can find it under the category Ministry. Here are the three most recent blog titles:
Statement on Justification
How to Preach the New Birth, Part I
Marks of the New Birth, Part IV
5. Truth For Life (truthforlife.org)
This is the ministry of Alistair Begg. Like the men featured above, he also preaches in a local church and live streams. His sermons are available for free download, and like the blogs above, you can find sermons by topic or scripture, date, or series.
His blog has the following categories:
Ministry Updates
Monthly Resources
Weekly Wallpaper
From the Archives
Hymns and Worship
Letters from Alistair Begg
Listener Stories
Begg's blog
Articles
Study Guides
Christian News Blogs
There's no shortage of Christain news blogs and platforms. Although some of these sites do have separate blogs, there is no need as the content is supplied in the form of newsworthy topics from a Christian perspective. There is a thin line between Christain News blogs and Christian Lifestyle blogs because often the content is varied. Perhaps the niche should be Christain Online/Digital Magazine Blogs.
Here are 5 of the best Christian News Blogs.
6. Christian Headlines (christianheadlines.com)
This site has seven categories that you can click onto.
Topics
Blog
Slideshows
Columnists
Contributors
Newsletters
About
When you arrive, you'll see the latest news articles and trending topics. But if you click on "Topics," you get to choose anything from A-Z. For example, I clicked on "#wildfires." Immediately all the news articles involving wildfires came up.
Click on Blog and you will get 1-3 news articles every day. At the time of writing the days headlines were:
New Christians Hospitalized after Relatives Beat Them
Militants Hack, Burn Ugandan Students Singing Gospel Songs to Death
The Slideshow category has more general articles, so it could pass as a type of blog, with a lot of images. The last post here was April 2023. It's titled "7 Ways Phones Produce Anxiety and Lead to Mom Guilt."
Under Columnists and Contributors, you'll find current content from various contributors. For example, on Wednesday, June 21, 2023, an article from BreakPoint was published, titled "What the Science Really Says about 'Gender-Affirming' Medicine". Another article from Michael Foust, dated September 17, 2020, is titled "The Chosen Heads to Broadcast Television for the First Time: 3 Seasons to Air."
Each author's content appears next to their name so it's easy to navigate and easy to find specific items.
You'll find a lot of news that won't appear on mainstream news sites.
7. Christianity Today (christianitytoday.com)
A Global Media Ministry. Digital and Print magazine. Latest Religious News and News about Christianity
At the very top, on the left are the headings; Who are we, What we do, Newsletters and Give Now. On the homepage, there are four categories: Sections, Our Latest, The Magazine and Subscribe.
If you look under sections you'll find "the meat". This is a digital version of a traditional magazine/newspaper. It has The Magazine, Special Sections, Blog Forum, Topics & People and Help & Info.
The blog forum is a bonus because you'll find the links to five other Christian news blogs that you can access without leaving the sites. Each one is a complete stand-alone blog.
The blogs are:
The Better Samaritan. This blog belongs to Kent Annan & Jamie Atan. The content is Interviews, Mental Health, Research and Leadership.
Pivot. This blog belongs to Karl Vaters and discusses innovative leadership from a small church perspective.
Jesus Creed. Scot McKnight owns this blog. The content is based on theology and current events. It's a favorite among Christian Today readers as it's known for seamless, engaging content.
Just Marinating is by Derwin L. Gray. He's a pastor, author, and former NFL linebacker. The blog covers leadership, discipleship, church planting, evangelism, and the gospel of grace.
Thin Places is Amy Julia Becker's blog. She writes on the intersection of faith, family, and disability. This is a direct quote from her blog, "This blog is about discovering and remembering thin places, places where heaven and earth touch, where God seems more readily present, more easily accessed. It is meant to uncover ideas, relationships, points of connection, and moments of deep beauty that draw us towards one another and towards the Holy One."
8. Christian Today (christiantoday.com)
United Kingdom's largest Christian news provider
This site has a section titled "Comment". It's where you'll find the editor's comments, as well as comments (blog posts) from other contributors. If you go to the Home page you'll find the news articles. The other categories are news, US, world, church, culture, lifestyle, comment, and video.
Articles from the Home page:
Hope while waiting: How Christians are responding to people who have been forced to flee their homes
Fulani terrorists kill 46 Christians in Benue State, Nigeria
Southern Baptist Convention upholds decision to expel Rick Warren's Saddleback Church
New Zealand court cancels Christian teacher's license for refusing trans pronouns
Articles from the Comment page:
How can we support our neighbours amid El Niño heatwaves
Decriminalising abortion would harm more women and babies
Kristie Higgs should never have been sacked
The legalisation of assisted suicide must be resisted
9. Christian Post (christianpost.com)
The Christian Post is a prominent online platform that serves as a hub for news, information, and discussions related to Christianity. Founded in 2004, it has become a widely recognized and respected source of Christian perspectives on various topics, including faith, culture, politics, and social issues.
With its global reach, The Christian Post provides a platform for Christian leaders, thinkers, and believers from diverse backgrounds to share their insights and engage in meaningful dialogue. It covers a wide range of subjects, including theological discussions, inspirational stories, and analysis of current events from a Christian perspective.
The Christian Post aims to provide a balanced and informed view on matters of faith, while also addressing the challenges and complexities faced by Christians in today's world. Through its articles, opinion pieces, and multimedia content, it seeks to inspire, inform, and encourage its readers to live out their faith in a thoughtful and impactful manner.
10. Team Jesus Magazine (teamjesusmag.com)
Another superb collection of articles, blog posts, and resources on Christian living. Here are the top five articles at the time of writing.
Trusting God with My Singleness.
Top 10 Reasons Why Your Christian Event Sucks.
Free at last: Controlling Student Loan Debt.
Gender Identity and LGBT Agendas: The Covert Attack on God's Creative Authority.
Blooming Prayers: We are the Harvest of God's Glory.
You may also like: 36 Photography Blogs to Inspire
11. China Christian Daily (chinachristiandaily.com)
Here, in America, we take our freedom of speech, and the right to choose one's religion, for granted. But there are over 50 countries in the world where you can get persecuted for practicing Christianity. China is one of those countries.
Despite this, China Christian Daily continues to report on Christian news in China. In post-pandemic China regulations, regarding online church services, have become stricter. Many online gatherings have been blocked by the government.
Then there is the problem of cults. The online services have opened a door for cults, like Almighty God and Shincheonji, to infiltrate and pull in unsuspecting Christians looking for online church services.
China Christian Daily covers world news, culture, Chinese Christian news, church and ministry, and more. The "devotional" section could double as the blog. Here you'll find opinion pieces, devotions, and food for thought, with a bit of reporting thrown in for good measure.
Unique Christian Blogs
The following five blogs represent a mere drop in the ocean. But each one brings with it messages of encouragement, sound biblical perspectives, and an opportunity to gain more insight and understanding into the Word of God.
12. Sermon Audio (sermonaudio.com)
Sermon Audio is the most amazing resource for Protestant Christians. It is a broadcasting platform that boasts 44,571 speakers, 2,538,598 sermons, and 449 million downloads. If you love listening to a cross-section of conservative Christian preaching, this is heaven on earth.
The site is geared at getting the Word out there. It promotes sermons, speakers, conferences, bible events, webcasts, and Christian blogs. It is a central hub from which Christians can explore many avenues. They have a Newsroom that covers topics on Tech, News, Religion, Society, and Choice. You will find more Christian-based news forecasts, updates, and reports.
Listen to sermons that are sorted by topic, bible verse, speaker, or date. Scroll through the list of pastors, preachers, and ministers that contribute regularly. Discover the blogs of many of the speakers and their sites! This is the go-to site for what is possibly the largest and most trusted collection (library) of audio sermons. Live Streaming, podcasts, and webcasts are also available. And all the sermons are downloadable, for free.
It is the most valuable online Christian resource. They promote Christian books and get revenue through advertising anything relevant to services, events, conferences, book promotions, missions, and more. It is also a great Church finder. Almost all the speakers are affiliated with one or more churches. And many of these speakers also host radio shows, webcasts, or podcasts.
But best of all, for blog lovers, this is a hidden goldmine. Sermon Audio showcases recent blog posts from a large number of their broadcasters Almost every church featured has a blog! So basically, Sermon Audio gives you access to an A-Z of Christian blogs right here. You don't need to leave the site. There must be well over It's a fantastic site, on all levels, with a very easy-to-navigate interface.
13. Grace Gems (gracegems.org)
A Treasury of Ageless, Sovereign Grace, Daily Devotionals
This site is truly a treasure trove of forgotten gems. It is a wonderful way to go back and remember preachers, and writers from the past. When you subscribe you'll receive a daily email made up of a bible verse and the devotional to go with it. You also get an audio option. These daily gems of truth, grace, love, and faith deliver simple yet profound statements of truth that can still get applied today.
There is such an abundance of resources at your fingertips. This is a definite one to bookmark. Especially if you are a puritan at heart!
14. Drawing On The Word (drawingontheword.com)
Faith, Creativity, and the Bible
This is an extremely original blog. Robert Sang started it to promote his Graphic Novel Bible. Not only is he artistic and creative, but he's also an academic! He has a Bachelor's degree in Theology and a master's degree in Systematic Theology.
Drawing on the Word has multiple meanings. This is a direct quote from Robert, and it reveals what you will get from this amazing contribution to the Christian blogging niche.
"You're exploring the Bible for the first time but have no idea where to begin. You want a road map to guide you.
You've been a Christian a while, but every time you commit to a Bible reading plan, you end up falling behind or getting stuck in a rut.
You've always been passionate about God's word and would love to go deeper.
You love the Bible but are more of a visual learner.
You're searching for new and creative ways to read and study scripture.
You've seen people Bible journaling but don't know where to begin, or you're not artistic.
You're facing a challenge in your life. You'd like to draw on the word of God as a source of strength in times of hardship and struggle."
Here are three post titles from Drawing on the Word's blog:
What Does "God Will Give You The Desires Of Your Heart" In Psalm 37:4 Actually Mean?.
Which Book Of The Bible Should You Read First? 5 Recommended Places To Start Reading.
What Did Jesus Mean When He Said "I Am The Door Of The Sheep"?
15. Kristin Sterk (kristinsterk.com)
Simple Grace-Filled Living
Kirstin's blog is a personal one. She keeps readers updated on what's going on in her family. She is married and has one daughter, Mazy. The blog is loaded with photos of Mazy and her adventures. But she also sets aside a part of the blog for quiet reflections. The reason she shares about family is because of an ordeal she went through. She shares her testimony with others to give All Glory to God.
She was told she couldn' have kids so her husband and her arranged for a surrogate, also called a gestational carrier. Unfortunately, that didn't work out. And then Boom! A miracle, she fell pregnant with Mazy.
Kirstin and her blog are the perfect examples of what a Christian Personal blog looks like. She is an author and a public speaker. She loves giving her testimony and encourages others to do the same.
Her blog covers family, faith, gestational carrier, grief, heart condition, and simple living.
You may also like: 15 Best Wedding Blogs Ideas & Inspiration
16. The Peaceful Haven (thepeacefulhaven.com)
Christ-centered, Slow-living
Janelle is married and has 6 kids! She invites readers to join her as she explores Christ-centered slow-living. This blog could also appear in the Christain lifestyle blog niche. But I placed it here because it doubles as an online magazine. Janelle sends a monthly issue out to all her subscribers. Each issue has a central theme. For example, there's the "Autumn" issue, the "Homemaking" issue, and a "Christian Parenting" issue.
Her magazine is jam-packed with awesome articles, recipes, activities for kids, and gardening advice.
Janelle invites her readers to embrace the principles of Christian living. You can read all about them in the Manifesto section on her "About" page. The blog covers book reviews, essential oils, and recipes. But there is so much more on offer. If you want to read more of Janelle's take on Faith, Family, Health, Home, and Food, The Peaceful Haven is the blog for you.
You may also read about: Best Fashion Blogs and Bloggers to Bookmark Right Now.
17. The Gospel Coalition (thegospelcoalition.org)
"Our goal is to glorify God by helping raise up a new generation of Christian pastors and leaders across the world—a generation with an undiluted, robust knowledge of the gospel, who understand the times and lead with faithfulness."
Wow! The Gospel Coalition (TGC) has an enormous outreach. They receive 16 million visits per year. And that's just from the coalitions outside the States! TGC is a network of blogs that deliver global resources on the historic gospel of the reformed tradition. Each coalition has content tailor-made for that country. From the home page, you can choose which edition you'd like to read. Pick from Australia, the US, The Netherlands, Spain, France, Italy, and more.
You'll find the blogs under the heading "Editorial". There are also sections titled articles, read your bible, essays, reviews, podcasts, and more. But here's the catch, this isn't only one blog it's a collection of blogs! And you can access them all without leaving the site. The US edition features 7 blogs. Each author has a name for their blog and a selection of well-written articles on a wide range of issues relevant to Christians in these times. Definitely worth bookmarking.
I took a browse through the African coalition edition and the Australian one. I'm hooked. The sheer volume of articles at my fingertips blew me away! The African coalition differed in a few ways. They don't have a selection of blogs like the American edition, instead, they have a compilation of excellent articles written by pastors, academics, and other qualified Christians. But they also have podcasts, in fact, most of the editions have podcasts as well as articles.
The blog from Africa covers the following topics:
Arts & Culture
Bible & Theology
Christian Living
Church Planting
Current events
Faith & Work
Ministry
Contributors include Pastor Conrad Mbewe from Zambia, Derek Ntambi, Kevin Mirithi, and many more. Here are a few examples of recent blog posts from the Africa Edition.
The Truth About Superstition by David Ntambi
Celebrity Christian: Kanye West and the African "Man of God" by Blaque Nubon and Lindiwe Mlalazi
Witchcraft In The Church by Blaque Nubon and Sanelisiwe Jobodwana
If God Exists, Why Do We Live Like This: African Apologetics by Werner Hamukoto
Faith and (no) Work by Roydon Frost.
And just to compare, and give you a taste, here are the Australian edition's latest posts:
Cardi B: What I Wish I Could Unsee
The Beijing Declaration 25 Years On
The Conversation On Banning and Enforcing Conversion
And here are samples from the Brazil edition, translated from Portuguese
Did Paul Teach Prosperity Theology?
You Will Be Odiados Of All
Desalento and Light Amid The Rubble Of Beirut
You may also like: Top 40 Music Blogs Of All Time.
Christian Blogs that Focus on Teaching the Bible
18. David Pawson (davidpawson.org)
I could have placed David Pawson in the Church and Ministry category but his teaching on the bible is so excellent I put him here. David passed away on 21 May 2020, at the age of 90! And he was still giving talks and sermons!
He is the author of the book called "Unlocking the Bible". What is so fantastic about his teachings is that he gives you details that you would never find in the bible. He explains the chronological unfolding of events and puts the listener, or reader, in that time and place. You get such vivid imagery of where the bible stories took place. Suddenly passages that didn't seem to make sense or have much relevance come alive and you are transported to that era!
His "Unlocking the Bible" series of talks can be found on YouTube. His site doesn't have a blog but I added him because the site has a rich, immense Online Library that is freely available to anyone wanting to study the Bible through fresh eyes. David Pawson had a brilliant sense of humor, and it came through during his talks and sermons. He exuded a quiet joy always.
19. Teaching the Bible (teachingthebible.com or christcenteredmall.com)
Again, this is not a blog. But it's a marvelous resource for anyone that teaches Sunday School or homeschools their children. It is jam-packed with brilliant methods of teaching God's Word to children, teens, and even adults. Check it out for yourself.
It is also an online store that links to various merchandise. You can buy Christian art, Christian healthcare insurance, and Christian books.
20. Bible.org
Where The World Comes To Study the Bible
This is a bible study site that uses the NET Bible version. It does have the option to compare with other versions. There is a spiritual warfare going on and all these new versions, that came out after the King James Version, have been corrupted. Over 300 verses have been omitted from the newer versions in a bid to remove the divinity of Christ. For a list of the omitted verses check out (av1611.org/biblevs.html)
But getting back to blogs, bible.org has a blog called Heartprints. There are 6 regular contributors. The blog is further divided into:
Engage, a blog for women
Impact, a blog for men
Heartprints
Bock – Darryl Bock's posts
Uncategorized
The authors are all educated and qualified in various areas of ministry and theology. Here are some of the most recent blog posts:
A Theology of Sleep
Hope Amid Hardship
The Sin That So Cleverly Entangles Us
Christian Lifestyle Blogs and Christian Blogs for Women
Christian lifestyle blogs differ from mainstream lifestyle blogs. Instead of reading about decor, travel, fashion, and the latest health trends, you'll find topics like daily devotions, prayer, relationships, and bible studies. That's not to say they are devoid of anything resembling the material luxuries coveted by fans of lifestyle blogs.
Christian lifestyle blogs also feature travel tips, household hints, and parenting advice. Think of them as a nice mix of mom blogs and lifestyle blogs with a healthy dose of spiritual nourishment. I'm not sure why, but these blogs seem to be largely aimed at women. So I have combined the two niches.
21. Flawed and Faithful
To Know Jesus and Make Him Known
This is the ministry of a young woman, named Lily. Her blog is a passion project for Christ. Here are the most recent posts:
Useful Scriptures To Use When Praying In All Situations.
What Are The Benefits Of Marriage?
How To Use Color Coding To Study The Bible?
Lessons From A Hypocrite: An Example.
22. Sandra's Ark
Sandra and Fred have been married for over 40 years! And are happy grandparents and parents. Sandra's blog is a reflection of her life, much of which is dedicated to serving in her church and through her blog.
Her blog is well-laid out. Sandra has made it very easy to find the relevant blog post that you want to read. Under 'Encouragement" you'll find all her posts ..on encouragement. Coffee and Conversation is where you'll find the lighter stuff. This is where Sandra shares her thoughts, humor, and occasional rants.
There is a travel section where she shares her travels and an "Organizing" section where you can find humorous and practical advice and tips on keeping a neat and tidy home.
The Bible Study and Devotionals are a mix of short posts and longer posts, all related to scriptures. You will also find book reviews, mainly on children's books (being the doting granny that she is).
You will also find some great free resources. This is a lovely blog especially if you have children, teach Sunday school, or enjoy reading. Sandra's personality comes through and you immediately feel at home.
23. Equipping Godly Women (equippinggodlywomen.com)
Equipping Godly Women is a Christian website FULL of the encouragement, advice, and resources you need to be ALL IN in faith and family!
This is the vibrant, joyful blog of Brittany Ann. Many posts are written by Brittany but she does feature guest bloggers as well. The main blog topics cover:
Faith
Marriage
Seasonal
Parenting
What I'm Reading
There is also a fantastic resources section where you can get awesome free Christian printables, study guides, and community challenges.
Here are the most recent blog post titles from Equipping Godly Women:
What Is Tithing In The Bible?
10 Best Books On Early Christian Church History.
10 Best Bible Studies For Women To Help You Grow In Faith.
24. The Praying Woman
Prayer and Devotional Blogs for Christian Women
Many real, and not always pleasant, topics are dealt with here, in a caring space. Prayer is the Christian woman's secret weapon in the world and this blog makes prayer the focal point. Prayer is one of the most important aspects of Christian living. It cultivates a personal relationship with Jesus and brings strength to the weak and hope to the discouraged.
Blog titles include:
3 Steps To Move Beyond The Hurt Of Infidelity.
5 Types Of Men To Avoid If You Desire Marriage.
Be Intentional.
You'll also find articles on wellness. These articles cover breast and ovarian cancer, mental illness, and food.
25. I Believe (ibelieve.com)
This is a very active blog. It accepts posts from many Christian women on topics like faith, relationships, career and calling, health and beauty, food and home, and motherhood (see my: 10 best beauty blogs to follow.)
In addition to the jam-packed blog posts, there is also a list of blogs that you can explore. You can do this from the I Believe site or you can redirect to the specific blogs you are interested in.
Find articles like these:
10 Things You Can Be Sure Are Not Fruits Of The Spirit.
What Does The Bible Say About Neglecting Your Wife?
How To Experience Joy With Chronic Illness?
How To Form A Battle Plan For Your Depression?
Flipping The Switch And Changing Our Minds.
26. Belle Britta (bellebrita.com)
A Christian Feminist Lifestyle Blog
This is the blog of Brita Long. She is funny, quirky, smart, and knows her own mind. She enjoys sharing advice on relationships, dating, sex, and marriage. Her introduction to us goes like this; Christian feminist libertarian, making the world a better place one day at a time. Fueled by hot tea and mimosas.
Enjoy blog posts with titles like:
Challenge Accepted: A Controversial Instagram Trend
The Problem With Strong Independent Women
My Husband Didn't Take My Last Name
27. She Reads Truth (shereadstruth.com)
She Reads Truth is an influential online community and resource for women seeking to engage with the Bible and grow in their faith. Founded in 2012 by Raechel Myers and Amanda Bible Williams, She Reads Truth has become a trusted platform for women around the world.
With a commitment to the authority and sufficiency of Scripture, She Reads Truth offers daily Bible reading plans, devotionals, and other study resources that encourage women to dive deep into God's Word. Their beautifully designed website and mobile app provide a user-friendly experience, making it easy for women to access valuable content anytime, anywhere.
What sets She Reads Truth apart is its emphasis on community. Through social media, online forums, and local groups, women can connect with one another, share insights, and support each other in their faith journeys. This sense of belonging and camaraderie creates a powerful sense of unity among women who desire to know God more intimately.
Conclusion
This brings me to the end of my "Best Christian Blogs" selection. I hope you enjoyed reading it as much as I enjoyed writing it. If you want to start your own Christian blog, I recommend using wordpress.org. Check out our Step-by-Step guide on How To Start Your Own Blog here.