Why do you need personal finance blogs? There are a few reasons why anyone would need a personal finance blog. Do you want guidance drawing up your household budget or putting together an investment portfolio? Maybe you need help consolidating debt? Or perhaps you just need financial advice to get yourself geared towards saving?
Personal finance blogs deliver all these things and more. Do you want to change your lifestyle habits and reduce, reuse, and recycle? Sometimes there's a fine line between Frugal Living, Sustainability blogs, and Personal Finance blogs.
Today I'm going to showcase a range of personal finance blogs that deliver consistent content on how you can save, budget, invest, and clear debt.
Personal finance blogs appeal to everyone that wants financial freedom and independence. These blogs give us hope that with a bit of insight, planning, and discipline, living with more, for less, is possible!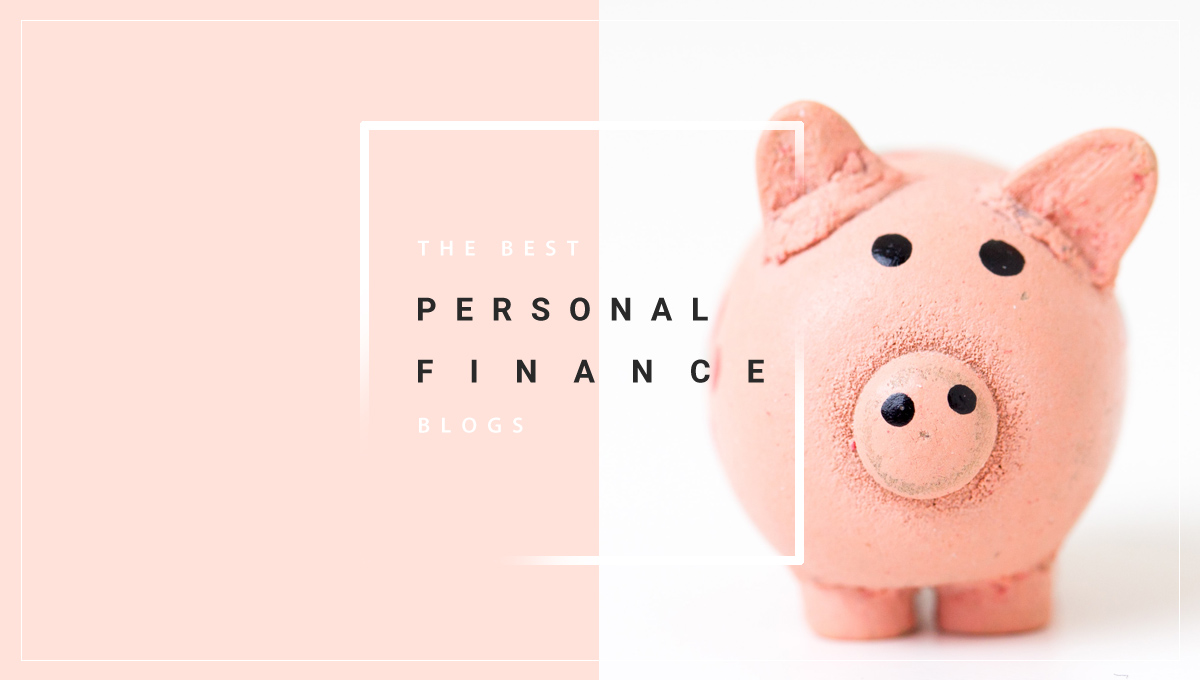 My Top 30 Personal Finance Blogs
Personal finance blog is often authored by folks who are on the road to becoming FIRE'd (Financially Independent and Retired Early). Sometimes these blogs are personal stories that serve as inspiration for others. At other times they're more "corporate" and focus on how you can invest and consolidate debt.
My selection of the best Personal Finance blogs will get you excited about your dollars and cents. If you are clueless about where to start or unsure of how to get into a better situation with your finances, this is a great place to start.
So, let's get started!
1. A Wealth Of Common Sense (awealthofcommonsense.com)
Ben Carlson, CFA, is the owner of this personal finance blog. He specializes in:
Wealth management
Investments
Financial markets
And investment psychology
He has a weekly podcast called Animal Spirits. The show is co-hosted along with Michael Batnick, his friend and colleague. They get together and chat about books they are reading, what they've been blogging about, and, of course, all things financial.
Ben has published four books on investing and saving. Further In 2017, he was named in the Investment News 40 Under 40 list of top financial advisors. His main motive behind starting his blog was to teach people the complexity of finances in a simple yet effective way. Through his blog he shares insights, research, and commentary on investing, personal finance, and other related topics.
Besides the financial content, there are T-shirts, mugs, and other "Animal Spirits" swag for sale.
If you want to learn more about how to start a podcast here you go!
2. Addicted To ROI (addictedtoroi.com)
Jennifer Beadles is a successful real estate investor. Her personal blog teaches people to become investment-savvy. The focus is on real estate. Members become part of an investment community, they get access to real estate investments and get to buy out-of-state and out-of-area.
She educates people on how to use their NOI (net operating income) to get the best ROI (return on investment). The blog posts are well-written and reflect Jennifer's experience and knowledge in this financial field. Anyone wanting to invest in real estate for profit will get something out of Addicted To ROI's blog.
They provide training, connections, and coaching to help people achieve their financial goals. The blog provides various investment strategy and tax saving strategy. Anyone who is looking for financial freedom, must really follow this blog.
It is one of the most followed personal finance blog.
You may also like: How to make money blogging.
3. Mr. Money Mustache (mrmoneymustache.com)
Mr. Money Mustache is a personal finance blog written by Peter Adeney, a retired software engineer who achieved financial independence at the age of 30. The blog is known for its witty and irreverent style, and it offers practical advice on how to save money and invest wisely.
Adeney started the blog in 2011, after he and his wife retired early to focus on their family and hobbies. He wanted to share his strategies for early retirement with others, and he also wanted to challenge the conventional wisdom about money and work.
The Mr. Money Mustache blog is divided into two main sections: "Early Retirement" and "Lifestyle." The "Early Retirement" section offers advice on how to save money and invest wisely, so that you can retire early. The "Lifestyle" section offers advice on how to live a more fulfilling life with less money.
Adeney's advice is often counter-intuitive. He argues that you don't need to make a lot of money to retire early, and that you can actually save more money by living a simpler life. He also argues that you should invest in index funds, rather than individual stocks, and that you should avoid debt at all costs.
Adeney's blog has been praised by many financial experts, and it has helped thousands of people achieve financial independence. If you're looking for a personal finance blog that is witty, irreverent, and challenging, then Mr. Money Mustache is a great option.
4. Afford Anything (affordanything.com)
This is the blog (and story) of Paula Pant. She has over 60,000 subscribers and a free book for you to download, called Escape. This woman is driven, successful, financially independent, and FREE! Through her blog, her podcast, and an online community, she offers her target audience the opportunity to take control of their finances, and choices in life.
Through the Afford Anything blog, Paula Pant shares her insights and experiences in the areas of personal finance, real estate investing, entrepreneurship, and intentional living. The blog emphasizes the idea that individuals have the ability to afford anything they truly desire if they make conscious choices about their finances and prioritize their spending.
Paula Pant encourages readers to adopt a mindset that is focused on maximizing freedom and flexibility, rather than being limited by financial constraints. She shares strategies for saving, investing, and building passive income streams, highlighting the importance of creating a strong financial foundation to support a life of abundance and choice.
In addition to the blog, Paula Pant also hosts a podcast called "The Afford Anything Podcast," where she interviews experts and shares insights on various topics related to money, business, and lifestyle design.
If you are seeking sustainable, long-term, financial freedom this personal finance blog will hit some sweet spots. If you are looking for a way to earn passive income, be self-reliant, and gain a lifestyle you never thought possible then you should definitely check out the advice and content Paula's blog has to offer.
Read more about: Best Podcasts For 2021 – 100 of The Top Podcast Picks
5. Average Joe Finances (averagejoefinances.com)
The message is simple. To become financially independent you need to build your wealth. When you build your wealth, you control your future.
Average Joe Finances has a blog, a podcast, videos, free resources, and a forum. The personal finance blog is owned by Mike, who chronicles his journey on how he, through real estate investments, was able to do just that. He is part of a large, and growing, online community who refer to themselves as FIRE'd.
FIRE stands for financial independence, retire early. This pretty much sums up the new way of thinking that many families and individuals are adopting. Gone are the days when financial security meant being tied down to a 9 to 5 job for the best years of your life.
As with many personal finance blogs, the content covers finances, budgeting, investing, and real estate. Expect to find articles that discuss topics like tax deferral, website flipping, and debt consolidation. He also addresses the questions and fears people have about making necessary changes to gain financial freedom and wealth.
6. Get Rich Slowly (getrichslowly.org)
Get Rich Slowly is a personal finance blog created by J.D. Roth, a financial blogger who helps people build wealth and live a more fulfilling life. The blog is known for its long-form articles that offer in-depth insights on personal finance.
Roth started the blog in 2006, after he realized that he was not on track to achieve his financial goals. He wanted to share his journey with others, and he also wanted to help people learn how to manage their money more effectively.
The Get Rich Slowly blog is divided into three main sections: "The Basics," "The Journey," and "The Tools." The Basics section offers advice on foundational personal finance topics, such as budgeting, saving, and investing. The Journey section offers advice on how to achieve your financial goals, such as paying off debt and saving for retirement. The Tools section offers reviews of financial products and services, such as budgeting software and investment platforms.
Roth's advice is based on the principles of slow and steady wealth building. He believes that it is better to take a long-term approach to your finances, rather than trying to get rich quick. He also believes that it is important to live a balanced life, and that you should not sacrifice your happiness for the sake of money
7. Be Clever With Your Cash (becleverwithyourcash.com)
Andy Webb is a self-proclaimed blogger and money geek. His money blog is filled with practical advice on how everyday spending habits can be changed to save more, spend less, and achieve financial and personal goals.
Andy has the credentials and experience that make his blog content reliable and his suggestions, on how you too can achieve financial prosperity, achievable. His personal finance blog gives you a lot of information on how you can manage you finances efficiently and effectively.
The blog emphasizes the importance of being a savvy consumer and making informed choices in all aspects of personal finance. Andy Webb shares his own experiences and offers guidance on how to stretch your money further, find the best bargains, and make wise financial decisions that align with your goals.
In addition to the blog, Andy Webb also hosts a podcast called "Cash Chats," where he discusses money-related topics with experts and provides practical tips for managing finances effectively.
If you want to know some great stock trading blogs: 8 Stock Trading Blogs To Follow
8. Budget & The Beach (budgetandthebeach.com)
Tonya started this blog, in 2012, as a way to hold herself accountable when it came to budgeting and spending money. What started as a passion project is now Tonya's full-time career, as a freelancer specializing in video editing, production, and writing.
As with many personal finance blogs, the content is derived from Tonya's own experiences. It acts as both a testimonial and an example of how one can achieve success and financial freedom outside the conventional parameters of working a 9 to 5 job.
Overall, Budget & The Beach offers a combination of personal anecdotes, practical tips, and thoughtful reflections to inspire readers to take control of their finances, make conscious spending decisions, and live a fulfilling life within their means. It encourages a holistic approach to money management and personal growth.
You may also like: How to make money online.
9. Budgets Are Sexy (budgetsaresexy.com)
Budgetsaresexy.com is a perfect example of how a blog can become profitable and successful. The original founder, J. Money, built this personal finance blog from scratch, in 2008, and sold it for a good price to the present owner, Joel.
J. Money set a financial goal and upon reaching his million-dollar mark, sold it on to Joel, who took over in June of 2020. Joel started blogging around 2016. He gave himself a 30-day challenge to wake up at 5 am every day. On rising, he'd post a positive, inspiring message. And what started as a challenge became his "addiction", and a successful blog in its own right.
Budgets are Sexy covers topics from investing, saving, banking, and insurance. It's a great money blog that acts as a template for anyone wanting to set and achieve personal financial goals.
10. Champagne and Capital Gains (champagneandcapitalgains.com)
This blogger is a young professional who wishes to remain anonymous, for now. She reasons that she wants her blogging profile to remain separate from her professional career. She's an attorney. Her blog is aimed at young professionals who want to live a champagne lifestyle on a beer budget. Sound familiar?
The posts are entertaining, informative, and helpful to readers also wanting to get ahead of their finances. Instead of being bogged down by them. Her personal finances are laid bare in her personal finance blog, for others to learn from.
Here are some popular blog post titles:
Mental Health Care Costs Should Be Non-Negotiables.
What Does Added Sugar Have To Do With Spending Money?
Starting A New Job In A Global Pandemic Might Be The Best Thing That's Happened To My Career.
You may also like: Lifestyle Blogs to Follow.
11. Dollar Sprout (dollarsprout.com)
" Maximize your earning potential." – DOLLARSPROUT.COM
The successful and popular Dollar Sprout has been around for a while. It gives a comprehensive overview on how to handle your finances, grow your wealth, and achieve your financial goals and independence.
If you want to make extra cash on the side or start working from home, you will find loads of ideas and information here. If you are looking to invest, check out blog posts on investment apps, stock market trading, real estate investing, and more.
Dollar Sprout covers 8 main topics: Side Hustles, Jobs, Passive Income, Freelancing, Money Apps, Online Business, Investing, and Career.
12. Early Retirement Earl (earlyretirementearl.com)
"Quit the Rat Race, Retire Early." – EARLYRETIREMENTEARL.COM
Earl's a father of three, in his mid-forties, and fed-up with living with the consequences of irresponsible financial choices he made in his younger days. He has decided to take the fate of his future into his own hands. And Early Retirement Earl is part of that plan.
After working in the same job for 20 years he decided there had to be more to life. Even though he still works full-time, he is committed to retiring early and this blog is keeping him accountable, while at the same time helping others in his situation.
He is blogging his journey to FIRE and sharing the wealth of information he discovers and applies. His personal finance blog has been a source of inspiration for a lot of people.
13. Modern Frugality (modernfrugality.com)
An excellent blog by Jen, who along with her husband paid off $78K of debt in under 2 years. She specializes in finance writing now and as you will see in her blog content, she's really good at putting across how to get rid of debt, student and consumer, and live simply. Modern frugality will change your perspective on frugal living and inspire you to do the same.
Her personal finance blog is full of contents that will help in managing your finances in a more efficient way.
Read more about: Best Blogs for Women.
14. Family Money Adventure (familymoneyadventure.com)
Kevin is a professional freelancer who specializes in finance writing. He covers everything from student loans, credit card and bank reviews, homeownership, careers, debt, taxes, and travel. This is his personal blog (more of a personal finance blog) that focuses on sharing his expertise when it comes to money and life lessons.
His experience as a married man of 17 years, with four children, qualifies him for this project! If you want to build a functional family life with functioning finances, look no further. Authentic, transparent, and relevant. This blog is a great help to families who want more out of life than just being financially secure.
15. Financial Samurai.com (financialsamurai.com)
"Slicing Through Money's Mysteries"
Whether you want to invest in real estate, manage your wealth, get the latest financial products, or negotiate a severance, Financial Samurai is here to help. This blog has a lot of followers and the number of comments attached to each post indicates that the content supplied is reaching willing ears.
Here are five recent blog post titles of this personal finance blog that will prompt you to give this blog a go:
The Ideal Retirement Age To Minimize Regret and Maximize Happiness
401k Savings By Age: How Much Should You Save For Retirement?
The Average Net Worth For The Above Average Person
The Rise Of Stealth Wealth: Ways To Stay Invisible From Society If You Have Money
Alternative Investments: A Guide To Investing Beyond Stocks And Bonds
You can also read: Tech blogs just for you.
16. My Money Blog (mymoneyblog.com)
This is Jonathan's personal finance blog. He has 16 years' worth of experience sharing about money. His blog is loaded with excellent reviews, deals, savings, advice, and practical applications.
It's neatly divided up into 4 categories: Spend, Earn, Invest, Retire.
Under each category, you will find a wealth of practical information. From the best savings accounts and rates to the best interest on cash to credit card bonus offers and how to save on cellular data plans. There is content covering everything you need to know to cut corners and make savings.
When the intention to save becomes a priority, it's overwhelming how many small savings can be implemented. It all adds up. And when you follow Jonathan's tips and recommendations, you will definitely see results.
You may also like: Best Male Blogs To Follow.
17. Martinis And Your Money (martinisandyourmoney.com) and The Financial Gym (financialgym.com)
"Living a Better Life, One Cocktail At A Time" – Shannon Mclay.
This is the weekly podcast and blog of Shannon Mclay. But this statement is an understatement. Shannon is the founder of a financial services company aptly named, The Financial Gym. The blog posts on Martinis and Your Money stop around 2016 when the Martinis and Money Podcast became the main focus. You can find the latest show notes at the Martinis and Your Money site. And the blog posts from The Financial Gym are current. This lady is a powerhouse.
She interviews interesting, successful people and combines the knowledge and advice from her guests with the info available at Financial Gym. Financial Gym is geared towards offering people personal "human" help with their financial woes. She's young, energetic, motivated, and effective. Bookmark The Financial Gym and tune in to her weekly podcasts. You will gain!
You may also like: Best Fashion Blogs and Bloggers to Bookmark Right Now.
18. Finumus (finumus.com)
Finumus is well-educated in the world of finance, with some pretty impressive credentials, if you're into that sort of thing. What he offers is sound financial advice from a solid platform. The content on this personal finance blog shouts out serious business. If you want to compound wealth, are seeking financial independence, and feel ready to take some unconventional financial words of wisdom, look no further.
Here are 4 blog post titles from Finumus:
The Texas Hedge – Don't Currency Hedge Your Equity Portfolio
Crypto Assets in Your Portfolio: What the World Is Waiting For?
Don't Invest In Renewable Energy
But-To-Let: It's Not 1994 Anymore!
You may also read about: Top 40 Music Blogs Of All Time.
19. One Frugal Girl (onefrugalgirl.com)
Jewels is a wife, mother, blogger, financial enthusiast, optimist, former software developer, and achiever of financial independence. Her blog will impress you with its clear cut categories, clean layout, and excellent content.
One Frugal Girl aims to help readers achieve financial independence, reduce debt, and develop healthy money habits. The blogger emphasizes the importance of mindful consumption, living within one's means, and making intentional choices to align spending with values and long-term goals.
These are the blog categories of this personal finance blog:
Money Mentality
Financial Independence
Minimalism
Family Finances
Happiness
20. Frugalwoods (frugalwoods.com)
"Financial Independence and Simple Living" – FRUGALWOODS.COM
This is another one of my long-time favorite blogs, purely because I like the family behind the blog, and what they advocate. With so many blogs and bloggers around, it is always refreshing to get an authentic backstory.
Some personal finance blogs will contain content on investing and growing your money while others, like Frugalwoods, have more content on frugal living, how to change your mindset from one of consumerism to one of wanting less. This blog is set in the country and much of the content will appeal to others who want to change the pace of their lives and be financially independent as far away from the city as possible.
Frugalwoods has content that is philosophical as well as practical. It is a lifestyle blog, a personal finance blog, and a sustainability blog. Here's a sampling of what you'll find on Frugalwoods:
This Month on the Homestead: In the garden, picking berries, preserving beans
Reader Case Study: Making it work on a small salary in a high-cost-of-living city
Categories that include everything from biking, career, charitable giving, college, epic treks, frugal city living, and pets, to demystifying personal finance, monthly expense reports, retirement, real estate, marriage & money and so much more!
21. Stocks And Coffee (stocksandcoffee.com)
With its nice large block format and easy-to-read categories, this blog clearly says, "it's time to get serious about money." The main function of this site is to offer an "Investment and Trading" course. It's a complete contrast to a personal finance blog like Frugalwoods.
If you want to learn how to invest and trade, Duncan Maxfield, founder of the course and this blog, is ready to assist. His course, Investment Brilliance, offers:
Technical Analysis
Fundamental Analysis
Building Portfolios
Mindset Development
The blog is clear and concise, offering content in the form of guides, how-to posts, and regular articles, mainly on personal finances and investing. A fair amount of focus is given to self-development. The psychological aspect of saving and investing is not to be overlooked. Duncan holds a Bachelor's degree in Accounting and has several successful years of trading under his belt.
22. Investor Junkie (investorjunkie.com)
"The Best Investment Reviews, Promotions, and Education"- INVESTORJUNKIE.COM
This blog has a lot of content to absorb. There are the main categories. And then the long list of sub-categories. But it is neatly laid out and a pleasure to navigate. If you are looking for reviews and investment advice, this blog is a winner.
The Investor Junkie website covers a wide range of topics related to investing, personal finance, and financial technology (fintech). It offers reviews and comparisons of investment platforms, robo-advisors, brokers, and other financial tools. The website aims to help investors make informed decisions about their investments and find the best platforms and services that suit their needs.
In addition to reviews, Investor Junkie provides educational content on various investment strategies, retirement planning, asset allocation, and risk management. The website offers articles, guides, and resources to help investors understand complex financial concepts and navigate the investing landscape.
Investor Junkie also covers topics like cryptocurrencies, real estate investing, and alternative investments, providing insights and analysis on emerging trends and opportunities in the investment world.
Categories are:
Investing – How to invest, How to invest in stocks, ETFs and Mutual funds, Reviews, Stockbrokers.
Advisors – Robo advisors, Financial advisors, Reviews.
Real Estate – Real Estate guides, REIT, Comparisons, Best Real Estate Services.
Retirement – Roth IRA, Retirement guides and how-to articles, Best retirement planning tools.
Personal Finances – Learn, Reviews, Comparison, Promotions.
Banking – Online banking, CDs, Reviews, Savings Accounts.
Taxes – Guides, promotions, reviews.
This personal finance blog would be in the top 5 if I was ranking.
23. Keep Thrifty (keepthrifty.com)
This is the personal finance blog of Chris and Jaime, who met at college and eventually got married in 2008. They have 3 kids. Feeling unhappy with the pressures and rhythms of a work/stress/work existence, they took the plunge and decided that their suburban lifestyle could do with some adventure.
They wanted to travel (see also my best travel blogs) and also build the home of Jaime's dream, a little white shack. By 2019 they had traveled to all 50 states AND built their white shack!. This blog is a testimony of how they achieved their goals, despite having bumps along the way.
They created an app called Thrifty that allows you to keep track of your finances, set goals, and draw up budgets.
24. Keeping Up With The Changs (keepingupchangs.com)
"Feeling Good About Your Money" – KEEPINGUPCHANGS.COM
Most people don't save enough to retire comfortably, the average American family carries over $6,000 of credit card debt monthly, and student loans often end up being well over $35,000.
Want a solution to these problems? It's time to start keeping up with the Changs! This blog's light-hearted posts will humor and educate you, in language, you can understand. They make financial jargon sound less boring and present simple solutions to prepare mentally and follow through with financial goals.
There are also lots of free printables to download. These will help keep you on track with your savings plans. It is not just an ordinary personal finance blog, it is one of the best out there on the internet.
25. Mental Health and Wealth (mentalhealthandwealth.com)
Melanie Lockhart is a well-known name in the personal finance blogging world. Like so many, she experienced student loan debt and the mental anguish that comes with it. She chose to be pro-active about it and now she earns a good living from her personal finance blog, and podcast of the same name.
Although she makes no claims on being a mental health care practitioner, she does have a calling to help others who are often faced with depression and suicidal thoughts due to their debt. Through her book, Dear Debt, that she wrote and published in 2013, and her blog and podcast she brings awareness to the issue of mental health and how debt affects us.
Her topics are always relevant, current, and insightful. Here are the latest show notes/blog posts from Mental Health and Wealth:
From Being Broke To Being Debt Free Guys: An Interview With Husbands David Auten and John Schneider.
Debt, Suicide, COVID anxiety, and Minority Mental Health: An Interview with Financial Expert Kassandra Dasent.
From Scarcity Mindset To Abundance Mindset: Improving Your Relationship With Money: An Interview With Derek Hagen
26. Millennial Money (millennialmoney.com)
Each generation handles and deals with money differently. And every generation has a slightly different set of values and priorities which change the way they choose to live. This also influences how they view finances, saving for retirement, and investing.
According to Pew Research, millennials accrue more student loan debt than previous generations. They tend to live with parents longer, start families later, value time over money, and show greater diversity across the board, this includes having a far larger number of women in the workforce.
This personal finance blog is ideal for millennials who are trying to navigate the world of adulting. The blog content is a balanced mix of how to keep your emotional, psychological, and financial goals in sync. It's packed with:
Excellent reviews.
How-to articles on saving, investing, and consolidating student loan debt.
Advice on money management, long and short term.
And much more!
27. Best Wallet Hacks (wallethacks.com)
"Strategies for getting ahead financially and in life" – WALLETHACKS.COM
Jim Wang is the founder of this blog and if I were ranking, it would definitely be in my top 5! The bios of his team contributors are legit and lend much to the credibility and transparency of this financial blog. I immediately got the feeling that I was in good hands and all the info was going to be well-researched, accurate, and helpful. I was not wrong.
Ten out of ten to Jim, who has created content and a service that provides sound financial advice in all areas. Whether you are looking to get rid of student loan debt, wanting to choose the best value bank accounts and credit card offers, or are seeking reliable insurance and investment opportunities, you'll find it here.
28. Thrifty Nomads (thriftynomads.com)
Thrifty Nomads was created by Jen and Ted to inspire affordable travel. Ted and Jen were childhood sweethearts who were on track for life in suburbia with the white picket fence and 2.4 kids. But they decided to steer their ship in a different direction!
In 2012, they sold up everything and went traveling, and not looked back since. So as you can see this is a personal finance blog with a slight difference. If you are filled with wanderlust but need a nudge in the right direction, Thrifty Nomads is a good blog to use as motivation and encouragement that a drastic life change is more than possible with the right mindset and planning.
Through the Thrifty Nomads blog, Jen and Ted offer practical advice on various aspects of budget travel, including finding cheap flights, accommodation options, transportation tips, saving money on food and activities, and general travel hacks to make the most of your travel budget.
The blog also covers topics such as travel insurance, packing tips, and ways to earn and save money specifically for travel. Jen and Ted share their own experiences of traveling on a budget, including long-term travel and round-the-world trips.
In addition to practical tips, Thrifty Nomads provides destination guides and itineraries for popular travel destinations, highlighting affordable attractions, free activities, and off-the-beaten-path experiences. The blog also offers insights on volunteering, house sitting, and other ways to travel inexpensively while immersing yourself in local cultures.
You may also like: 36 Photography Blogs to Inspire.
29. The Penny Hoarder (thepennyhoarder.com)
"Making Personal Finance Fun!" – THEPENNYHOARDER.COM
The Penny Hoarder has been going for over ten years already. It is uber-popular and phenomenally successful. It has 1.2 million email subscribers and between 12-17 million readers monthly!
Kyle Taylor is the finance guru behind this brilliant blog. It is an independent publication that has remained self-funded since its inception. His goal remains the same as when he started the blog. That is, to help people stress less about money and enjoy life more. The Penny Hoarder would get the No.1 spot if were I ranking. Kyle covers everything a good personal finance blog should cover. The posts are written with a strong journalistic bent and combine solid financial education and advice with creative storytelling.
The categories are:
Make Money
Save Money
Budgeting
Debt
Retirement
Credit Scores
Bank Accounts
Investing
Home Buying
Taxes
Insurance
30. Divas R Frugal (divasrfrugal.com)
"Helping women reach their full potential without breaking the bank or settling for less, through personal finance and goal-setting tips" – DIVASRFRUGAL.COM
La Shaun's blog is personal. She is documenting her journey towards financial freedom and invites you to join her. She's sassy, fun, and fearless (Thanks to her faith.)
La Shaun is a Certified Financial Education Instructor. Her blog is going to appeal to millennials with student loan debt as well as anyone who wants to practice frugality, while still embracing their inner Diva!
You'll find helpful hints on saving, budgeting, setting goals, staying motivated, and making your personal and financial dreams come true.
In Conclusion
This brings me to the end of my Top 30 Personal Finance Blogs review. I know you have found at least 5 personal finance blogs in here that will guide and encourage you along your own journey to financial independence, freedom, and early retirement if that is your end goal. But whether you want to break free of the rat race, travel on a dime, or change the way you think about, and treat, money, using one of these blogs as a guideline is a great place to start.
Joining an online community or subscribing to a few personal finance blogs is a practical way to stay accountable if you are reducing debt or trying to save for something specific. A personal finance blog could be a live saver for you.
So good luck, and always remember, it's you that holds the power to make the choices and changes in your life, to achieve your goals and make your dreams reality!