What is a domain registrar? Why do we need them? Are domain registrars and hosting platforms the same thing? And what makes one domain registrar better than another? I am answering all these questions for you today. And together we will get to find out which is the best domain registrar in 2022 for your blog or business.
Besides straightforward domain registration, there are also a few tips and warnings that you should know about in order to protect your domain from shady operators who make it their business to buy up domains and resell them at inflated prices. Some domain registrars are totally legit while others are not so much.
The buying and selling of domains can be a good business to set up but that will be a whole other article. Today I am focusing on reviewing the best domain registrars to choose from if you want to start a blog or online business.
Let's get started!
Digital Marketing, Domain Registrars, and Hosting Platforms
Having an online presence is an essential part of running a business in 2022. From the most basic level, like having a Facebook page or an Instagram account to having a website and a blog, you need digital marketing to get your business noticed and to build a community around your brand or product. But first, you need an address for your business so that your target audience can find you, share your content, and shop from your site. A great domain name helps you get more traffic through your site. So put thought into how you spell it so that it reads well as a single word and get the domain you want to use (.com, biz, net, etc).
Often, just by choosing the right domain name and using effective SEO and SEM you can generate organic (free) traffic to your site. This is digital marketing at its simplest. Captivating content and attention-grabbing headline is cherry on top.
The thing is, you have to go through a domain registrar if you want to start a blog or have a website and you have to go to a web or blog hosting platform to get your blog and website live and connected to a server. You need an IP address and a domain name is a simple way to let people find you online, instead of trying to remember a whole lot of numbers that say nothing about you or your business.
Choosing a name is important.
Once that is done and you know it's available, you need to lock it in by signing up with a hosting site. It's difficult to choose which company to use because many offer the same basics, in terms of:
bandwidth,
storage space,
security, privacy,
speed and efficiency,
and 24/7 service and customer support.
They advertise comparisons of each of their packages with a long list of benefits and features. But there are different types of hosting; shared hosting, self-hosting for wordpress.org, dedicated, VPS, WP, Managed WordPress, email hosting, etc. So, when choosing a domain registrar ensuring it's simple for first-time users (and bloggers new to wordpress.org) is crucial. Don't base your decision on price, base it on how easy it is to use their dashboard and how geared up they are to host WordPress sites.
Each platform's special offers and info on what you will get free and the discounted prices differ slightly but not much. They give different price structures based on length of contract, size of your business, how many domains you want, and what comes with each.
Why You Should Not Decide Based On The Introductory Offer Alone?
Introductory offers are supposed to be the "hook" that entices. Easy transfers, 1-click installations for WordPress, domain privacy, Sitelock, Free SSL encryption, free domains, and migrations, etc. all sound good but it is more important to choose a registrar based on what they charge after the first year, or once the introductory package expires.
Every domain registrar and hosting platform markets itself as good as it can as since it's a very competitive race. Before choosing which company to go with check out the renewal fees of the domain name, the hosting packages, and the add-ons. What comes free the first year? What is essential and what is optional?
Even though it's easy to design and build a basic blog and website by yourself, you have to rely on a domain registrar and a hosting platform to get your content out there. And you need your site to be up and running 24/7, with fast loading times and excellent tech support when you need it. And just as important, you need security. If you don't have an SSL encrypted certificate it may affect rankings and also put prospective customers off, by thinking your site is not secure and they might be right. Another thing that is quintessential is an email address with your domain name. You can either get this through your domain registrar or you can get emails forwarded to a valid address and that is an extra charge.
For those of you who want to start your own website and blog, this article will help narrow the choices down and you get to choose the most effective and affordable option for your domain, hosting, and blogging needs. I believe in doing registration and hosting through one platform.
What is a Domain? It's all in the name!
Your domain is exactly as it sounds. It is a space on the web that you "rule" over. Your blog or website is your own domain. But there is a catch. You never own your domain name. You get to choose the name. And it is advisable to get a domain name that reflects your business and what it does.
First prize is getting a domain name that is the same as your business or company name. But it is also important to get a dot com domain (.com) Top-level domains (TLDs) use .com because it is what people are most familiar with. A .com domain is what people will type in when searching for your business. Originally .com stood for commercial, just like .org is associated with organizations. Recently a whole bunch of new top-level generic domains are becoming more common. For example:
.tech
.info
.travel
.edu
.city
.blog
.co
.me
.biz
.website
And many more
If the name you want is not available as a .com, you will have to choose another name or another domain. Many businesses and blogs use their country's domain. This is ideal if your business is local or national, and not international.
Because we are now so accustomed to how fast things change digitally, it won't take long for people to get used to searching for domain names using the new generic TLDs. But the renewal fees on some of these names are astronomical. For example, some registrars charge $4.99 for a first-year. tech domain, and then it renews at over $25.00 thereafter. Plus there will be a charge of around $15.00 for domain privacy.
A domain name should be simple, short, easy-to-read as a URL, and catchy so that people will remember it easily.
What is ICANN?
A company that wants to buy and sell domain names must first register with ICANN (Internet Corporation for Assigned Names and Numbers). So ICANN is the registry, the site you "buy" your domain name from is the registrar, and you are the registrant. Most web and blog hosting platforms are also registered as domain registrars. Some domain registrars only lease out the names and you still need to find a reliable hosting platform.
Also important is to make sure your domain registrar/hosting platform offers WordPress hosting. Good hosting platforms have separate packages specifically designed to host WordPress sites. You can choose from shared hosting, dedicated hosting, VPS hosting, or WordPress hosting. And with WordPress hosting packages you can choose managed WordPress hosting or different tiers of hosting depending on how many domains you have and how much traffic you get. Good hosting platforms will make it easy to migrate your site and transfer your domain.
Why do I need to register my domain name?
All domain names are owned by registrars. You never own your domain name, you only get to lease it. This means you need to renew your leased name annually. You need to choose a domain registrar and a hosting package that will provide service and support to suit your blog and business needs.
If you start with the first domain registrar you come across and are not satisfied with it, it is a hassle and time-waster trying to change to a new one. And that's why I chose to recommend the following domain registrars. They are all reliable, reputable, and offer good customer service. After all, you need your business to be available online 24/7.
Some people host with one company and register their domain with another. I personally recommend using the same for both. Especially if you are self-hosting a WordPress.org site. It makes it easier to get support and everything is in one place. But not all hosting platforms are equal when it comes to WordPress hosting packages. We have chosen to be affiliated with Bluehost because they are so well-suited to hosting WordPress.org sites. So, for bloggers who want full control over their content, ad placement, and monetization methods, self-hosting through Bluehost is ideal.
Whichever platform you choose to use, make sure that your hosting site makes it easy for you to add eCommerce and extra security features that won't break the bank but also won't leave you at a disadvantage when it comes to having a fast, efficient, secure site.
What To Do When You Have Decided the Name?
Once you have your name, you need to see if it's available. Not so long ago it was easy to go onto any domain registrar site and find a name. If it was available you could take your time before choosing a domain registrar to register it with.
Now, if you don't register your available name almost immediately it will be added to the many thousands of databases that all domain registrars have access to and you may very well end up having to buy the name back before you can lease it!
Are Domain Registrars And Hosting Sites The Same Thing?
The best route to follow is to choose a hosting company, with a domain registrar tool, to host your site for you and then start the process of finding your chosen name or one as close to it as possible. If it is available, then go straight ahead and sign up for your hosting at the same time.
Bluehost is excellent in this regard, especially for new bloggers and small businesses. It offers free domain registration for the first year and is set up to integrate WordPress hosting.
Kinsta is another fantastic hosting platform for bigger companies, but I won't go into any more details about them in this article as they don't offer domain registration. Although, they do recommend NameCheap, Google Domains, eNom, and Names.com as viable domain registrars.
Note: Most hosting sites are domain registrars. And many domain registrars are also hosting sites. But they are not the same. They are two separate actions that need to be paid for separately. Unless, of course, you go through one company for both and take a package where the price includes hosting and domain registration. (Like Bluehost)
Can I Register My Domain Name For Free?
Yes and no. Yes, if you take certain hosting packages from certain companies, they throw in the domain name for free for the first year. After that, you will have to pay annually to keep your name and also pay to keep your site online by paying for hosting every year.
If you're on a strict budget and just starting out, be aware of hidden costs and add-ons that you have to bear to secure your site and your domain name. But don't worry I'll explain more about these as I review each domain registrar.
Always check the renewal prices before committing to any package with any hosting company. Don't do what some beginners do and register their name first but when they go back to buy hosting, they take the cheapest option and are left completely confused because they should have taken a WP hosting package, not a cPanel shared hosting package.
New Generic Top-Level Domains
Lately, I have noticed many domain registrars popping up that are offering domains that are not top-level. It used to be risky to use domains that don't end in .com. It just makes it more difficult for people to find you. But now, in some instances, depending on your business, alternative domains can be positive. Here are some examples of new generic top-level domains that might work for your business, if it's a niche:
.info
.tech
.tv
.website
.ngo
.md
.online
.me
.site
.link
Best Domain Registrars for 2022
The following sites are not graded in any particular order. Please remember that most hosting sites and domain registrars will offer free website building. It is a better option to build your own wordpress.org blog because you can monetize it, control which ads appear (if any) and you always own your content.
With the free website builders, you will never own your content or have any control over what ads appear on your site. wordpress.org is not wordpress.com. wordpress.org is open source. This means you can monetize your site quite easily and you own your content. So, if you change hosting platforms your content comes with you. Bluehost offers free WordPress migration.
1. Domain.com (Most popular domain registrar)
Domain.com offers everything you need but be sure to compare the renewal fees between registrars. Sometimes the domain renewal fees may be cheaper than another company but the overall hosting package ends up being far more expensive.
The Prices are as follows:-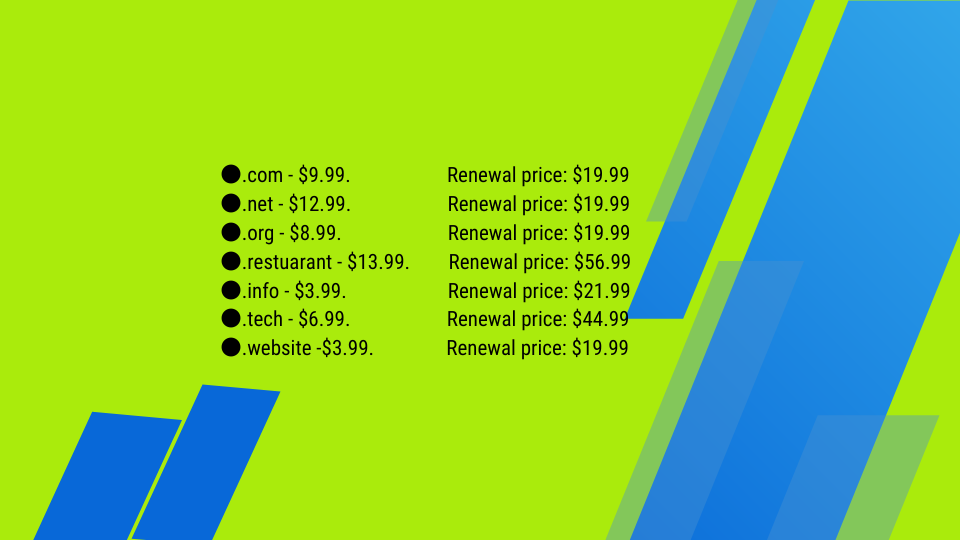 They have 3 hosting plans: Remember this price excludes your annual renewal domain registration fee as well as your annual email address renewal.
Basic – $3.75 per month but you get billed $90 for 24 months. You only get to have one domain name and website but get up to 5 FTP users and 10 MySQL databases.
Deluxe – $6.75 per month. Billed $162.00 for 24 months. You get up to 25 MySQL databases and 25 FTP users.
Ultra – $13.75. Billed $330.00 for 24 months. Unlimited databases and FTP users
Free features that come with all plans: (for the first year)
Free domain for one year
eCommerce
Subdomains
24/7 support
Unlimited disk space
Scalable bandwidth
Free SSL certificate
Marketing tools
But I was surprised to see the difference in the pricing of certain domain names. Eg. A TLD goes for $9.99 with domain.com, renewable at $19.99. Whereas a domain like .md will cost you $199.00 every year! (price from domain.com)
An email address to match your domain name starts at $3 per month (billed $36 for first 12 months) but the renewal price is $6 per month (billed $72 annually).
So in Domain.com's case, you will pay $3.75 per month for basic hosting, $6 for email renewal (monthly), and $19.99 (annual) for a .com domain. But this is the introductory price.
Domain Prices and Renewal Fees:
But when you renew at an annual rate you will be charged the following: (Prices are based on the Basic package)
$19.99 for the domain name
$72.00 for E-mail renewal
$59.88 for the Basic hosting package
$83.88 for Sitelock (to keep your domain from being hacked)
$71.88 for an SSL certificate
$8.99 for Domain Privacy and Protection
Add a local business phone for $95.90 per year or a Toll-free number for $191.90
$40.99 for website backup and security
As you can see, you need to really read all the information on a site before signing up.
WordPress Hosting with Domain.com
Domain.com doesn't offer such great deals for the renewal of the Starter WordPress Hosting. You get the basic unlimited bandwidth and storage, a customized panel, and preinstalled plugins. The price is $113.88 per year. You don't get access to 24/7 support, automatic malware removal, or Sitelock security. If you take the WP essentials you get the extra support, Sitelock, and malware removal. The price is $149.88 per year.
Disclosure: Please note that when you purchase hosting using our Bluehost affiliate link, they compensate us, which helps us make our blog & themes free of charge to you. Know that we recommend only products, tools or services that we have tested.
2. BlueHost (most popular for domain registration and hosting combined)
Bluehost is one of the hosting platforms dominating this space. But how do their domain name prices compare? Let's take a look at the introductory fees and the renewals.
Unique Bluehost Domain Name Service: One thing that Bluehost offers is a 30 days grace period. This means that if for some reason your auto-renewal charge doesn't go through you still have 30 days to renew and you will be notified. This is a courtesy and not a contractual obligation. Even after the 30-day expiration, your name will go into a "Redemption" period which last for 45-60 days, and it will remain inaccessible to others and can be redeemed by paying the usual renewal price, plus an additional fee (that fee is set by the Registrar and Domain Registry). But you won't lose your domain name or have to buy it back at some inflated price.
Domain Prices and Renewal Fees: (For domain names only – at an annual rate)
Bear in mind that for every domain you will also be charged $15.00 per annum for Privacy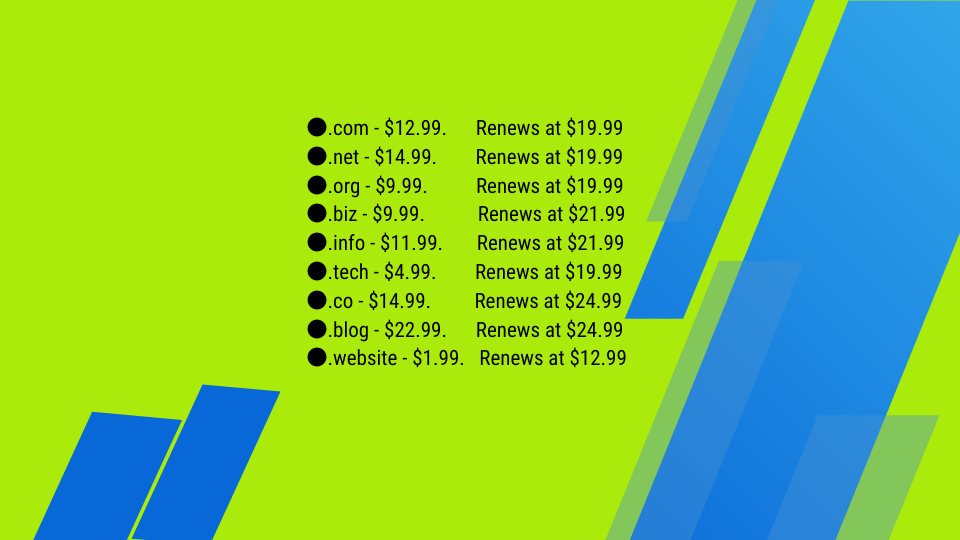 Bluehost domain registrars offer:
Auto-renewals
Easy domain management
Domain forwarding
Domain locking
24/7 support
Microsoft 365 integration
Like domain.com, Bluehost offers lower rates and free add-ons for the first year. Their basic hosting package offers more perks than domain.com during the first year. They are geared up for WordPress Hosting and therefore the prices and perks are better with Bluehost.
Shared Hosting with Bluehost
Bluehost renewal hosting is a fraction of the price of other sites at only $19.99 per year. They also have their add-ons with higher renewal prices than the first-year fees. Since this article is focused on domain registration, I won't go into the long list of services included. But below the add-on prices, you'll find their Bluehost WordPress hosting prices which are simple and suited to basic website hosting needs and also for bloggers and entrepreneurs who want to add multiple sites and eCommerce using WordPress. Incidentally, Bluehost offers free migration of your WordPress site to Bluehost if you switch over to them.
Renewal Add-ons include: (prices are for basic packages only and per annum)
SSL certificate: $80.04
Email Microsoft 365: $35.88/ User
Codeguard: $47.88
SEO Tools: $71.40
Sitelock: $83.88
Domain Privacy: $14.88
Spam mail filter: $35.88
But don't let all these details confuse you, Bluehost also offers Managed WordPress hosting packages that have scalability features that will help your site adapt as your business grows.
BlogOnYourOwn users receive an exclusive special discount with our Bluehost coupon code. Click this link to buy your hosting at a special price.
3. HostGator ( One of the Best Domain Registrar)
HostGator is just as competitive as the first two domain registrars I have reviewed. Here are their domain name prices both introductory and renewal prices. Priced at the annual rate.
Domain Prices and Renewal Fees: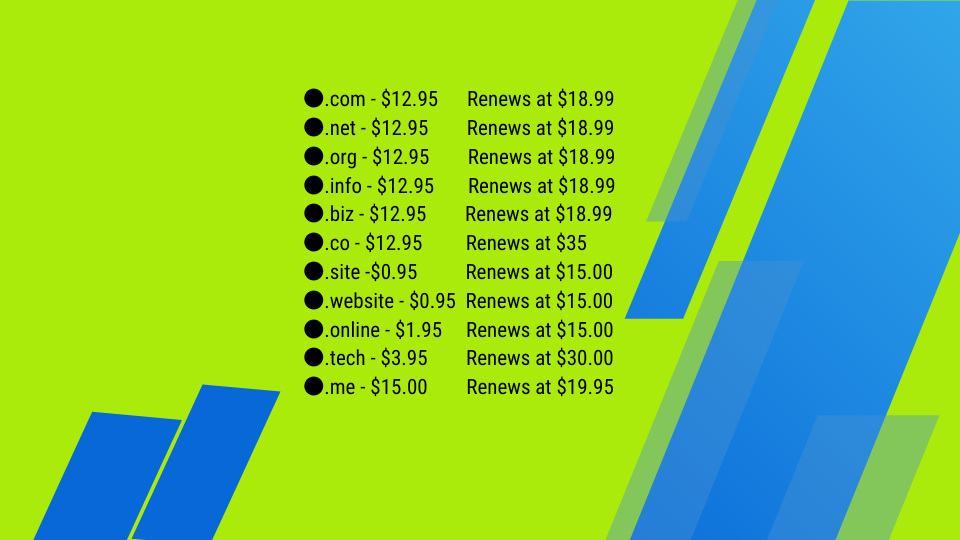 Renewal prices and add-ons for hosting plans are basically the same as the previous sites.
SSL certificate: $69.99
Email Microsoft 365: $83.88
Codeguard: $47.95
SEO Tools: $71.40
Sitelock: $95.88
Domain Privacy: $14.95
Google Workspace: $72.00
HostGator also offers a free domain name for the first year.
As far as domain registrars go Namecheap is a definite contender. They usually have cut-throat prices on many popular generic and new generic TLDs. But then the renewal fees are way more expensive. Some of their hosting packages are of good value it just depends on what your specific needs are. They have WordPress hosting packages that are more expensive than Bluehost or HostGator. The basic package (Easy WordPress Starter) does not include free SSL or CDN.
Easy WordPress Starter costs $24.88 to host for the first year and renews at $34.88. The next one up is the Easy WordPress Turbo. It costs $48.88 and renews at $78.88. But it is only the Easy WordPress Supersonic package that guarantees 99.9999% uptime. Why would they mention that as a feature? Other sites guarantee almost 100% uptime for all their packages. The Supersonic also includes free SSL and CDN. The SSL will be charged a renewal fee but CDN is free forever on all WP hosting packages, as long as you also register your domain with them.
Here are their domain prices and renewals.
Domain Prices and Renewal Fees:
At the time of writing these prices were on sale and there was no cut-off date for when the special ends. Even some of the renewal fees were offered at discounted prices but only for a limited time and only if you hosted with them as well.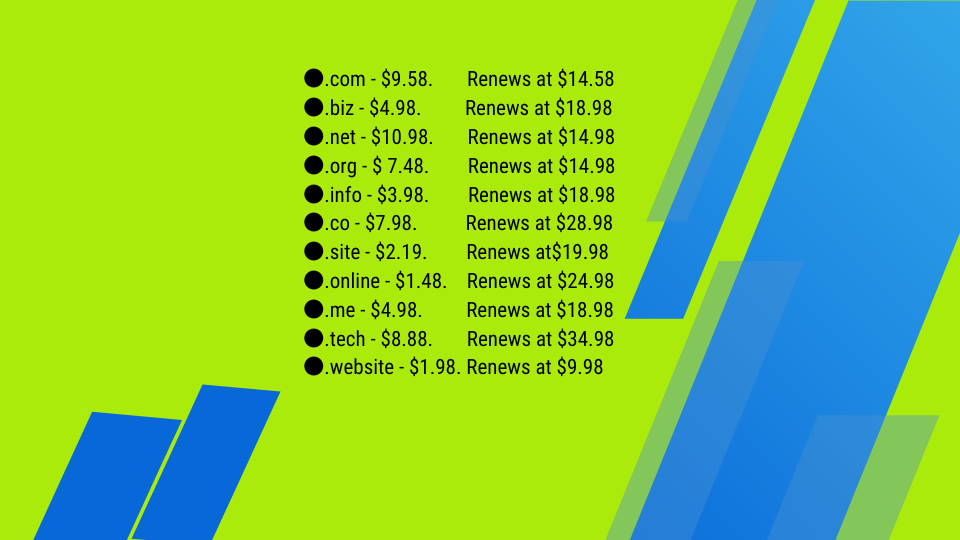 Now the last in this list is a domain registrar provided by the big tech Giant "Google". Well right now it is in beta testing but it still offers 300 new and popular TLDs. A Google Id is required to access Google Domains and the best part of it is that it can be connected with other Google Services such Workspace and Google Ads, thereby guaranteeing a better workflow. It only provides Domain hosting services.
One of the most beneficial features of using Google Domains a domain registrar is that it provides WHOIS Privacy Protection for free with every domain registration unlike other Registrars, which generally charge an annual fee for this feature.
But Google Domain is only available in 23 Countries as of now, so if you are not in the country where they provide their service then you can't have it.
Domain Prices and Renewal Fees:
The domain prices quoted by Google Domain is somewhat costlier to what other Registrars charge but they provide renewal at the same price which is something that's unique. Now let's see the prices of some TLDs.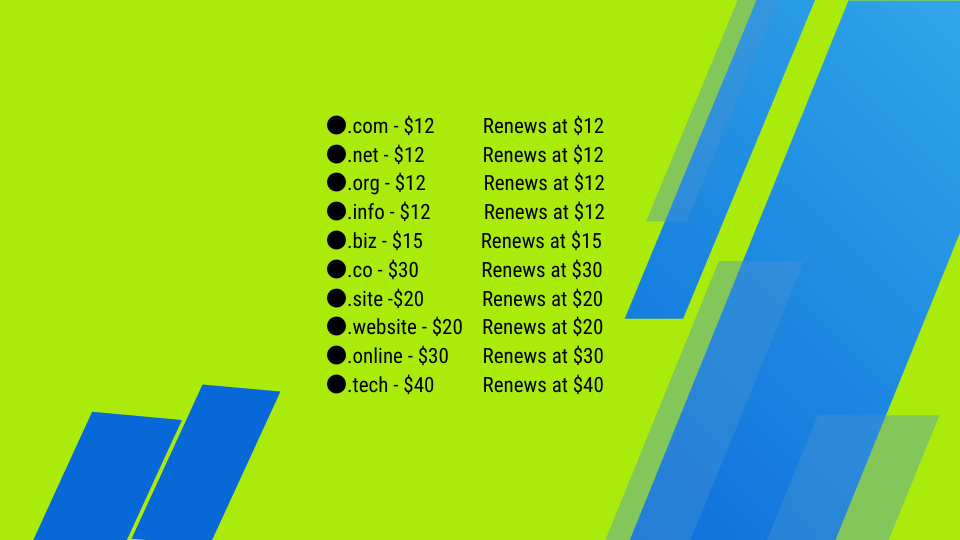 Other domain registrars worth a look are:
Hostinger
Unstoppable Domains (new extensions for blockchains – crypto currencies and bitcoin wallets)
Siteground
Hover
GoDaddy
Let's Conclude
Choose a domain registrar that has a good reputation for hosting as well as domain registration.
Check that they are ICANN and WHOIS compliant.
Check out deals and first time offers with a fine-tooth comb.
Work out what your renewals fees will be for both domain renewal, hosting, security, and privacy.
Work out what add-ons are essential and those that aren't.
Make sure the 24/7 support is there.
Do they offer user-friendly WP hosting?
Can you transfer and migrate with ease and at low cost?
Fast-loading times, 100% uptime
Have fun choosing your new domain name and get your brand out there with a platform geared for your specific needs. Subscribe to our mailing list for upcoming articles that will teach you all you need to know about the more technical aspects of setting up and hosting open-source WordPress sites.