Kinsta was founded in 2013 and from the very beginning, specializes exclusively in premium WordPress hosting. Offering reliable WordPress hosting based on the latest technology with an emphasis on speed, security, and stability is Kinsta's offer. So let's analyze all the details to get an honest Kinsta review.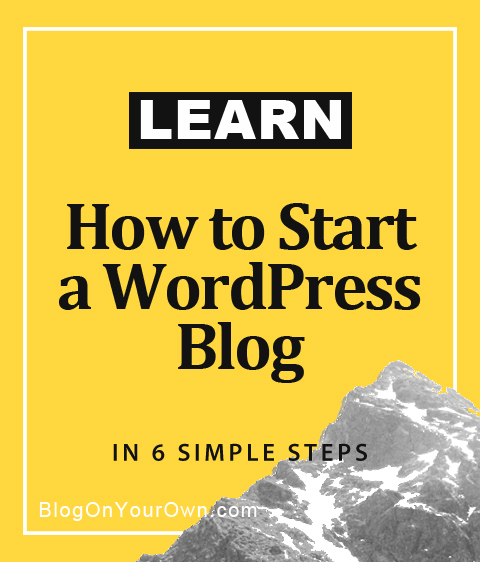 What distinguishes Kinsta from other hosting providers is the quality of services. Kinsta sets standards and exceeds the limits by offering the best hosting solutions without any compromise. And this affects the price, which is much higher compared to other hosting providers. For this reason, Kinsta's offer is addressed to more significant players with substantial financial resources, who value the speed and security of their website.
Kinsta, despite its high price, collects excellent reviews. Let's check what they offer, what makes them stand out from other hosts? And is it worth using their premium WordPress hosting? Is it really all that good?
If you're interested in the best blog hosting please, read our other reviews: SiteGround review and Bluehost review. In turn, if you want to start a blog but don't know where to start, check out my simple step-by-step guide on how to start a WordPress blog.
Disclosure: Please note that when you purchase hosting using our Kinsta affiliate link, they compensate us, which helps us make our blog & themes free of charge to you. Know that we recommend only products, tools or services that we have tested.
The first element of the Kinsta review:
1. Google Cloud Platform
Unlike other hosting providers, Kinsta does not have its physical servers. It is focused only on managing WordPress. The infrastructure provider at Kinsta is the Google Cloud Platform – one of the biggest networks in the world. Kinsta is the first managed WordPress host that exclusively uses this platform.
This solution has many advantages, like performance, stability, backups, and above all, safety and flexibility. Adding to this the possibility of live migration of virtual machines, or resizing of persistent disks without any downtime. We do not doubt that this is one of the best available solutions.
Additionally, thanks to such an extensive infrastructure, Google's data centers are located all over the world, which means you can choose a different data center for each of your WordPress sites.
The second factor on Kinsta review – speed.
2. "Speed obsessive" architecture
Page loading time is a significant indicator. On the one hand, for a user who doesn't like to wait too long and quickly escapes from a page that loads slowly. But also and maybe above all for search engines. The page loading time can affect its position in the Google search engine. If the site is too slow, it will negatively affect its position in Google.
In short, a faster page loading time results in higher conversions, longer average visit duration, and reduced bounce rate, but also better SEO. That is why the website must load quickly.
Fortunately, Kinsta is obsessed with speed. It uses the latest technologies such as Nginx, PHP 7.3, LXD, and MariaDB software containers to ensure that your website loads in a flash. It has full resource isolation, automatic scalability, and high availability.
Let's move to the third element of the Kinsta review – CDN.
3. Free CDN
The Content Delivery Network (CDN) is a distributed network of cooperating servers to ensure fast delivery of Internet content.
The main task of CDN is improving website load times, reducing bandwidth costs, increasing content availability and redundancy, and improving website security.
Kinsta works with KeyCDN (Europe's leading CDN provider) an extremely efficient content delivery network that supports HTTP/2 and IPv6. Thanks to this, Kinsta uses KeyCDN's extensive global network and has access to all strategic locations of content delivery.
Admittedly, Kinsta does not use all KeyCDN resources. Depending on the plan, it offers a different amount of free CDN bandwidth. But thanks to the dense interconnectivity with 34 data centers in 25 countries on six continents, it does its job well.
The fourth factor on Kinsta review – daily backups.
4. Full backups daily
Every day, at least once a day, Kinsta backs up your site, so it's always secure. Because it is a backup of the whole system, you can always restore the version of your website from the previous day in case of any problems with one click. It is a very convenient and straightforward solution for all, even novice users.
Importantly, backups not overload servers, so you won't even feel it. Also, if you need more frequent backups, you can increase the backup frequency for an additional fee.
Automatic, manual, and system-generated backups are stored for 14, 20, or 30 days depending on the plan you choose.
Imagine you have a shop and you received several orders at night. If you restore the entire system backup from the previous day, you will lose all these orders. But if you have the option of restoring only individual components, you can quickly repair what is broken, without any loss.
Unfortunately, Kinsta offers backups of the entire system. And sometimes, it is better to backup individual elements of the website (files, databases, settings, etc.).
The fifth factor on Kinsta review:
5. Automatic scaling
Website traffic can be variable; in fact, you may find that the plan you have chosen suddenly becomes insufficient. Consequently, website issues begin. Fortunately, not at Kinsta. Thanks to the infrastructure built on the Google Cloud Platform, your website can be scaled to your needs. And the rapid and unforeseen increase in traffic is not a problem.
Of course, you must remember that if you exceed the limit of monthly visits in your plan, you will have to pay a surplus fee of $ 1 for 1000 additional visits. However, most importantly, your site will remain online and will not crash at such a critical moment.
And what about security in my Kinsta review?
6. Security guarantee
Kinsta cares very much about its network and continuously monitors it. It ensures that the software is always up-to-date, and all suspicious activities are thoroughly investigated. Therefore, when your site is hacked, Kinsta guarantees that its technicians will solve the problem without any problems and bring the site back to normal.
The seventh factor on Kinsta review – server locations.
7. Server locations
The server location is crucial, especially for page loading speed. The server should be as close to your users as possible at least for most of them. The shorter the distance, the faster the server response, i.e., quicker page loading.
Kinsta offers many global server locations. You can choose one of the 20 Google Cloud Platform regional data centers for each of your sites, so you have a vast selection.
Let's move to the eighth element of the Kinsta review – a money-back guarantee.
8. 30-day money-back guarantee
Nowadays, a money-back guarantee is standard. That is why, like other hosting providers, you will also receive a 30-day money-back guarantee at Kinsta.
Besides, if you opt to use any of add-ons during this initial 30 day period and request a refund, the cost of those add-ons will also be refunded. It's a very fair policy. As we know, not all companies return money for paid extras, although they offer a 30-day money-back guarantee.
The ninth element of the Kinsta review:
9. Free site migrations
If you already have a website and want to transfer it to Kinsta, you can do it entirely for free. Not only that, Kinsta will do everything for you. Thanks to this, you don't have to worry about any downtime. All you have to do is fill out the migration form in the MyKinsta dashboard. And the Kinsta's team will do the rest.
Some hosting companies, especially the very cheap ones, charge extra fees for website migration. Kinsta cares for its customers from the very beginning – it's a great advantage.
Depending on the plan you choose, Kinsta offers different types of migration. So if you plan to migrate your site to Kinsta, read the details.
What about support?
10. Support
Kinsta provides quick and above all, competent 24/7 support for all its users. The qualified technical support staff will help you solve any problem.
They have experience and appropriate knowledge. Moreover, thanks to a great internal communication system, technical support is always up to date with your problem, so you never have to repeat yourself.
In Kinsta's support, you will find only qualified WordPress experts. That's why you will always receive quick feedback with all the necessary tips to solve the problem. What's more? You will never have to wait in line for your turn.
They also offer a detailed knowledge base, and WordPress guides which you'll learn everything you will need. From the basics of WordPress to how SSL works and why it's so important.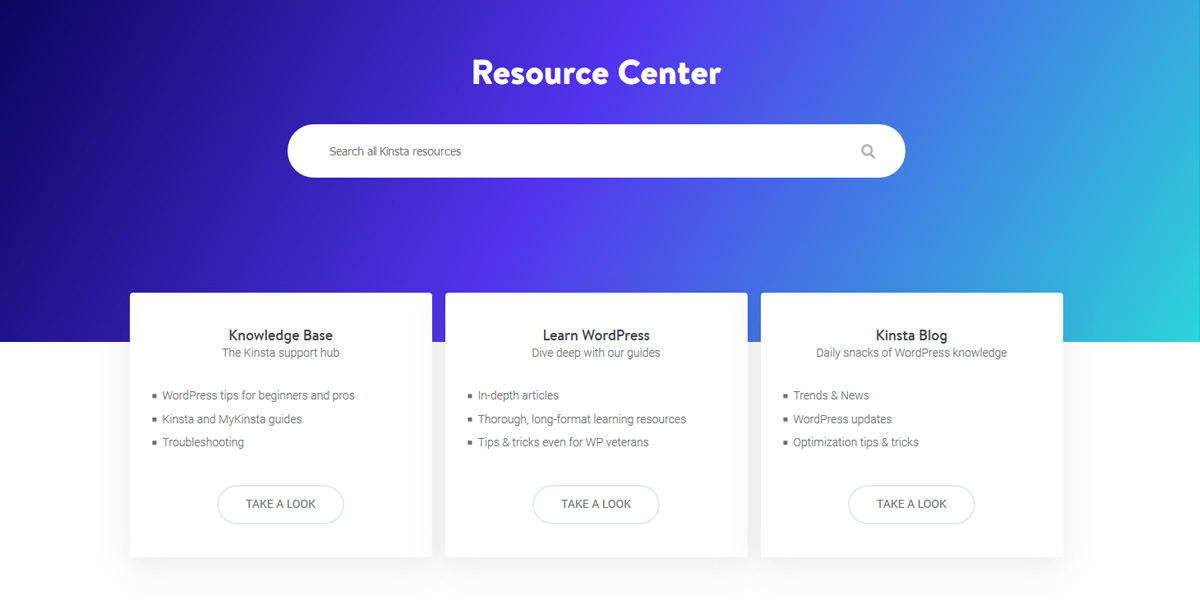 Let's move to the eleventh element of the Kinsta review – users' opinions.
11. Excellent Kinsta reviews
Users can tell the most about hosting. The reviews you find online give an image of the company and its services. In my opinion, this is the sincerest source of information. Therefore, let's not look far; let 's take a look at what reviews you can find about Kinsta premium WordPress hosting on independent portals.
I took into account several independent portals such as TrustPilot.com, G2.com, HostAdvice.com, and WhoIsHostingThis?, to check the objective opinion of Kinsta's users.
As you can see below, Kinsta has excellent reviews. It is the WordPress hosting company that you can trust. In TrustPilot for 194 people, only three rated this hosting as "Poor" (2-stars/5) and another three as "Bad" (1-star/5). About 95% of satisfied customers; this is a great result.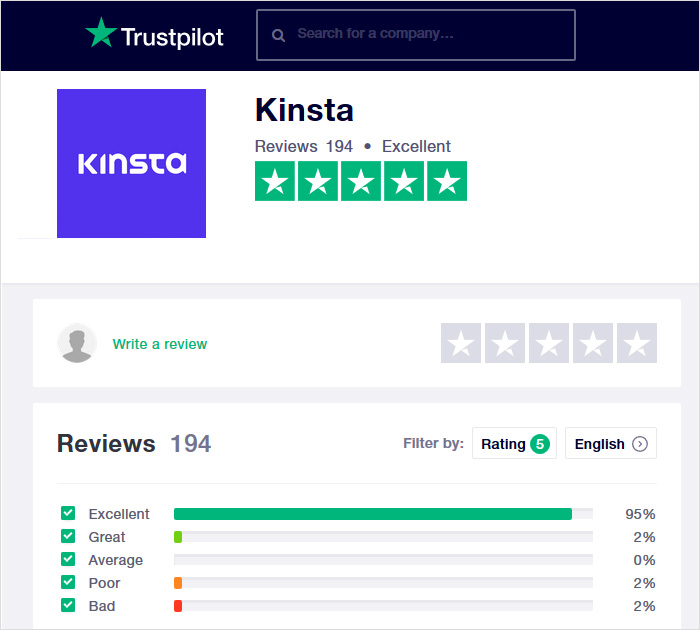 On the well-known WhoIsHostingThis? Portal, out of 46 Kinsta reviews, all are positive, and Kinsta receives five out of 5 stars.
A similar rating you can find at HostAdvice.com. Out of 36 reviews posted, Kinsta received 9.7 points here out of 10 possible.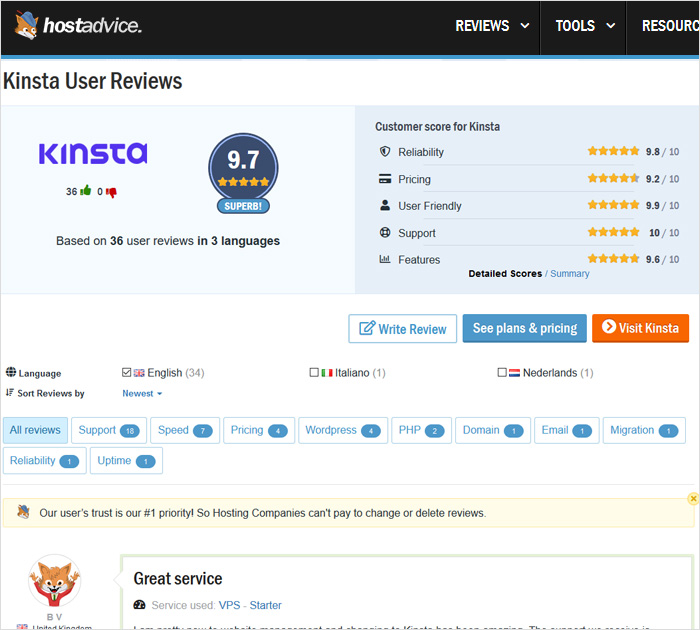 At g2.com, all 56 opinions are positive. As many as 48 people rated Kinsta's hosting at 5/5 stars. Several users rated Kinsta at 4 and 3-stars, citing too high price as the only disadvantage.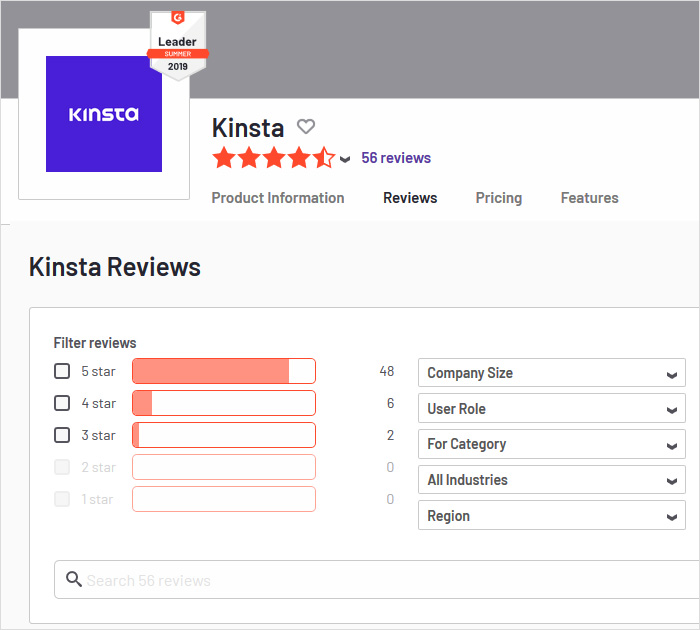 The twelfth element of the Kinsta review website monitoring.
12. 24/7 monitoring
Your website is monitored 24/7, its uptime is checked every 2 minutes. That means that in case of any problems Kinsta staff are notified and immediately solve the issue. Before you even notice that something is wrong. This ensures short downtime and reliability for your site.
Besides, Kinsta is continuously improving and taking care of the next-generation infrastructure. It also monitors its internal systems with high precision, thanks to which all errors are repaired regularly.
Also, it's worth looking at the dashboard on my Kinsta review.
13. User-friendly dashboard
To help the user manage sites, Kinsta has created from scratch its control panel, designed specifically for WordPress. Thanks to this, the MyKinsta dashboard is continuously improved and developed, adapted to the users' needs.
This means that MyKinsta is more complex and user-friendly at the same time. It has all the known functions that you may have encountered, e.g., in cPanel or Plesk, and much more. MyKinsta has many more features, making website management even more comfortable.
MyKinsta was designed for beginners and equipped with advanced features and tools ideal for professional developers. So if you are a developer, at Kinsta, you'll find all the necessary tools and software (such as WP-CLI, SSH, and Git).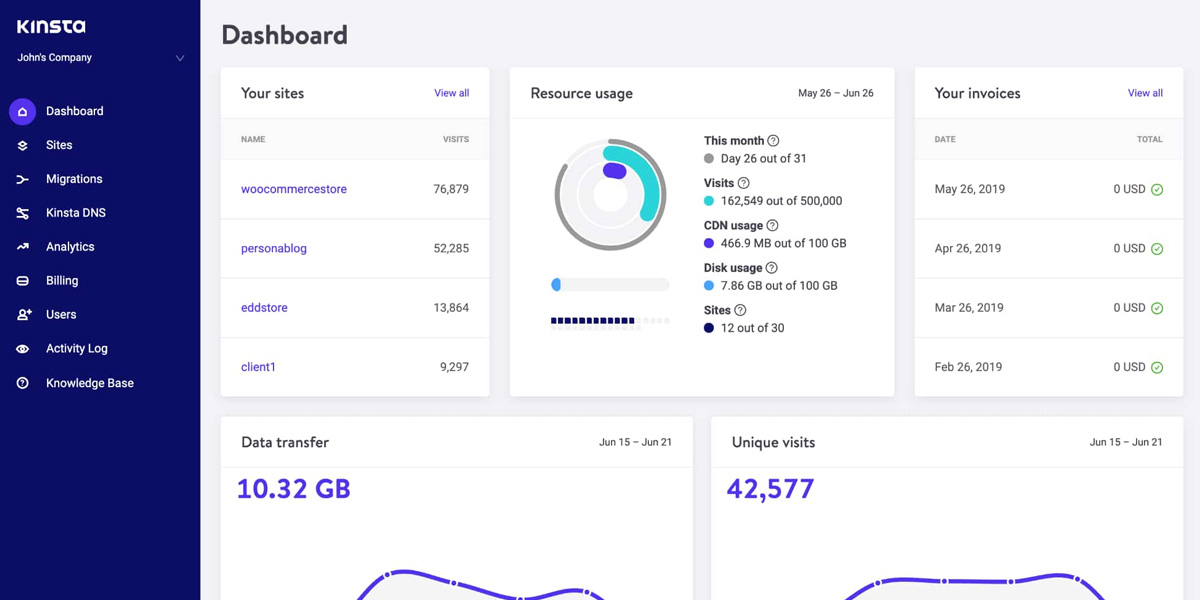 Let's see what functions you will find in the MyKinsta dashboard:
Dashboard overview
Domain management
WordPress install wizard
SSL management
Multisite support
Backup archives
Access to phpMyAdmin
Site migration wizard
Purge site cache
Performance monitoring
CDN usage
Datacenter selection
Push staging to live
Restore backups to staging
New Relic integration
Site plugins overview
Search and replace tool
So if you've used other known panels before, you'll find all of their features at MyKinsta, and many more.
14. Monthly or annual payment
Few hosting companies provide a monthly payment for the service. Kinsta has no problem with that. If you want to pay for hosting every month, choose this option when registering your hosting. But if you select payment for the whole year in advance, you will receive two months of hosting for free.
Monthly server fees are scarce. With very cheap hosting (such as Bluehost) such a system is impossible, mainly because the monthly payment would not cover the cost of maintaining the site on their servers.
Kinsta is looking for customers for whom safety, speed, and peace of mind are the most important things, not the price. Here, for reasonably high payments (the cheapest package starts from $ 30 per month), monthly server fees are a perfect solution.
And finally, the fifteenth element of the Kinsta review – hosting plans.
15. The most flexible plans in the industry – Kinsta review
When it comes to hosting plans, Kinsta adapts to its users by providing them with up to ten different hosting plans to choose from (including two general, four businesses, four enterprises). Thanks to this you can select the plan according to your needs.
What is special? Each installation includes a free test environment for testing plugins, themes, and updates.
Almost every hosting provider allows the user to switch to a more expensive plan. However, if you want to downgrade it, problems begin to appear. At Kinsta, you can easily upgrade or downgrade without any obstacles or penalties.
Basic features
All hosting packages that are available at Kinsta offer: free SSL certificates – installed straight from your Kinsta premium WordPress hosting admin panel, free CDN, automatic daily backups, PHP 7.4 support, SSH access, and manual backup point, if needed.
Also, there are no fixed-term contracts here, which gives you freedom when you want to move elsewhere.
Kinsta prices
As you can see above, Kinsta WordPress hosting plans are quite expensive. And thus they are not for everyone. The cheapest basic 'Starter' plan costs $ 30 a month, giving you the option of starting one WordPress site, up to 20,000 visits per month. It offers 10 GB of SSD space and a free CDN up to 50 GB of server bandwidth. And also one free premium migrations, automatic daily backups, plus PHP 7.4 support and free SSL certificates.
Each subsequent plan, along with the price increase, gives more possibilities for up to 150 WordPress installations and even 3,000,000 visits per month.
Kinsta is not for everyone
In my opinion, Kinsta premium WordPress hosting is not intended for beginner bloggers. Although it has many facilities for novices, the price for the basic hosting package is staggering.
When you start a blog, and it does not bring you income yet. And you don't know if blogging is right for you, you should find cheaper hosting. Several companies on the market offer excellent quality blog hosting services at an affordable price. I have prepared for you a review of two of them: SiteGround and Bluehost. Find out why you should choose one of them.
So who is Kinsta hosting intended for?
Kinsta premium WordPress hosting is an ideal solution for a mature website or e-commerce store with very high traffic, which values reliability, speed, safety, and peace of mind. It also works great when you have a young website where traffic is growing intensively, and shared hosting becomes inadequate.
Or when your site has a sudden and unforeseen increase in traffic associated with social media or the appearance on national television. In such situations, Kinsta is a reliable partner and the best solution.
Summary
You may also like
What I like the most about Kinsta is its assumption, that it is possible to offer reliable, fast, secure, and stable hosting based on the latest technology – without any compromises. That everything can be done better than others. Kinsta sets a very high standard, takes care of its infrastructure, and continually improves it. And they do it great. See for yourself the Kinsta reviews are fantastic.
And they do it great. See for yourself the Kinsta reviews are amazing.
Thanks to its operation on the Google Cloud Platform, Kinsta offers services at the highest level, based on the next-generation infrastructure. It is focused on providing a high level of security, stability, and speed. Adding to this, daily backups, regular uptime checks, and continuous readiness for traffic surges. All this makes Kinsta a noteworthy player. My favorite among other hosting providers.
Besides, thanks to the specially designed MyKinsta dashboard, site management has become even simpler even for a novice user, but not only. If you are a developer in MyKinsta, you will also find everything you need (Git, SSH or WP-CLI).
If you have no budget restrictions and are looking for top-class hosting for your site, do not wait any longer and try Kinsta premium WordPress hosting, now.