Codeable is a WordPress focused freelancing platform – in our opinion – the best platform out there to hire freelance WordPress experts. The platform is carefully crafted only for WordPress specialists. If you are searching for a professional WordPress developer, then you must consider checking out Codeable. Here is how Codeable can provide you multiple benefits as a client and as a freelancer. In this article, I Patryk Kachel, a web developer who began his journey on Codeable in 2014, will try give you a thorough and comprehensive Codeable review.
Disclosure: Please note that when you use Codeable services with our Codeable affiliate link, they compensate us, which helps us make our blog & themes free of charge to you. Know that we also only recommend products we personally stand behind.
Why choose Codeable?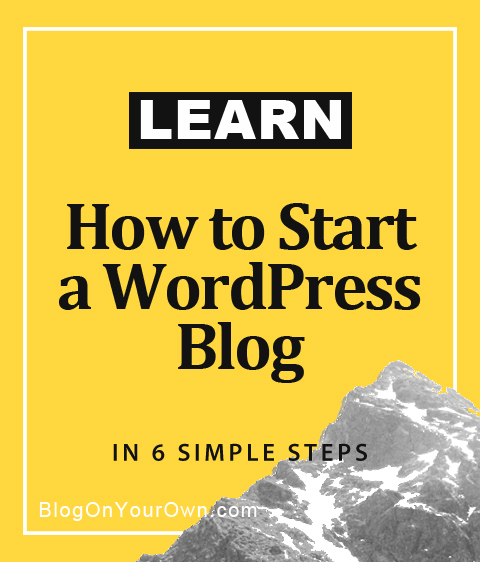 We all know that WordPress is popular because of its themes and plugins. There are tons of beautiful WordPress themes available out there, and WordPress developers are continuously working on creating stunning, new ones.
Codeable can help you find WordPress experts that are producing some excellent work, but not only. At Codeable, you will find WordPress experts who will help you customize themes and plugins, help you install, optimize your site, who will create custom plugins and themes, and much more.
The WordPress developers on Codeable do some outstanding work. At Codeable, you are going to create a masterpiece. Let's have a look at the reasons why you should consider selecting this platform.
1. Qualified Experts
There is no doubt that Codeable will offer you qualified experts for WordPress. This platform is only related to WordPress so you can imagine the quality of work you will be able to receive. The people working here are highly qualified experts, and all of them have excellent skills.
Each of their skilled WordPress experts onboard has gone through a rigorous testing process where only 2% succeed.
All you have to do is to explore your options and find the right expert for your WordPress project. Codeable claims to have 98% 5 star rated projects, and it is all you need to know before giving your project to the right developer.
2. Bug Fix Warranty
The developer's work is complicated. Making corrections, customizing the code can cause errors on another part of the page. But do not worry. The platform provides industry-leading 28-day bug fix warranty.
That means that you have time to check if everything on your website is working correctly. In my opinion, this is a great advantage of Codeable.
3. Money-Back Guarantee
One of the great things about Codeable is that it offers you a money-back guarantee. If you are satisfied with the work on a WordPress developer, only then your fund will be released. You don't have to pay the developer upfront – you need to make a deposit.
Codeable has an excellent payment system that benefits both the developer and the customer. You can keep getting alterations until you are satisfied with the work of the WordPress expert. Once you are happy with the work, you can express your satisfactory level by rating the developer and releasing the funds.
4. Quick Response
If you are in a hurry and looking to hire someone quickly so you can get started with the work, then it is the right platform for you. For most projects, you should expect a response within 1 hour if you are using Codeable.
You don't have to wait long when searching for the best WordPress developer. It is one of the great reasons to choose Codeable so you can quickly get started with your project.
5. Free Estimates
Another important thing that you must know about Codeable is that you will be able to get free estimates. The expert provides the estimate only when he knows the exact scope of the project and can deliver it as promised.
There are no bids on Codeable; there are estimates. Bidding results in a race to the bottom on pricing that results in low-quality work. What they say is: Codeable focuses on quality first, and this method of providing estimates has set us apart in the industry of WordPress outsourcing.
They do this to have fair prices for both: clients and experts.
If you receive multiple estimates, they are averaged together, and that's the price you see and get, no matter who you choose to hire.
If you receive an estimate, that means the expert is 100% qualified to solve your project – both smoothly and within your deadline.
6. Top-rated WordPress Experts
Read more about
Codeable offers you top-rated freelance WordPress developers that you can select for your new WordPress project. If you have a reasonable budget and you want to create something exceptional. You can find highly rated experts on Codeable that will provide you highly professional work.
You can read previous Codeable reviews to get an idea of the quality of the work. What's more, you will not spend weeks filtering unqualified developers. Here you will find only the best ones.
The average project rating is 4.95 / 5, which means that the developers do their job very well. Besides, as many as 96% of customers declare that they will use the Codeable services again in the future.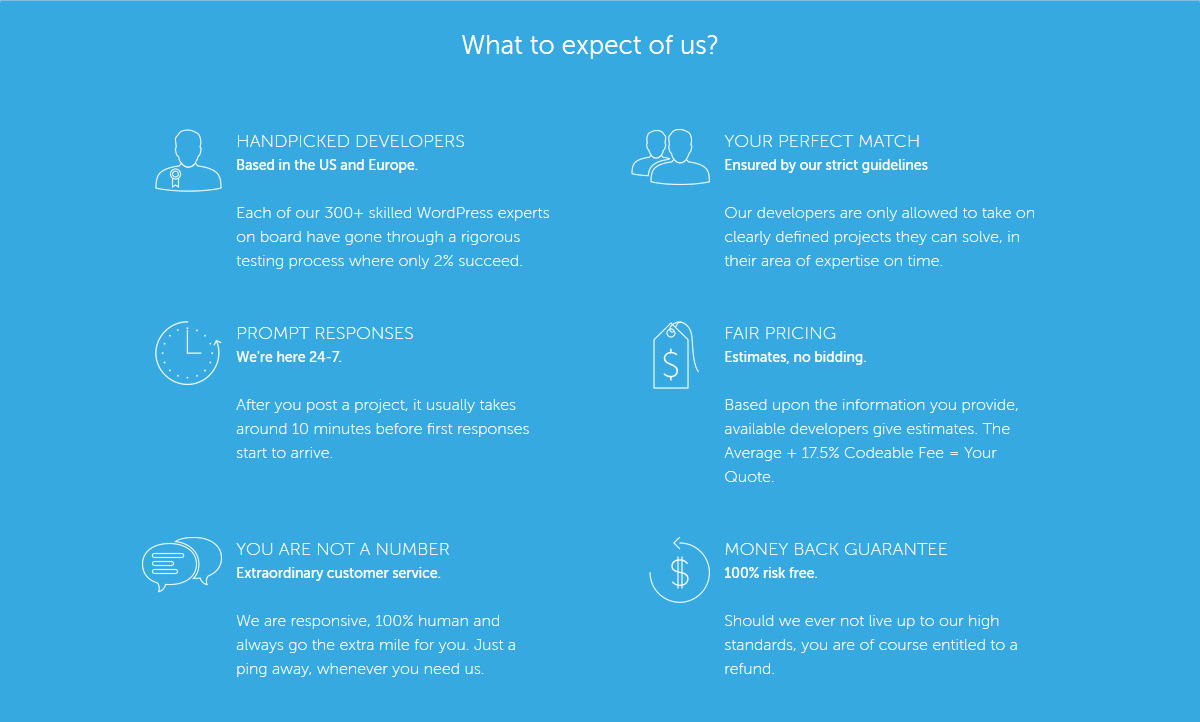 7. Excellent Customer Care
Customer service is at the highest level. The average response time on chat in business hours is 7 minutes.
Most importantly, in case of problems or vagueness, support will always advise, explain, and solve the problem. You can always count on them. You never stay alone. Depending on the issue, the platform will help to eliminate misunderstandings with an expert, find a new one, or offer you a refund.
Codeable focuses on the quality of its services. That's why Codeable cares for both its clients and developers with the utmost care.
8. 24/7 Prompt Responses
After posting the project, usually after just a few minutes, you will receive an answer, regardless of the time zone you live in. On Codeable, you'll find freelancers from over 60 countries, so there is always someone to help you.
9. Clear Rules and a Healthy Work Environment
Codeable is a platform for which both sides, the client and the developer are essential. Its goal was to create a healthy environment in which freelancers develop, and clients cooperate with high-quality people who understand their business needs. I must say that the goal was achieved.
Freelancers cooperate and do not compete for the client. Therefore, the quality of work is much better than on other available freelance platforms.
10. Long-term Relationships
On Codeable, it's not only about profit but about building long-term relationships. The best way to achieve this is quality and trust, which create a better path to cooperation between freelancers and businesses.
Thanks to this approach, you can always be calm about your website because you have Experienced Experts at your fingertips.



What Codeable offers to its customers
Whether you are looking to create a website for your small online business or an enterprise, WordPress can fulfill all of your requirements. If you have decided to build your business website on WordPress, then you must consider finding the best WordPress design and development professional to make things better for you.
Codeable can help you by taking care of all the WordPress related tasks. You don't have to be a WordPress pro to get started with your business website. From design to complete development, Codeable is going to offer you complete services that will help you build a stunning site. As a customer, you will be able to find it extremely affordable. And you will be able to receive high-quality work as well.
You can get theme and plugin customization from WordPress experts, complete maintenance, full-stack WordPress development, and creating sites from scratch. If you don't want to use pre-built templates, then you can get your website designed and developed by the experts on Codeable. You can get handpicked developers at fair pricing to complete your WordPress project right on time.
Codeable Review- What is Codeable Pricing
Well to be honest the Price of Codeable developers is somewhat is high than what you can find on other freelancing sites. It is 80-120 USD per hour plus a 17.5% Codeable commission, but believe me you won't regret spending that. Because quality and price are directly proportional, writing a single line of good code takes a lot of effort and that you can have good code at cheap price. I have been working for Codeable and despite a few incidents I haven't found any client dissatisfied, on the contrary once a client gets used to Codebale he then returns back for other work. Quality and Cheap don't go along with WordPress development.
What are the benefits of WordPress developers on Codeable?
If you are a highly skilled WordPress expert, then this is the perfect platform for you. You can get started with your online business today and find plenty of clients who are searching for the best WordPress developers in the world. Codeable offers you a complete virtual office for you, and you can manage all of your clients using this platform.
It surely is a great earning opportunity for WordPress developers. You don't have to go through any hassle before getting started with your online business. All you need to do is to create an account, display your expertise, and get started with your skill-based business.
Codeable is the number 1 outsourcing service for WordPress, and if you are a WordPress developer or a designer, then it is the right platform for you to get clients.
So, if you are working as a freelancer and you think you have excellent WordPress design and development skills, then you should get started with your online business. You can also check out all the success stories at Codeable to get all the motivation you require to get started with your work. Complete your projects with a 5-star rating and flourish yourself as a leading freelancer in your industry.
Codeable Review From other Platforms
Codeable Review by G2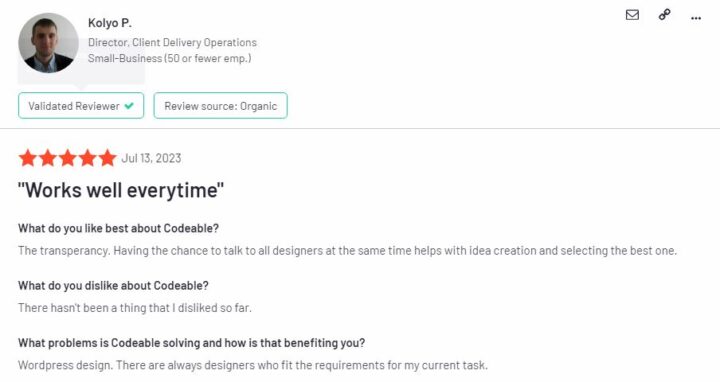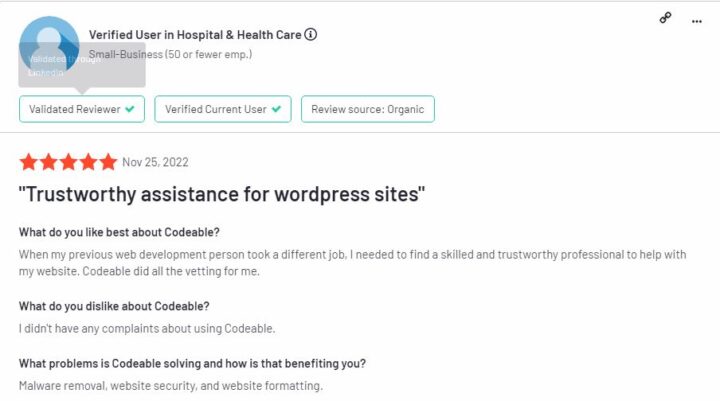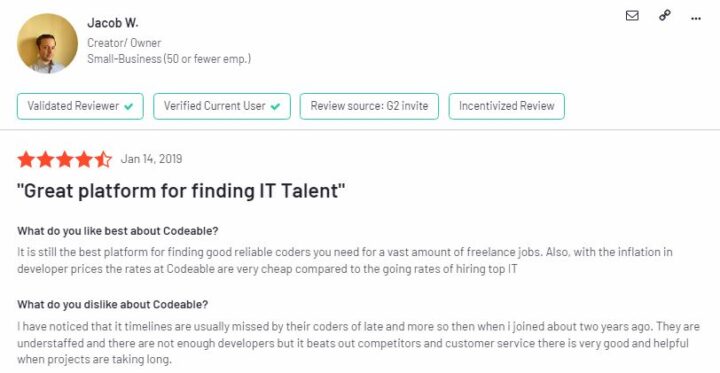 Review Of Codeable By Product Hunt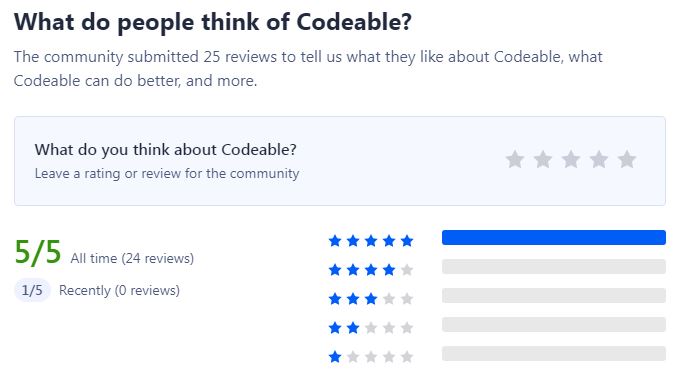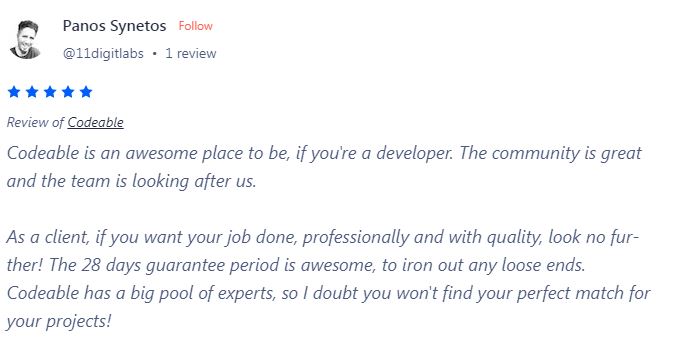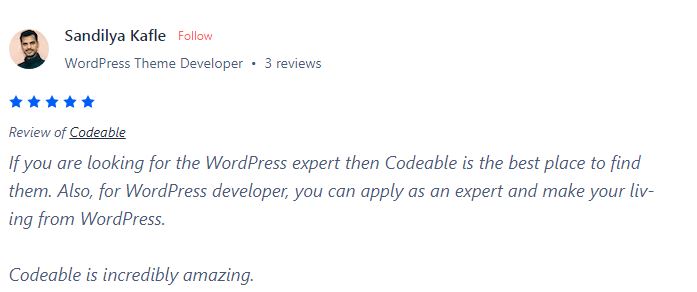 My Codeable Profile Reviews
Well my personal profile Codeable reviews are not very recent ones as I have been working with the same clients for many years. That's why I said earlier that once someone hires a WordPress Developer from Codeable then in most of the cases they stick with them. It builds a great bond between the Clients and the Developers.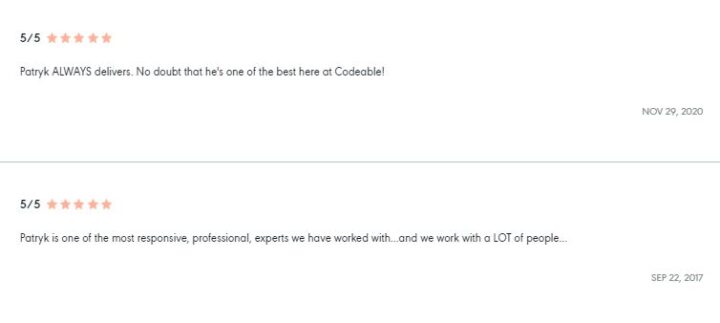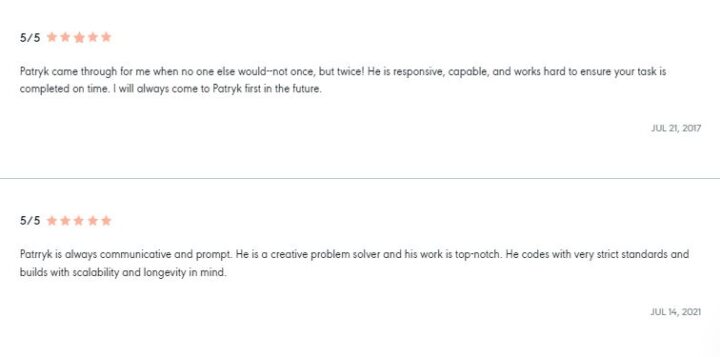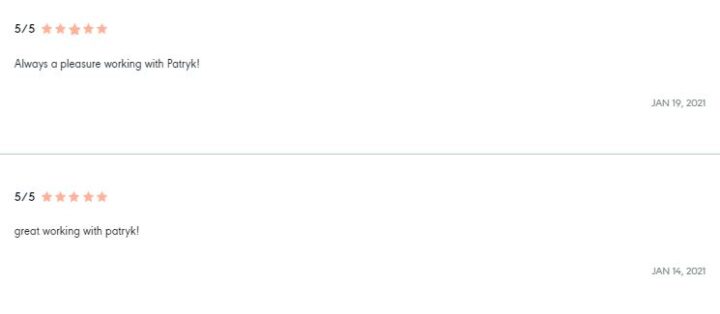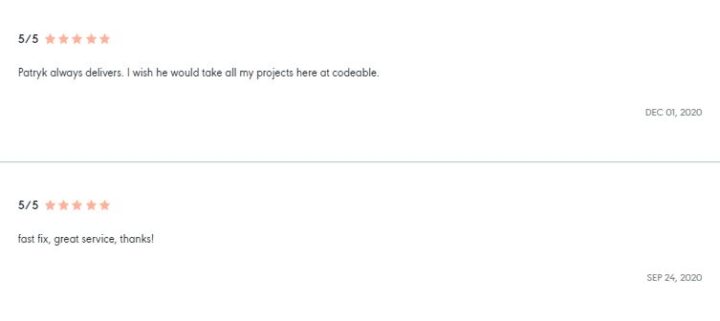 Conclusion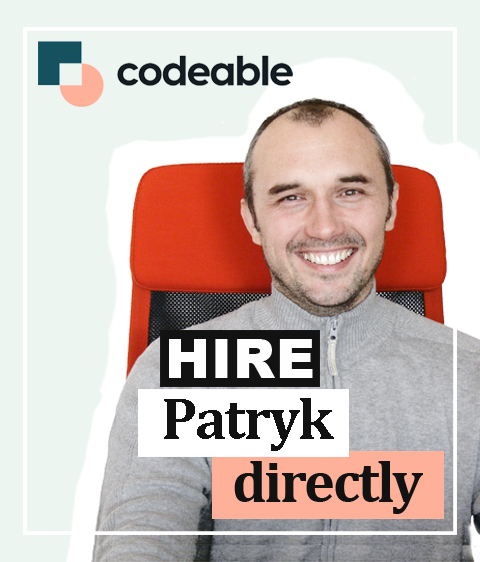 Codeable is, without a doubt, the best outsourcing platform for WordPress. It is a complete WordPress community for the developers and designers, and you can get high-quality work done quickly. One of the great things about this specific service is that you can get high-quality work from the experts.
There are various online platforms where you can find the best WordPress developers. However, Codeable is the only platform where you can find handpicked and high-quality WordPress developers with years of expertise in WordPress. If you want value for your money, then you must always look for a trusted platform where you can get outstanding good work. And Codeable is, for sure, the best one.