When food is 'bae', we can't resist the eager to search for new recipes and gourmet other fellow foodies are into. Rather than turn to heavy cookbooks, many have turned to online food blogs and their much-loved food bloggers for those new casserole ideas and must-try Thanksgiving recipes.
If you plan to become a food blogger I will help you get started. Check how to start a blog, read my easy, step by step guide.
If you are new to this, a blog is simply an online journal thus food blogging can be explained as online journals whose content is inspired by everything to do with food.
It is the representation of gourmet interest in cooking with a combination of blogging and photography. Such a blog may comprise of anything ranging from cooking styles, recipes, types of foods, food testing, reviews about different types of food, healthy eating, and food photography. The majority of blogs have photos that are taken by the authors of the blogs who are called bloggers for better illustration of what you are about to get.
The essence of food blogging may be characterized as:
Cooking and Posting Blogs
Cooking and posting blogs focus particularly on bloggers who make food and journalize their cooking experience and tell their stories with mouth-watering pictorials. They can be anything too original or authentic recipes or exotic dishes from Italy, Mexico, India and even African cuisines.
You can read about the Best Blogs & Top Bloggers here.
Restaurant Reviews
Blogs like these are very popular as we count on them when searching for places to dine; be it in a new city or just a few blocks away from your house. They provide restaurant reviews in terms of food quality, ambiance, service, prices, and anything that makes the eateries stand out positively or negatively. Restaurant review blogs are a more comprehensive version of the "eat out" guide which usually includes tales about the love or hate of the restaurant experience, especially the food. Giving stories of hands-on experience, such blogs may either lead to rising or fall of a restaurant.
The Super Niche Blogs
These are blogs that focus on a specific subject within the food itself e.g. vegan blogs, gluten-free blogs, sugar-free baking blogs. These blogs follow eating habits according to lifestyle choices. They tell stories and provide recipes alongside the food a particular group eats.
If you don't know How To Choose The Most Profitable Blog Niche read this article: Blog Niche Ideas.
These blogs are dedicated to the provision of recipes. They are more general in nature and are numerous too. Different authors share recipes, how to eat the food, and what it goes well with on their pages. It is mostly for people who want to explore new cuisine, different menu items or cooking novices.
Cooking Book Reviews
Just like any other book review, this type of food blog focuses on cookbooks, cooking guides and manual reviews. The authors talk about certain cookbooks that they have read and rated them accordingly. With everything on the internet now, it is rare to find one using cookbooks. However, for book lovers, these blogs are the perfect guide to what books to read, for a better experience in cooking, or learning about cooking from books.
Today, there are many online food journals strewn across the World Wide Web. It would be an exercise in futility to try and name them all. Nevertheless, the next few paragraphs will endeavor to list a few of the big names in food blogging.
Read about: 30 Money Blogs. The Best Personal Finance Blogs
List of Popular Blogs in the Food Category
1. Sweet as Honey
The name of this food blog fits perfectly with its content promoting low-carbon baking without refined sugar and simple carbohydrates. The author of Sweet as Honey is Carine Claudepierre, a low-carbohydrate baker, food photographer, and filmmaker :). Carine wants to make low-carbon baking simple for everyone and tasty, at the same time. Thanks to its recipes, it encourages everyone to change their lifestyle, change their diet, without losing their taste. You can eat healthy and delicious at the same time.
You may also like: The Best Fitness Blogs.
2. Sprouted Kitchen
The authors of this food blog cum personal blog are Sara & Hugh Forte. Sara cooks for pleasure, but also to feel good, slow down the mind, focusing on one task, take care of relationships – gather people at the table. She is interested in the concept of wellness – food, exercise, mental health, relationships, mindfulness. According to Sara, taking care of yourself and others through nutrition is a big part of this wellness puzzle. In turn, Hugh is a self-taught photographer and is responsible for photos posted on the blog.
So far, they've created two cookbooks and a weekly meal planner, Sprouted Kitchen Cooking Club. It's worth taking a look at Sprouted Kitchen for great recipes and daily inspiration.
You may also like: How To Make Money Blogging.
3. Cookie and Kate
Cookie and Kate is an online food journal that is maintained by self-proclaimed chef Kathryne and her dog Cookie. The twosome endeavors in blogs that celebrate good food, showcasing their personal experiences with food.
The blog allows its consumers or subscribers to access a variety of recipes by ingredients, cuisine, diet, or course. The idea was conceived in 2010 and quickly turned into a reality. Vegetarian meals make up the bulk of Kate's blog. In her spare moments, the author doubles in photography, a skill that goes well with her other passion.
Cookie and Kate subscribers can also access the blog through a mobile application where interested people may be guided through cooking a few meals. Some of Kate's most popular recipes include crispy veggie potatoes and tacos and pancakes.
See also: Awesome & Amazing Health Blogs.
4. Pinch of Yum
Pinch of Yum is a popular food blog that features delicious, easy-to-make recipes and helpful cooking tips.
Started by Lindsay Ostrom, a former elementary school teacher turned food blogger, Pinch of Yum has grown to become one of the most popular food blogs on the internet. Her favorite recipe is chicken tinga tacos.
The blog features a wide range of recipes, including vegetarian, vegan, gluten-free, and dairy-free options.
In addition to recipes, Pinch of Yum also offers tips and tricks for cooking and meal prep, as well as insights into Lindsay's life as a food blogger and entrepreneur.
One of the unique features of Pinch of Yum is the section on photography, where Lindsay shares her tips and techniques for capturing beautiful food photos.
You may also like: One of the Best Mom Blogs.
5. I Am A Food Blog
This online journal was founded by Stephanie Le after she was being dared by Mike, her husband. Like Kate above, Stephanie is passionate about photography, writing, and food; the three constitutional attributes of a top food blogger. I Am A Food Blog won the 2014 "editor's choice" award by Saveur magazine for the best cooking blog. The same year, Stephanie and her team took home the "blog of the year" award.
Most of the dishes on the blog are of Asian flavor. You will also find stories about travel (see: One of the Best Travel Blogs,) other recipes, and gadget related information. Her favorite recipes are Vietnamese spring rolls, bacon yakimochi, and mini scotched quail eggs.
Read more about: Sports Blogs That Will Inspire and Motivate.
6. Serious Eats
Serious Eats – the very name itself exudes a sense of gravitas, of taking the culinary world seriously. But don't let that fool you into thinking it's all stuffy and stodgy. Oh no, Serious Eats is a veritable playground for foodies and gastronomes alike, a place where the serious and the playful blend together in a harmonious dance of flavors and textures.
Step into the world of Serious Eats and you'll be greeted with a feast for the eyes – stunning photography that captures the beauty of food in all its forms. From the glistening sheen of a perfectly cooked steak to the delicate, intricate patterns of a hand-crafted pastry, every image is a work of art in its own right.
But it's not just about looks – Serious Eats is all about taste, and they're not afraid to get their hands dirty in pursuit of the perfect bite. From in-depth recipe tutorials that walk you through every step of the cooking process to exhaustive taste tests that pit different brands and ingredients against each other in a battle royale of flavor, Serious Eats is the ultimate destination for anyone who takes their food seriously.
But what truly sets Serious Eats apart is the sense of community that permeates every aspect of the site. Whether you're a seasoned chef or a novice home cook, you'll find a welcoming space where you can share your thoughts, ideas, and recipes with like-minded individuals who are just as passionate about food as you are. It's a place where people come together to celebrate the joys of cooking and eating, and where every meal is an opportunity to learn something new and delicious.
So if you're ready to take your taste buds on a serious adventure, head on over to Serious Eats food blog and prepare to be wowed.
Read more about: Top 40 Music Blogs Of All Time.
7. Recipe Girl
It is a popular food blog that features easy-to-follow recipes, cooking tips, and entertaining ideas.
Lori Lange started this blog , a professional recipe developer and food writer, who shares her passion for cooking and entertaining with her readers.
The recipes are organized by category, making it easy to find what you're looking for.
In addition to recipes, the blog also features articles on cooking techniques, kitchen gadgets, and ingredient substitutions.
One of the unique features of Recipe Girl is the section on entertaining, which includes ideas for holiday parties, brunches, and other special occasions.
Recipe Girl is a great resource for anyone who loves to cook and entertain, with its easy-to-follow recipes, helpful tips, and creative ideas.
You may also like: Best Blogs for Women and Best Interior Design Blogs to Inspre
8. Add A Pinch
It is a popular food blog that offers a diverse range of delicious and easy-to-follow recipes. Created by Robyn Stone, a self-taught home cook and food blogger, Add A Pinch has gained a loyal following due to its simple, flavorful, and wholesome recipes that use fresh, high-quality ingredients.
From breakfast dishes and appetizers to main courses and desserts, Add A Pinch has a wide variety of recipes to suit every taste and occasion. The website also provides helpful cooking tips, food storage advice, and menu planning suggestions, making it a valuable resource for home cooks of all levels.
What sets Add A Pinch quite apart is its emphasis on using fresh, seasonal ingredients. Stone believes that cooking with the freshest ingredients not only enhances the flavor of the dish but also adds nutritional value.
Add A Pinch is an excellent resource for anyone looking to improve their cooking skills or expand their recipe repertoire. Whether you're a beginner or an experienced home cook, you're sure to find something delicious and inspiring on this website
You may also like: Best DIY Blogs
9. Love & Lemons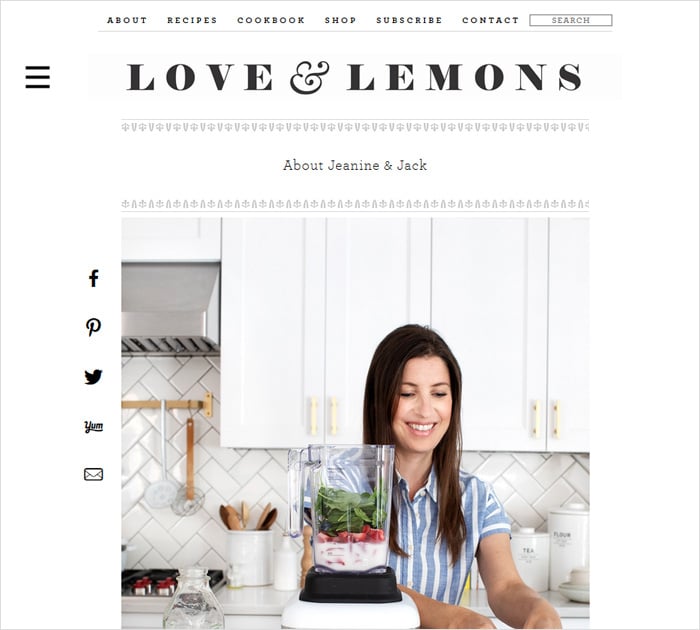 Jeanine Donofrio & Jack Mathews have been passionately running this blog since 2011. Since then, their food blog has received many honors, including 2016 Save an Editor's Choice Award. Besides, Jeanine and Jack also published a book that received very positive reviews in the New York Times. Such distinctions give wings :).
Jeanine, who creates excellent recipes (mainly vegetarian, but not only), has a special gift for combining flavors. What's more, perfectly prepared photos and the entire graphic design make the blog – Love & Lemons is unique.
You may also like: How To Make Money Online
Top Instagram Food Bloggers
Instagram, apart from being one of the most used pictorial social media platforms, also has a widespread of top food blogs.
1. @cannellevanille
@cannellevanille is a popular food blogger and cookbook author known for her beautifully crafted recipes and stunning food photography. Her real name is Aran Goyoaga, and she was born and raised in the Basque Country in Northern Spain.
Aran's love for food began at a young age, as she spent much of her childhood cooking and baking with her grandmother. After moving to the United States, Aran began experimenting with new ingredients and flavors, incorporating her Basque heritage into her cooking.
In 2005, Aran started her food blog, @cannellevanille, as a way to document her culinary adventures and share her recipes with the world. Her blog quickly gained a following for its mouthwatering photographs and creative, seasonal recipes.
Aran's recipes often feature fresh, whole ingredients and focus on the natural flavors of the food. She is particularly skilled at baking, and her recipes for breads, pastries, and cakes are particularly popular.
In addition to her blog, Aran has authored two cookbooks: "Small Plates and Sweet Treats" and "Cannelle et Vanille: Nourishing, Gluten-Free Recipes for Every Meal and Mood." Her cookbooks showcase her unique culinary style and feature recipes that are both healthy and delicious.
2. @spoonforkbacon
@spoonforkbacon is a popular food blog and Instagram account founded by Jenny Park and Teri Lyn Fisher, two friends who share a passion for cooking and photography. Their recipes are approachable, easy to follow, and feature a mix of classic comfort foods and modern twists on traditional dishes. Their stunning food photography is a highlight of their content, making their recipes not only delicious but also visually appealing. They have also authored several cookbooks, including "The Perfect Egg" and "The Salt & Straw Ice Cream Cookbook." @spoonforkbacon is a heaven for anyone looking for creative, delicious recipes and beautiful food photography. Their recipes are simple, and I must admit they look delicious :).
You may also like: Editors' Pick – 10 Best Beauty Blogs in 2020.
3. @andrewscrivani
@andrewscrivani is a well-known food photographer and stylist based in New York City. He has worked with many high-profile clients in the food industry, including The New York Times, Food & Wine, and Martha Stewart Living.
Andrew's photography is known for its unique style and attention to detail, capturing the beauty and complexity of food in a way that is both artistic and appetizing. He is also a respected educator in the food photography world, teaching workshops and offering online courses to aspiring photographers. Anyone interested in food photography and styling must follow @andrewscrivani, as well as those who simply appreciate beautiful food imagery.
Most of the recipes on the blog are Italian and American meal recipes. The blog is dedicated to his great grandmother.
You may also like: Best Male Blogs you need to follow
4. @julieskitchen
Julie left her day job to focus on her blog 'Julies Kitchen' and Instagram account. She started the blog and Instagram account after she created a showcase of seasonal foods for her neighborhood farmers market. Her post on Instagram mainly explores the field of plant designs and color theory. You can find her recipes on her website.
5. @feedyoursoull
Alyssa Amoroso, the founder of @feedyoursoull, has a passion for exploring the culinary world and sharing her experiences with others. Her Instagram feed is a curation of beautiful and mouth-watering food content, from decadent desserts to savory meals and everything in between. Alyssa's love for food and travel is evident in her content, as she frequently features global cuisine and showcases the diverse flavors and cultures of the places she visits. She is also known for her engaging storytelling, often providing interesting anecdotes and context about the dishes she shares. Whether you're a foodie looking for inspiration or simply love beautiful food photography, @feedyoursoull is a must-follow.
This Instagram account has over 285k followers and is the most popular food content creator on Instagram. It covers everything filled with American comfort food and also international cuisines.
Conclusion
If you are out there looking to have a nice meal at a restaurant or prepare some exotic dishes or travel to a place where there is good food then you seek guidance from these blogs and bloggers to get a touch of that 'foodie' experience.
Moreover, you can create your own content too. But being new to this field, you may incline to the best food blogs and bloggers, borrowing their 'sensei' and 'grandmaster' ways in terms of design, layout, and content delivery.