Keyword research has always been and still is the perfect starting point for your SEO strategies. With thorough keyword research, you achieve better SEO results. And, as any blogger worth their salt knows, it's all about ranking if you want more eyes on your article! Today I want to show you how to do keyword research to get results!
Your content must rank high to increase traffic, build a customer base, and essentially, get your target audience to buy from you. It's a vital part of mapping the buyer's journey. It's also a way for you to understand your product and brand in more depth. As you understand what your customers want your keyword research evolves. I will take you through this process too.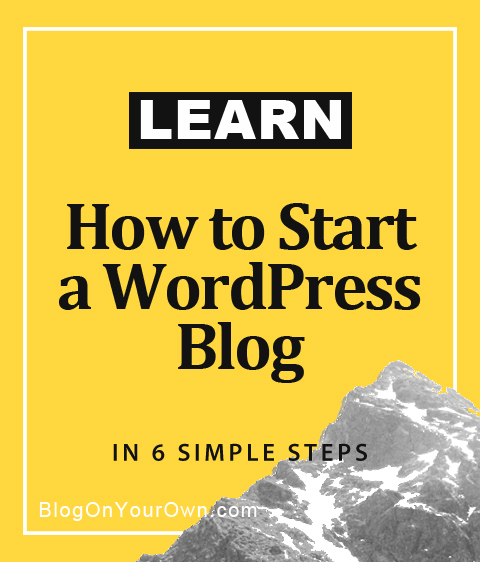 In this article, you will start by applying basic manual keyword research. Then you get to expand your search using keyword research tools. You need to know your target audience. You have to know their intent. And you have to apply the AIDA principle as you go deeper into which keywords will boost your article into a higher ranking position. After all, the main objective is to get the right people to read what you have on offer. And turn your leads into conversions.
Let's get started!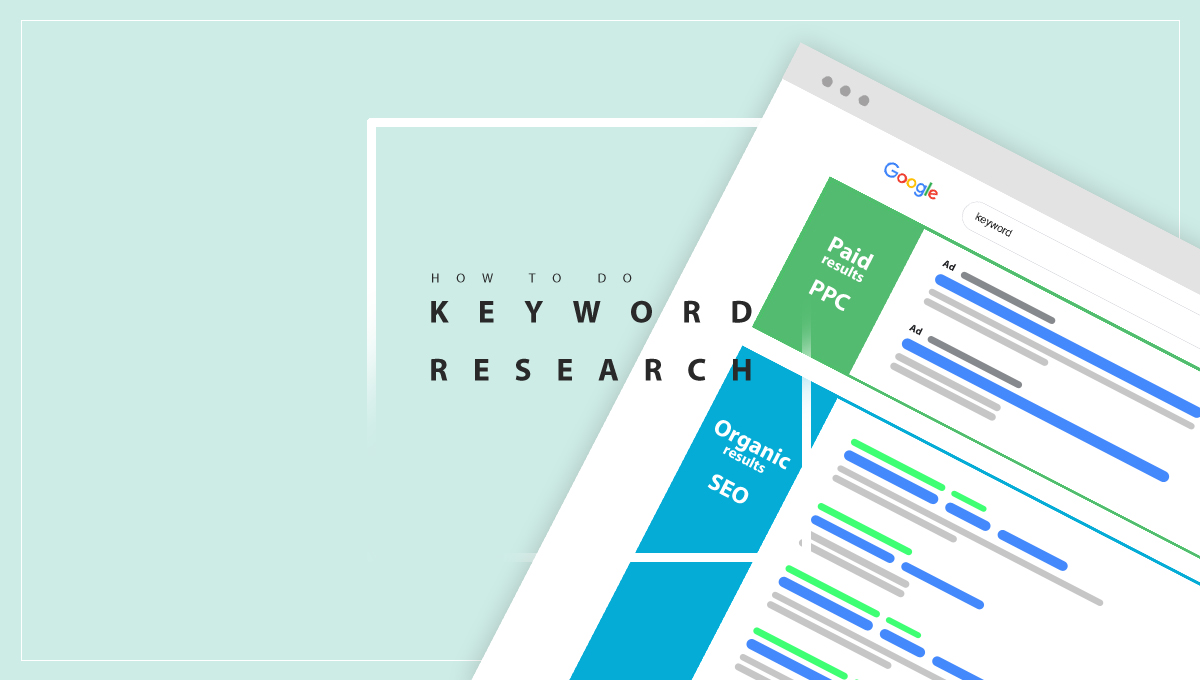 Why Do You Need Keyword Research?
It helps you to breakdown your brand or product. Simplify to discover the main words on each page, Targeted words = Keywords
You understand your brand and business better. Then you can aim keywords at your target audience.
You get to know what type of phrases and terms your customers and competitors use.
You get to know how your customers perceive your brand.
It allows you to map the buyer's journey
You discover your target audience's intent.
Traffic increases when you use words from search queries and they get picked up by web crawlers.
Interesting side notes #1: I typed in the term "search engine crawlers" as a broad term keyword. The first site that popped up was organic (unpaid, natural) and all three words appeared. But by the third result, "search engine" as a keyword had changed to "web crawler." So that tells me more people use the term "web crawler" than they do "search engine."
The keyword research process is simple.
Do the keyword research.
Then create content and focus on using the words and phrases you found during your research.
But let's start at the very beginning.
What is keyword research and is there a right and wrong way of approaching it?
Keywords are "key" to discovering how to zone in on the terms and phrases that are trending when it comes to your blog niche. You have already been through the entire process of starting a blog and your content has been planned around your business, brand, products, or services. You have promotions and advertising across social media platforms. In other words, you are rocking the blogging! And then it comes time to create your first batch of content.
And it is here that keyword research begins.
Read more about: How To Promote Your Blog – Promotion Strategies
Keyword Research Glossary – Common Terms and Phrases You'll Find While Doing Your Keyword Research
Search engine crawlers
Bots that perform web page indexing. Also called spiders, these bots systematically browse through the pages of the internet's World Wide Web. They are the sorters and packers for the Google search engine. Search engine crawlers rely on relevant, accurate keywords to update pages automatically.
SERP
Search Engine Results Page.
"Are the pages displayed by search engines in response to a query by a user. The main component of the SERP is the listing of results that are returned by the search engine in response to a keyword query." – Wikipedia.org
Google's search crawlers bring up pages of ranked sites. Every blogger and brand want the content to appear on the first page of Google's SERPs.
Organic traffic
This is the traffic you get from unpaid search results. Keyword research done effectively can boost organic traffic.
Paid traffic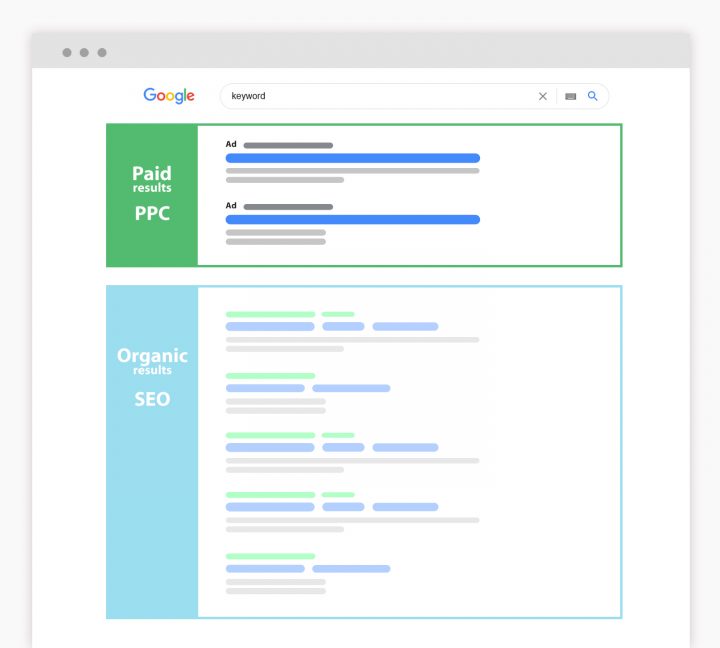 When you land on the first SERP you see results with the word "sponsored" in front. This indicates a company has paid to appear first via pay per click (PPC).
"Pay-per-click PPC is an internet advertising model used to drive traffic to websites, in which an advertiser pays a publisher (typically a search engine, website owner, or a network of websites) when the ad is clicked." – Wikipedia.org
If companies are prepared to pay for this place you can be sure the keywords are profitable and have commercial value.
Keyword planner
A research tool that helps you find keywords.
SEO
Search Engine Optimization.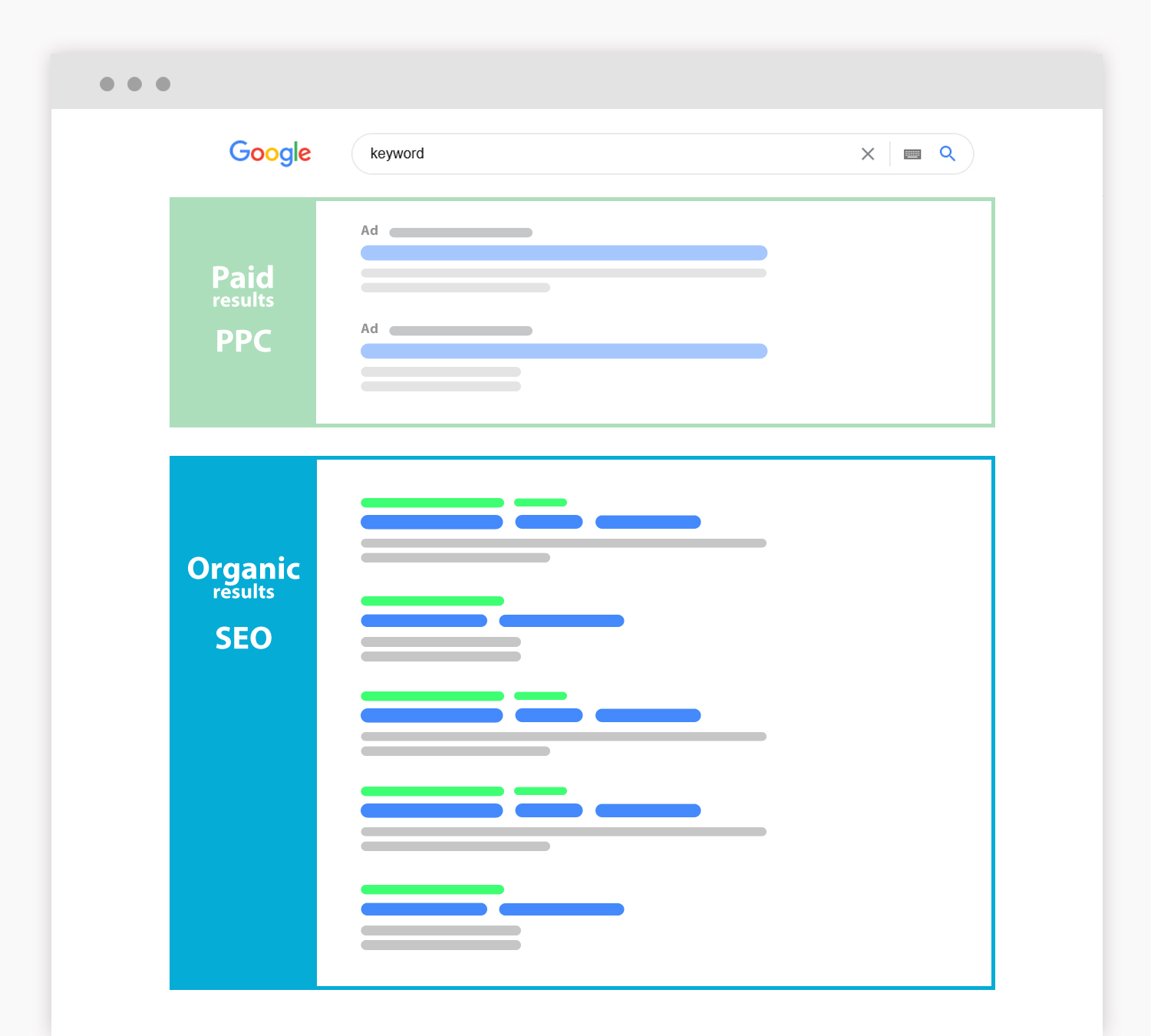 "Is the process of improving the quality and quantity of website traffic to a website or a web page from search engines. SEO targets unpaid traffic (known as "natural" or "organic" results) rather than direct traffic or paid traffic." – Wikipedia.org
SEO involves structuring your content in a way that makes it amenable to Google's search crawlers.
Formatting articles using H1, H2, H3, etc.
keyword research,
inserting multimedia,
good copy,
word count,
promotional strategies,
and captivating headlines between 6-13 words
You may also like: How To Write A Blog Post + Free Blog Post Template
SEM
Search Engine Marketing.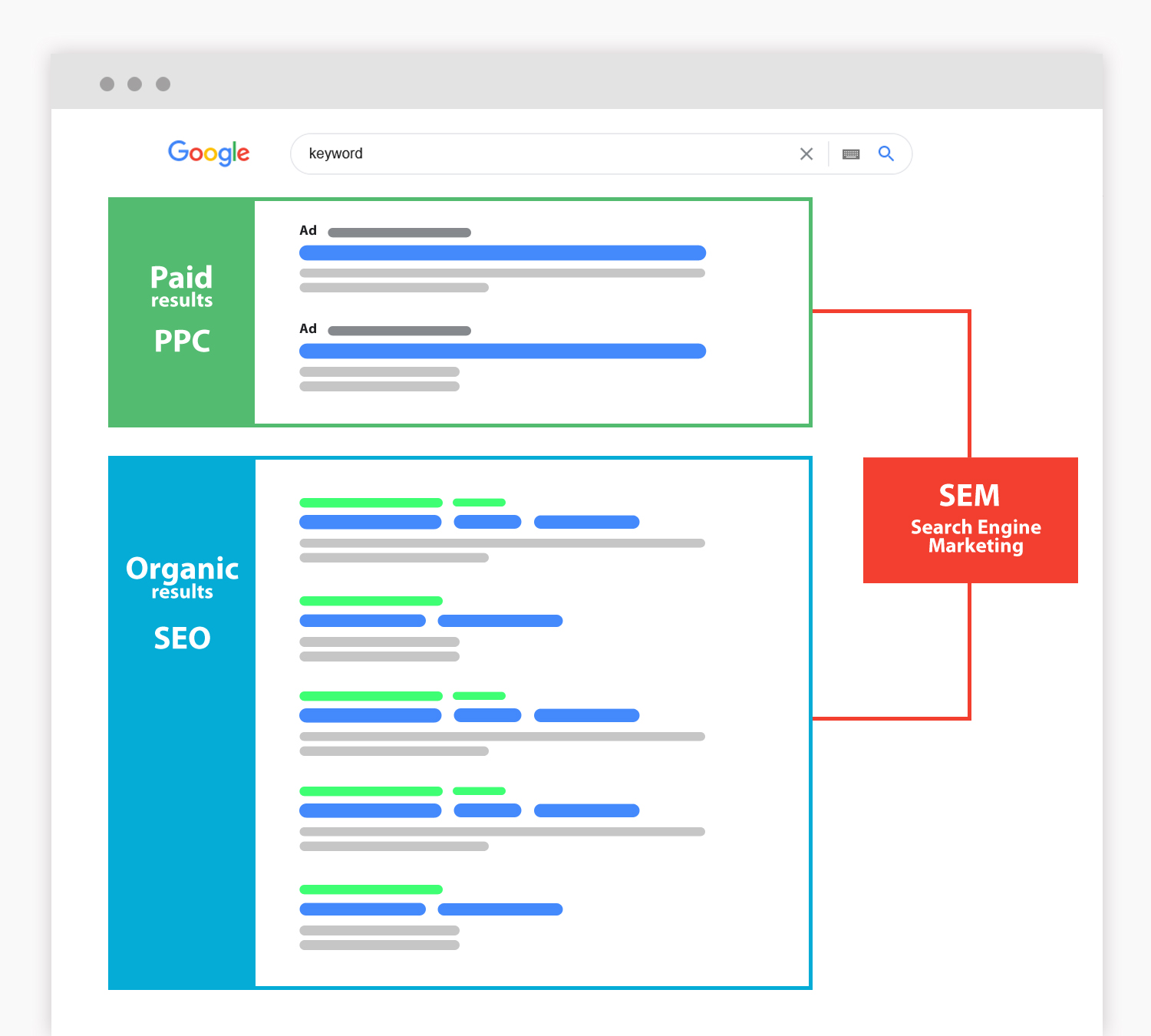 "Promoting websites by increasing their visibility in search engine results pages (SERPs)." – Wikipedia.org
SEM uses both organic traffic and paid.
Fundamentals of SEO, SEM, and Keyword Research
In the digital marketing world, blogging is fast becoming the preferred choice of advertising, marketing, and promoting one's message. You cannot sell in secret. And today you will almost always find paid ads at the top of Google's SERPs.
Promotion is crucial in creating awareness of a new product or brand. But even with paid promotions and advertising campaigns if you are not getting ranked, you will fall short of your goals and targets. You can be selling products, promoting your services, or sharing valuable information, the fact remains that without traffic your blog is dead.
SEO and SEM are both essential digital marketing tools but they are not the same thing:
SEO strategies focus on optimizing content for organic search results. Traffic from organic searches is valuable but the work starts when you have to keep them coming back, turn traffic into leads, and finally, convert leads into paying customers.
SEM, on the other hand, uses both paid and unpaid (organic) search results to bring traffic and eyes to your blog.
Keyword research done right is a golden opportunity to gain insight into your competitors' SEM, SEO, and keyword research strategies. How do you find effective, profitable keywords? To answer this question, you need to understand your objectives.
You may also like: Where to Find Blog Post Ideas
Keywords' types
Firstly, there are different types of keywords and each category serves a specific purpose along the path of the buyer's journey. Keywords can be loosely grouped into these categories.
Broad term keywords – broad terms produce high search volume. For example, "muffins" or "cupcakes"
Short-tail keywords – broad phrases of two or three words. For example, "vegan muffins" or "vegan muffin recipes"
Exact term keywords – these are words with more intent. You get a clearer picture of what the user's intent is. For example, "gluten-free muffin recipes on a budget".
Long-tail keywords – exact term keywords are long-tail. For example, "easy vegan muffin recipes with nutritional values"
Broad informational/commercial keywords – "vegan muffins chocolate" or "fluffy vegan muffins"
Exact informational/commercial keywords – "where to find chocolate vegan muffins in Portland" or "how to bake vegan muffins for under $3".
Choosing the relevant keywords is much more of a skill and a task than people realize. The best way to cover this topic is to use real-life examples and hypothetical scenarios.
In addition to these categories, you must also think about short, medium, and long-term keywords. Short term keywords are usually long-tail and long-term are broad terms (short-tail).
Long term keywords are broad and used when people are still in the awareness phase of the buying journey. Short-term keywords are exact and long-tail and get used at the end of the process when people are closer to taking action.
The 4-Step Keyword Research Process
Step one: Think Tank
This is the manual part of the process where you need only your brain and common sense. Type various words or phrases into the Google search bar. Two things happen. The drop-down menu appears with common search term predictions and the first SERP comes up with the paid ads and then the organic rankings. For each result, you will see the keywords highlighted, with some variations.
Jot these down.
Next, you will look at the "People also ask" block. This gives insight into what search queries are being typed in. You can type these questions into the search bar to come up with more variations of both keyword phrases and search questions.
All this homework is leading up to building your word bank, to use with your keyword research tool of choice.
Remember: Keyword research is about discovering your customer's language. What is their intent? What format do they want their information presented in (lists, how-to, etc.)? And how many people are searching for the same things? High volume is not always an indication of a profitable keyword. Ideally, you want to answer certain questions. As you read each question, fill in words and phrases that come to mind and are relevant to your brand or service. Many of these questions can be answered by using a keyword research tool.
Ask the "Who, what, why, when, where, how" questions.
Let's say you sell baked goods:
What: What kind of baked goods are people searching for? Cupcakes, muffins, vegan, gluten-free, no-bake items, etc.
Who: Who is your target audience? Bakers, people planning events, people on specialized diets, parents, retailers, etc.
Why: Do they want recipes? Are they wanting gift boxes? Do they want to know nutritional values? Are they wanting to start their own business? Is it for personal daily consumption?
When: Do they want daily baked goods? Is it seasonal? Do they want to buy in bulk and freeze, or resell? Is it for a specific holiday? Is it for a special event, like a wedding or birthday?
How: What terms are they using & What devices are they using to search from? (Most times it will be a mobile device)? What format do they want? What search queries do they use?
Where: Will they order online/ Is it local, national, or international?
Learn more about: How To Write an About Me Page (with Examples)
Step Two: Expand Your Search With Tools
Insider Information: To get the most out of your keyword research, set up different spreadsheets to record your data. Check out Google sheets for templates.
The examples below, of what you will put into your spreadsheets, come from SheetsForMarketers
You'll be concentrating on collecting data for spreadsheets that you will title:
Google Analytics Spreadsheet
Competitor Research Templates
Keyword Research Templates
PPC and SEO Calculators
Paid search and PPC Templates
Competitor backlink analysis
Competitor keyword gap analysis
Bulk search volume checker
Competitor keyword research analysis
Google search console tracker
Keyword ranking checker
Keyword cannibalization finder/checker
And more!
With a keyword research tool and your use of spreadsheets, you get to:
Find similar and related keywords
Match phrases and search queries
Show organic search results
Give monthly averages on the search volume of specific words/phrases
Analyze competitors search terms and results
Measure difficulty and find new keyword opportunities that are being used by competitors but not by you…yet.
Reveals underperforming keywords
Get hints on how to optimize multiple pages for ranking. For example, by inserting keyword search queries into content as H2 headings and using variations of keywords and search phrases.
Once you use the keyword research tool you will achieve the following;
Optimize your pages using multiple keywords
Analyze your customers' intent. Are they ready to buy or still investigating? It is your job to take them from Awareness to Interest to Desire/Decision to Action. (AIDA principle)
Analyze your competitors' words, strategies, and results.
Do the math – you'll get to crunch some numbers and discover search volume as well as CPC rates. The more people pay to get their ads ranked using certain keywords the more profitable the word. This is an SEM strategy, where you use both paid and unpaid search results to increase traffic.
Prioritize – Categorize your words and search queries. Where do they fit on the buying timeline? Map the journey. For each stage of the AIDA principle process, you can adapt keywords and publish content relevant to your target audience's intent.
Now all this may seem confusing to you. Especially if you are reading this for the first time and have not yet familiarized yourself with tools like Google Analytics and other various keyword research tools. Many keyword research software packages offer a free trial period.
List of Popular Keyword Research Tools
Ahref's Keyword Explorer
Moz Keyword Explorer
SEMrush
SECockpit
Serpstat
Google Trends
Keyworddit
Answer the Public
Google Search console
Soovle
Jaaxy
Read about: How To Make Money Blogging
Step Three: Do The Math
Once you have done the manual keyword research and used the keyword research tools of your choice, it's time to analyze and correlate your data. You want to now narrow down your options and plan accordingly. By using the tools and compiling spreadsheets you get a clear picture of which words are broad, which are exact, and so forth.
From crunching numbers, you'll know which words have high search volumes, what the CPCs are, which words are being used by competitors, where is the traffic coming from, and what the intent of your customers' are.
Now it's time to prioritize your keywords by putting them into categories that will compliment your content and optimize your pages for SEM and SEO.
Step 4: Prioritize your short-tail, long-tail, short-term, long-term, broad, exact keywords
Where will you place certain keywords? Which keywords are profitable? Which keywords have high search volumes and which terms will lead to conversions?
Once you have your keywords, terms, and phrases in order, you must categorize them into groups so that when you release new content your pages are optimized for multiple keywords.
The categories for keywords, mentioned above, are:
Broad terms, broad/informational, and broad/commercial
Exact, exact/informational, exact/commercial
Also, these categories get broken up into short-tail and long-tail keywords.
The short-tail keywords
The short-tail keywords are never longer than three words. They are broad terms, which means they are likely to be searched in high volumes. This makes them harder to rank for but they are still valuable because most people will use this word in their search queries.
The short-tail keyword is also known as the seed or the focus keyword. And you will always find the short-tail keyword in the long-tail keyword. 20% of search results come from short-tail keywords, while 70% comes from long-tail (4-6 words) keywords.
When you prioritize you want a mixture of short and long tail, broad and exact. This is how you optimize pages for multiple keywords. Better results are achieved by bidding on several long-tail words instead of only bidding on a few short-tail, highly competitive words.
The other factor is time. Short term keywords are usually specific (exact) long-tail words. The traffic and competition are lower. So is the cost. But the conversion rates are higher (around 35%). This is because searchers with more intent are further along in the buying journey and closer to finalizing their purchase.
Because of the specific wording, these keyword phrases are only good for 1-6 months, whereas the short-tail words have a longevity of up to 18 months.
So prioritize with a mixture of short and long tails but make sure you use multiple variations of long-tail phrases to increase your chances of more traffic. Competition is lower with long-tails but so is search volume. So using multiple variations increases search volume and conversion rates.
Let's Recap
How to do keyword research is all about:
What are people searching for?
How many people are searching for it?
How are they searching?
And where does it rank, competitively, on Google?
Once the manual brainstorming and Google search channels (People also ask/searches related) have been completed you expand your research by using keyword research tools and keyword planners.
Keyword research tools have these benefits:
They give you a long list of alternative and similar search phrases and keywords.
Allow you to analyze the data you gather, like search volume, difficulty, clicks, and CPC.
They give you insightful data on your competition.
They help you research your target audience and discover their intent.
All this work leads to you being able to optimize many pages for multiple keywords. Once you prioritize your words into categories you can implement an SEM strategy that allows you to use a mix of keywords.
These keywords should combine both high and low search volume words to create longevity, traffic, and short-term results.
Your keyword research helps you to create content that is valuable to users from the beginning to the end of the buying journey.
And there you have it! Did you realize keyword research is so essential and beneficial to your blog?
Let me know if you found this article helpful.
Happy Blogging!
Monika
XX