Today I'm reviewing Grammarly Premium, the paid version of the popular Grammarly app. Grammarly is a writing assistant that checks grammar, spelling, and punctuation. It also offers features to elevate readability, conciseness, clarity, and correctness. And it helps you to set goals based on your audiences. Grammarly has a free basic version, a paid Grammarly premium package for individuals, and a business option for teams.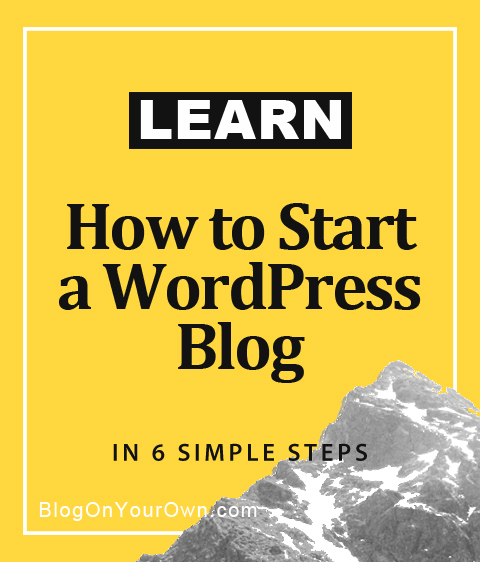 In today's world of digital marketing, content creation is paramount. Blog posts are a dime a dozen and competition to rank on the first SERP is fierce. So it's essential to deliver quality over quantity and produce blog posts that check all the boxes. Blog posts need to be optimized for SEO and loaded with information and images that are helpful, informative, accurate, and valuable to readers.
But how important is grammar? Do readers expect perfect grammar? Does poor grammar reflect badly on your brand? (YES!!) And is Grammarly Premium a good choice for writers and bloggers who edit and proofread their own work?
Grammarly – a second pair of eyes
I've been using the free, basic Grammarly version since 2016. And I depend on it for being a second pair of eyes. It helps to speed up the editing process. I've seen my grammar and punctuation improve. My writing has definitely benefited from having Grammarly check the basics for me. I've learned to write tighter, more concise sentences. And I'm more economical with my words, thanks to Grammarly's suggestions. Another perk, you get to set which English you prefer. Choose from UK, US, Canadian, Australian.
I took the offer of a free Grammarly Premium package and used it to my advantage. In the 30 days that I had it, I taught myself about Grammarly's advanced issues. I enjoyed having it and I do believe that for $11.60 per month it is well worth it to get Grammarly Premium.
But recently I'm finding Grammarly has common errors cropping up, and I'm having to dismiss them. Perhaps they have always been there and I only notice them now because Grammarly has sharpened up my editing skills. It could be because I am using the beta version for GoogleDocs.
This is not so serious for native English writers because you will understand why it has misinterpreted the sentence. And you can decide to dismiss or change something that Grammarly has picked up but doesn't quite understand what it picked up. How does this affect non-native English users?
So besides talking about whether Grammarly Premium is worth it, I'll also share Grammarly's shortcomings. I'll try to answer why these errors pop up. And I'll also compare it to a few other grammar checkers.
Let's jump straight in my Grammarly review!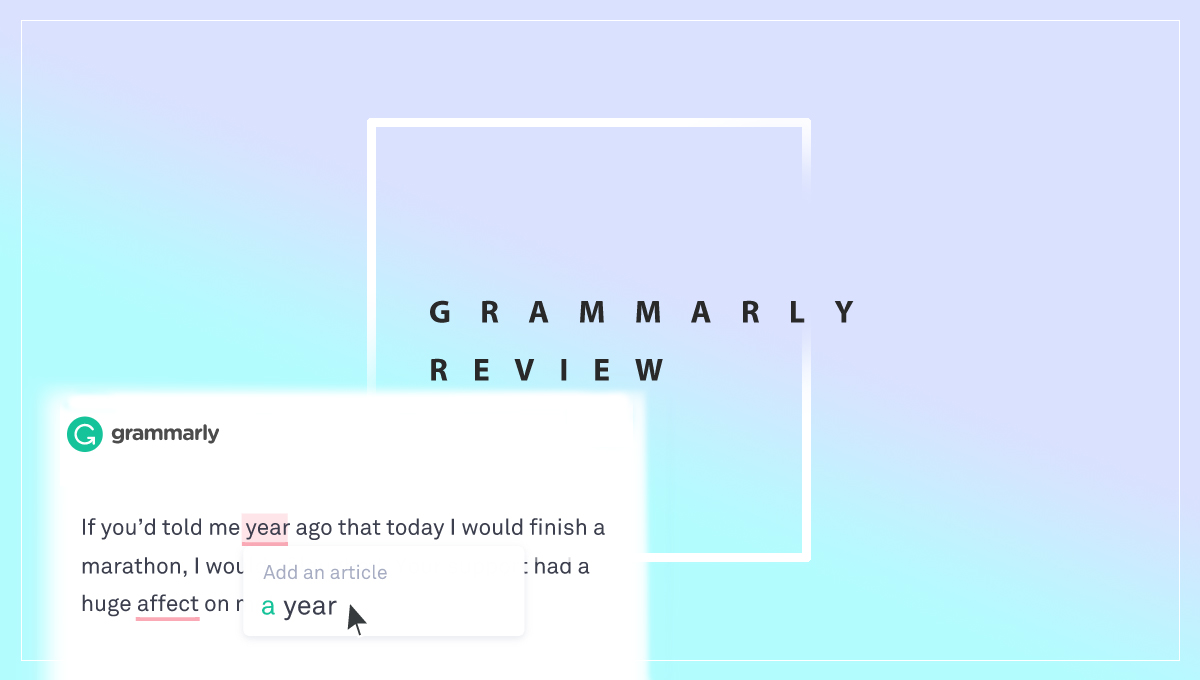 What Is Grammarly?
Grammarly is a grammar checker and a writing assistant. It performs a multitude of tasks to polish and elevate writing. It checks spelling, grammar, and punctuation. Grammarly also suggests replacement phrases for shortening sentences and points out where you can replace words or restructure lengthy, wordy sentences. It helps hone the style, tone, and direction of your document.
Grammarly is a free extension that you can load to your browser or download to your desktop. It is available for use with Microsoft Office and Word. And it's compatible with iPads and mobile devices.
You can set it to check all documents, emails, social media, and messaging apps. Let it check your work after you have finished or in real-time, as you write. Use Grammarly to check your writing in Word, LibreOffice, GoogleDocs, WordPress, etc. If you can type it, Grammarly can check it!
Grammarly is a writing tool because using it improves your writing skills. It remains AI though, so errors are common. But with regular use, those errors get fixed because, if you are thorough, you will check Grammarly when a suggestion sounds off. And the more you use it the easier it becomes to write polished articles, with high readability scores and "clarity-focused" sentences.
Grammarly review – What Does Grammarly Premium Offer?
Grammarly has 3 options:
1. The free version
for individuals, checks the basics:
Correct basic grammar
Check spelling
Correct punctuation
2. Grammarly Premium
for individuals who write for work or school, checks the basics of the free version, plus it detects and gives suggestions and corrections on the following:
Fluency
Consistency
Word choice – by using variations of words and
Formality levels
Style (includes passive voice, lengthy and wordy sentences)
Tone adjustments
Clarity
Readability
Plagiarism
Words used in the wrong context
Additional advanced corrections
Formatting
Conciseness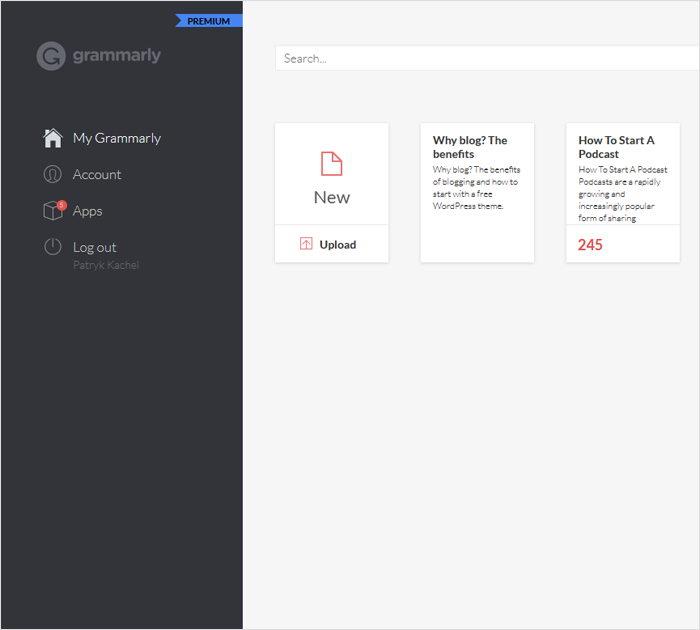 3. Grammarly for Business
This package includes everything in Premium as well as style guides and a few other features designed for teams. Includes:
Company Style Guides
Workflow integration across all platforms
Grammarly review – How Does Grammarly Premium Work?
You may also like
The Grammarly icon appears at the right top of your browser, next to the search bar. Click on it and set your preferences to use in Chrome (or your browser of choice).
Set the specific English you write in. (US, UK, etc)
Switch on for spelling checks,
Writing suggestions (in the platform you are using, like Google Docs for instance.
Synonyms and definitions (double-click on a chosen word) and
Phrasal predictions
From the Grammarly icon's drop-down menu you can open a new document. Or go to your Grammarly dashboard.
Grammarly review – How To Check Your Work With Grammarly
There are a few ways. The first is to read through your document. Grammarly underlines the words that need attention. This is how you should do your checks when you use the basic version because you need to be looking for errors that Grammarly doesn't pick up. This task is simplified when you use Premium.
But it's a good idea to do this, even if you have Premium because you should not get lazy and rely on AI to be your brain! With Grammarly premium, this problem is solved and all your corrections will be highlighted. With Premium, you don't have to try to guess what the additional advanced corrections are.
Grammarly Assistant
The second way to check is faster. And Grammarly premium really is like a second pair of eyes. When you are working on a document, regardless of whether it's GoogleDocs, Microsoft Office, etc, you will see the Grammarly icon in the bottom left of the document. When you click on it, a menu will appear in the side panel of your word processor. It's the Grammarly Assistant.
Now you can edit.
Paste onto a new Grammarly document
You can also "Select All" and copy-paste it onto a new Grammarly document. When you do this with the free version, it highlights the advanced issues you'd find in Premium. This is great because once you can see what needs attention you can teach yourself how to correct it. So for those on a tight budget, this is a great hack. But for those of you that can afford Grammarly Premium (It's not expensive when you pay per annum) and are short on time, Premium is a godsend.
Grammarly highlights the problems and you get to choose whether to leave as is or take the recommendation. The different corrections are color-coded. For example, red for correctness, blue for clarity issues, green for engagement, and purple for delivery.
Each of these categories fixes certain types of grammatical errors. For instance, correctness will check grammar, spelling, and punctuation. Delivery will check tone, get your writing to sound confident, check the formality levels, and give you inclusive language options.
Premium goes further and points out advanced issues like:
Punctuation in compound and complex sentences
Word choice
Incomplete sentences
Intricate text
Passive voice
And more.
The Grammarly assistant appears on the right side of the screen. It provides insight into what you have done well and what needs work. Grammarly scores your document. This is handy for tracking your progress as a writer/editor. Your performance is rated according to vocabulary, readability, and unique and rare words. It also tells you your word count, number of sentences, speaking and reading time.
What makes Premium worth it is that it is a second pair of eyes, a learning tool, and a support system for budding writers. Every error can be fixed, but you also get told why it is wrong, which category it falls under, and what your options are.
Read more about: Where to Find Blog Post Ideas
Additional Free Resources From Grammarly.com
Grammarly has a blog with writing tips and grammar rules.
The Guide To Grammar Rules has five sections:
Grammar
Punctuation
Techniques
Mechanics
Style
And each section has definitions and explanations for all things grammar. From adverbs and prepositions to hyphens and colons to capitalization and compound words to similes and metaphors to mixed constructions and parallelisms, you get to brush up on your general knowledge.
You can find the handbook grammarly.com/blog/category/handbook
Grammarly review – Is Grammarly Premium Accurate Enough For Non-English Speakers To Use?
Yes! …And no.
If you are a blogger, and you are not fluent in English, you will benefit greatly from Grammarly Premium. As a tool, it can only do so much. But if you are committed and motivated to become a better writer then Premium will give you what you need. You will be able to teach yourself how to write better articles.
But if your English is weak you may struggle a bit because certain corrections are based on the written grammar and there are small differences between the grammar used in speech and that used in writing.
When you write blog posts, you have more freedom to write outside the strict parameters of the English language. Plagiarism on a blog cannot be judged the same as plagiarism for an academic paper. Grammarly can adapt accordingly if you set your intent, audience, style, emotion, and domain. But sometimes Grammarly corrects according to strict rules so it's up to the human editors to sort out these glitches.
The errors made by Grammarly are not detrimental enough that you should not use this product. It is the best Grammar checker on the web. This is especially true when you use Grammarly Premium.
You may also like: What to Blog About – 14 Ways to Choose a Blog Topic
Another Strange Thing I Found…
Is Grammarly being a bit deceitful with its marketing strategies? Or is it just a compatibility issue? You can download Grammarly for:
Windows
Chrome, Safari, Mozilla, etc
iPads
Phones (Grammarly keyboard)
Microsoft Office Word and Outlook
But there isn't a specific Grammarly for say, google docs or LibreOffice. The compatibility issues can be checked by copy/pasting your document into another app like Hemingway. Or the Grammarly dashboard.
I stumbled onto a discrepancy by accident. I have to share it with you. Try doing the same exercise and see what results you get.
Using the free version, I took an article I finished recently, "How To Promote Your Blog", and let Grammarly check it in GoogleDocs. I picked up 6 errors but they were not serious. Two of them were British spellings, one was a misuse of pronoun (that's was changed to which's) and the others were errors according to written grammar not spoken grammar. When you blog, conversational tones can confuse Grammarly. But not very often.
But there were 86 advanced issues! So I can only find out what they are if I get Premium. But then I copy/pasted the document into Grammarly's online checker and I used the plagiarism checker. When Grammarly was used I only had 18 issues.
So why do I have 68 more issues when it checks in GoogleDocs?
This is the breakdown when I compared the two scores.
The Issue
Grammarly checked in Grammarly
Grammarly checked in GoogleDocs

Punctuation in compound/complex sentences, misuse of quotations, etc, and closing punctuation
*
5, 2, 1 respectively
8 in total
24

Grammar
*
1
19

Word Choice
*
6
18

Passive Voice use
*
1
9

Intricate text
*
1
8

Wordy sentences
*
1
8
Why is there such a major difference?
Please leave your comments if you know why this happens!
Based on GoogleDocs outcome I would need Premium but based on Grammarly, I could get away with using the basic. But as I mentioned, it may be a compatibility issue. Grammarly has the facility for people to report errors when you find them. But this is something I'll have to write to the support center about. Stay posted.
Learn more about: 99 Ideas on What to Write About When You're Uninspired
Grammarly review – Is Grammarly Premium Affordable?
Yes!
Grammarly Premium's pricing is tiered, depending on whether you pay monthly, quarterly, or per annum. Paying a lump sum annually, you get the biggest savings. The price is $11.66 per month. If you pay monthly, you're looking at $29.95 per month.
So by paying per annum you save over 60%!
Below is the pricing structure for Grammarly Premium.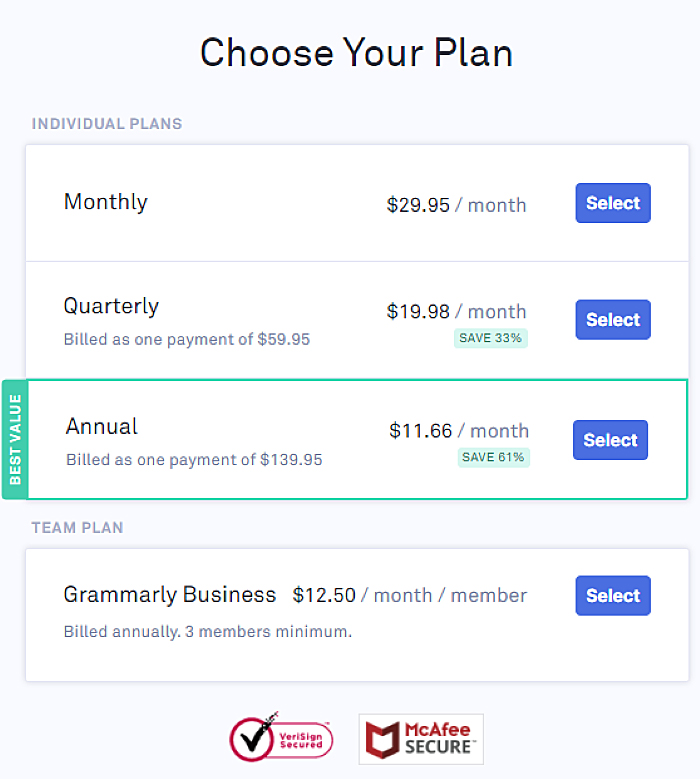 What Apps Compete with Grammarly?
These extensions and apps are all similar to Grammarly. Let's take a quick look.
ProWritingAid vs Grammarly
Only works in Chrome but is compatible with GoogleDocs.
Is not compatible with iOS or other browsers.
Cheaper than Grammarly but no monthly options. You must buy for a year.
Free version only edits 500 words at a time.
Grammarly vs Hemingway App
I can't speak for paid Hemingway packages but I use Hemingway Editor and Free Grammarly together and they work well for me. Hemingway is far less sophisticated than Grammarly but it fills in the gaps that Grammarly basic fall short on. Like the passive voice use, for instance.
Ginger vs Grammarly
Ginger is an offering from Israel. It has some advantages over Grammarly.
It's cheaper. It translates over 40 languages. And it's compatible with iOS. It reads text to speech. But unlike Grammarly, it can't recognize incorrect use of numbers, has no plagiarism checker, is online only, and has no wordiness checker.
Grammarly review – What's The Verdict?
Grammarly is popular because it is such an effective writing assistant. All three versions check grammar, spelling and basic grammatical errors. Grammarly Premium checks for advanced issues, it's a tone detector and it checks for plagiarism.
You can set your Grammarly Assistant to check your work according to goals you set to measure intent, audience, tone, style, domain, etc. It's also a plagiarism detector. Grammarly scores you on your progress according to clarity, engagement, delivery, word count, reading time, and readability.
It's compatible across different browsers, and with Word, Windows, desktops, and Mac devices. It has a keyboard you can download for mobile devices. It's affordable.
Grammarly is easy to use and is recommended by users who attest to the improvement and confidence they get from writing with Grammarly.
Hope you found this Grammarly review helpful! Let me know which editing app you depend on.
Happy Blogging
Monika
xx