We all go through dreaded dry spells where new blog post ideas become as elusive as hen's teeth. This post is going to give you a whole bunch of new blog post ideas. And some solid pointers, on how to find and create new blog content, to keep that dry spell from becoming a drought!
A while back, we posted an article called 99 Ideas on What to Write About. This article is different. We are going to look at how various types of blogs can be used to repurpose content and create brand new content. While at the same time increasing traffic, leads, and subscribers.
By the end of this post, you will have a content calendar filled with new blog post ideas, as well as some free tools and resources to draw from.
But let's just remind ourselves why we're here. And get some new post ideas at the same time!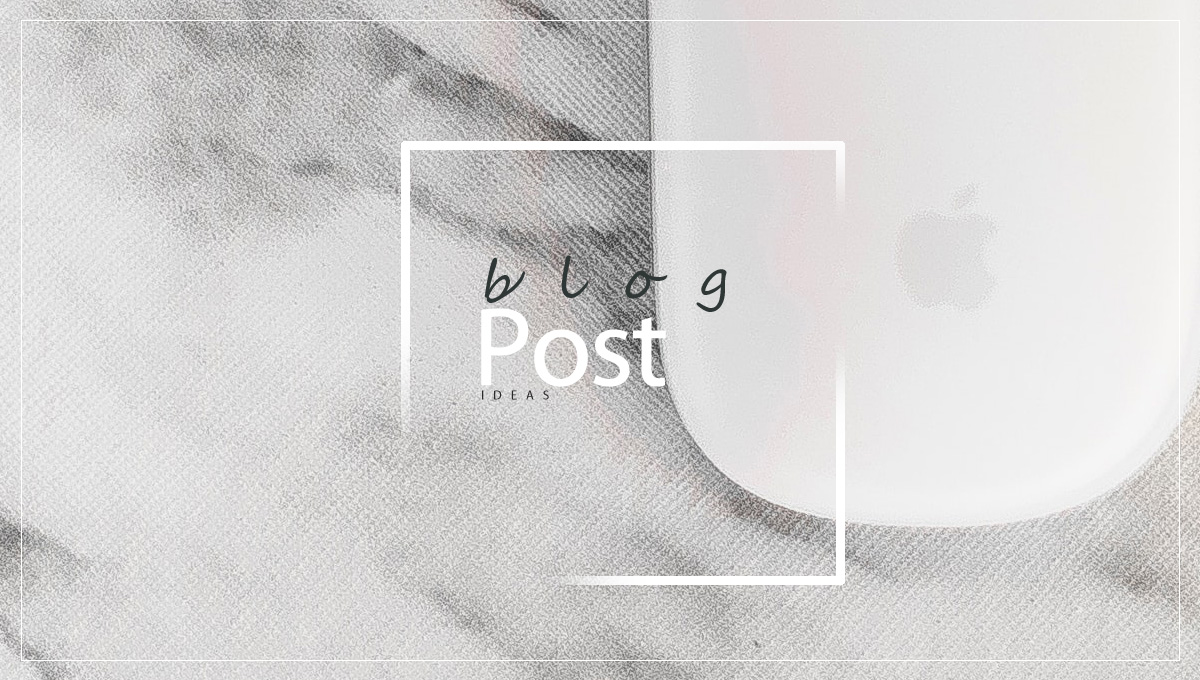 The first thing to do before you go hunting for new blog post ideas is to take a moment to reflect on how you started blogging, why you started blogging, and who your main audience is. (If your blog is still new or in the process of being created, all this info is still relevant to you. And will go a long way in filling up your content calendar)
When we've been doing something for a while it is easy to forget what our initial motivation was. Once we get into the flow of a project, it is natural to "go with the flow," and this often results in an outcome that looks different from the original plan. This is not a bad thing. Especially when your instincts are sharp, and you're giving readers what they want.
But it is always a good thing to look back at your progress, regroup, and remember why you started. And the perfect time to do this is when your idea pool has evaporated.
New blog post ideas
Answering these questions will automatically generate new blog post ideas. Try it!
Do you blog to sell products? Yes? What do you sell? How does it work? What can you use it for? When is the best time to buy? Where do your products come from? Who buys from you? The answers give you sensible blog post ideas.
Do you blog to inspire? Yes? Who do you write for? What tips can you give your readers? Who inspires you, and why? Where to go for inspiration: 10 Top Travel Destinations. Inspire a new trend. And the list goes on. Keyword: inspire
Do you blog to educate? Bring in experts as guest bloggers. Plan modules and design lesson plans. Encourage interactive audience participation. Create surveys. Create "How-To" posts. Back up your facts with links to studies and research.
Do you blog because you are a writer? Write about how to write, blog, report, journal, etc.
Do you blog to promote business? Write about brand awareness. Create campaigns. Raise money. Write review posts. Start a blog series on how to sell, how to advertise, how to create content marketing strategies. Run a contest or a giveaway promotion.
Brainstorm for new blog post ideas
Answer these questions below and brainstorm off the answers. In no time, you'll have a list of new post ideas.
How well do you know your readers? Do they read you for entertainment, to learn something, or to shop for things you promote?
And what do you have in common with them, and what do they all have in common besides loving your blog?
What are the most popular articles?
What style of blog do you use most?
Take all this information in and then get ready to MIX IT UP! Variety is the spice of life.
Remember: It's your blog, your content, and your creative input. So your success depends on YOU! You have ideas, tools, and resources at your fingertips. You can fill up your content calendar in no time, just by asking questions.
Let's look at how different blog formats can inspire new content.
What type of blog posts can I use?
Blogging is such a vast landscape in terms of content, style, and design. That's why your blog should use a number of different blog formats. Your blog post ideas can be repurposed by using different formats.
Popular blog post formats include:
Pillar posts
Review posts
Listicles
Guideposts – from beginner's guides to complete/ultimate guides
"How To" posts
Step-by-step posts
Guest posts
Mixed Media posts
Interview posts
Frequently Asked Questions posts
Troubleshooting posts
And many more.
But before you start your blog, you will need to choose a theme.
If you are not yet familiar with this side of blogging, check out this article: Why a blog? The benefits of blogging.
There are so many themes to choose from. Whatever you choose, make sure it is a responsive theme.
The Responsive Theme (for use across all devices)
A responsive post is not a format but rather a web design that allows your blog to adapt to different screen sizes across all devices. When you create a blog, on WordPress.org, for example, you'll get to choose from a variety of themes.
You can also download free themes that we have created. Our themes can be customized by you. And they are all responsive, so they adapt to all screens no matter what size or resolution. The themes come with detailed documentation to help you along when you start creating your own blog.
What are the most common blog styles and formats?
Regardless of what your website promotes or sells, you will need to use different blog post formats. Not only does this way of blogging keep your audience interested, but it also allows you to repurpose your topics and content. Certain formats will highlight aspects of your central topic in different ways. You get to present the same type of content in a different format. This immediately widens the scope for you to attract new customers or readers.
Sometimes a blog will answer a question or solve a common problem. Other times the blog may introduce a new or trending product.
Here is a list of 8 different ideas for blog post formats:
1. The Pillar Post
A pillar post is a well-written, in-depth article that introduces your readers to a topic. Pillar posts are thorough and presented in a way that guides readers through the topic's main points. Pillar posts are also known as cornerstone content.
Here are some advantages of having pillar posts:
Builds your reputation. Establishes you as an authority on the topic.
Useful information. It's genuinely helpful to readers and acts as a complete guide to users who are new to the topic.
Pillar posts are evergreen. The content remains relevant, so the post generates income and traffic long after it gets published.
Brings traffic and generates new leads. People are very likely to subscribe to your mailing list if your post contains excellent content, with the promise of more, on a regular basis.
Links. Other sites may end up linking to your article, so you get more exposure (and traffic.)
SEO gold. Because pillar posts are usually longer, more keywords appear through the text. So there is a bigger chance to get ranked high by Google.
Cross-posting. Gets more coverage across social media platforms. People love to share useful content. Use a tool like quuu.co to get your content out across many social media platforms.
An ongoing source of income because it's evergreen, lengthy, and in-depth. Your pillar post is more likely to contain affiliate links and info on sponsors, services you offer, and products you sell.
Pillar posts should flow and lead to other articles on your site that you can backlink to. The flow ensures readers get to the end of the post and also creates a synergy between other posts you have on the same topic.
2. The How-To Post
About ten years ago, How-To posts would guarantee you traffic. And some of these posts are still gaining traffic today. But if you've tried How-To posts in the last 4 years or so, the results present very differently. This is because people use the internet in a different way these days. You can google how to do anything, and you'll get 1000's of results in a second.
But that is not to say you should never use them. By using keyword generators and blog idea generators, you can find gaps in various niches where certain topics have not saturated the web yet. Grab these and create high-quality How-To posts. Be sure to add images.
3. The Listicle Post
In fact, list posts are so popular they are now called listicles. I kid you not!
List posts are popular for several reasons.
Numbers being the main reason.
Articles that give readers a number of points or a numbered list of benefits,
a top 10 or a best 20, appeal to the side of our brains that love to organize and structure.
If we can learn how to do something in 5 steps or if we can be given 10 reasons why something is good for us, we bite every time.
People love to skim read, and listing content makes it user-friendly, especially since most users will be on mobile devices.
Listicles stand out and are easy and fast to read. Usually, they offer the bare minimum of information on each point. But taking content, that is fleshier, and turning it into a list type post works well. Use bullet points as often as is appropriate, again, because it breaks down the content into an easy-to-read format.
But don't be fooled into thinking list posts are an easy or fast way to churn out blog posts. Done well, with thought, a strong title, and original content, your list posts should bring a fair amount of evergreen traffic.
4. The Guest Post
From time to time, you may want to invite guest bloggers to contribute. For example, let's say you have a health and fitness blog. Your blog posts can cover anything from herbal remedies to superfoods. There are many bloggers in this genre that are qualified and will bring interesting topics to your blog as guest bloggers.
By having other experts in this field, contributing, you will gain more credibility and followers. Be sure to share on social media to bring attention to your blog.
Guest posts generate new leads. Fans of the guest bloggers may end up becoming your followers too. Go here if you want to see how to attract guest bloggers.
5. The Review Post
Review posts work best when you have established your blog and have gained a reputation as a reliable source of information. Review posts bring traffic, but they also contribute to direct sales and affiliate marketing commissions. To write a good review post takes quite a bit of research. And the best review posts are the ones that give readers a clear and factual rundown of the products being reviewed.
Review posts must be unbiased and give both the good and the bad aspects of a product. In an ideal world, you will be able to test the products yourself but in most cases, much of your information will come from consumer feedback and thorough research.
People who dedicate their time exclusively to reviewing products often get samples to try out. But most of the time, review posts are compiled by gathering information from what we hope are bona fide customer reviews.
Sites like fakespot.com and reviewmeta.com are good sites to use when doing Amazon reviews. And ewg.org gives a breakdown of ingredients found in cosmetics and similar products. It lists the dangers of certain substances that get added to beauty products.
6. The Mixed Media Post
A mixed media post is great for bringing the traffic. Mixed media posts stand out, are fast to read, and visually appealing. When you mix words, photos, and images in a post, you get the chance to be a bit more creative. If you excel in this area, you could even end up designing web sites or creating social media marketing content.
Mixed media posts do even better when you add video clips. Often users will opt to watch a video of what you are showcasing on your blog. So you end up getting a wider range of users, those that like to watch and those that like to read.
Mixed media can include webinars and podcasts. If you are building a brand, your blog will be only one cog in your marketing wheel.
7. The Interview Post
An interview post can be repurposed from podcasts, video clips, and live recordings. But if you are setting up an interview for a blog, here are some tips to prepare for this type of blog post.
Schedule the interview.
Plan the outline and questions well in advance.
Research your guest. What are they currently working on, what causes are they supporting?
Go through the outline with your guest before the interview, so that they can be prepared. Fill them in on your demographic so they know who they are talking to.
Record live (as a podcast) or just to transcribe later. Live recording adds an element of authenticity and creates the opportunity for follow-on questions.
Introduce your guest and mention things about him/her that you know your audience will be curious about.
Pose intelligent questions. Structure the questions in a way that creates audience interest. And doesn't bore the interviewee to tears.
Listen more than you talk.
Let the interview flow by prompting more dialogue. If your guest answers a question, repeat part of their answer so that they will elaborate on that aspect, creating in-depth discussion as opposed to "fluff."
8. The Question and Answer Post/FAQ's
These types of blogs are great for giving readers instant answers. They are structured to answer a list of common questions. And solve problems readers may have. These types of blogs keep readers engaged.
This format is also good for getting Google to pick up your content and rank it higher.
Questions can be composed by using the "5W's and an H" method.
What?
Why?
When?
Where?
Who?
How?
If you compile questions as subheadings that are relevant to your keywords, you will improve rankings, grow your traffic, and increase your potential customer base.
Using the "5W's and an H" is also an excellent place to start from when you brainstorm for blog post ideas.
Use this method to find new blog post ideas
Let's say you are writing about turmeric, in the health and fitness niche.
Start by getting your sub-sections listed. Start like this:
What is turmeric?
Why are so many people using turmeric?
When is the best time to plant turmeric?
Who will benefit most from adding turmeric to their diet?
Where is turmeric from?
How do you use turmeric in cooking?
Do you see how each question can potentially become a complete article? And you can repeat the "5W's and an H" method. For the same topic, turmeric.
What ailments can be treated with turmeric?
Why is turmeric considered anti-inflammatory?
When will turmeric work best?
Who can use turmeric as a medicine?
Where can you grow turmeric?
How do you take turmeric medicinally?
You can do this with as many keywords as you want. This method of brainstorming keeps you on-topic and helps you to come up with new blog post ideas. And this is without even using a blog ideas generator or asking Google to autocomplete and tell us what "people are asking."
Let's try a word in another popular niche: Mom Blogs: keyword – teething.
What effect will teething have on my toddler?
Why is teething a problem for some babies?
When do babies start teething?
Who has teething tots?
Where can I buy teething necklaces and teething rings?
How do you know when your tot starts teething?
And this is before you have even checked out what Google says. You never need to panic when your idea pool dries up. Just apply the 5W's and an H" method and then ask Google.
This brings us to the next section. Where do we find new blog post ideas?

Where can I find new blog post ideas?
1. Ask Google
Let's look at some examples. We'll go with the topic of blogging. Start off real simple. Type "Blog Post Ideas" in the search bar. Write down the 4 or 5 questions that Google provides under the title, "People also ask." Then try typing in, "Where can I find new blog post ideas?"
This is what came up.
189 blog post ideas that will delight your audience
130 blog ideas that your readers will love
60 blog post ideas.
People also ask:
Where can I find blog post ideas?
What are the most popular blog topics?
What should I blog about today?
Scroll down to the bottom of the page, and you'll find "searches related to "Where will I find new blog ideas." Possible titles that will come up include unique blog ideas, blog post lifestyle, blog post for beginners, and blog ideas that make money.
2. Use Free Tools and Resources – to find blog post ideas
Blog post generators are generally free to use. Some will ask you to sign-up, and some charge a small fee. Generators throw some light on what users are searching for. This not only gives you new ideas, but it also guides you in the right direction, in terms of SEO.
Generators are like magic 8 balls. You enter a word or phrase, and it coughs out information.
Use platforms like Reddit and Quora to find questions the public are posing.
Try these generators and keyword research tools out:
Tweak Your Biz Content
Hubspot ideas generator
Ubersuggest – this is a keyword tool and SEO analyzer as well
Answerthepublic.com is a brilliant tool for generating possible questions users might pose. I entered the word "blogging," and 149 questions were generated. That's 149 possible blog posts!
Try these content marketing and analytics tools to get a better picture of who your target market is and then develop content based on your findings.
Twitter Marketing Automation – narrow.io
Content resources (great ideas for content here) – contentools.com
Gather info and grow your audience – curated.co
Use feedreader.com to collect all your feeds and organize them in one place. It makes researching content a breeze.
Try quuu.co to not only find new blog post ideas but also to promote your content on social media.
3. What's Trending – blog post ideas
Check out sites like Pinterest, again using keywords to refine your search. Blog posts that use mixed media are very popular, so try to incorporate images, video clips, and other visual aids. And always bear in mind that your site must look good on mobile devices as well as PCs, tablets, and laptops.
Feedly.com is a great tool for collecting articles that are trending and relevant. Leo, the helpful Feedly bot, will prioritize, organize, and filter out the garbage. It's a great time saver and will supply you with a lot of ideas to blog about.
4. Repurpose old content
Take an old, but famous, post and present it in a fresh new way. Think added images, new in-depth studies, video clips, and updates that have cropped up since the date when the original was posted.
Repurposing content doesn't mean copy and paste. What you do is look at a way to create a new pillar post. From there, you can branch out into as many smaller blog posts as you can think of. Or you can use one of the blog types listed above. By presenting old content in a different format, you change the tone and style.
5. Use your knowledge and expertise
Whatever you choose to blog about, make sure you know your stuff. If you have a genuine passion for your topic, ideas flow, and you'll be able to generate your own blog post ideas, based on the in-depth knowledge you have on the topic. Find video clips or podcasts and use the content as a guideline for new posts.
Let's say you have a gardening blog, and your pillar post is all about succulents. The pillar post will cover everything. And each sub-heading of the pillar post can become a stand-alone article, just with more facts and details.
Keyword: succulent: What is a succulent? Requirements for caring for your succulents. Is a cactus also a succulent? How do I take care of succulents in winter? Propagating succulents. Growing succulents indoors.
You get the picture, right?
6. How will you reach the audience you are targeting?
New blog post ideas must still stick to the topic.
You must know your customers. Are they students, business professionals, or stay-at-home moms? What kind of questions are they asking? What can you offer them?
Your blog is how you connect with your audience. A blog can be personal or conversational. Either way, it must be kept short and to the point. People don't have time to read lines, and lines, and lines of non-content before they get to the juicy stuff in the center.
I leave you with this
I bet you are feeling inspired right now!
But before you run off to write a new blog post, let me leave you with these 2 nuggets.
According to trafficgenerationcafe.com, 67% of new leads are generated from blogs. And once you have between 25 to 55 blog posts, you can expect a 30% increase in traffic.
Good to know! You're good to GO!