Choosing the right WooCommerce theme is a crucial decision when setting up your online store. Your theme not only affects the visual appeal of your site but also impacts its functionality and user experience. To help you make an informed choice, we've curated a list of the 14 best WooCommerce themes for your e-commerce store.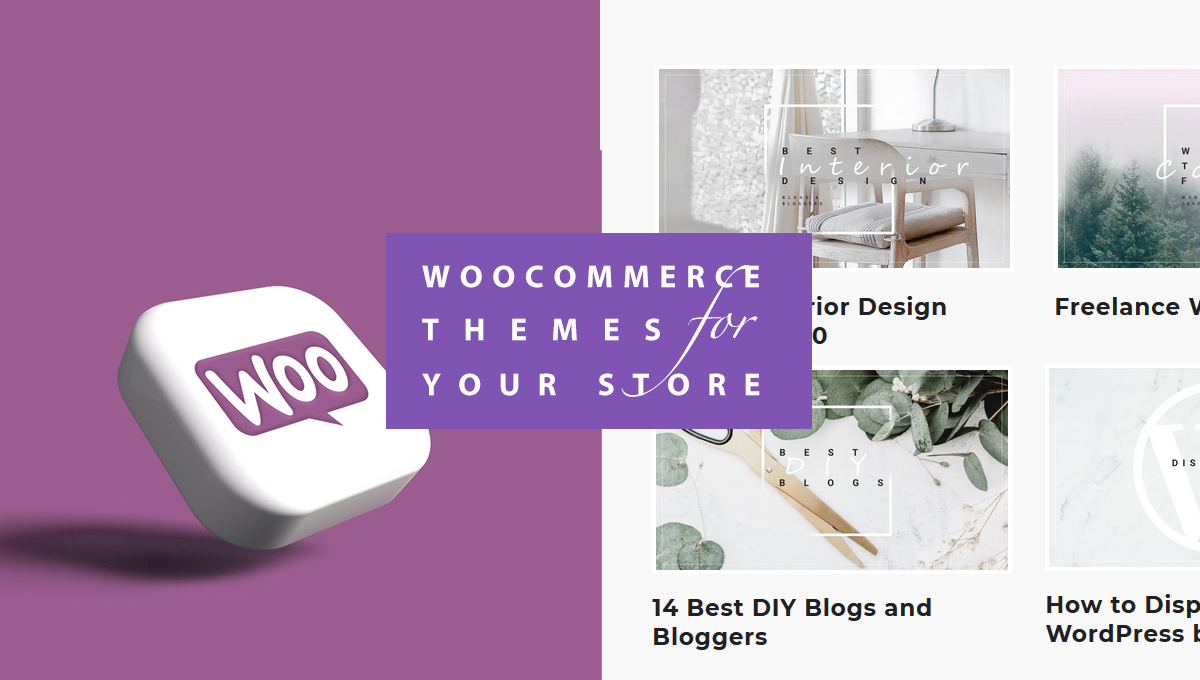 Top WooCommerce Themes In our List
1. Flatsome
Total Downloads: 224288
Review: 4.82/5
Flatsome is the epitome of excellence in WooCommerce themes, catering to the needs of
e-commerce entrepreneurs as well as web developers seeking to create exceptional online stores. This theme's captivating design, user-friendly features, and robust customization options set it apart as the ultimate WooCommerce solution.
Flatsome's aesthetic prowess shines through its modern and responsive design, ensuring that your store looks stunning on both desktop and mobile devices. Its intuitive interface, complete with a drag-and-drop page builder, empowers users of all levels of expertise to effortlessly craft custom layouts and enrich their sites with various elements, all without any coding know-how.
As a WooCommerce-focused theme, Flatsome seamlessly integrates with the e-commerce platform, providing a cohesive shopping experience. It fully supports WooCommerce features, from product galleries to secure checkouts, ensuring that your online store functions seamlessly.
Customization knows no bounds with Flatsome. You can personalize every aspect of your site, from layouts to typography as well as colour schemes. The theme's performance optimization ensures lightning-fast page load times, contributing to a smoother shopping experience and better SEO rankings.
Flatsome is SEO-friendly, generates clean code, and readily integrates with popular SEO plugins, enhancing your site's search engine visibility. While it excels as an e-commerce theme, Flatsome's versatility also makes it suitable for other types of websites.
Regular updates, reliable support, demo content, as well as comprehensuive documentation further bolster Flatsome's appeal, making it a top choice for those aspiring to create visually stunning, high-performing, and user-friendly online stores. Whether launching a new venture or revamping an existing one, Flatsome is the trusted companion for success in the world of e-commerce.
You May Also Like: How To Speed Up Your Website
2. Astra
Total Downloads: 2,369,964+
Review: 5/5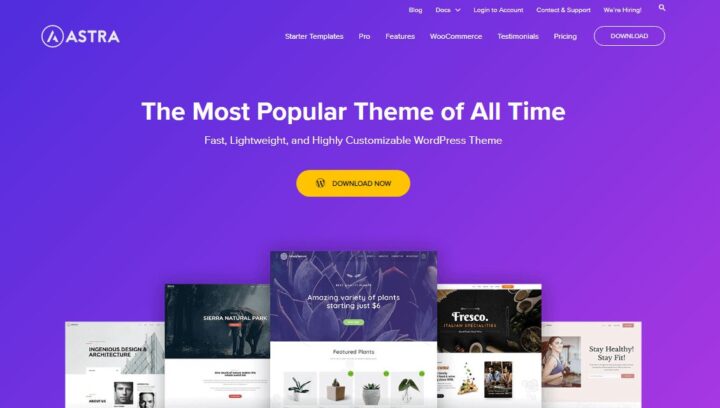 Astra is a game-changing WordPress theme that's taking the web development world by storm, and for good reason. Renowned for its lightweight design and versatility, Astra offers a powerful foundation for various types of websites, including e-commerce stores built with WooCommerce.
At its core, Astra is incredibly fast as well as efficient, ensuring that your website loads quickly and provides an exceptional user experience. This speed is a vital component of e-commerce success, as it directly impacts conversion rates and also SEO rankings.
Astra boasts a user-friendly interface and seamless integration with popular page builders like Elementor and Beaver Builder. Hence enabling you to effortlessly create and customize your online store's appearance and functionality, all without the need for complex coding.
Designed with SEO in mind, Astra ensures that your WooCommerce store is search engine friendly, helping you reach a broader audience and improve your online visibility.
With a wide range of starter templates and a library of pre-built designs for e-commerce, Astra makes it simple to kickstart your online store's development. Astra provides the tools and flexibility needed for success in the competitive world of e-commerce.
You May Also Like: WordPress Development Issues : How to Fix them Like a Pro
3. Neve
Total Downloads: 300,000+
Review: 5/5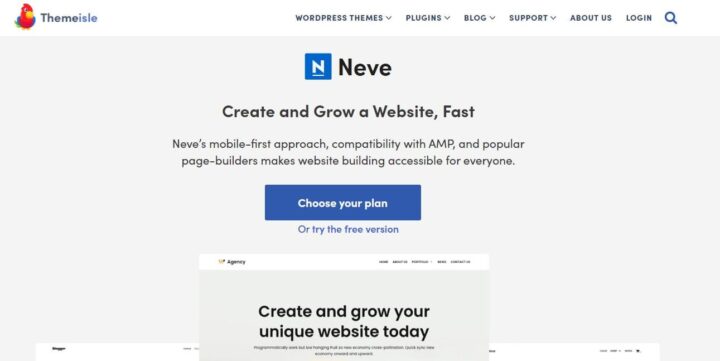 Neve is a minimalist and also a responsive WooCommerce theme that focuses on speed and simplicity. It's suitable for both small businesses and larger e-commerce ventures. Neve integrates seamlessly with popular page builders like Elementor and Beaver Builder.
4. OceanWP – One of The Most Downloaded WooCommerce Themes
Total Downloads: 6,663,971
Review: 5/5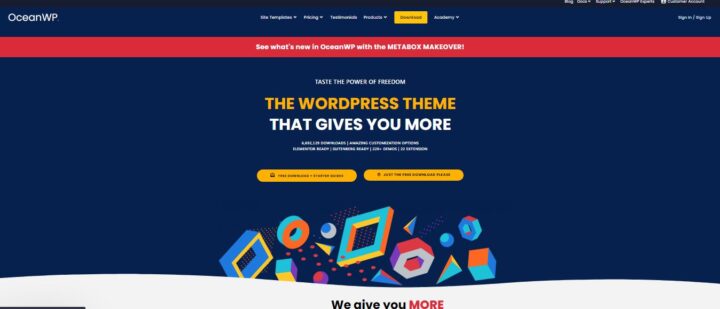 OceanWP is a dynamic WordPress theme designed to supercharge your WooCommerce-powered online store. Praised for its exceptional speed and flexibility, OceanWP is a favorite among e-commerce entrepreneurs and developers alike.
Speed is a cornerstone of OceanWP's design philosophy. Its lightweight code and optimized performance ensure that your website loads swiftly, providing a seamless shopping experience for customers. In the competitive e-commerce landscape, fast-loading pages are crucial for higher conversion rates and capturing the opportunity.
OceanWP smoothly integrates with WooCommerce, offering a perfect synergy of style as well as functionality. The theme provides a plethora of customization options, allowing you to tailor your store's appearance and features to match your brand identity and also your customer preferences.
With OceanWP, you'll benefit from a responsive design that looks great on any device, ensuring your customers can shop comfortably from desktops, tablets, and smartphones. Its SEO-friendly structure and compatibility with popular SEO plugins enhance your store's search engine performance.
You May Also Like: How to Create a Child Theme in WordPress
5. Porto
Total Downloads: 85,484
Review: 4.93/5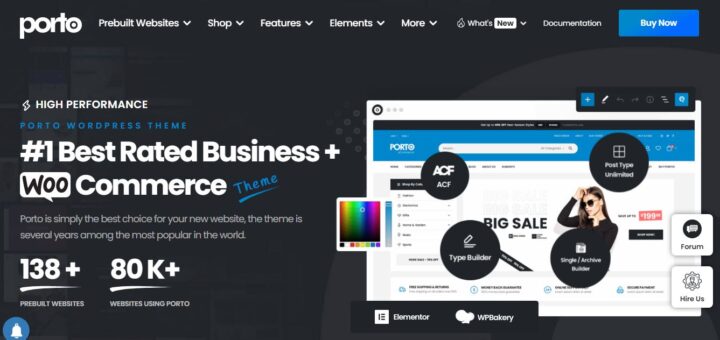 Porto is also a premium WooCommerce theme renowned for its sophisticated design and functionality. Ideal for businesses aiming for a polished and high-end online presence, Porto offers a vast array of layout options, header styles, and customization features. It effortlessly integrates with WooCommerce, ensuring a smooth shopping experience for customers. Porto is celebrated for its flexibility, making it suitable for a wide range of online stores, including fashion, electronics, and more. With its commitment to performance as well as aesthetics, Porto stands as a powerful choice to scale your e-commerce business to new heights.
6. Shopkeeper
Total Downloads: 33,839
Review: 4.62/5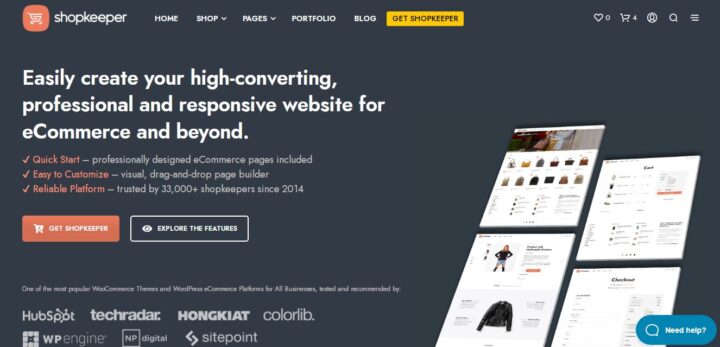 Shopkeeper is a dedicated WooCommerce theme tailored to meet the demands of online store owners as well as entrepreneurs. With a user-friendly interface and a robust set of features, Shopkeeper simplifies the process of building and managing your e-commerce site.
Moreover Shopkeeper offers a visually appealing design that suits a variety of product categories, from fashion to electronics. Shopkeeper's key strength lies in its simplicity. Even if you're new to web development, you can harness the power of this theme. It provides ready-made layouts and also a range of customization options that you can use to create a great E-commerce website. Shopkeeper offers a platform that combines style and functionality with ease.
You May Also Like: WordPress Plugins for Business Websites
7. WoodMart
Total Downloads: 64,350
Review: 4.93/5
WoodMart is a versatile WooCommerce theme designed for businesses seeking distinctive online stores. With its diverse layouts, product presentation options, and creative elements, WoodMart allows for tailored shopping experiences. Seamlessly integrated with WooCommerce, it ensures user-friendly shopping. Its performance focus guarantees fast-loading pages, enhancing engagement and SEO. For startups, brands, or niche businesses, WoodMart offers adaptability, style, and functionality for successful e-commerce ventures.
8. Storefront
Total Downloads: 100,000+
Review: 4.5/5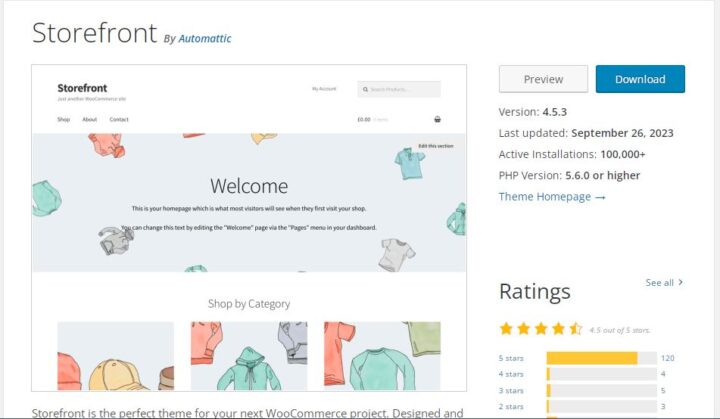 A WooCommerce themes list would be in complete without this theme. Storefront is the official WooCommerce theme developed by WooCommerce's parent company, Automattic. It is designed to work seamlessly with WooCommerce, hence making it an excellent choice for online stores.
Storefront provides a simple and user-friendly layout that puts the focus on your products. It offers various customization options, including the ability to change colours, fonts, and layouts. It is specifically built to integrate with WooCommerce, offering compatibility and support for WooCommerce extensions and plugins.
WooCommerce developers developed it hence it ensures a high level of compatibility and support. Storefront receives regular updates to keep it in sync with the latest WooCommerce features and security standards.
You May Also Like: What is Sustainable Website
9. TheGem
Total Downloads: 74,475
Review: 4.86/5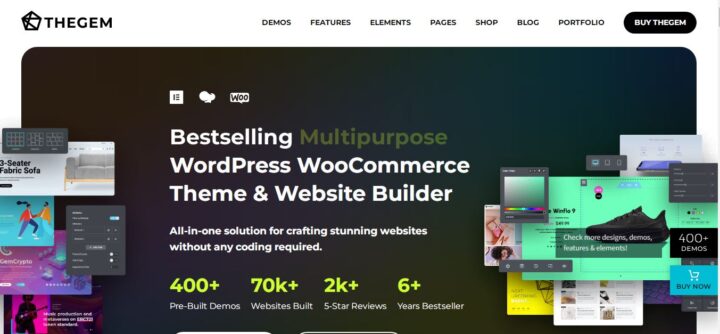 TheGem is a versatile theme suitable for various purposes, including e-commerce. It offers a vast selection of pre-designed templates, allowing you to create a unique online store effortlessly. TheGem is known for its flexibility as well as attention to detail.
10. Electro
Total Downloads: 23,369
Review: 4.85/5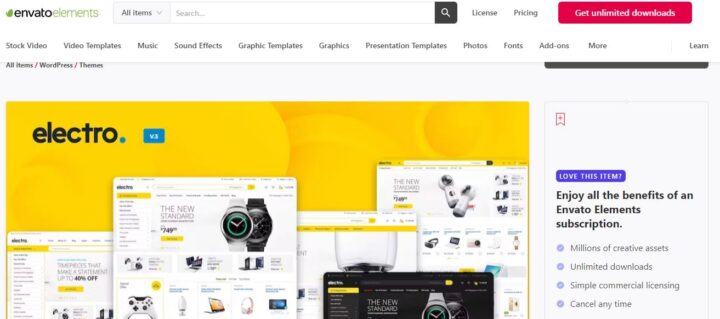 Electro is a specialized WooCommerce theme for electronics and digital stores. It comes with features like advanced product filters, comparison tools, and also a well-organized layout for tech products. If you're selling electronics, gadgets, or digital goods, Electro is an excellent choice.
You May Also Like: Why Your Site Needs a WooCommerce Developer
11. Mr. Tailor
Total Downloads: 7,386
Review: 4.66/5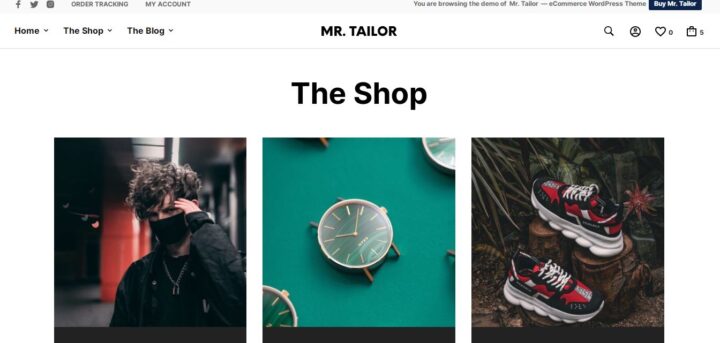 Mr. Tailor is a stylish WooCommerce theme for fashion and clothing stores. It features a minimalist and trendy design that highlights products and encourages conversions. Mr. Tailor comes with various customization options, a drag-and-drop page builder, and compatibility with popular e-commerce plugins.
12. Marketo
Total Downloads: 5,357
Review: 4.74/5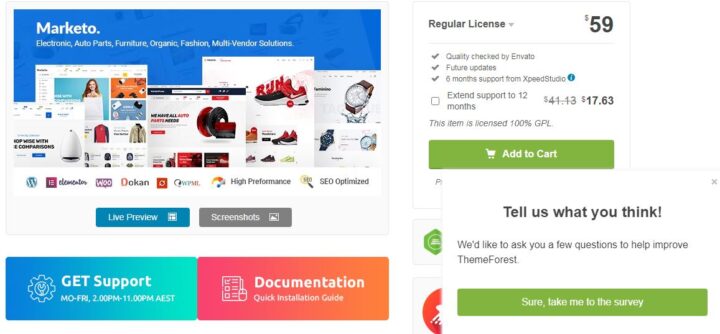 Marketo is a multipurpose WooCommerce theme with a focus on flexibility and also on customization. It offers a wide range of pre-built layouts and templates suitable for different industries. Marketo's integration with popular page builders and e-commerce plugins makes it a versatile choice for creating unique online stores.
You May Also Like: How To Perform WooCommerce Update
13. The Retailer
Total Downloads: 15,981
Review: 4.63/5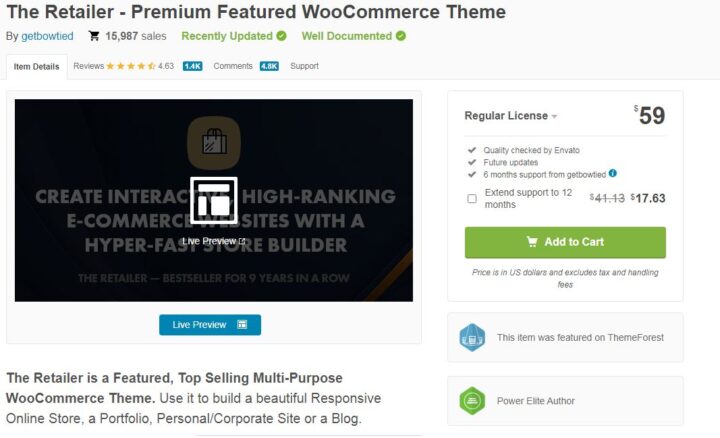 The Retailer is a WooCommerce-focused theme designed specifically for online shops. It's known for its stylish and modern design. The Retailer includes various eCommerce-specific features like product catalogs, shopping carts, as well as checkout pages. It offers multiple pre-designed layouts for different types of online stores, simplifying the setup process. It comes bundled with the Visual Composer plugin for easy page building.
14. Shoptimizer
Total Downloads: 750+
Review: 5/5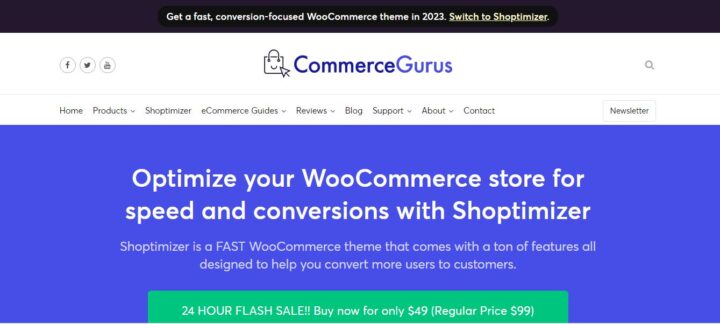 Shoptimizer is a WooCommerce theme built for speed and conversion optimization. It's designed to load quickly and prioritize the user experience, which can lead to higher sales. Shoptimizer includes features like a distraction-free checkout, product image zoom, as well as mobile responsiveness.
You May Also Like: How to Scale A WooCommerce Website
How to Choose the Right WooCommerce Themes
Consider Your Niche: Choose a theme that aligns with your industry and product offerings. Some themes are better suited for specific niches, such as fashion, electronics, or handmade crafts.
Customization Options: Look for themes that offer a range of customization options, including colour schemes, fonts, and layout flexibility. This allows you to create a unique brand identity.
Speed and Performance: Opt for themes that prioritize speed and performance. A fast-loading website is essential for providing a seamless shopping experience and improving SEO rankings.
Responsiveness: Ensure that the theme is responsive and mobile-friendly. With a growing number of users shopping on mobile devices, responsive design is crucial.
SEO-Friendliness: Check if the theme is SEO-friendly and supports popular SEO plugins like Yoast SEO. Good SEO practices are vital for ranking in search engine results.
Plugin Compatibility: Verify that the theme is compatible with essential WordPress plugins, such as payment gateways, shipping options, and product management tools.
Support and Updates: Choose a theme from a reputable developer or marketplace that provides regular updates and customer support. This ensures that your theme remains compatible with the latest WooCommerce and WordPress versions.
Demo Content: Some themes offer pre-built demo content that can help you get started quickly. These demos serve as a starting point for your store's design.
You May Also Like: Best WordPress Tools For Maintenance
Conclusion
Selecting the right WooCommerce theme is a critical step in launching a successful online store. Consider your specific needs, niche, and design preferences when making your choice. The WooCommerce themes mentioned above offer a range of options suitable for various e-commerce businesses, ensuring you can find the perfect fit for your online store.