WordPress is a Synonym for plugin. Why we are saying this because the WordPress repository has countless plugins to choose from. There is a plugin for SEO, security, performance, and whatnot. There are approximately 59000 plugins. Plugins are your best bet to get the most out of the WordPress CMS Platform. There will always be a useful plugin, regardless of the type of website you're operating. There is a long list of helpful plugins in WordPress repository that can assist your business. Any plugins you see here will do the trick if you want to create a WordPress site. The vast majority of them can work with other WordPress plugins. But it becomes confusing which to use because many of the plugins offer the same features, so keeping that in mind, we have created a list of plugins that are highly trusted and efficient.
But it is our responsibility also to make one thing clear that this list is not one size fits all. You will have to use your discretion too while installing plugins. So, we have listed all the plugins which will prove helpful for business websites but use only those that are the needed. A plugin is unnecessary if you don't have any use. If the need arises in the future, then you can add them because having many plugins on your website slows down your website too.
That being said, let's have a look at the list.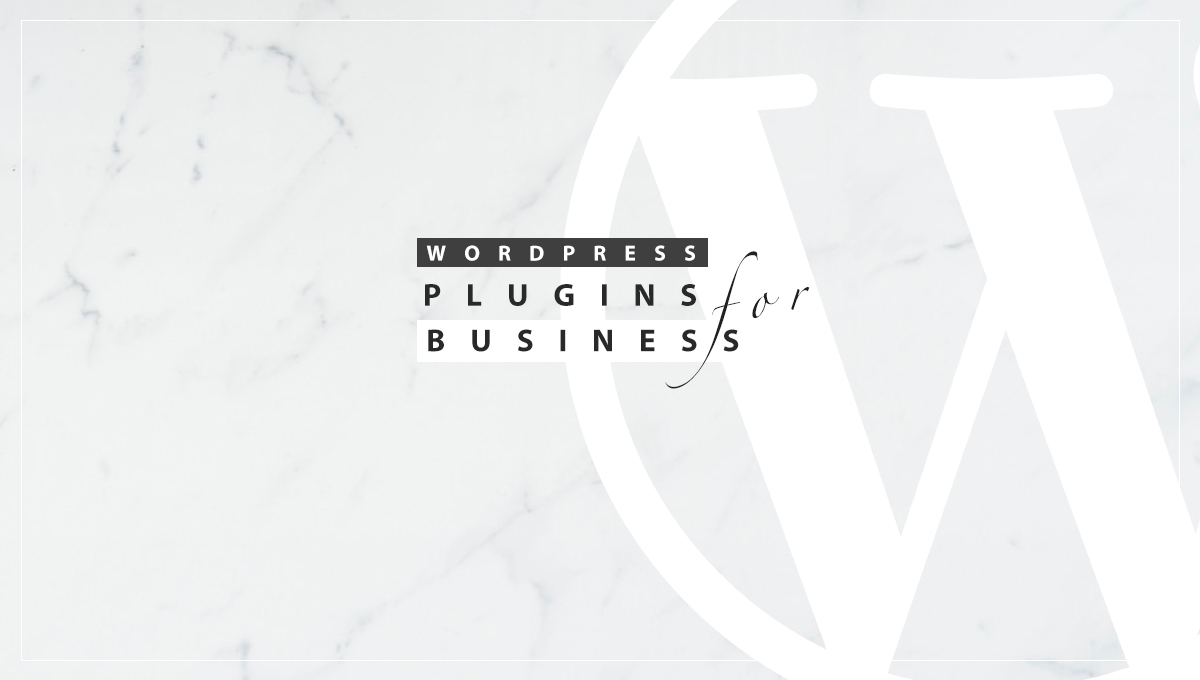 1. Yoast SEO
This is the most popular plugin, and anyone having a WordPress website must have heard about it at least once. Yoast SEO is a plugin for WordPress that helps optimise your site's content and keywords for better search engine rankings.
This plugin will also enable you to produce content that even a layman can understand. It generates sitemaps automatically, and it guides you through writing effective meta descriptions, includes relevant focus keywords, helps in editing image alt text and rewriting URLs and slugs, and much more.
While one cannot undermine manual SEO but surely Yoast SEO Plugin provides a helping hand in doing SEO.
2. WPForms
WPForms is an intuitive and potent WordPress form builder that uses a drag-and-drop interface. Using WPForms, you can make professional-looking forms for your sites, such as contact forms, subscription forms, payment forms, and more, in a matter of minutes, without the assistance of a developer.
Over half a million people are using WPForms. Its popularity among writers, entrepreneurs, artists, and coders has skyrocketed since its 2016 debut.
3. OptinMonster
Your company's website can become a lead generation machine with the help of OptinMonster, and your conversion rates will soar. Add more people to your mailing list with the help of this plugin for WordPress. It allows you to easily create and display attractive opt-in forms on your site.
To get you up and running quickly with creating opt-in forms, OptinMonster provides a wide variety of beautiful pre-built templates. Features such as A/B testing, custom display rules, and page-level targeting help produce high-quality opt-ins forms. Its innovative exit-intent technology allows you to convert even your site's fleeing visitors into paying ones.
You May Like : How To Create A Content Marketing Strategy
4. SeedProd
SeedProd ranks among the top WordPress plugins for creating websites with a drag-and-drop interface. It makes it simple for non-coders and novices alike to develop functional, attractive websites.
In addition to landing pages, this page builder plugin can also create sales pages, coming soon pages, and lead capture web pages.
For more advanced users, SeedProd offers a Theme Builder that one may use to create a website from scratch.
5. SearchWP
SearchWP is a robust plugin that lets you modify the WordPress site search to your liking and build your own search engines and algorithms even if you have very limited coding knowledge.
You can increase traffic, make it easier for people to find what they're looking for, and boost conversions with a better site search.
Site search optimization is important for every WordPress site, but it is especially crucial for e-commerce websites, as the standard WordPress search may not return relevant results for shoppers.
6. LiveChat
The WordPress plugin developed by LiveChat is a strong and adaptable solution for integrating live chat into your WordPress site. Being compatible with numerous WordPress site builders makes setting it up a breeze. LiveChat also integrates with industry leading e-commerce platforms like WooCommerce, BigCommerce, and more. Therefore, this WordPress Plugin may be useful for your e-commerce site.
You can use LiveChat to engage with site visitors in real-time or as a replacement for a web form to gather email addresses for a mailing list. You may also brand your chat windows to reflect your company's aesthetic and introduce your team members visually. The LiveChat plugin is fully compatible with every WordPress theme.
7. AdSanity
WordPress users can take advantage of AdSanity, a robust ad management plugin, to display both locally hosted banner advertisements as well as network ads. Millions of advertisements on the web are powered by this plugin, making it one of the most popular ad management plugin for WordPress.
It's so easy to use that even those without experience can make polished advertisements with the plugin. A simple, straightforward interface makes ad creation and management easy for newcomers. The base plugin is quick and efficient, but if you need more features, there are many extensions you can add to it.
Pixel Jar, a firm specialising in website development, developed and currently manages the AdSanity plugin.
You May Like : How To Do Keyword Research
8. WP Rocket
When caching your WordPress site, go no further than WP Rocket. This cache plugin is widely regarded as the best of its kind by WordPress experts. Users of all skill levels, from seasoned WordPress pros, to complete novices, appreciate the flexibility of this plugin's many settings and automatic optimization feature.
Unlike many other caching plugins, this plugin doesn't require rocket science to get off the ground.
WP Rocket cache guarantees lightning-fast page loads, which are critical for increasing search engine ranks and attracting more customers.
9. MonsterInsights
If you use WordPress and Google Analytics, you need to install MonsterInsights. Using MonsterInsights, it takes just a few clicks to link your WordPress site up with Google Analytics. Using MonsterInsights, you can learn more about your site's users and what they do while they're on your site, which is very essential for retaining them.
MonsterInsights is the most downloaded Google Analytics plugin for WordPress, with over 16 million installations. More than a million companies rely on it daily, including Bloomberg, PlayStation, Coca-Cola, and more.
10. Jetpack
You can use Jetpack on your WordPress site, whether it is a business website or a personal one. Jetpack is the best option if you want a unified platform for site development, visitor growth, and safety. Jetpack is developed by Automattic, the same company responsible for WordPress, that means it will receive regular updates.
The plugin's primary goals are safety, efficiency, and marketing.
11. Updraftplus
Backing up and restoring is a breeze using UpdraftPlus. More than three million active installations of this plugin make it the most popular scheduled backup plugin in the world. Create a cloud-based copy of your database and file backups, then restore them with just a click.
Your data can be backed up instantly to the cloud using services like Dropbox, Google Drive, Amazon S3 (or compatible), UpdraftVault, Rackspace Cloud, FTP, DreamObjects, OpenStack Swift, and email. Additional cloud storage options, including Google Drive, Backblaze B2, SFTP, SCP, and WebDAV, are available with the premium edition of this plugin.
12. RafflePress
If you're looking for a WordPress contest plugin, go no further than RafflePress.
You may host viral giveaways and contests with its assistance, increasing your email list, website traffic, and social media following.
RafflePress makes it simple to draw in visitors with eye-catching giveaways. When people enter the giveaway on your website, they provide you with their email addresses, which you can use to add them to your email list. Encourage participation by rewarding visitors for spreading the word about the giveaway. The increased traffic and subsequent sales and revenue that results from this form of advertising are substantial.
RafflePress's main purpose is to transform your website's visitors into active promoters of your company, leading to exponentially more exposure and traffic.
This means you can rapidly increase your website's traffic, email list, and social media engagement without spending a dime on advertisements.
You May Like : What is a Business Blog?
13. W3 total cache
W3 Total Cache, one of the most downloaded WordPress plugins in WordPress's repository, is featured on this list since it is a highly effective caching plugin for WordPress.
There are millions of websites using W3 Total Cache, which is free and open source. Its CDN integration is useful for mobile and traditional desktop sites. The plugin also claims to be a good partner for websites with SSL certificates, making it a perfect speed solution for online shops that require customers to enter their credit card details.
W3 Total Cache is available at no cost because it is based on open-source software. The essential functionality is present in the free plugin itself; no additional purchases are required. The good news is that the plugin has your back in more ways than one, providing bandwidth savings via minifications, HTTP compression, and feed optimization.
14. Akismet
To prevent harmful content from being published on your site, Akismet compares all comments and contact form submissions to WordPress' worldwide spam database. All the spam comments it blocks will be displayed in the "Comments" section of your blog's admin panel.
It checks all comments automatically and filters out ones that look like spam. You can check which comments were flagged by Akismet and which were approved by moderators by looking at the comment's status history. Links with hidden or deceptive URLs are exposed in the comment body. The total amount of allowed comments for each user is viewable by moderators. Your worst spam is automatically discarded, freeing up storage space and reducing load times for your website.
15. Contact form 7
Contact Form 7 can manage many contact forms, plus you can configure the form and the mail contents freely using easy mark-up. The forms support Ajax-powered submission, CAPTCHA, Akismet spam screening, etc.
Not only it is free, but the custom shortcode for each contact form you design makes it easy to add your contact forms to any post, page, or widget area.
It's also customisable. There are other easy ways to customise your forms with accessible parameters or with some CSS. It is compatible with a very wide selection of free and premium WordPress themes. Therefore, your contact forms remain unaffected even if you change your theme later.
16. Yet Another Related Posts Plugin (YARPP)
One of WordPress's most downloaded and installed plugins is Yet Another Related Posts Plugin. Adding this plugin to your site can boost traffic by showcasing related content to visitors in an automated fashion. YARPP's "match" algorithm considers the titles, body copy, categories, and tags of your pages, posts, and custom post types to create these displays. The plugin's settings page lets you set a threshold for a match before it's included in the related content display at the bottom of your posts and pages.
You May Like : Best Self Improvement Blogs
17. Smush
When it comes to WordPress plugins that helps in image optimization, Smush is by far the most often used option. It uses lossless compression to shrink your image files by up to 5 MB without sacrificing quality. Lazy loading and dynamic resizing are the additional features that help in boosting the page speed. For those just starting, Smush is an excellent option. You can activate the plugin in its settings once you have installed it on you site. After then, it will enhance all of your existing images. If you already have the plugin installed, any new images you upload will be optimised without any more action on your part. It makes image compression automated.
18. WooCommerce
The WordPress plugin WooCommerce facilitates online sales. It was made with WordPress stores of all sizes in mind. WooCommerce is particularly friendly to new ecommerce merchants because it combines ease of use with incredible power, flexibility, and features.
The speed and efficiency with which you can process sales and boost your bottom line are both aided and hindered by the ecommerce platform you use, and by using WooCommerce, you can take care of that.
You have full control over your sales and the look of your online store, no matter where in the globe your customers are located, thanks to this plugin's robust functionality that supports selling digital and tangible products of any kind.
19. Beaver Builder
When it comes to WordPress page builders, Beaver Builder is among the most well-known WordPress Plugins. Create professional-looking designs in no time with its visual, drag-and-drop interface.
The Beaver Theme plugin allows you to design individual pages and the theme's header, footer, single post, and post list layouts.
In general, Beaver Builder is devoted to perfecting the fundamentals of a page builder and providing a reliable user experience. As a bonus, once you've tweaked the default settings for optimal speed, it's one of the least resource-intensive page builders.
20. CSS Hero
Create your WordPress theme without coding knowledge with the premium CSS Hero plugin (No HTML or CSS required). That is the main feature of CSS Hero.
It's great for newcomers because you can undo your changes. Because your customizations are stored in a separate stylesheet, you may safely update your WordPress theme without losing any of your hard work.
CSS Hero is just as useful whether you're a designer or a developer. It is compatible with any WordPress theme or framework. Altering a child theme and sending the modified file to be used on a client's site is a simple and fast process.
CSS Hero can be a huge time-saver when it comes to modifying a site's design.
21. Registration Magic
Registration Magic is an all-inclusive WordPress registration form builder and WordPress user registration plugin. It allows you to easily construct custom registration forms for your users, each with its own set of fields. You may create a payment form of any kind with it, and you can even set up payments for paid user registrations. Your users may do things like download their form submissions, view their payment transaction histories, reset their passwords, and more by registering on the front end of your website.
You May Like : Must Follow Sustainability Blogs
22. BlogVault Backup
BlogVault is a backup plugin that makes it simple to back up your WordPress site to the cloud and provides additional capabilities, such as a free staging environment. You can avoid downtime by testing modifications to your staging site before committing them to the live version of your site using a plugin like BlogVault. If you're satisfied that the modifications did not negatively impact your staging site, you can then apply those change onto your live site.
This plugin lets you to restore files from an archive dating back to 90 days, and the incremental backups it provides will ensure your site is never sluggish. You may safely test updates and make changes to your website with BlogVault's staging site, which runs on BlogVault's cloud server and is available for free with no additional fees.
The WooCommerce store's order history can be backed up too using this plugin and restored at any moment, and it keeps a full year's worth of backups.
23. Sheet.Codes
Maintaining its content can become daunting when your WordPress site has hundreds or thousands of pages. Consider the hundreds of pages pertaining to a single offer or compliance concern.
With the Sheet.Codes plugin, you can easily update any site-wide material with Google Sheets by using shortcodes that point to specific cells. Insert the appropriate shortcodes into your spreadsheet where you need the data to appear.
Affiliate marketers may keep track of all of their promotions in a single spreadsheet. Or, if your site relies heavily on data, you can create the necessary formulas in a spreadsheet and embed the data directly on your page, that gets updated automatically whenever you make any changes. That's not the best part. Sheet.Codes can be used in tandem with other popular WordPress plugins like Elementor and Yoast SEO.
24. Dokan
Dokan is a multi-vendor plugin for WordPress designed to help vendors customize stores and manage product inventory on a unified platform. The plugin is compatible with all WooCommerce-ready themes, allowing teams to create a multi-vendor marketplace tailored to their specific needs.
Dokan's main functions are as follows: catalogue management; shopping cart management; order management; payment processing; promotion management; vendor portal management; email marketing management; review management; data security management; and search engine optimization management.
It enables managers to collect commissions worldwide, from a single vendor, or for specific products. Sales, discounts, orders, coupons, and more all can be viewed and managed from the front-end dashboard.
Dokan is useful since it allows groups to compile data and see how their stores are doing overall. To boost their standing in the market, sellers can fulfil orders for certain shops, share news and updates via the vendor dashboard, and solicit feedback through product ratings and reviews.
In addition to controlling who can sell what to whom and through which channels, users can also establish withdrawal caps, minimum withdrawal amounts, and more. You can purchase various modules like Vendor Subscription Product, Product Addon, Ajax Live Search, Color Scheme Customizer, Following Store, Geolocation, and Live Chat independently.
25. Awesome Support
The WordPress plugin with the most flexibility and functionality is Awesome Support. It's the only WordPress Helpdesk & Support plugin that can compete with a hosted service like Zendesk or Helpscout in terms of functionality.
In fact, your customers can start utilising it immediately. After the plugin has been installed and activated, the setup wizard will ask you a few questions before making the help desk available to your clients.
26. weMail
Easily manage your email list with this streamlined plugin.
weMail allows you to manage your mailing list, send newsletters, collect leads, send automated emails, display subscription forms, and more—all without leaving the WordPress admin area.
Cloud-based email newsletter service that works seamlessly with WordPress and supports sending emails through Amazon Simple Email Service (SES), SparkPost, Mailgun, SendGrid, Elasti Mail, or any other SMTP server of your choosing. Great for companies of all sizes with sizable email lists.
You May Like : Top Gardening Blogs on The Internet
27. Elementor
WordPress users can utilise the Elementor drag-and-drop page builder. With this plugin, you can easily design stunning web pages with a visual editor. The plugin's goal is to facilitate the rapid development of dynamic websites. This WordPress Plugin does it all. It Provides a centralised hub from which you can manage all aesthetic aspects of your site. You may make your website look how you want it to with the help of transition effects, different fonts, and improved background graphics.
Any member of your team can benefit from using Elementor. Even if you're not tech-savvy, you can use the visual editor to drag any of the 90+ widgets to make things like buttons, star ratings, and progress bars. The script optimization, customizable attributes, and rollback versions that this platform offers continue to make it a popular choice among WordPress developers.
You may use Elementor to create anything from full websites to single landing pages. You may create landing pages, sign-up guides, and more. Imagine it, and this tool can help you make it a reality.
28. Business Directory Plugin
If you're a business owner or manager searching for a straightforward WordPress plugin to create a directory website, go no further than Business Directory Plugin. Don't worry if you're not tech-savvy. Installing this easy and simple-to-use plugin will get you up and running in no time. Having development experience is not necessary.
It is one of the most widely used directory plugins for WordPress, and for a good reason. This WordPress plugin can help you get more comments, likes, and shares and increase client retention and revenue.
Using the listings, you choose, you may create a local directory, a simple directory of providers, a real estate listings site, Yellow Pages clone with review sections, an address book directory, a book review site, and much more with this WordPress directory plugin.
Business listings, or indeed listings of any kind, can be made. Use this plugin to create a web directory for your firm, medical practice, or other professional services.
29. Backup Buddy
This plugin, developed exclusively for use with WordPress, will automatically back up your website and save it in various places, including your own computer and several cloud-based storage services.
You won't have trouble getting started with WordPress migrations when using Backup Buddy. Using Backup Buddy, you may move your site with just a few mouse clicks.
30. MapPress Maps
In terms of free Google maps WordPress plugins, one of the most widely used is MapPress Maps. You can simply type in the address and hit enter to add a Google map to any WordPress post, page, or custom post type.
The map can be added to a post before or after publication. A shortcode allows you to embed the map directly into the post.
31. BirchPress
A powerful and feature-rich WordPress plugin for scheduling appointments is available in the form of BirchPress. This plugin makes it simple to create online appointment forms on your WordPress site for online appointment scheduling, reservation requests, and availability checking. Appointments can be made quickly and easily by site visitors with no intervention from you, thanks to this excellent scheduler plugin.
The booking calendar can be synchronised with other calendars such as Google Calendar, iCal, iPhone, Android, and Outlook with the help of a plugin. Email confirmations, reminders, and notifications can be set up and sent to users when appointments are scheduled, changed, or cancelled.
Built-in payment processing for PayPal and major credit cards is included. Other payment gateways can be added through WooCommerce if needed.
BirchPress works for any company that allows customers to schedule appointments online. Health, education, fitness, recreation, salon, beauty, automobile, and any other service or business website can all benefit from this.
You May Like : 100 Movies to watch when bored
32. RankMath
Rank Math SEO is a robust WordPress plugin that simplifies the process of enhancing the SEO of your website. It has swiftly taken the WordPress plugin market by storm, with over 1 million active users.
Rank Math includes all you need to ensure your content is optimised to hit the keywords you're targeting and boost your SEO. It's a great plugin because it's free, has a lot of useful functions, and is straightforward to use.
33. wpDatatables
You may use wpDataTables to import information from several formats, including CSV, JSON, XML, and spreadsheet software like Excel and Google Sheets. Produce sorted and paginated tables in a format of your choosing. You can do simple arithmetic in your table with this WordPress plugin, as it shares functionality with spreadsheet software.
wpDataTables includes features like conditional formatting (highlighting rows based on their content) and advanced filter settings (to help you find exactly what you're looking for). It also includes calculation capabilities, letting users view and edit data, and more.
34. Quick & Easy Faq
Use the custom post type created by Quick and Easy FAQs to organise your frequently asked questions. They can then be sorted by title or date and displayed in filterable groups. Quick and Easy FAQs has a clean and simple default design with flexible adjustments. If that isn't enough, you can add some CSS to override those styles and give the FAQ page a design that fits well with the rest of your site. The layout, colour, font, and more may be altered to suit your needs.
35. Schema – All In One Schema Rich Snippets
It is the most well-known and often-used plugin for schema markup and is widely regarded as one of WordPress's top rich snippets plugins. Schema – All In One Schema Rich Snippets plugin may be limited in functionality, but it has proven to be trustworthy and stable.
The plugin's rich snippets are great for pages with content like recipes, events, and reviews.
With this extension, you can preview how your rich snippets will look in a real Google search.
The plugin has a robust online community and numerous support resources such as forums. You can post any questions about the plugin's functionality in the forum. Support groups like these are great for folks who are just getting started with schema markups.
36. Shared Counts
You may add share buttons to your WordPress site with Shared Counts. Add sharing buttons to your site so people can easily spread the word about interesting content on your pages and blog posts to their social media networks.
Site performance was a primary design goal when developing Shared Counts. It is used on many extremely popular websites that collectively see hundreds of thousands of monthly visitors.
37. EasyAzon
If you run a WordPress site and are an Amazon affiliate, you may make more money with the help of the EasyAzon plugin.
Using this plugin, you may shorten the process of inserting your product links and calls to action into your content. Additionally, it facilitates a rise in your Amazon Affiliate profits.
Whether you're just starting or have years of experience under your belt, this is the essential plugin you need to start making serious money from your website.
You May Like : Best Podcasts – 100 of The Top Podcast Picks
38. GetSite control
If you need a WordPress popup plugin, Getsite control is the best option. Pop-ups are a great way to increase website conversion rates, email subscribers, sales and surveys participation. Make a survey, poll, order form, or advertising popup for your website in no time. Use slide-ins, floating notification bars, and exit intent popups to get your messages through.
39. WP Mail SMTP
If you use WordPress and want your emails to get where they need to go, you need WP Mail SMTP. It was created to address the pervasive issue of WordPress-generated emails disappearing into spam bins.
Once you've configured WP Mail SMTP, your email will never be lost again. Moreover, you can use it to monitor and improve your website's email notifications.
If your website's email is untrustworthy, people will also view you as unreliable. There is a risk of missing out on a potentially lucrative inquiry from a client. There's a chance that your site's users won't get transactional emails.
Your email issues will finally be resolved with the help of WP Mail SMTP. Over a million astute website proprietors rely on it.
It's a must-have for any WordPress site, especially for e-commerce and membership communities.
40. MemberPress
When it comes to WordPress membership plugins, MemberPress is one of the most powerful and user-friendly options available.
With the help of MemberPress, you'll be able to easily sell digital products and memberships and manage and monitor their subscriptions. In addition to these impressive features, MemberPress lets you control which users have access to which posts, pages, categories, tags, feeds, communities, and digital assets based on the services they subscribe to.
Using the robust capabilities of WordPress and its many plugins MemberPress allows you to build robust and engaging membership sites.
MemberPress is a powerful yet user-friendly membership management plugin for your WordPress site that can interact seamlessly with your existing site's architecture.
41. Pretty Links
The Pretty Links plugin for WordPress makes it simple to shorten URLs on your site. Use PrettyLinks to quickly deploy short URLs for your social and marketing initiatives or to enhance the visual appeal of your affiliate links to external sites.
Affiliate links tend to be considerably longer than average links. Pretty Link condenses their extensive string of nonsensical characters and symbols.
In addition to sharing your links, Pretty Link also lets you monitor the number of times each link is visited. You can easily see which page on your site generates the most interest and sales if you have many Pretty Links for the same affiliate product.
42. Soliloquy
Slideshows that adapt to different screen sizes may be made in minutes using Soliloquy. Soliloquy is a slider plugin for WordPress that has been downloaded over 900,000 times and is utilised by website owners, marketers, and developers because of its ease of use and robust functionality. Unlike other, more complicated sliders, Soliloquy was designed specifically with WordPress users in mind. Soliloquy prioritises its users' satisfaction by ensuring its plugin is quick and easy to use.
This plugin's standout features include the ability to quickly and easily create sliders with just a few clicks and the flexibility to upload and rearrange slides using a drag-and-drop builder. It has a variety of customizable templates. It's completely responsive and mobile-friendly, and it loads lightning-fast.
You May Like : Freelance WordPress Developers – Hire Best Specialist
43. Learn Dash
LearnDash is a plugin for WordPress that may turn your website into an effective learning management system (LMS). You may design and sell courses in a matter of minutes, as well as monitor the progress of users, issue certifications, award points and badges, and much more. LearnDash is the WordPress learning management system plugin you should use if you are serious about providing online courses.
44. Really Simple CAPTCHA
Within the realm of anti-spam plugins, this one is, without a doubt, the most widely used. It has over 600,000 active installations at present.
Although it is completely free to use, it does not function properly when used on its own. Simply put, Really Simple Captcha is an extension that can be added to Contact Form 7. (CF7).
The developer of CF7 came up with the idea for this control, and he included the well-known captcha in his plugin. The plugin is called Really Simple Captcha. In order for users to send their messages, they must understand images.
A widely used and intuitive plugin that lives up to its claim of being straightforward to operate. The amount of customization available is limited but adequate; all you have to do is select the size and theme of your WordPress captcha.
45. Envira Gallery
The WordPress gallery builder Envira Gallery is a drag-and-drop interface that is simple and powerful. You'll be able to build stunning photo and video galleries with Envira Gallery by utilising pre-designed templates. You won't need to hire a developer to develop your images or proof before you sell them.
Over two million people have installed Envira Gallery. Since it was first released in 2014, it has seen a meteoric rise in popularity among designers, developers, bloggers, and owners of businesses.
46. Booknetic
Booknetic is a client appointment booking solution that works with WordPress. If you're looking for a "Calendar" plugin, this one is the most popular one on CodeCanyon. It's perfect for a wide range of enterprises, from fitness centers to medical clinics, therapy practices, dancing studios, tattoo parlours, law firms, auto repair shops, and beyond.
47. TrustPulse
TrustPulse is an effective social proof plugin that may quickly boost conversions on a website by as much as 15%. Displaying current customer interactions (social proof) on your site has been shown to enhance trust, conversions, and purchases.
If you're just starting, TrustPulse is incredibly intuitive. Simple to set up, it requires no additional configuration before use.
Equally adaptable. Everything about your notifications can be tailored to fit in with your brand's aesthetic, and you can create unique display criteria to ensure that only the appropriate people see them at the appropriate time.
48. PushEngage
PushEngage enables you to send tailored web push notifications to your subscribers by automatically dividing them into groups based on their subscription status and using auto-responders. It can support triggered and personalised campaigns, such as Cart Abandonment, Price Alerts, and Browse Abandonment. PushEngage is compatible with all browsers that can support Web Push, such as Chrome, Firefox, Microsoft Edge, Safari, Opera, UC Web, Samsung Internet, and more, and it also supports AMP pages.
It is ideal for media and e-commerce businesses, software as a service provider, and any other businesses that employ email marketing.
You May Like : Codeable Review
49. Smash Balloon
The Smash Balloon plugin bundle is a set of social media feed plugins for the WordPress platform. It's a collection of five separate plugins that work together to make it simple to integrate feeds from the most popular social media sites.
The social media feeds from your accounts on Facebook, Instagram, YouTube, and Twitter can be shown on your website with the help of Smash Balloon. Alternatively, you may utilise Smash Balloon to aggregate all of your social media feeds into a single social wall.
It is straightforward to use.
The best part of Smash Balloon is that it is backed by a team of WordPress experts who will assist you in any way they can to ensure a trouble-free time with the plugins.
With a user base of over 1.6 million and an average rating of 4.8 out of 5 stars, it is a top choice for those looking to integrate social network feeds into their websites.
50. Migrate Guru
The most efficient method for migrating WordPress sites is using Migrate Guru. It makes challenging WordPress migrations much easier to accomplish. Migrate Guru is powered by BlogVault, an onboarding partner of the best WordPress hosts in the world. Migrate Guru takes advantage of the BlogVault service to assist you pack up your existing site and migrate it to a new host. If the service encounters any issues, you will receive an email informing you of what went wrong without modifying the site you are attempting to move ensuring there is not even the slightest bit of danger to your websites. It handles serialised data automatically, rewrites URLs, by-pass import/export scripts. In addition, it can clone WordPress websites without needing manual labour, add-ons, or additional tools.
51. Redirection
The WordPress plugin Redirection is by far the most popular redirect manager available. You will have an easier time managing 301 redirections using it, as well as keeping track of 404 errors and overall cleaning up any messes that may be on your website. This can assist in reducing errors and improving the ranking of your website.
It is possible to employ redirection on websites that have just a few redirects, as well as websites that have thousands of redirects using this plugin.
It has been a plugin for WordPress for more than ten years and has received many positive recommendations. And there is no charge; it's absolutely free.
52. WP Legal Pages
WP Legal Pages may generate over twenty-five different policy pages, such as disclosures regarding affiliates, terms of service, and privacy policies.
It is a fact that you will be expected to abide by certain legal requirements and responsibilities if you are going to engage in commercial activity. By utilising the WPLegalPages plugins, you may streamline the process of fulfilling these rules and save time in the process.
Using this plugin may help speed up the process of navigating through the legal parts of your business contracts, which can be a time-consuming procedure.
53. ThirstyAffiliates
The WordPress plugin ThirstyAffiliates manages your affiliate links. Affiliate links can be easily saved, sorted into groups, and managed. In addition, it may substitute keywords in affiliate links and generate affiliate URLs with your brand's name.
By making use of a custom post type, ThirstyAffiliates can use the power of WordPress itself. This way, it can work with any other WordPress plugin, including those designed specifically to create backups. You can quickly find an affiliate link by using the built-in search function. Including a link in a post or page is as easy as including any other link. The post editor's Insert Link box also functions as a search bar for finding relevant affiliate links.
You May Like : Food Blogs
Conclusion
Well as you can see there are a wide variety of plugins available in WordPress that can help you in making Business Website more efficient, stable and attractive. So go use them but as I have told you already use them only if you truly need them because plugins use resources and having many plugins can have side effects too.