I'm extremely excited to share 38 of the Best Photography Blogs with you. I grouped them into 10 photo blog niches. I know you are going to love this selection, without a doubt!
From portrait and wedding photography blogs to wildlife and underwater ones, to photo blogs that give advice, reviews, tutorials, tips, and great articles (on all things visual, digital, and analog), to photo blogs that showcase professional photographers' portfolios, you'll find amazing resources throughout.
Photography blogs showcase portfolios, inspire and teach
The planet has no shortage of brilliant, talented, adventurous photographers that go the extra mile for their craft. They capture moments and images from around the world, share invaluable knowledge with aspiring photographers, and keep them abreast of the latest news and technology in the photo world. I have found photography blogs that will blow your mind both visually and literally!
Portfolios are an essential feature when telling photo stories. Some photography blogs are elaborate galleries showcasing breathtaking images that have been edited and retouched to deliver amazing photos, transporting you to the time and place of the shot. Photography blogs differ from other blogs (like lifestyle blogs, travel blogs, or food blogs) because often the main content is image-rich, not text-rich. But just like other blogging genres, a rich pool of niche photography blogs get created daily.
So we are going to jump right in and showcase the best photography blogs around. I will share with you what makes each photography blog stand out from the rest. Because believe me, there is a lot more to being a photography blogger than meets the eye! (pun intended).
How many different types of photography blogs exist? And what makes some of them stand out from the rest?
Let's find out!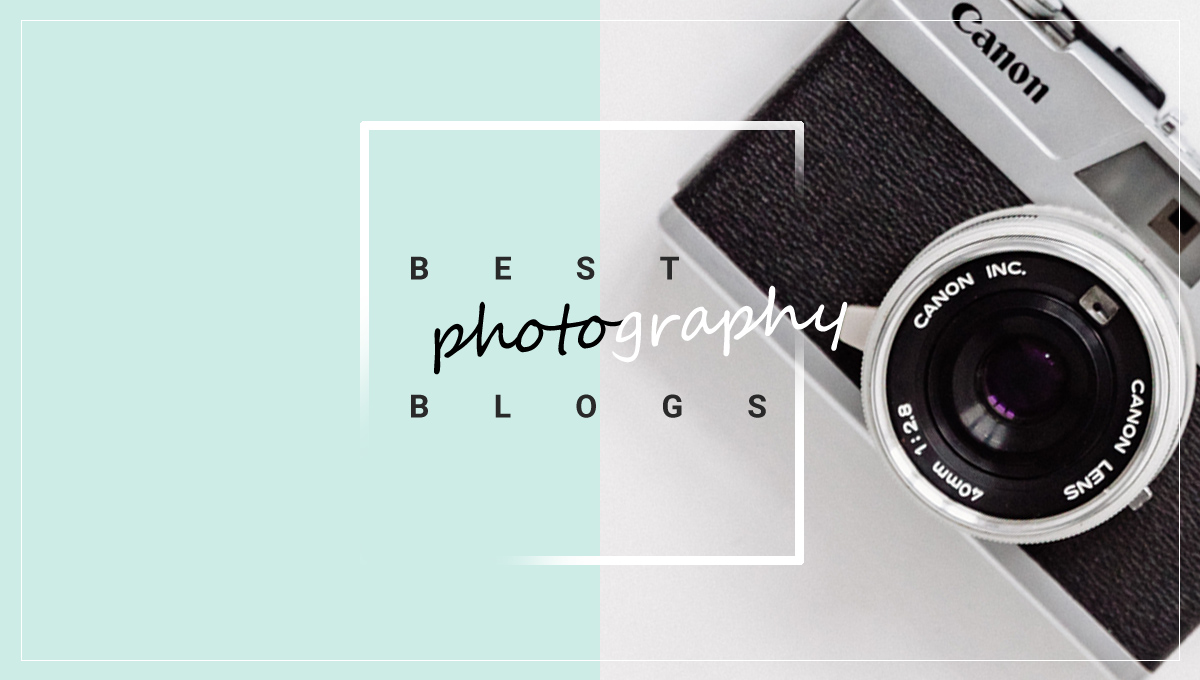 What are Photography Blogs?
When I think of photography blogs there are two distinct groups. One is the photoblog that contains image-rich content and showcases portfolios of photographers, architects, designers, models, and similar professions that use photo stories.
The second group are the photography blogs that talk about photography. These blogs have content that is both text and image-rich. And with these blogs, you'll find excellent advice on
How to take better shots,
Which photography gear is best suited to your specific needs,
How to process and publish good images,
Digital vs analog
Photography for beginners
Basics of photography
How to monetize a blog – photography blog
And so much more!
Then, of course, there are the different genres of photography like
underwater photography,
wildlife/nature photography,
portraits,
wedding shoots,
action/sports shots (see best fitness blogs or sports blogs),
landscape portraits,
stills, and don't forget,
fashion shoots (fashion blogs),
street photography,
stock photography,
and the list goes on.
As a photography blogger, you may choose to focus on the technical aspects of photography to help aspiring photographers take better shots. Or you might hone in on one of these niches, thereby creating your own photography blog niche which will appeal to a core audience that you choose and understand.
There is also an abundance of fantastic editing software developed for digital photography, from the well-known Adobe Photoshop to the free open-source Rawtherapee and loads more.
Let's jump straight in, we have a lot to cover
Wedding Photography Blogs
Wedding photographers often showcase their work by adding a photography blog to their site. Sometimes they will showcase a portfolio of weddings they have covered, or include a gallery exhibiting their best or most recent work. Some of the best blogs (wedding photo blogs) are aimed at teaching aspiring wedding photographers what they need to know, from how to quote and take bookings to how to get the perfect pictures on the day, and what the best camera equipment is for these types of assignments.
1. Junebug Weddings
Junebugweddings.com is a complete directory for finding wedding photographers, videographers, planners, florists, and venues. Their blog features real weddings with posts titles like:
Budapest Fairytale Wedding at Brody Studios
6 Wedding Cake Ideas for 2020
Lush and romantic Akiin Beach Wedding
But the focus is on photography and for every wedding featured the photographer is named, their portfolio shared, and their personal site linked. This is an absolute gem in terms of finding professional wedding photographers. But what makes it a great photography blog is that each blog post is loaded with amazing photos.
Junebug Weddings is an excellent resource for anyone planning a wedding, elopement, or engagement. It provides a detailed guide on wedding planning and has an amazing compilation of photo galleries, showcasing talented, professional wedding photographers around the world. From this site, you can view the portfolios of well over 100 wedding photographers work in one place. Their blog has informative posts loaded with stunning photos from various weddings across the globe. The blog covers all topics pertaining to weddings. They also have a "Wedding Inspiration" section.
The sections on their site are:
Wedding Blog, vendors, planning, and inspiration,
Photo Contests,
Best Wedding Photos of (2019, 2018, 1017, etc.) featuring 51 photos each year.
You may also like: Best Christian Blogs to Follow.
2. Ramit Batra – Wedding Photographer
Ramit Batra founded his photography company in 2008. They specialize in Indian and Destination weddings. Ramit has photographed over 500 weddings. His style is candid, quirky, colorful, vibrant, and definitely has a wow factor.
Expect to find amazing photos on his photography blog with titles like:
10 Pointers to an awesome pre-wedding Photoshoot
The best wedding photographer in India
Oppo F1S Selfie Expert Camera Phone – features and comparisons
Other blog categories include:
Lifestyle Photoshoot,
Sport,
Best Destination Weddings,
Photography,
Tips and Tricks,
And more.
You may also like: 10 Top Blogs for Women.
3. Rangefinder Online – Best Wedding and Portrait Photo Magazine
This award-winning photo magazine has been going since the 1950s. Rangefinder is a leading online photo magazine that focuses on weddings and portraits. The blog is written by photographers, for photographers. It is also a platform that showcases the galleries of contestant winners for competitions like the Photo Annual Awards 2020.
This popular blog educates and informs about the photo industry. Topics include weddings, proposals, engagements, and photo and portrait trends. They write about destination weddings, travel tips, and posing tutorials. The teach post-production workflow timelines and highlight tech innovations
This online photo magazine/ photography blog has the following sections:
News and Features: Photo of the day, wedding of the week, tips, and techniques,
Weddings and Portraits,
Gear: cameras, lenses, lighting, video formatting, software, accessories, bags, Tripods, storage, hardware,
Magazine – digital archives.
You may also like: What to Blog About – 14 Ways to Choose a Blog Topic.
4. Lin and Jirsa Photography
This premier wedding and videography studio is based in LA, Orange County. Their style is heavily influenced by photojournalism, fine art, and fashion. Their blog has a wall of photos, hover over a photo and the venue and the couple's names come up. The wedding is featured in images, so it is in fact a series of galleries.
The site loads fast which makes it a pleasure to navigate. You'll also find a lot of written information often in a question and answer format. They cover everything you need to know when it comes to taking wedding photos. In addition to this, they also offer a directory of sorts where you can find wedding vendors.
Food Photography Blogs
Food styling and recipe development are the main features in food photo blogs. Blogging about food is a top favorite so it goes without saying that food photography blogs take the cake (pun intended). Warning: Don't read these blogs on an empty stomach!
5. Christina Peters
With blog titles like Need a New Camera, Tired of Chasing the Sun, and No Clue What to Charge, you know this food photography blog is a full package. You can tell immediately that it is going to give you good photography advice and the name, Food Photography Blog tells you straight away you'll be getting great tips on how to take food shots.
For aspiring photographers, it's an absolute gem and for aspiring photography bloggers, it's an excellent example of a successful blog.
Christina Peters has over 25 years of experience in commercial food photography. The website has the following topics:
Blog, Home, Food Photo Gear, Photo Education, Shop, Portfolio, and Resources.
And the blog categories sound exciting too, with the following categories:
Behind the scenes, Food and Prop Styling, Food Photo Lighting, Shooting Techniques, Food Photo Business, Post Production, and Editing Food Photos.
Christina also has a 125-page E-Book available for download at $19.95.
This food photo blog is a 10/10 for sure!
Read more about: Top 40 Music Blogs Of All Time.
6. We Eat Together
A blog dedicated to good food and good photography. Skyler has been traveling! For 15 years Skyler has been traveling Asia, the Middle East, and North America. In his own words, "I'm just a camera-toting, old school explorer who loves real adventures as much as I love real food."
In the food photography category, you'll find tips for taking food shots with your iPhone, the best camera to use, and the best photography lenses to use for food photography.
Skyler offers Food Photography Masterclasses for $456.00. At the time of this writing, he was offering this course for $182.40. He also offers Lightroom courses.
Great articles with great photos. The blog has 4 categories: Food photography, lighting, styling, and guides.
His photography blog is aimed at people wanting to learn. He also offers free resources and guides and has downloadable courses. I realized his blog does not have a subscribe button because he doesn't do mailing lists. It is a change from most blogs and was quite refreshing to not have your screen time interrupted with prompts to get this or that free when you subscribe. He has a downloadable media kit. A media kit is an information package. Media and press kits are vital to your site if you get press coverage, or if you regularly do press releases. It caters to journalists who need to research you. A concise media kit makes it easy for them to access the info you want them to have, all from one place.
7. Use Your Noodles – Anja Burgar
Use Your Noodles is a food blog and recipe website with a focus on stunning food photography, created by Anja Burgar. Anja is an ecology graduate from Slovenia, with a passion for cooking and baking, and photography. Her recipes are wholesome seasonal, and easy to make. Anja also coaches people either online or in person. She has food coaching sessions that run for 3 hours or the whole day.
With an emphasis on healthy and delicious recipes made with fresh, seasonal ingredients, Use Your Noodles offers a variety of dietary options, including vegetarian, gluten-free, and dairy-free. Anja's expertly composed and vibrant food photography is a standout feature of the blog, making each recipe look like a work of art. Whether you're a novice or an experienced cook, Use Your Noodles is a must-read blog for anyone looking for culinary inspiration and practical tips to enhance their cooking skills.
8. Little Rusted Ladle – Jena Carlin
Jena Carlin is an experienced food stylist and photographer. Her blog is laid out beautifully. From the fonts to the theme to the images and content, it is a work of art.
In Jena's own words' "A blog on bringing out the beauty through recipes, photography, and traditions.
Jena lives in the Midwest on a homestead. Her entire blog portrays the lifestyle she has created and showcases the most amazing food shots. You will find recipes, reviews of the best gear to buy, and blog posts with photography tips and advice. It is a great combination of food and photography blog.
Read more about: 10 Top Mom Blogs to visit.
Underwater Photography Blogs
This must be one of the most exciting blogs to start. Underwater photographers have the best of both worlds, literally! Diving and photography go hand in hand with travel, so often these blogs are a stunning mix of photography, travel, and nature.
For soon to be photography (or diving) bloggers out there, this is a classic example of a microblogging niche. If you blogged about underwater photography but only in one location, that would be an example of a nano blogging niche (around 1000 subscribers or less).
9. Underwater Photography Guide – Scott Gietler
This is an extremely well put together blog and site. More than a blog, it is a complete underwater photography guide and online magazine. It is very commercial, in a good way, crammed with an extensive range of excellent content. And despite many ads, which are actually of a high standard, the site loads fast.
The content ranges from thorough and informative guides to accurate up-to-date reviews. Blog categories include:
Photo and Gear News,
Dive Adventure,
Post-processing,
Photo Essay,
Marine Life,
Story Behind The Shot.
Underwater Photography Guide (uwphotographyguide.com) was created by Scott Gietler, who still runs it. Packed with contributors' content as well as his own posts, reviews, and in-depth tutorials. This is an excellent site for anyone wanting to learn about this type of photography.
10. Wetpixel.com
This is a "premiere community website dedicated to underwater photography." It was started by Eric Cheng, in 2001, and it's still going strong. There is a strong emphasis on preserving and protecting the unique and precious marine life depicted throughout.
What's really cool is that many of the contributors have their own blogs and portfolios. That makes wetpixel.com a treasure chest of content for readers who love this photoblog niche. Alex Mustard is just one of many excellent photographers who focus on marine life and write for the blog.
Wetpixel is now owned by Adam Hanlon. The content is rich with news, articles, gear reviews, dive expos, and photo catalogs. They also have a podcast, DiveFilm HD. Learn: How to Start a Podcast.
11. Tonywublog.com
Nice clean blog, no ads, well-laid out. Striking photos displaying his Fine Arts for sale. He also sells stock images. Tony Wu takes small groups (2-8) on diving adventures. It is purely to shoot marine life and is not to be treated like a workshop. The trips are geared for creating an intimate, fun time with a strong focus on the task at hand, whether it be shooting coral reefs or humpback whales.
12. Waterdog photography blog – Brooke Peterson
It is a website created by Brook Peterson, a professional underwater photographer and scuba diving instructor. The blog is a treasure trove of stunning underwater photography, as well as tips and techniques for photographers looking to improve their skills.
One of the standout features of Waterdog Photography Blog is the quality of its photography. Brook's images capture the beauty and wonder of the underwater world, from colorful coral reefs to majestic sea creatures. Her photographs are both breathtaking and educational, offering a unique window into a world that is often hidden from view.
In addition to her photography, Brook also offers valuable advice and guidance for underwater photographers. She covers a wide range of topics, from camera settings and equipment to composition and lighting. Her tips and tricks are practical and easy to follow, making them accessible to photographers of all skill levels.
Another notable aspect of Waterdog Photography Blog is its focus on marine conservation. Brook is passionate about protecting the ocean and its inhabitants, and she uses her blog as a platform to raise awareness of environmental issues. She provides valuable insights into the challenges facing the ocean and offers practical suggestions for how individuals can make a difference.
Overall, Waterdog Photography Blog is a fantastic resource for anyone interested in underwater photography, marine life, and ocean conservation. Brook's passion for the subject shines through in her writing and photography, making this blog a must-read for anyone who loves the ocean and its inhabitants.
Real Estate Photography Blogs
I found this micro-niche and had to add it! Photoblogs seem to have really interesting and lucrative niches. Blogging and photography were made for each other. if you are interested in the best interior design blogs, see my article.
13. MiddleGaRealEstatePhotography.com blog by Robin Gatti and her website
Robin does architectural, commercial, and residential real estate photography. Her house stylings are immaculate, the photos come out so defined and perfectly composed. They have a very sheek, sophisticated finish to them.
She operates from Middle Georgia. The consummate pro, she also markets and promotes her listings on social media. Her website has the blog as a category and when you click on it, it redirects you to the blog site. If you are interested in the best interior design blogs, see my article.
14. Hendricks Photography
Steven is a professional photographer. His website displays his portfolio as well as a blog, and a section devoted entirely to what he can offer realtors looking for professional real estate photos for their listings.
His photo blog has Titles like New iPad Pro announced and Storyteller shoulder bags. But his posts have not been updated since late November 2018.
He specializes in residential, architectural, and commercial real estate photography. He is based in Manhattan Kansas
Best Photography Blogs for Photographers
Now we get to the serious stuff! The following selection of photography blogs are the real McCoy of photo blogs. They deliver so much content both visual and written, that they are great for all types of photographers.
Whether you're a novice, an amateur, a hobbyist, or a pro these blogs are crammed with reviews, tutorials, tips, techniques, advice, and more. Anything you want to find out with regards to becoming a better photographer or how to choose the best gear, these blogs are created to help, inspire, and guide aspiring photographers.
15. Resource Magazine Online (resourcemagonline.com)
Photography Blog for tips, advice, and tutorials.
This online photo mag was founded as a quarterly back in 2007. It is invaluable as a resource for vloggers, bloggers, social media influencers, photographers, and videographers. Under each of the 5 categories, you will find an immense wealth of information on:
Best tripods for landscape photography,
The gear you need to start your photography food studio part 2,
A photographer's guide to the best gear choice,
Professional touch up in photoshop with Pratik Naik,
And so much more.
This is an excellent photography blog on all levels, from content to professional layout, to images, and fonts, this is a winner!
Read more about: Top Male Blogs to Follow.
16. Fix the Photo.com
This is a business that specializes in professional photo retouching and photofinishing. Their photography blog is focused on all things to do with retouching, editing, etc. There are articles promoting specials, tips on how to take great wedding shots, and much more.
17. Digital Photography School
DPS offers—a captivating realm where photographers of all levels gather to unlock their creative potential and connect with kindred spirits. DPS is the welcoming oasis where your photographic dreams are nurtured.
But DPS isn't just about technicalities and gear talk. It's a sanctuary where the human element of photography shines through. Behind each article and tutorial lies a genuine desire to empower photographers, to inspire them to see the world through a different lens, and to capture moments that tell compelling stories.
At DPS, it's not just about perfecting composition or mastering post-processing techniques—it's about fostering a community of passionate individuals who understand the power of an image to evoke emotions, stir memories, and transcend the boundaries of language.
Imagine immersing yourself in this thriving digital village, where photographers from around the globe gather to share their triumphs, learn from one another's experiences, and cheer each other on. It's a place where feedback is given with kindness, where encouragement flows freely, and where camaraderie thrives.
From breathtaking landscapes to intimate portraits, from playful street photography to awe-inspiring wildlife shots, DPS celebrates the diverse beauty of the world captured through countless lenses. It embraces the human connection, the shared experiences, and the universal language that photography speaks.
18. Envira Gallery Blog
This is actually the website of a gallery plugin, responsive, and created for WordPress. But they do have a blog and the articles deal with digital photography, tips, and tutorials. A helpful site regardless of whether you want to purchase the plugin or not.
19. Photography life
Best Photoblog for Tutorials and Workshops.
This blog is all about educating photographers who want to improve their craft. They offer workshops for beginners as well as workshops on landscape, portraiture, and wildlife photography. You will find tutorials on post-processing, aperture, shutter speed, and literally everything else you need to know. The blog offers, articles, news, and reviews.
The founder, Nasim Murakov, and co-founder, Spencer Cox, run this blog with the help of a dedicated team of professional photographers. Tutorials extend to topics like Composition and Art to Essays and Inspiration.
This is an awesome photo blog with everything you need to know in one place.
20. Fstoppers
Best Community-Based Photoblog.
Fstoppers.com is geared towards the photo community. They offer great articles and tutorials but the main drawcard is the community group. Here photographers can submit their work and get critiqued by the Fstopper community. Within the online community are groups you can join. From cityscapes to swimwear, to long exposure groups there is something for everyone.
There are always contests on the go. The latest was a community critique contest. The theme was Design. Photos needed to have a strong sense of color, visual flow, and purpose. Photographers submit their work based on the theme and the community vote.
A nice interactive photoblog, very community based compared to other sites.
21. Feature shoot
Best Photo Story Blog.
This blog is superb! The blog articles are a collection of photo stories interspersed with text. The subject matter is unique and very interesting, made even more so by the brilliant images that go with the feature. They run a competition called The Print Swap, contestants get chosen and get a professional print from another photographer, to keep, giving one of theirs in exchange. They also get a chance to be exhibited at the BBA Circle gallery in Berlin. This photography blog stands out because it is aimed at professional photographers who want to exhibit their work, as opposed to many other blogs that are focused on teaching.
22. Slrlounge.com
This blog was started by Pye Jirsa ( of Lin and Jirsa Photography) The blog is super tight and crammed with well-written educational, and informative content. What makes this blog unique is that every single tutorial and workshop has been created and designed by Pye. He gives invaluable resources, most of which are free. This is a one-stop-shop type of blog because it literally contains everything you need to know about taking good shots.
The workshops have titles like Lightroom Presets and Photography Business Training. The blog has a mix of categories from Poses, Photography News, Cinematography, and Social Media to every type of photography that has been mentioned. They offer scholarships and information vital to photographers that want to run their own businesses. There is information on everything, how to fill in forms, what to charge, and much more.
23. Creativelive.com
Creative Live is the brainchild of Chase Jarvis, a world-renowned photographer, with his own site, chasejarvis.com. This blog is geared towards educating but it goes beyond just taking good shots. You will find loads of content based on self-improvement and motivation.
During the COVID crisis, he set up a 24/7 live TV channel for free and created an interactive platform for viewers. The channel features much more than photo news. You can catch cooking, health and wellness classes, and much more!. Again the focus is not only on photography but is centered on inspiring and motivating people to do their best and stay their best.
But just like the other excellent photo blogs, creativelive.com is packed with educational info, great tips and reviews, and practical advice on taking photos.
Wildlife and Nature Photography Blogs
There is nothing more breathtaking than photos capturing a moment in nature. Whether it's an insect drinking from a dewdrop, a majestic mountain range, or an action shot of a lion bringing down its prey, wildlife photos evoke feelings of wonder and awe.
The following photography blogs are comprised of professional photographers, like Richard Peters, who take photos for a living but also hold workshops and teach. You will find great reviews, tips, and tutorials on these blogs. As well as absolutely stunning photographs.
24. Richard Peters Photography
Peters is a world-renowned photographer, twice winning Wildlife Photographer of the Year. Originally from Surrey, UK, he travels extensively working as a freelance wildlife photographer and a Nikon Ambassador.
His website has the following categories:
Workshops,
Prints,
Book,
Blog,
About.
His photography blog has 4 categories: All, News, Reviews & Tips, and Wildlife.
The Workshops are held on location. Shoot bears in Finland (with a camera, of course!) Travel to Namibia for desert safaris. Or immerse yourself in a Lightroom Workflow workshop. Prints are available to buy, as are his books. And his blog is informative and professional, but still personal. Excellent blog.
25. Visual Wilderness
This is a blog geared at teaching people to photograph wildlife. The four team members that makeup VisualWilderness.com are all avid photographers who enjoy sharing their combined wealth of knowledge as well as their amazing art.
The blog categories include:
Composition and Creativity,
Equipment and Fieldwork,
Questions and Answers,
Travel and Seasons,
Business of Photography,
Post Processing.
Whether you join in on a free webinar, a free creativity tutorial, or subscribe to join this 45,000 strong community of nature photographers, you'll find loads of resources at your fingertips. The blog is filled with articles on how to take great nature and landscape shots, as well as how to make money from your photos and how to start a photography business.
26. Tusk Photo
This website features 5 professional wildlife photographers who organize photo tours for people, mainly in Africa. Although they also offer a tour in Asia and a few in South America. The blog consists of journal-type entries from various tours taken.
27. Wild Eye
Imagine stepping into a world where the untamed majesty of nature and the captivating allure of wildlife come to life before your very eyes. Welcome to Wild Eye, a sanctuary where the art of wildlife photography merges seamlessly with a deep respect for the creatures that inhabit our planet.
As you venture into Wild Eye, you'll embark on a journey guided by passionate photographers who have mastered the delicate balance between artistry and ethical wildlife encounters. They invite you to witness the wonders of the natural world through their lens, capturing moments that stir your soul and ignite a sense of awe.
Wild Eye is not just a blog—it's a portal to immersive storytelling, where every photograph tells a story, and every story paints a vivid picture. It's a place where the delicate dance of light and shadow, the fleeting expressions of wildlife, and the vibrant colours of the earth blend harmoniously, creating a tapestry of beauty that leaves you breathless.
28. Show Me Nature (showmenaturephotography.com)
Jim Braswell is the photographer behind this wildlife photography blog. He's based in Missouri, USA. His blog is literally jam-packed with beautiful photos. His website has his portfolio, gallery, blog, services, and about sections. He has spent many hours taking photos from a kayak.
What's cool about this blog post is that he lists the equipment used for the shot as well as the shutter speed, ISO, aperture, and lens used. His blog is personal and filled with anecdotes on each photo he took. There are over 2000 photos in his blog archives. Jim also sells stock photos.
He offers workshops on how to take better photos, how to take photos in nature, and also on Lightroom and Adobe Photoshop training.
Travel Photography Blogs
Travel photographers really do seem to have the best life. Traveling to exotic locations and experiencing sights, smells, and sounds across the globe. They are very much like wildlife photographers except that their photos feature buildings and people as well as nature and wildlife. It's hard to separate travel photo blogs from travel blogs. But in this case, I went with the blogs that had well-written articles and great photos. And they don't necessarily focus on giving photographic advice as much as travel advice.
Let's take a look at some outstanding Travel Photography Blogs.
29. Kirstenalana.com
Kirsten is a travel photographer that travels for work, snapping shots worldwide. Her portfolio is filled with beautiful imagery. From architectural feats to humble market vendors, from stills to landscapes, her site is one to behold. Kirsten's press kit is prolific. Her blog posts are rich with text and resources, her mission statement: To tell visual stories that are socially conscious and environmentally responsible.
Some blog titles on her blog are:
7 Reasons to visit San Francisco in 2020.
Dia de Muertos: what is it and how to experience it in Los Angeles.
How you can help the Bahamas recover from Dorian.
You may also like: 29 Best Awesome & Amazing Health Blogs.
30. The Wandering Lens – Best Travel Photography Blog
Lisa Michelle Burns has outdone herself with this fantastic travel photography blog. It is a travel guide and a guide on how to take photos while traveling. She organizes travel photo workshops and gives great photo tips.
She has her own site where she has her full portfolio on display. But the Wandering Lens is totally focused on the photos taken while traveling. This is my favorite blog in this microblogging niche. It is well worth a closer look, especially if you want inspiration to unite photography and travel.
31. Farfelue
Faye Bullock fell in love with photography when she moved to France, to study. These days she is a professional travel and portrait photographer, a travel writer, and social media consultant.
The categories on the site are:
About,
Destinations,
Type of Travel,
Eat and Sleep,
Map,
Let's collaborate.
Each section has photo after photo of the places she's been. Under destinations, you'll find a list of countries and then each country has a set of photos, accompanied by writing. This is a great example of a working travel photographer's blog.
Street Photography Blogs
So street photography is not what it says it is! You will not always find pictures of the street, or even pictures of people standing in the streets. Street photography is also called candid photography and focuses on capturing shots that at first glance seem random and spontaneous.
Street photography is about art. It is a niche within the photo blogging genre. Street photography can be exciting and raw, often the subject is unaware they are being photographed. This gives street photography a completely different feel to photos that are styled or posed for. Here are some great examples of street photography blogs.
32. Burnmagazine.org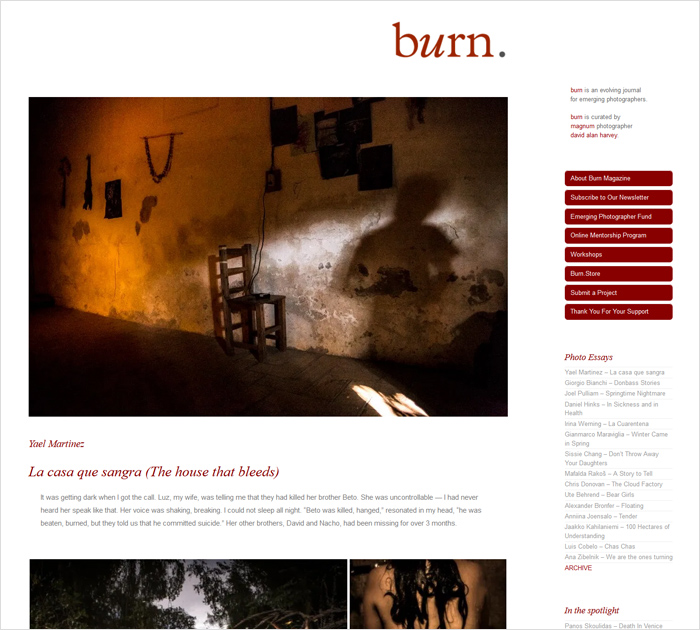 Burn is curated by David Alan Harvey and he describes it as an evolving journal for emerging photographers. As such this online photo mag has photo essays as opposed to blog posts. The stories and photos are riveting. Well worth a look. The other archived categories include Road Trips and In the Spotlight.
David runs workshops, the last one took place in Puerto Rico. Another facet of Burn is the ongoing support they offer emerging photographers. Aspiring new talent can submit projects and they have an emerging photographer fund where the winner is awarded $10,000. Another $10,000 award is given to Young Talent sponsored by Fuji film.
33. American Suburb X – Best Street Photography Blog
Brilliant! Described as An Epicenter for Art and Photography. This blog contains a vast collection of artistic photography, it is the epitome of street photography. Their blog posts are in-depth, intellectual, and interesting. This is a rare find. I love this site so much! The best way to describe it is to urge you to take a look yourself, you'll see what I mean.
Under the Art and Photography section, you'll find categories like:
Contemporary Photography,
Photography,
Photojournalism,
Street Photography,
War Photography,
Painting,
Works on Paper.
There is a section with interviews (sorted into photo books), another with book and show reviews, and an entire section of Galleries, to be perused at your leisure.
34. Invisible Photographer (invisiblephotographer.asia)
Kevin WY Lee is instrumental in getting aspiring Asian photographers up and running. He offers mentorship programs as well as workshops. His own body of work is fantastic. Under the heading "Blog" you will find street photography shots as well as well-written articles. A glimpse into Asia's photo scene. Really cool!
35. Street Snappers
News, views, and insights from the world of street photography.
Streetsnappers.com was founded by Brian Lloyd Duckett, a photojournalist who fell in love with street photography early on in his career. It later turned out he had a passion for teaching too. And streetsnappers.com is the platform he created to bring the two together.
It's a successful site and blog, and as such he has a team behind him helping to run his many workshops and projects. Blog posts are regular and frequent. A nice, active blog.
He runs workshops with titles like:
Night shooting,
Urban Landscape,
Portfolio Review,
English Seaside Project,
Venice Workshop,
Weekend Masterclass.
His blog has titles like How to Shoot Street Portraits, The Best Lens for Street Photography, and Camera Settings for Street Photography.
Portrait Photography Blogs
This is another niche within the photography blog niche, portrait photos. In this age of "The Selfie" portraits may have lost center stage. But these following blogs are making sure it ain't so!
36. On Portraits
This is a community website for photographers who focus on shooting portraits. They offer tips, and tutorials as well as lessons on post-processing, lighting, posing, and editing.
You'll find blog posts with titles like:
How to use wide-angle lenses for portraits,
Inverse-square law in photography (in plain English),
Editing problem portraits in Capture One 20.
On Portraits has an impressive 17,000 monthly readers in 183 countries.
37. The Portrait Photographer Blog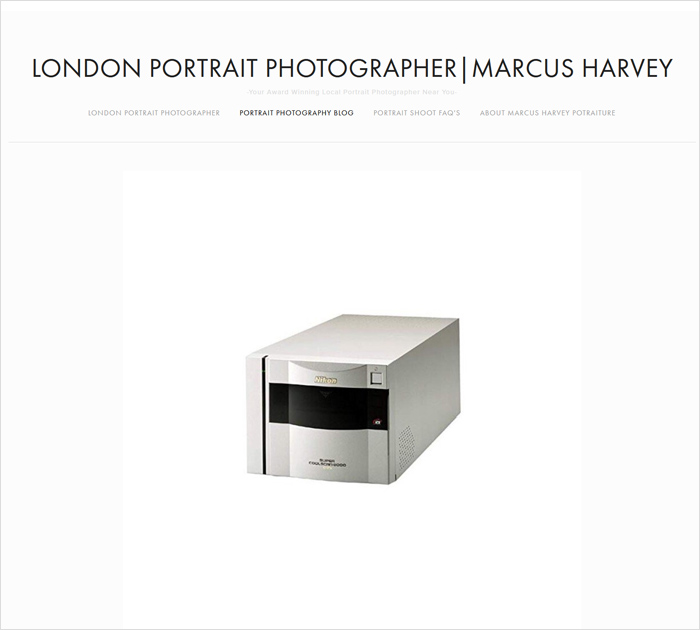 This is the blog of Marcus Harvey, a London-based portrait and headshot photographer. His blog showcases his portraits. Words are sparse but he does give tips and advice throughout. As with all types of photography, taking portrait photos requires the photographer to focus on aspects not needed when taking other types of photos. And Marcus Harvey's blog showcases portraits spectacularly.
Stock photography blogs
Stock photography is a huge online marketplace for buying and selling photos. Photographers can sell their "stock" by submitting their shots to various stock photo agencies. When people need images for the content they choose what they need and pay a small fee. They don't buy the rights to the photo, they just pay to use it.
Well-known sites like Getty Images and Shutterstock are good examples of stock photo agencies. The stock photography blog I have chosen is not quite the same. This photography blog is aimed at photographers looking for advice on how to market their work and how to take great stock photos.
38. Microstock Man
This is the go-to blog for anyone wanting to take stock pictures and sell them. The site has two main categories:
Learn To Sell,
Shop For Stock.
This blog has excellent reviews on other photo stock blogs as well as a great library of resources for people interested in selling and/or buying stock images.
In Conclusion
I hope these 38 blogs will inspire and help you get where you want to go. If you want to learn to take photos or exhibit your work, or if you want to start your own photography blog, I hope you have enough info now to take the next steps.
Happy Snapping!