Today travel is as easy as one, two, three. The biggest set back is that we are spoilt for choice! But travel blogs make these choices easier by sharing tales from the road to reviews on the best places to stay to what to expect from the locals. Travel blogs remain firmly in the top ten slots of most popular blogging niches. Today we look at who travel bloggers are, what successful travel blogs look like, and whether you think this blogging niche is for you?
Travel bloggers take on many shapes and sizes from digital nomads, backpackers, photographers, and writers, to chefs, venture capitalists, and modern-day adventurers, the list goes on. These adventurous souls make traveling a lifestyle choice. And it makes sense that travel blogs stay so popular. Travel bloggers give those of us who want whimsy from the comfort of our couches, a beautiful daydream of what it is to "Live on the Road". But they also offer a service.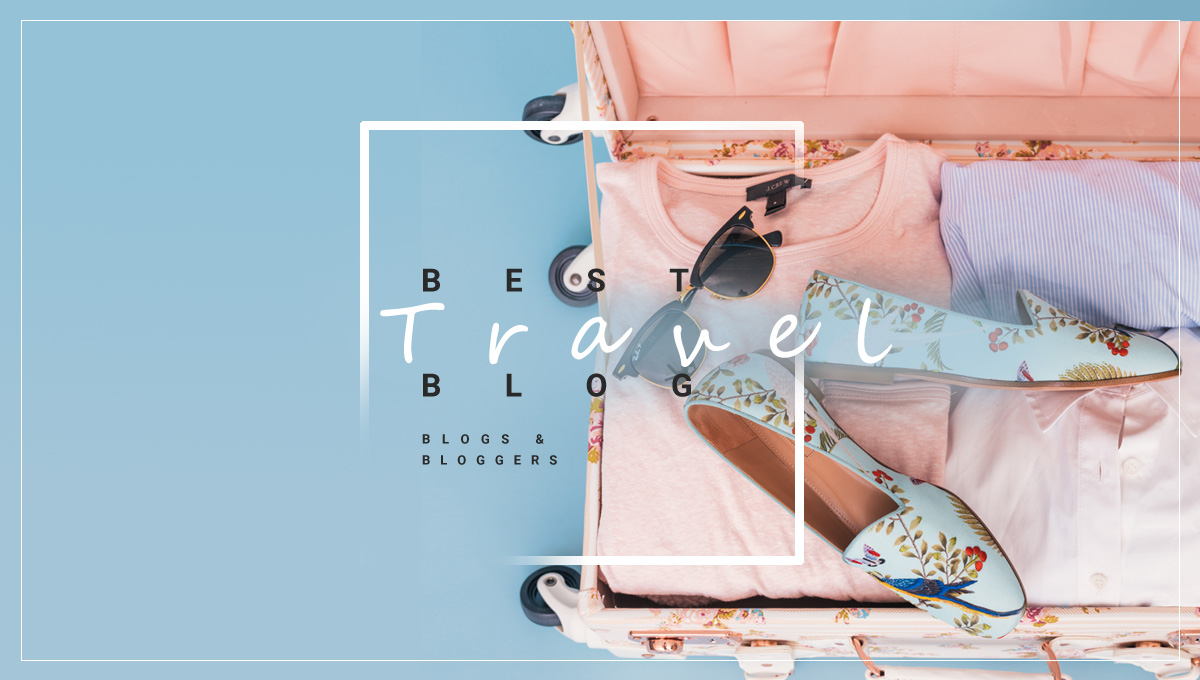 What Content Do Travel Blogs Cover?
Places Reviews
Many travel bloggers travel and review the places they stay in, the restaurants they eat in, and the local attractions that make any vacation all that more interesting. Many travel blogs are presented with the same professionalism that you would get from picking up a Vacation, an American Road magazine, or a National Geographic.
Travel Guides
Travel blogs act as guidebooks on where to book flights, trips, and tours from. They give prices and advice on the best way to get from A to B. Some travel bloggers have formed partnerships with travel agencies and booking offices and make extra revenue through affiliate marketing. This means they can offer their audience special offers and discounts.
Other travel blogs are more like personal blogs that record the daily lives of these intrepid travelers. These blogs are often accompanied by a vlog or podcast. And stunning photos. Many travel bloggers have Patreon accounts and offer their audience extra content at a small additional fee.
The goal of most bloggers today is to create a blog that they are passionate about. But they also want to get enough traffic through their site in order to create passive streams of income. Travel bloggers are no different. Besides the advice and recommendations, they often sell travel gear in the capacity of an affiliate marketer. Travel gear covers everything from camping equipment to ski accessories, surf apparel, and snowboard gear to photographic equipment. This helps them to finance the running of their travel blogs, and it keeps them traveling. If you want to learn how to make money blogging, or how to make money online check out my articles.
The most popular blogs about travel are ones with great photos. A good picture transports a visitor to the site, into that world where the picture was taken. So often travel blogs are for the pure pleasure of seeing the beauty of the world around us, through the lens of a traveler.
Can I Start a Travel Blog Even If I Don't Travel?
This is a good question. Of course, you can! Perhaps you have traveled extensively before, or maybe you just love the idea of finding new places, experiencing new cultures and tasting exotic foods. If your passion for travel is there, you will always be able to create good content for your audience. You could even network and offer travel bloggers the opportunity to cover certain topics as guest bloggers. "A Luxury Travel Blog" is the perfect example of a travel blog like this.
The aim of every blog is to create good content. So whether you are sitting under a tree, or blogging from an office desk it makes no difference. Deliver content that is helpful, entertaining, accurate, and light-hearted, with a dash of humor and you'll be A-for-away!. As long as you are offering your core audience what they want, you will get your blog to grow over time.
Who Is The Target Audience For Travel Blogs?
Whichever blogging niche you choose, it's important to identify who you are writing for, so you can create content specifically for the micro-niche within your chosen niche. Travel blogs are very similar to lifestyle blogs, in that they cover a wide range of topics. Travel blogs cover everything from places to stay, foods to eat, recipes to make, places to see, things to do, and people to meet. You will find a blend of food, travel, photography, and practical advice. And the target audience can be quite broad in some cases.
Small groups of niche audiences
Some travel blogs are geared towards solo female travelers. Others are aimed at solo male travelers. There are travel blogs that focus on family travel and RV travel. Other travel blogs focus on road trips within the States, road trips abroad, camping vacations, walking vacations (yes that's a thing), cycling holidays, sailing getaways, traveling by cruise liner, traveling on a budget, traveling in style, traveling with a friend, or a bunch of friends. Snowboarding, surfing, skiing, kite-surfing, and even kayaking holidays are extremely popular. All the people who gear up for these unique holiday experiences form small groups of niche audiences that travel bloggers can cover with ease.
If the travel blogger loves photography, you may find excellent advice on how to take travel photos. If the travel blogger loves food, you may find that blog sprinkled with delicious offerings from around the globe. Or if they travel as a lifestyle choice, you may find good reviews on RV's, sailboats, camping gear, and a whole host of other practical guidelines.
There is going to be a travel blog to cover all these topics. And if there isn't well, then you have found a perfect gap for creating your own niche within the travel blogosphere.
If you are reading this for travel tips and ideas, enjoy! And thanks for being here.
What Makes A Travel Blog Successful?
But if you are reading this for inspiration to start your own blog then pay attention to the following areas in each of these featured Travel Blogs.
What do the layouts have in common? The layout should feel spacious and organized. Is the About Page informative and authentic?
Does it have a catchy title? Does the title translate well into a domain name?
Can you read it across multiple devices? The theme must be responsive to and cater to mobiles, tablets, PCs, and laptops.
Look at what each blog focuses on. Who is the target audience?
Is the blog monetized? If so, how is it monetized?
Can you see yourself blogging about travel for the next five years, at least?
Travel blogs are popular because they cater to everyone that wants to travel as well as those who just want to indulge in the fantasy of travel!
So without any more fuss, let's check out these best blogs – 32 brilliant Travel Blogs.
List of best travel blogs
1. Legal Nomads
Jodi Ettenberg was a practicing lawyer when she decided to take a whole year to rest and travel the world. After saving up, she embarked on her journey, only to never go back home to practice law. Then her blog Legal Nomads was born. She documented the experience for those who knew her so that they could also have a taste of her travels virtually.
The exciting part of Jodi's experience is that she developed the blog to also share about food. She believes that food has a way of bringing you closer to the people of a place as well as their culture. It also reduces the chances of sickness during travel because you are aware of what exactly you're taking in.
She is passionate about finding the right food for people with celiac so you can get gluten-free restaurant cards on her blog. A celiac, Jodi has also developed a long list of gluten-free guides based on her travels, to help other celiacs travel safely around the world. Also, she offers travel tips and resources.
Her travel blog has been featured on so many renowned platforms- the New York Times, National Geographic, The Guardian, Fast Company, BBC Travel, CNN, and more. Legal Nomads has also bagged several awards: multiple Lowell Thomas Awards and North American Travel Journalism awards for writing and photography.
Read more about: 29 Best Awesome & Amazing Health Blogs.
2. Expert Vagabond
The blog – Expert Vagabond is the creation of a guy called Matt (full name: Matthew Karsten). His story is not far from Jodi's of Legal Nomads. He has a degree in Business, but he one day decided that he would save up, sell his possessions, and leave the US for a year. A year turned into 9, and he has never looked back ever since. He bought his ticket to Guatemala, and that was it!
He says he aims at teaching people how to make memories rather than collecting possessions. Matt shares his experiences through photography, videos, and articles.
On his blog, he shares on his travels to different destinations: Africa, Asia, the Caribbean, Europe, Middle East, North America, and the Polar Regions. He also features travel resources and tips.
Besides that, he talks about how to find cheap flights, to book cheap hotels, the right travel gear you need to get as well as travel safety tips.
On many blogs, not only photography blogs, the image is a very important part of the message. Photography is often a passion for travel bloggers. In light of this, Matt features photography tips, giving you ways in which you can take better photos. He also reviews the best travel cameras you can get.
Matt helps you get more for your money by giving out useful travel hacks to save money and travel on a budget. He shares how to get travel jobs, and how to get paid for traveling.
Read more about: 14 Best DIY Blogs.
3. Dan Flying Solo
The author of this blog – Dan, left his restaurant job, picked up his camera, and went to see the world. Today, his travel blog, DanFlyingSolo.com, offers inspiration on places to visit around the world.
He takes photos, videos, and writes articles on his experiences, giving you a comprehensive account on tips and lessons he's learned along the way. His blog is big on Asia, Europe, and Oceania's travel guides.
Read more about: The Best Male Blogs.
4. The World Travel Guy
David began traveling in 2016. Iceland was the destination of his first international solo trip. Within a month, with a small budget, he traveled 7,000 kilometers, filming all of the scenic places in Iceland. In the same year, he traveled around Colorado for 2 months, driving almost 10,000 miles to capture a full-length drone video there. You can watch it on his YouTube channel.
For several years, David has been making travel videos that have accumulated over 10 million views on well-known sites such as UNILAD Adventure and Must Do Travels. He currently lives with his wife in Bali.
You may also like: Top 40 Music Blogs Of All Time.
5. Amateur Traveler
Chris Christensen began his adventure by creating podcasts in 2005. I think he was one of the first people to do a podcast at the time :). The Amateur Traveler blog was only created two years later. It became a great addition to the podcast series mainly because it offered young travelers movies, travel photos, and lots of useful content.
As a result, today, at amateurtraveler.com, you'll find the award-winning travel blog and podcast that will help real travelers plan real trips to their own backyard or around the world.
Here you will find content that will help you plan your trip, save money, or tell you where to go. And also information for people just starting to travel, such as the Travel 101 list.
6. A Broken Backpack Travel Blog
The author of this travel blog is Mel. Melissa Giroux comes from Quebec, Canada, and began her adventure in 2014 by starting her journey around the world. This energetic, smiling woman not only travels but primarily lives in places she writes about. She spent two years in Australia, a few months in Southeast Asia, then a year in the UK, in Bali, and now lives in Bulgaria. That is why, on her blog, you will also find advice for travelers on how to find occasional work to survive and be able to travel further. These are the main reasons why I put A Broken Backpack on my list of the best travel blogs.
7. Under30Experiences
A travel blog for millennials. This travel blog is aimed at group travel for 21-35-year-olds. They offer a community-based experience. You can choose from destinations in the USA, Central and South America, Asia, Oceania, and Europe. Also, you will find deals and bargains on the site. You are also encouraged to meet others from the U30X. So whether you want to travel alone, in a group, or book trips with friends, you will find this a very interactive travel blog.
Trips on offer range from hiking, kayaking, mountain climbing, and more. The trips are arranged as 5-day excursions or longer. Using this site and this community is a great way for first-time solo travelers to "break-in" their travel vibe and gain some confidence before going totally solo.
You may also like: The Top 13 Survival Blogs
8. The Barefoot Nomad
Travel, Tech, Family, Fun. This is what you can expect to find on The Barefoot Nomad's Travel and tech blog. Charles and Micki Kosman are two adventurous Canadians traveling the world and blogging about it. Their blog is full of reviews, awesome articles, travel tips, and photos.
These days they are joined by two tiny Kosmans. They have seen over 40 countries together, and now that they have their own family, their travel blog includes great advice for family travel as well as solo travel. See travel advice on places across the globe.
You may also like: Best Tech Blogs
9. Nomadic Boys
Stefan and Sebastian met and fell in love in 2009. Both based in London at the time, they set up house but realized they both had the urge to travel. They saved up and in 2014 began their "serious travels".
Their first 18-month trip saw them touring Asia, the second 18 months it was Latin America. They discovered gay bars in places where being gay is punishable. They sampled foods they had never heard of before. And made friends for life with many others in the gay community across the globe. Their blog has stories to tell, and places to stay at. With a fair amount of great photos too! They chose not to boycott countries that were anti-gay. And felt it was a great way to help other gay couples wanting to travel, by sharing all the ins and outs they experienced.
After 5 years of traveling non-stop, they settled in Cyprus, to get their blog going. They still travel but take shorter trips. A great travel guide for the LGBT community.
10. Followtheboat
Liz Cleere is a travel writer, Jamie Furlong, a photographer. Together, they travel the world by boat. Their blog is about travel more so than sailing. and their story starts in 2004. They bought Esper, their yacht, in Turkey and spent 3 years on the Aegean, between Greece and Turkey.
You can follow them by blog, YouTube channel, and Patreon. In 2010 they spent time in Sinai, on the Red Sea, and along the eastern Mediterranean, finally sailing the east coast of Africa, to places like Eritrea, Sudan and Yemen. From the Gulf of Aden they made their way across the Arabian Sea to India where they stayed for three years before heading to SE Asia.
This travel blog is a great example of how Liz and Jamie use Patreon to fund part of their travels. They also host FTBMates, their own support forum, through their website. Supporters get gifts like t-shirts, exclusive content and one-on-one conversations. It's a good example for other inspired travel bloggers to take notes from.
11. A Luxury Travel Blog
This travel blog shows the contrast between a travel blog that is personal like Walkaboot or A Blog Abroad or The Travel Episodes and one that is more a business blog. The other main difference is that this is a luxury travel blog as opposed to budget travel which is often a key point with digital nomads and other travelers traveling on the cheap.
This blog is crammed with informative short articles on places all over the globe. The creator/founder of this blog, Dr. Paul Johnson, has achieved numerous awards for Best Travel Blog. He has over 700 contributors, writers, and guest bloggers helping him.
Paul is experienced in the tourist industry. As an experienced businessman, he sets up the blog to appeal to anyone who wants the convenience of doing everything through one site, as well as for those wanting a more upscale, pricier type of travel.
12. The Poor Traveler
If you've always wanted to travel the world, but you find yourself lamenting about how you have no money, this is one of the blogs you should check out sometime.
The Poor Traveler offers diverse content from different travelers who are on a budget around the world. A prominent perk from this is that you will get to see travel from various perspectives. You will be shocked at how people are traveling with just enough to get by.
The blog aims to document the misadventures of two buddies, Vins and Yosh who give tips on budgeting so that other travelers can have better adventures.
You may also like: Sports Blogs That Will Inspire and Motivate
13. Nomadic Matt
His goal is to help travelers to get to destinations better but with less. With travel experience of over ten years, Matt is in a position to give sound travel advice on matters ranging from packing, insurance, vacation ideas, how to get the right travel backpack, preparation tips, travel scams, and more.
Featured on CNN, Times, National Geographic, The Guardian, and several other platforms, Nomadic Matt continues to be a point of relevant travel information and inspiration to travelers as well as those who are looking to travel. Impressive features on this blog include a couple's travel, female solo travel, and family & senior travel.
You may also like: 25 Best Graphic Design Blogs.
14. Hand Luggage Only
Yaya and Lloyd started the blog while at the University of Cambridge. They loved to travel and photography and so they wanted to see what travel was like in the eyes of other travelers and to have conversations around the journey with them. So they put up their travel posts on their blog and voila! Hand Luggage Only was born.
On their blog, they offer travel advice and inspiration. You can visit the travel journal for documented travels. Food and hacks are also exciting features on the blog.
15. Mapping Megan
It is a captivating travel blog created by Megan Jerrard, an Australian adventurer and travel writer. With a deep passion for exploration and a love for off-the-beaten-path destinations, Megan's blog offers a diverse range of travel experiences, cultural insights, and practical tips for globetrotters.
Megan emphasizes the importance of respecting local cultures, supporting communities, and making a positive impact on the places visited. Her blog encourages travellers to be conscious of their environmental footprint and to travel with empathy and mindfulness.
Megan's blog features a mix of personal travel stories, destination guides, and breath-taking photography. Her engaging writing style and candid narratives draw readers into her adventures, allowing them to experience the world through her eyes.
Mapping Megan is not just a travel blog; it's a platform that promotes cultural exchange, personal growth, and a deeper understanding of the world. Megan's advocacy for responsible travel and her commitment to embracing diverse cultures make her blog a source of inspiration and valuable insights for travelers seeking meaningful and transformative journeys.
16. Maptia
This site is inspiring. It brings together the stories of different people and communities. Maptia works with writers, photographers, fashion designers, art directors, and conservationists to use storytelling to bring out the beauty of the world, its challenges, and to give inspiration. It is an impact-centered and informative project that empowers the world to be better.
Maptia features inspiring stories from around the world that are under the editor's picks. They also show a 7-day series of short stories in a segment dubbed journeys. A quick glimpse at the stories and photos on the blog will genuinely inspire your travel spirit.
You may also like: 10 Best Fitness Blogs.
17. Adventurous Kate
Seventy-seven countries and seven continents. That's where and how far Kate has traveled. Similar to the stories of most full-time travelers, she also quit her job to travel and has never looked back. Kate aims at showing the world that it is easy, safe, and fun to travel the world even if it is solo travel.
With no particular inclination to specific topics she blogs about, you can get just about any piece of travel advice on her blogs. Adventurous Kate also tells of her travel adventures in fascinating and engaging ways.
18. Migrationology
Food and travel: Mark Wiens is waiting for you to name a better duo. For him, there's no better way to understand a place and its people than exploring their food. It's the perfect combination of a food blog and a travel blog.
His blog is made for people who appreciate both food and travel. If you're wondering if some food you're trying out is traditional and authentic, chances are he has already covered it on his blog, especially for Asia. Mark currently lives with his wife Ying in Bangkok. Together, they frequently travel the world for food.
Mark's travel blog is also instrumental in providing city guides. Above all, a visit to Migrationology will give you enough inspiration to travel: food.
19. Backpacking Matt
Among the best travel blogs on my list, there can be BackpackingMatt.com. What captivated me in this blog is fantastic positive energy and beautiful photos. Until you want to throw everything, pack your backpack, and hit the road.
Matt is a guy from Iowa who came to New Zealand in 2010, like he says one of the most beautiful places in the world and unexpectedly lived here permanently.
His blog mainly focuses on discovering New Zealand, but not only. You'll also find tips on how to travel around the world, stories of adventures and explorations, travel reviews, and inspirations for travel. Through this blog, Matt shares his fascination with beautiful New Zealand and an unconventional lifestyle.
20. Spin the Globe
Sylvia Longmire is the author of Spin the Globe. After being diagnosed with multiple sclerosis in 2005, this Air Force veteran refused to let MS define her. She has also refused to let her wheelchair confine her. Sylvia has visited 54 countries, 43 of those as a wheelchair user, and 34 of those by herself. Her mission is to share information about the accessibility of her destinations with fellow wheelchair users around the world and inspire them to explore the world around them. She only writes about destinations she has personally visited, and as a result, provides only authentic and reliable information about a location's wheelchair accessibility.
Sylvia's writing about wheelchair accessible travel has been featured in The New York Times, New Mobility magazine, on Lonely Planet, and the Matador Travel Network. In November 2017, Sylvia published her first travel photography book, The View from Down Here, and The View from Down Here II was published in January 2019.
21. The Planet D
It is an acclaimed adventure travel blog created by Canadian couple Dave Bouskill and Debra Corbeil. As two avid explorers and photographers, Dave and Deb have dedicated their lives to traveling the world, seeking epic adventures, and capturing breathtaking moments through their lenses.
What sets it apart is its focus on immersive travel experiences and adrenaline-pumping adventures. From trekking through remote landscapes to engaging in thrilling outdoor activities, the blog inspires readers to step out of their comfort zones and embrace the world's natural wonders.
Dave and Deb's blog features stunning photography that transports readers to far-flung destinations, igniting wanderlust and a sense of wander in anyone who stumbles upon their site. Beyond the awe-inspiring visuals, their detailed travel guides and practical tips provide valuable insights for travelers planning their own adventures.
This Blog showcases not only the grandeur of nature but also the resilience of the human spirit. Dave and Deb share inspiring stories of overcoming challenges and pursuing their dreams, making their blog more than just a travel diary – it's a testament to the power of exploration and the pursuit of passion.
22. Flashpacker Family
There are many travel blogs for solo travelers and millennials, and those wanting to travel on a budget, or in style. But there aren't that many travel blogs that focus on traveling as a family. Enter The Flashpacker Family! This is the best mom blog for the whole family.
The Flashpackers are a family of four. One mom, dad and 2 kids. The blog has four sections: Traveling with kids, tips and travel planning, destination guides, and packing tactics. Their about us page gives more info about each family member and the focus is one how to travel with kids, on a budget.
You may also like: Best Christian Blogs to Follow.
23. A Backpacker's Tale
Stephen Schreck has a very personable travel blog. He was inspired to keep traveling after he landed in Ireland for the first time, in 2006. And the bug bit. He reckons the combination of curiosity and restlessness makes the best travel buddies. He has the curiosity to see and experience and learn paired with an inner urge to not stay in one place too long. Wanderlust, that's what it is. The write-ups in his blog are genuinely interesting, especially to people who like to travel and learn about new places in the world.
His blog has an awesome section on travel resources. A travel resource section is a great way to market certain brands he is affiliated with. Using resources that come recommended help other backpackers and travelers save time and disappointment going with brands that may not be so legit.
24. The Travel Hack
Oh, let me spill the beans about The Travel Hack – it's like having a secret treasure map to the most incredible travel adventures! Picture this: you stumble upon a mystical portal, and the moment you step through, you're transported to a world of wanderlust and enchantment!
Monica Stott, the mastermind behind The Travel Hack, is like a travel wizard, conjuring up the most epic and family-friendly trips that you could ever imagine. She's got the inside scoop on how to make the most of your adventures without breaking the bank – it's like she's got a magic potion for budget travel!
But wait, there's more! Monica has this incredible power to sprinkle her travel spells on the whole family! Whether you're traveling solo or with the whole tribe, The Travel Hack's got you covered with tips for family-friendly fun, including all the tricks to keep the kids entertained and happy.
Her blog is like a spellbook filled with captivating tales of wanderlust, heartwarming family moments, and the most jaw-dropping destinations. You'll find yourself under her travel charm, feeling inspired to pack your bags and set off on your own epic quests.
25. Walkaboot
This is a really cool travel blog. It is focused on the places Kim has traveled so far. Travel with her through London Ontario, St Thomas Ontario, Windsor Essex County, Norfolk County, and Canada, Mexico, South, North, and Central America, and don't forget her passion. Disney. The blog has great reviews on all these places, as well as awesome photos, and informative posts. It makes for a really good place to find tips and offers on places to stay.
Kim also teaches others how they can become travel bloggers, and travel all year round like she can.
It's a refreshing travel blog as it focuses on places less traveled but familiar to her. And it makes you want to visit those places. In my eyes, that's a good travel blog. It's a great example of a niche blog as it caters for people who want to go to Ontario or Texas. But Kim has traveled extensively through all the Americas. So this blog is definitely one that stands out. She also does Disney in a big way. And it adds to the unique feel of this blog.
26. Global Help Swap
Totally geared towards sustainable tourism, this travel blog evolved from a passion to promote free volunteering. But Karin and Paul were left disillusioned by many experiences that were more geared towards exploitation than anything else. This motivated them to seek out the responsible way for people to travel and benefit the places they travel to, instead of adding to the problem.
A beautiful travel blog, amazing photos and a good ethos. Get travel tips, tour guides through various locations, accommodation recommendations, advice on how to travel sustainably, and a section on volunteering.
27. Time Travel Turtle
Michael Turtle left a 9-5 existence on a mission to visit every UNESCO site in the world. Join him on his adventures. He has great advice for tourists who don't want to visit tourist places where you have to queue to see things. Michael also has tips and hacks on how to avoid the rush when visiting awesome places, that are popular but crowded. He loves to tell stories, and this travel blog will give you a glimpse into many "off the beaten track" places. You will learn things not privy to the masses. You will meet the people he meets along the way. And you will be introduced to many World Heritage Sites. Get inspired!
So far Michael has visited 314 of the 1121 UNESCO sites in the world.
You may also read about: One of the Best Design Blogs.
28. The Boho Chica
Cultures, Cuisines, and Hiking Trails are how this travel blog is described by its founder Natasha Amar. Natasha is based in Dubai, she loves food, she loves authentic experiences, and her blog makes for great reading. It is also filled with practical advice on how to plan trips.
You will find reviews on Travel Books, Luggage, and Photography Gear.
She has traveled extensively and her writing makes you want to go traveling immediately! This is a travel blog for foodies, without a doubt.
29. View From The Wing
Gary Leff is the CFO of a university research center. But he is also a frequent flyer, and quite frankly is obsessed with frequent flyer miles. He co-founded InsideFlyer.com, a gathering place for like-minded frequent flyers. This travel blog is loaded with advice on flights, bookings, credit cards, hotels, and of course, frequent flyer points.
I'd have to say this site is for the discerning adult. Many travel blogs are geared towards young travelers but this travel blog speaks to those who are known as frequent flyers. The View From The Wing is a well put together travel blog whose main audience are those professionals who have to fly a lot for work. But it is also a practical site for anyone needing to focus on the more financial aspects of travel.
30. The Voyageur
This travel blog is a work of art. The minimalistic thing going on with The Voyageur is breathtaking. It is by a lady living in Paris called Pauline.
In the blog, she features various countries like Sri Lanka, Vietnam, Austria, and Brazil. Her itineraries section is unique. There, she gives a snapshot of what you would do in a place or country in a certain number of days, which helps in planning and getting inspiration for your next adventure.
Pauline also lets you in on hotels and homes you can consider staying or eating at during your travels. Paulina is a photographer, fashion designer, and art director; therefore, the gallery, food, art & architecture section in her blog is brought out with so much grace and creativity.
You may also like: Best Blogs for Women.
31. The Travel Episodes
This travel blog is excellent for reading about real adventures. Whether they are canoeing through Alaska or biking through The Rocky Mountains, this travel blog is a pleasure to behold! The visuals are awesome. And the stories are interesting.
Each individual story is written in a narrative tone, which makes for easy reading.
Travel Episodes is the baby of Johannes Klaus. But it is very much a collaboration. Over six fellow travelers submit their own travelogues. The blog is in German also. There is a beautiful blend of text, photography, and video. Which makes this a multimedia award-winning blog. It showcases the places traveled in a spectacular way.
And the site is easy to navigate. You can just scroll down and read each chapter with ease.
32. The Blog Abroad
This blog – The Blog Abroad is Gloria (Glo) Atanmo's baby. And what an amazing find! Gloria's blog posts are authentic and current, and personal, and it's nice. Her tone on the about me page is dynamic and motivational. But also completely legit! Her blog is also uncluttered, super easy to navigate, and really fun to read – with a side of the soul.
In 2013, after college, she booked a one-way ticket to Europe and has not looked back. Her photos are pieces of art. And her content is really cool and vibrant. 70 countries and 6 continents later, she has no intention of slowing down yet.
Blog Abroad has been Glo's full-time job since 2015. Definitely aimed at solo females but "broad" enough for everyone to enjoy and benefit from the travel tips and recommendations.
You may also like: Editors' Pick – 10 Best Beauty Blogs in 2020.
The Final Call
Travel is one of those things that have a positive impact on a person, whatever their reason for traveling. People who travel become open-minded and tend to find their purpose. Traveling forces you to grow and adapt and appreciate the world and the people around you.
Are you planning to travel and blog about your travels? I hope these amazing travel bloggers have inspired you to take the next step.
Happy travels!