If you're reading this you either already have a blog and are looking for ways to make your blog more popular. Or you are thinking of starting one and you want to do your homework so that your blog gets to be a success. But whatever the reasons are, you probably also want to see which blogs are the most popular both in general and in the niche that you want to blog in.
When it comes to the topic of "Most Popular Blogs" there are 2 distinct angles that pop up. In this article, I talk about both. The first section covers the 10 parts of a blog that are necessary for a blog to become popular, or successful. And in a short second part, I have added a "Food for Thought" section where I shed a bit of light on the influence big media companies have over the blogging industry. To finish, I list interesting, quality blogs in a wide range of niches.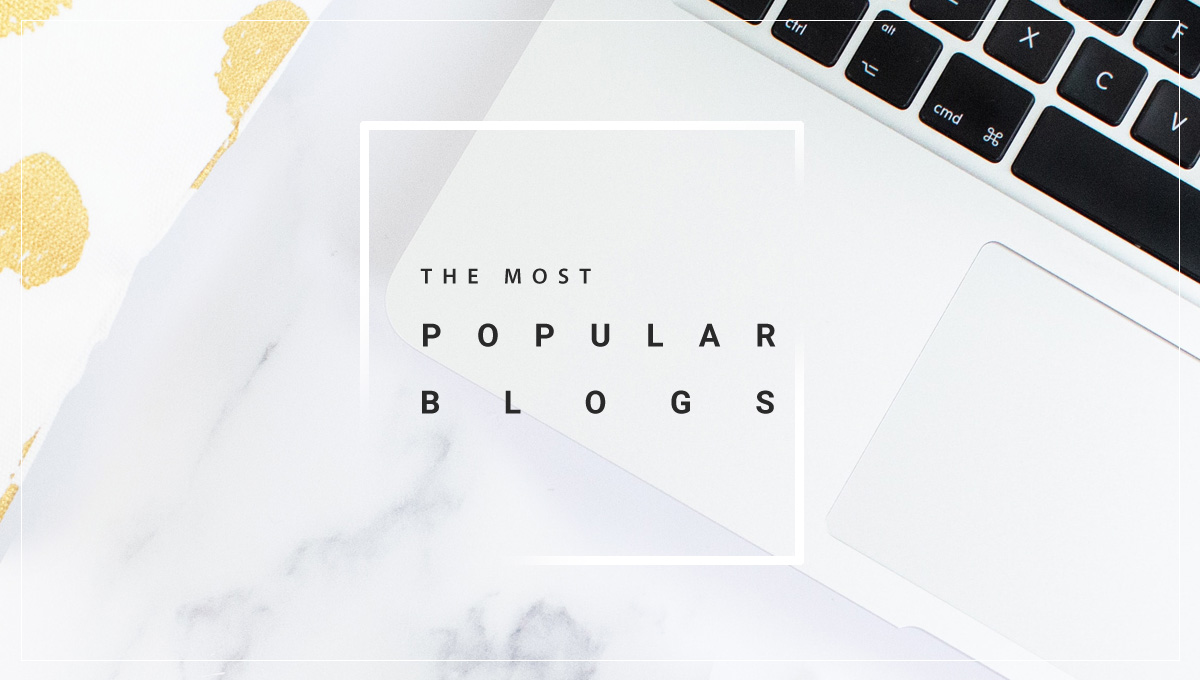 What Makes A Blog Popular?
So who gets to decide which blogs are hitting the right spots for users? Google? SEO gurus? Or the vast majority of internet blog fans? What makes one blog more popular than another? Is it the sheer volume of traffic through a site? The number of comments? The amount of revenue it makes? The number of shares on Facebook, Pinterest, Insta, or Twitter? The popularity of the niche? These seem to be the obvious things, right?
Then there are the other components like
There is so much more to creating a blog than meets the eye. And so it's fair to say that the blogger who puts effort into all these areas will no doubt achieve some form of success.
And in previous articles, we have covered most of these topics. Click here to go to our blog menu. Including one on How To Start A Blog.
The components listed above form the foundation of a blog. Get each of these points right and your blog will get to be popular. It will take time and hard work so patience and perseverance are good qualities to have.
A popular blog is one that reaches its target audience. And delivers!
10 Things Your Blog Must Have To become a Popular Blog
Once you have the basic structure of your blog planned out you need to focus on what you will add to it. Include the 10 components listed below to guarantee that visitors to the site can
Find all your content
Navigate the site with ease, and speed
Learn about who you are and what you do – see How To Write an About Me Page
Order products you sell
Subscribe to your emailing list/blog posts/RSS feeds/podcasts
Make secure payments
Share your blog's content with friends and colleagues across multiple platforms, promote your blog on social media.
A popular blog is user-friendly.
Here are the 10 components you must have to make your blog suitable for optimal user experience. They are not listed in any particular order as they all need equal attention to create a complete blog that people will love coming back to time and again.
Find a home for your blog
Get signed with a trusted web/blog hosting platform. You can't run a successful blog without being hosted. So choose a hosting platform that is suited to your specific needs. Are you an established corporate concern or an indie, start-up blogger? Do you own a small business and need a business blog to promote through or are you on the road to building a blog as a business? Different hosting sites offer various packages.
Do some research on how much ownership you have over your website and content. Some sites have small print clauses, offering free websites, in exchange for them having ownership on some of your stuff. For example, platforms like Wix and GoDaddy offer websites entirely for free, but that means your blog does not belong to you. You do not influence anything; you'll never be able to make money from your blog. Such platforms won't allow you to move the site you built with them.
---
The best and the only right solution is having a self-hosted site for your blog. That is web hosting, your own domain name, and free CMS.
---
A safe bet is to use Bluehost (cheap and suited for beginners) as a provider and WordPress.org as a CMS. It is the open-source ethos of WordPress.org that allows bloggers to have more control and security. If you don't know How to start a blog – read my article.
Introduce yourself and connect
2. About Me Page
This page is important. It tells visitors who you are, what you know, where you come from, and where you are going. A very important point to remember is that this page is about the customer just as much as it is about you. The about me page lets potential subscribers know what you offer and how you can help them.
An effective about me page will have contact information, a backstory of your business and/or of how you got here. It should also have a Call-To-Action pop-up and an option to subscribe directly from that page.
An about me page can act like a route map to inform users of what else they will find on the blog and what not to miss out on.
3. Contact Page
Many blogs combine three elements, the media page, contact info, and the "about me" blurb. However, if you feel you need it, adding a complete page of contact info helps to legitimize your blog and also show people the extent of your network. This is especially true if you have more than one physical location that you run businesses from.
So the contact page should include how to find you physically (if applicable), as well as via email and your various social media channels. Add relevant contact numbers, like a WhatsApp number or a business number.
4. Media Page and Portfolio
This is another component of a sound content marketing strategy.
Your media page can be part of the about page or you can dedicate an entire page to your publicity. Include things that you have written, publications and sites you have appeared on or written for. Podcasts and other interviews you've had or hosted. Add other jobs and positions that you hold (or have held).
Basically it's an extension of the about page that further cements your expertise and experience in your niche. And builds trust.
This page is important if you are branding yourself and want to make money online.
Design Details
5. Branding – find a favicon
Favicons are 16×16 pixel illustrations. A favicon helps build brand recognition. You'll find the favicon (like our BOYO favicon) in the top left corner of blogs and websites. A favicon allows people to recognize you just by the logo. It is a subtle but powerful marketing tool.
6. Mobile Responsive Designs and Themes
Today, more than half of all mobile users say they won't recommend a business if the site is not mobile responsive. It's not enough these days to just have a site that fits the screen size. Users want access and visibility to all features on the site.
7. Easy Navigation – Drop Menus and Hamburgers
Once people land on your blog you want them to stay as long as possible. If your layout has a hamburger icon (especially on mobile devices) then users know to click on that to view the menu. Your blog needs to be structured and organized into sections so that people know exactly where to go to find what they are looking for.
Say I have a gardening site for urban gardeners. My drop menu could feature categories like:
Container gardening
Organic gardening
Hydroponics
Pests and diseases
Know your herbs
The Garden Pharmacy
Grow your own vegetables
Garden Equipment Reviews
Shop with us
This allows users to save time and find what they want quickly. If they don't, chances are they open a new tab and type their search request to get what they want "instantly".
Sharing Content and Interactive Blogging
8. Grow your subscribers
Most blogs will offer something for free, like a toolbox of strategies or templates for content calendars, marketing hacks, and just about anything under the sun that's relevant.
In exchange, you submit your name and email address and agree to get monthly newsletters or to be kept updated as new content gets posted. Email marketing is an essential part of growing traffic and generating income.
Your blog can either have a pop-up that gets people to sign up or once you click on a button you get redirected to the email subscriber form.
9. Share Icons and Sharing Buttons
Social Media marketing is also an area that successful bloggers pay attention to. Bloggers who spend time promoting on social media see much better results in traffic and user interaction. You want as many people to be sharing your content across all platforms.
Most WordPress themes come equipped with the Twitter, Instagram, Pinterest, and Facebook icons already built-in. And you can also add an icon if people want to share content via their email. You get to add the relevant links and decide where you will place them.
The icons (buttons) have two main purposes. You can get readers to share your content from their own accounts by clicking on the relevant icon. You can encourage them to like, follow, or pin your content.
So not only is your content being shared, but you are also gaining new followers, and potential subscribers. You get software (plugins) that makes sharing easy as pie. Social Warfare (warfareplugins.com) is a good example and it's recommended by very popular bloggers, like Melyssa Griffin and Rob Ryan.
Security
10. Secure Data and Payments
This is a very real concern of almost everyone who shops online. People worry that their financial details will be used fraudulently or the site will get hacked and their info stolen. So it's crucial to have the correct protocols in place to guarantee your customers safe and secure shopping.
WordPress has the functionality you need to configure plugins to receive secure payments. A PayPal Buy Now Button is available for simple sales. For online stores with carts and catalogs, you could use something like WooCommerce.
WordPress is actually designed to be secure, contrary to what people assume, just because it is open source. You can set your criteria within WordPress even further, for added security. Other areas you might want to secure are the dashboard, logins, database, themes, and plugins.
Choosing a reliable and trusted hosting service adds to security.
So these are the 10 main areas you need to cover to set your blog on the road to popularity, generating income and success!
As I mentioned up top, there was another angle you can take when talking about what makes a popular blog.
Does a popular blog equate to a quality blog?
Are the highest-ranking blogs actually the best quality blogs? Or do some great blogs slip through the cracks thanks to corporate players that have started infiltrating and dominating the blogosphere since the inception of the Huffington Post?
Do the vast majority of independent bloggers, from many different niches, realize the competition they are up against. And does it matter? It seems there are enough users for the big and the small fish to be popular and successful in their own right. And we know that a growing number of smaller independent blogs are pulling in 6 and 7 figures a month from their blogs.
But did you know that there are 16 companies, all linked to many brands and sites that dominate Google's highest rankings? Can this invasion by corporate blogs and websites affect the popularity of smaller blogs by taking away traffic (due to their high rankings)? Or are they helping small independent blogs to grow?
Popular blogs will make money and have lots of fans either on a large or small scale, depending on the niche they are in, and the size of the target market they aim for.
A popular blog is a well-liked blog
Simply put, a popular blog is a well-liked blog. But blogs can be popular for different reasons. Some popular blogs will have a small following while others will hit the mainstream big time and become popular through sheer numbers alone. Some blogs have mediocre content but stunning images. So a text-rich, quality blog is not always the most popular when there is competition from image-rich blogs.
I think blogs can also become popular because of peer reviews doing the rounds. This type of selection and promotion between bloggers is a great way to build business relationships with other blogs. Through actual reviewing and searching for high quality, good content blogs we depend on each other to find blogs that can be enjoyed and shared around the web.
What about content?
Surely in a world that plays fair (hand over mouth to giggle), the content will always win the day. And the best content wins! Mmm, I wish it was like that. And granted, Google has really stepped up when it comes to placing the importance of content at the top of the pile. Or has it? For every algorithm that gets applied, there will be unscrupulous blog owners (corporate conglomerates) trying to beat the odds. And often winning. This means some blogs, despite ticking all the boxes, will fall through the cracks. But it also means that some bloggers will rise to the challenge and know how to appeal to the populace in just the right way. And become successful and popular because their blogs bring value.
Can a blog be popular even with a small number of visitors? Yes, especially if those visitors are regular. And what about income? Are the popular blogs the ones that bring in the most profit? All these questions are relevant, but another question has come up.
Lear more about: Where to Find Blog Post Ideas.
Is a blog popular because it is backed by giants of industry?
Popular blogs have started appearing with a list of corporations that endorse them. TheBigMansWorld.com, a cooking and recipe blog, is a perfect example of a popular blog. The design is perfect, and the layout checks all the boxes. It has awesome recipes and images. And there is a list of companies that endorse Armano Liew's personal blog. Names like Esquire, Forbes, Men's Health, Vogue, and a slew of other recognizable media publications have their logos on his blog. This is common with many popular blogs. This means professional bloggers have learned how to pair up with big business. So despite what anyone thinks about big business, you have to commend the bloggers who have grabbed an opportunity to totally rise to the occasion and play the game.
Through having a bottomless budget and fingers in many pies, are these corporate blogs slowly choking out independent blogs that can't compete? And if this is the case, surely we are to blame because we are the consumers that support these brands with our hard-earned cash. They are popular because we have been sold on them. And if you check out a blog like BigMansWorld, you will see that it's a blog that has covered every aspect needed to make a blog successful.
I think my point is just to make new bloggers aware that they can really take their blogs to heights that were not previously available. Blogging is a mainstream, highly competitive field. But there is enough room for everyone.
Research Reveals A Monopoly In The Google Ranks
An article, written and researched by Glen Allsop from SEO company, detailed.com, exposes 16 companies that dominate the rankings. Below is an infographic showing who the 16 companies are and which companies they own. Deeper research reveals which sites are linked directly to which companies.
Although it seems unfair, it is not illegal to manipulate rankings. And in fact, Allsop even says the purpose of the study isn't to attack these companies, it is more about how Google reacts. And how it benefits them and their shopping services. An interesting article from 2015 (Guardian) also brought up the topic of owning data, and how this affects the success of other sites in the face of this immense corporate competition. Read the article here.
This infographic is Courtesy of Glen Allsop detailed.com. Read his complete article here.
Back To Most Popular Blogs
So that was just my take on popularity within the blogging industry. It is not necessarily a negative. In fact, if anything it shows that starting a blog is a recognized business and there is hope for all bloggers to take their blogs as far as they want them to go.
I love discovering new blogs and I love revisiting the blogs that appeal to me and my interests. But what about the rest of the online community of blog fanatics? What do you all find worthy of your valuable time?
And that's why I wanted to add a popular blog from various popular niches. I hope some of these choices for "most popular blogs" surprise and delight you!
To me, a popular blog is one that delivers good content, has a layout and visuals that make you want to stay forever, and fast loading times. For me, a site that loads fast is a winner. A blog will be popular if it is brandable. If a reputable brand has a blog all its customers will subscribe. If you have accounts at various retail outlets, you receive their blog posts via email. It doesn't mean the customers read them but it will be a successful blog because the mailing list is long and can be used to generate income.
Nobody puts the time and effort and money into a blog only to say, "I don't care if no one reads it, I'm doing it for myself." So we can all agree blogging is all about trying to get your blog to be popular.
Let's explore the Most Popular Blogs
Let's explore the Most Popular Blogs in some of the most popular niches around the web. Take note of all the components in each one. The formula works. Take a look at our other articles on specific niches and our top picks for those. I have tried not to duplicate, as I really am passionate about sharing quality blogs with you all.
Wired.com
Wired is a highly respected and widely read technology magazine that has been publishing since 1993. The magazine's focus is on the intersection of technology, culture, and politics, and it covers a wide range of topics, from cutting-edge gadgets and software to the social and economic implications of technology on society.
Wired's articles are known for their in-depth reporting and insightful analysis, and the magazine has won numerous awards for its coverage of technology and its impact on the world. Its coverage ranges from the latest scientific discoveries to the impact of technology on pop culture and entertainment.
In addition to its print magazine, Wired also has a robust online presence, with articles, videos, and podcasts that cover a wide range of topics. Whether you're a tech enthusiast, a business professional, or just someone interested in the latest developments in technology, Wired is a must-read publication.
Most Popular Blog in Healthy Living – best haelth blogs
Davidwolfe.com
This guy built a solid following with his, at the time, revolutionary natural health tips on eating your way to your best life. Nowadays David's food philosophy has caught on big time.
Davidwolfe.com is a popular blog that focuses on health, nutrition, and natural living. It offers a wealth of information on topics such as organic food, superfoods, and holistic health. David Wolfe, the founder of the website, is a well-known author and speaker in the health and wellness industry. His blog features articles, videos, and podcasts on various health-related topics, making it a go-to resource for people looking to improve their overall well-being. The website also offers a range of natural supplements, herbs, and other products to support a healthy lifestyle. With its informative content and commitment to natural living, Davidwolfe.com is a trusted source of health and wellness information.
A great website, podcast, and a popular blog. He is considered a health guru in natural health circles.
Read more about: The Best Fitness Blogs in 2020.
Zen Habits – Leo Babauta
Zen Habits is a popular blog that aims to help readers simplify their lives and achieve inner peace. Founded by Leo Babauta, a well-known author and speaker, Zen Habits offers a range of articles, podcasts, and courses on topics such as mindfulness, productivity, and minimalism. The blog's content is designed to help readers find balance in their lives and reduce stress, making it a go-to resource for anyone seeking to improve their well-being. With its focus on simplicity and mindfulness, Zen Habits has become a popular blog among people looking to lead a more intentional and fulfilling life.
Kottke.org
Copied and pasted straight from Kottke's about me page. This is a gem! And a good example of a great "about me" blurb.
"Founded in 1998, kottke.org is one of the oldest blogs on the web. It's written and produced by Jason Kottke and covers the essential people, inventions, performances, and ideas that increase the collective adjacent possible of humanity. Frequent topics of interest among the 26,000+ posts include art, technology, science, visual culture, design, music, cities, food, architecture, sports, endless nonsense, and carefully curated current events, all of it lightly contextualized."

Kottke.org
You may also like: Sports Blogs That Will Inspire and Motivate
Skinnytaste.com
Skinnytaste.com is a popular blog that offers a range of healthy and delicious recipes for people looking to maintain a balanced diet. Created by Gina Homolka, a New York Times bestselling author and recipe developer, Skinnytaste.com features easy-to-follow recipes that are low in calories and high in flavor. The blog also offers a range of meal plans, cooking tips, and healthy lifestyle advice, making it a go-to resource for people looking to improve their overall health and wellness. With its focus on healthy eating and delicious recipes, Skinnytaste.com has become a popular blog among food enthusiasts and health-conscious individuals alike.
Popular Blog in Finance
20somethingfinance.com
20somethingfinance.com is a popular blog that offers practical financial advice for young adults looking to improve their financial well-being. Founded by G.E. Miller, a personal finance expert, the blog offers a range of articles, guides, and resources on topics such as budgeting, investing, and saving for retirement. With its informative content and user-friendly interface, 20somethingfinance.com has become a go-to resource for millennials and Gen Z individuals looking to navigate the complex world of personal finance. The blog's focus on practical advice and real-world solutions has helped it gain a loyal following among people looking to build a strong financial foundation for their future.
Mama Doctor Jones
It is a popular blog that offers informative and engaging content on a range of health and wellness topics for women. Created by Dr. Danielle Jones, an OB/GYN physician and women's health advocate, the blog offers a range of articles, videos, and resources on topics such as pregnancy, birth control, and sexual health. With its relatable and informative content, it has become a go-to resource for women seeking to understand their bodies and make informed health decisions. The blog's focus on women's health and wellness has helped it gain a loyal following among people looking to stay informed and healthy.
You may also like: Best Blogs for Women.
Most Popular Blog in Motoring
Motor Verso
Motor Verso is a popular blog that offers informative and engaging content on a range of automotive topics. Created by a team of passionate car enthusiasts, Motor Verso offers in-depth reviews of new cars, classic car features, road trip guides, and much more. With its focus on quality content and stunning photography, Motor Verso has become a go-to resource for car enthusiasts looking to stay up-to-date on the latest automotive news and trends. The blog's focus on informative and entertaining content has helped it gain a loyal following among people looking to stay informed and entertained by the automotive industry.
Most Popular Blog in DIY Home Maintenance – best DIY blogs
Funky Junk
Funky Junk is a popular blog that offers creative and inspiring DIY ideas for home decor and design. Created by Donna Williams, a DIY enthusiast and author, Funky Junk offers a range of tutorials, tips, and ideas for people looking to personalize their home with unique and creative touches. The blog's focus on upcycling and repurposing old and unused items has helped it gain a loyal following among people looking to reduce waste and create beautiful, one-of-a-kind decor pieces. With its engaging and inspiring content, Funky Junk has become a go-to resource for anyone looking to add some fun and creativity to their home decor.
Most Popular Blog in DIY Craft
A Beautiful Mess
A Beautiful Mess is a popular blog that offers inspiring and creative ideas for DIY projects, home decor, and lifestyle. Created by sisters Elsie Larson and Emma Chapman, the blog features a wide range of content including craft tutorials, recipes, fashion tips, and more. With its focus on colorful, fun, and accessible content, A Beautiful Mess has become a go-to resource for people looking to inject some creativity into their everyday lives. The blog's unique mix of lifestyle and design content has helped it gain a loyal following among people of all ages and interests. With its engaging and visually stunning content, A Beautiful Mess continues to be one of the most popular blogs on the internet today.
Read also about: Best Wedding Blogs Ideas & Inspiration.
Most Popular Blog in Freelance
Freelancers Union
Freelancers Union is a popular blog that offers informative and empowering content for independent workers. Created by Sara Horowitz, a social entrepreneur and labor activist, Freelancers Union provides a range of resources and tools to help freelancers and independent workers succeed in their careers. The blog offers advice on topics such as taxes, legal issues, networking, and much more, making it a go-to resource for anyone looking to build a successful freelance career. With its focus on empowering independent workers and advocating for their rights, Freelancers Union has become a popular blog among people looking to build a fulfilling and sustainable career as a freelancer.
99U
99U is a popular blog that offers practical advice and inspiration for creative professionals. Created by Behance, a platform for creative professionals, 99U features a range of articles, interviews, and resources on topics such as productivity, career development, and design thinking. With its focus on actionable insights and real-world advice, 99U has become a go-to resource for creative professionals looking to achieve their goals and build successful careers. The blog's unique mix of design, business, and creativity content has helped it gain a loyal following among people looking to stay on the cutting edge of creative innovation. With its engaging and thought-provoking content, 99U continues to be one of the most popular blogs for creative professionals.
Most Popular Blog in Design & Architecture
Bldgblog
Building Blog was started in 2004 by Geoff Manaugh, who among other things, is a writer.
"Its goal is to explore topics related to architecture and the built environment through a lens of technology, literature, crime, history, archaeology, acoustics, science fiction, subterranean space, warfare, the planetary sciences, and more."

BLDGBlog's about page
You may also like: Best Interior Design Blogs.
Shillington Education
An amazing design blog run by Shillington Design School. It features resources, jobs, informative articles on the latest design news, and design portfolios of Shillington students.
Shillington Education is a popular blog that offers informative and inspiring content on graphic design and creative careers. Created by Andrew Shillington, a renowned graphic designer and educator, the blog provides a range of resources and insights on topics such as design theory, portfolio development, and industry trends. With its focus on practical skills and real-world experience, Shillington Education has become a go-to resource for anyone looking to launch a successful career in graphic design. The blog's unique approach to education, which combines intensive training with real client projects, has helped it gain a loyal following among students and industry professionals alike.
Abduzeebo
Books, branding, design, illustrative design, graphic design, and more. Informative articles on a crisp, clean site. All about design, photography, and UX.
You may also like: 25 of the Best Graphic Design Blogs
Most Popular Blog in DIY Building
Pretty Handy Girl
Welcome to the world of Pretty Handy Girl, where creativity meets functionality and beauty. Here, Brittany Bailey, the brains behind this popular blog, shares her passion for DIY home improvement, decor, and renovation. Her easy-to-follow tutorials, tips, and ideas will inspire you to take on even the most daunting projects and transform your living space into a haven of beauty and practicality. Whether you're a seasoned DIYer or just starting out, Pretty Handy Girl has something for everyone, from budget-friendly projects to expert-level renovations. So, get your tools ready and join the Pretty Handy Girl community today to unleash your inner creativity and build the home of your dreams!
Most Popular Blog in Gardening
Family Food Garden
It is a popular blog that offers creative and informative ideas for growing your own food, even if you have limited space or resources. Created by Isis Loran, a gardening enthusiast and mom of two, the blog provides a range of tutorials, tips, and ideas for people looking to start their own home garden and grow their own fresh and healthy food. The blog's focus on sustainable and organic gardening practices has helped it gain a loyal following among people looking to reduce their environmental impact and eat healthier. With its engaging and informative content, it has become a popular blog for anyone looking to start their own garden and live a more sustainable lifestyle.
Most Popular Blog in Knitting
Ravelry
Ravelry is a popular online community that connects people who love to knit, crochet, and weave. Created by Jessica Forbes and Casey Forbes in 2007, the platform offers a range of features that make it easy to find and share patterns, connect with other makers, and track your projects. With its vast library of patterns, forums for discussions, and tools for organizing your projects, Ravelry has become a one stop destination for knitters and crocheters of all skill levels. The platform's inclusive and welcoming community has helped it gain a loyal following among people looking to connect with others who share their passion for fiber arts. Whether you're a beginner or an expert, Ravelry has something for everyone, from free patterns to premium membership benefits. So, join the community today and start exploring the world of fiber arts with Ravelry!
Most Popular Blog in Quilting
Blossom Heart Quilts
BHQ is an inspiring popular blog that provides a wealth of creative ideas and helpful guidance for quilters of all levels. Created by Alyce Blyth, a passionate quilting enthusiast and expert, the blog features a range of tutorials, tips, and ideas that help quilters improve their skills and create beautiful works of art. With its innovative and modern approach to quilting, it has become a trusted and beloved community for quilters looking to expand their knowledge and connect with like-minded individuals. The blog's engaging and informative content covers topics such as color theory, block construction, and fabric selection, and its supportive and inclusive community has helped it gain a dedicated following of quilters from all over the world.
Most Popular Blog on Sustainability
TreeHugger
TreeHugger is an engaging and informative blog that provides valuable insights and resources on environmental news, sustainability, and green living. Since its creation in 2004, the blog has become a trusted source for people who are interested in learning about eco-friendly practices and staying informed on the latest environmental issues. With its in-depth articles, informative videos, and engaging podcasts, TreeHugger has attracted a loyal following among people who are passionate about making a positive impact on the environment. The blog covers a wide range of topics, including renewable energy, green technology, food, transportation, and more. With its informative and engaging content, TreeHugger has established itself as a leading source of information and inspiration for anyone interested in living a more sustainable and environmentally-friendly lifestyle.
Most Popular Blog in Agriculture
Agronomy for Sustainable Development
This is a peer-reviewed journal on agriculture in the context of sustainability. As such it is full of accurate and on-trend information about farming, agriculture, science, and sustainability. While not a blog it is still worth a look if you are interested in these topics.
Most Popular Blog in Politics and News
Talking Points Memo
It is a popular blog that offers insightful and in-depth analysis of politics and current events. Launched in 2000 by journalist Josh Marshall, the blog has gained a reputation for its incisive reporting and sharp commentary on breaking news and political developments. The blog covers a range of topics, from national politics and elections to social justice issues and international affairs. With its engaged and informed community of readers and contributors, it has become a go-to destination for anyone looking to stay informed and engaged in the political discourse of the day.
Most Popular Blog on Music Festivals
Betty and Kora
Great updates and behind the scenes info on various music festivals around the world. And cool photos. Betty writes and Kora shoots.
Most Popular Pet Blogs
Puppy in Training
It is a popular blog that's dedicated to helping new puppy owners navigate the joys and challenges of raising a furry friend. Whether you're a first-time dog owner or a seasoned pro, the blog offers a wealth of expert guidance, tips, and tricks that are sure to make your life with your new furry companion a little easier and a lot more fun. From potty training and obedience training to socialization and nutrition, you can find a ton of useful info here. With its engaging and informative articles, videos, and podcasts, the blog feels like a trusted friend who's always ready to lend a helping paw.
Paws and Effect
JaneA Kelly has been running her blog on all things feline since 2003. Paws and Effect is a beloved blog that celebrates the magic of the human-animal bond. Created by a team of passionate pet owners and advocates, the blog offers a wealth of heartwarming stories, expert advice, and helpful tips for pet owners of all stripes. Whether you're a cat lover, dog lover, or any other kind of pet lover, Paws and Effect has something for you. The blog covers a range of topics, from pet health and behavior to animal rescue and advocacy.
Most Popular Blog for Men (Lifestyle)
Aspiringgentleman.com
It is a stylish and sophisticated blog that's dedicated to helping modern men navigate the complexities of life with grace and aplomb. Whether you're looking for fashion advice, career tips, or relationship guidance, the blog offers a wealth of expert insights, helpful tips, and inspiring stories that are sure to elevate your life to new heights. With a focus on classic values like honor, integrity, and chivalry, Aspiringgentleman.com is the perfect resource for anyone who wants to live a life of purpose, passion, and sophistication. The blog covers a wide range of topics, from men's fashion and grooming to travel and culture.
You may also like: The Top 13 Survival Blogs
Most Popular Sailing Blogs
Sailing Nandji
Yoshi and Bonita sail the seas and blog about it. Sailing Nandji is a popular blog that shares the thrilling journeys of a young couple as they explore the open waters on their sailboat, Nandji. With vivid storytelling, captivating imagery, and useful tips for sailors of all levels, Sailing Nandji has become a valuable source of inspiration for anyone who loves the sea and sailing. The blog covers a diverse range of topics, from their adventures in exotic places to practical advice on maintaining and repairing boats. Whether you are an experienced sailor or a curious beginner, you are sure to find something fascinating and informative in the pages of Sailing Nandji. So if you want to experience the thrill of the sea and the freedom of sailing, visit Sailing Nandji today and get inspired to embark on your own sailing adventure.
Behind the Shutter
In-depth and current educational information on how to shoot wedding photos by Sal Cincotta of Shutter Magazine. Behind the Shutter is a widely popular blog that caters to photographers of all levels. Whether you're a professional photographer or a hobbyist, Behind the Shutter offers a wealth of practical tips and tricks, as well as thought-provoking articles that challenge you to think differently about your craft. From gear reviews and marketing strategies to lighting tutorials and creative vision, the blog covers a wide range of topics that are essential for photographers to stay ahead of the curve.
Beers and Beans
This blog combines photography and travel (see top travel blogs). Join Beth and Randy on their travels and enjoy the visual journeys they have recorded as well as some great travel hacks and advice.
Bernabe Richard blog
Bernabe Richard is a popular blog that explores the world of photography through the lens of a true artist. With his unique vision and creative approach, Bernabe Richard has become a respected voice in the photography community, inspiring others to push the boundaries of their craft and embrace their own individual style. The blog features stunning photography that showcases the beauty and diversity of the world, while also offering practical tips and insights that can help photographers of all levels improve their skills. From landscape photography and portrait work to street photography and beyond, Bernabe Richard covers a wide range of topics that are sure to inspire and inform anyone with a passion for photography. If you're looking for a blog that combines artistic vision with practical advice, then Bernabe Richard is definitely worth checking out.
You may also like: Another form of art – Top Music Blogs Of All Time.
Most Popular Blog on Off-Grid Living
The Homesteading Hippy
The Homesteading Hippy is a popular blog that celebrates the art of sustainable living and self-sufficiency. With its down-to-earth writing style and practical advice, the blog has become a valuable resource for anyone looking to live a more sustainable lifestyle and reduce their impact on the environment. The Homesteading Hippy covers a wide range of topics, including gardening, cooking, DIY projects, natural remedies, and much more. Whether you're an experienced homesteader or just starting out, you're sure to find valuable tips and insights that can help you create a more self-sufficient and sustainable life.
Most Popular Vegan Keto Blog
Kind and Keto
Once upon a time, in a land filled with carbs and sugar, there was a blog that brought a little bit of kindness and a whole lot of keto to the world. It was called Kind and Keto, and it quickly became a popular destination for those looking to lose weight, improve their health, and spread a little love along the way.
Kind and Keto was more than just a blog, it was a community of like-minded individuals who supported each other on their journey to better health. With its delicious recipes, practical tips, and inspiring stories, Kind and Keto inspired thousands to embrace a healthier lifestyle and to treat themselves and others with kindness and compassion.
In the end, Kind and Keto proved that being kind to yourself and others doesn't mean sacrificing flavor or fun. With a little bit of keto magic and a whole lot of love, anything was possible.
You may also like: 29 Best Awesome & Amazing Health Blogs
Most Popular Cryptocurrency Blogs
Blockgeeks.com
It is a popular blog that's dedicated to providing comprehensive educational content on blockchain technology and cryptocurrency. The blog is an invaluable resource for anyone who wants to learn more about this exciting new field and how it's shaping the future of the digital economy.
Here you'll find a wealth of resources that cover everything from the basics of blockchain and cryptocurrency to more advanced topics like smart contracts and decentralized applications. The content is presented in a clear, easy-to-understand format, making it accessible to both beginners and experts alike.
But what really sets Blockgeeks.com apart is its commitment to quality. The blog is run by a team of experienced blockchain experts who are passionate about sharing their knowledge and expertise with others. They're constantly updating the blog with new content and ensuring that everything is accurate and up-to-date.
Leaving You With This
I hope you find some inspiration here. Whether your blog is still being conceived or already a growing concern, I hope you can apply some of the things you read here to your new or existing blog.
Remember that there is always room for improvement but as long as you put in the hard work and squeeze some love into your passion project there is no reason why your blog should not grow in popularity and reach the core audience you are hoping to appeal to.
If you find more amazing blogs drop me a line in the comment section. Perhaps I can review them in future blog posts.
Happy Blogging!