Check out over 50 legit sites that offer online jobs for teens. And find out if there's an online job that you know you can crush! Teens today have a limitless online job market at their fingertips. Therefore finding online work to earn extra cash is easier than ever before.
Teens! Know your skills. Use your talents. Earn independence.
How Do Teens Find the Right Type of Online Job for Their Skill Set?
What do you enjoy doing? What gets you pumped? And keeps you captivated?
Anything is always easier to do when you enjoy it. So, choose an online gig that interests you, or that you excel in.
Are you funny? Do you have a head for business? Do you have the ability to concentrate on tedious tasks, or do you like being creative?
Start by making a checklist like this:
What can I do well?
What do I enjoy doing?
Why do I want an online job?
What jobs could I get online?
How much time do I have available? Daily/weekly?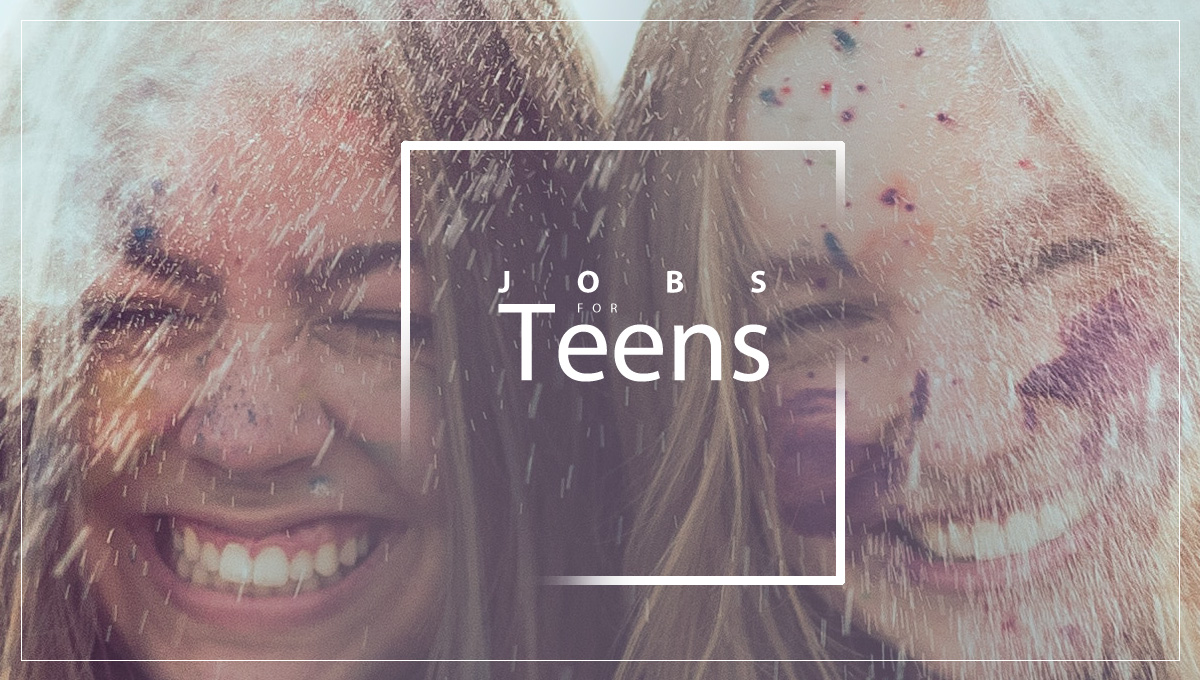 What Online Jobs Can Teens Get?
Teens can do many of the jobs adults do. This is especially true in an online environment, where your ability to do the job is all that matters. You can apply for simple administrative tasks, like sending out e-mails. Or take on more involved projects that involve great skill, like coding or graphic design.
You can't be discriminated against because of your age or lack of experience if you can produce the goods.
Here are some examples of online jobs for teens:
Test new games and apps for cash
Start a YouTube channel
Do easy admin work like sending e-mails, and filling out spreadsheets
Take online surveys, watch videos and play games for rewards
Write content for best blogs
Write fiction
Use your voice
Become a "crowdworker" through platforms like Amazon's Mechanical Turk (Mturk), ClickWorker, and DesignHill. Also, known as microtasking.
Offer your coding skills
Design websites
Manage social media pages
Buy and sell goods on sites like eBay
Do online research
Data Entry
Peer to peer tutoring
And the list goes on.
See our list below of specific sites for specific online jobs for teens.
Where Can Teens Sign-up for Online Gigs?
You get online work by signing up with a site that offers a platform to either look for freelance gigs or posts your own ads. Most of these sites are free to sign-up with.
Sites like Fiverr and Gigbucks, post microtasks that can earn you between $5 and $50 – jobs range from menial admin tasks like uploading images or following someone on Twitter, to more involved tasks like designing logos and banners.
Sites, like Upwork, offer a wide range of employment opportunities in many categories. So, if you are tech-savvy, have writing skills, or can type fast, there will be a job for you.
Other sites will be Get-Paid-To (GPT) sites, like Bananactic, InBoxDollars, and Swagbucks. Here things get trickier. Because these sites offer rewards for carrying out different types of tasks.
Jobs done through sites like Upwork and Freelancer pay in cash, either per hour or per project.
Other sites like Swagbucks, will sometimes pay in cash, but more times, you get paid in points and rewards. The points get redeemed for money ( but not always), or gift cards (from stores like Amazon or Walmart).
Also, in many cases, the site will offer a wall of other websites where you can choose your rewards from.
And all you must do is play games, watch videos, take surveys, or shop online.
Sound too easy?
These GPT sites can suck you in and overwhelm you with offers and "free" stuff. So, unless you love the idea of playing games for peanuts, instead invest your time in another direction. BUT the more sites you sign-up to, the better.
Earning potential: $1000 per year.
And another tip: Many survey sites make you go through all the sign-up missions, and then you end up "not qualifying" for any surveys that day. These sites are looking for adults that can afford to buy serious merch. But if you persevere, you'll get to know which sites will work for you.
Meanwhile, serious gamers can make money on legit sites, like Nintendo, that pay players to test out new games and apps. See the full list below.
Read more about: 30 Money Blogs. The Best Personal Finance Blogs For 2020.
What Online Jobs Will Be Illegal for Teens to Take?
Teens can apply for almost any job if there is no selling of alcohol/medicines/drugs or adult-themed products.
Most under 18's can work online (and offline) without legal problems as long as they are not hazardous or dangerous. But traditional offline jobs are often filled by adults and college students that need second or third jobs to survive.
The good news is that teens can get jobs online that didn't exist ten, or even five, years ago.
Teens have got loads of choices when it comes to making money off the internet. If you are a self-starter, you can even create multiple streams of income, and all in your spare time. Just with your smartphone or notebook!
As long as it's legal!! Don't be trading in cryptocurrency just yet!
How Do Teens Get Paid for Online Work?
Most online transactions are done through PayPal, Payoneer, Skrill, or similar set-ups. And they require you to be 18 or older. Fortunately, with your parents' consent, it is easy to get a PayPal account.
Most jobs will pay you in cash, but certain types of online gigs only pay you in points and/or gift cards. So, before you start signing up to the 100's of sites offering easy money, take a deep breath, and read the small print (terms and conditions).
Have a game plan and stay focused. The sites listed in this article are all legit. But remember, if the offer sounds too good to be true, it usually is just that!
Guys, the web is full of hoaxes, scams, trolls, and false advertising. So be sharp! And if you are ever unsure about a site or are asked to pay upfront, ask an adult for advice.
Most online work platforms are free to sign-up with and only take a small fee from each job or task that you complete.
Every site has its own terms and conditions, so check out the tax requirements and other boring things with whichever site you work through.
You may also like: How To Make Money Online.
Types of Online Jobs for Teens and Where to Find Them
How to Become a YouTuber?
Loads of kids these days have got their own YouTube channel and Insta account. Some of them have even become internet celebs. Just by doing something they love or find amusing.
You can open a YouTube channel if you are 13 or older. If you want to monetize your channel, you need to be 18 or older or have your parents (or legal guardians) open it on your behalf.
The YouTube Partnership program is something you can qualify for once a certain number of viewers watches your channel, or if your subscribers reach a certain amount. This allows you to "monetize" your channel.
Are you good at crafts, love gaming, can apply make-up like a pro or do anything well (stand-up, dance, sing, rap) and want to share it, then this might be a cool way to start earning money?
These kinds of ventures take time and commitment before you get any financial return. It depends on how many videos you upload and if your content is what the viewers love.
Earning Potential: $40 – $4,000 per month
Sites That You Can Join to Make Yourself or Your Skills Famous!!
YouTube
Instagram
PeerTube
Facebook
Dailymotion
Flickr
Vimeo
SoundCloud
Just for Gamers
Are you the kid that kills video games?
Then why not put your skills to use testing new games and apps or teaching others to get to the next level!
You can even compete.
The market is saturated, so it's a difficult way to make cash. Still, if you have high skills, the right streaming equipment, and a good personality (way with words/humor, etc.), you can use the many options available to make some cash. (overtime)
Let's Play videos are super popular right now. (YouTube)
Besides coaching, you can even build characters within games and sell them!
For business-minded teens, some sites trade in gaming products, virtual and physical.
Test – User Testing – Pays $10 per test. You need excellent English skills, a PC/laptop, and a mobile app.
Coach – peer to peer coaching involves your teaching others how to reach next levels and unlock points and powers in popular games. You can advertise your services via chatrooms or on social media. Or check out GameCoach – Get hired to coach others playing your favorite games.
Teach – Create Let'sPlay videos on YouTube. And monetize your channel
Play competitively. Some tournaments have serious prize money up for grabs.
Create, build, and sell characters. Or sell gaming components, virtual and real, on auction sites like PlayerAuction.
Legit Sites for Gamers (with earning potential)
Twitch
Ustream
Caffeine
Smashcast
InstaGIB
Mixer (formerly Beam)
Earning Potential: Unknown
Play Games, Shop Online, Take Surveys and Test Apps, and Get Paid!
Loads of GPT sites offer cash and rewards to users who will watch videos, play games, shop online, and take surveys. Often these sites will not earn you much money and can be time-consuming. But for teens that know how to navigate the web, there is a small bit of cash to be made and loads of free stuff to choose from.
If you are already wasting time on useless pursuits, you may as well sign-up to these sites. But be warned your inbox will be overflowing with mail from places you signed with as well as sites you used to choose rewards from.
Here are some legit GPT sites:
Swagbucks
InBoxDollars
SquishyCash
Get-Paid.com
Grindabuck
Toluna
OnePoll
PrizeRebel
ySense
Superpay.me
GrabPoints
Onlinepanel.net
FeaturePoints
Earning Potential: Hard to say, but for serious "players," you can earn $1,000 per year. I'm not sure if that includes gift vouchers and rewards.
Microtasking, Admin, Data Entry and other "Office" jobs
These gigs can be anything from creating advertising slogans, to sending e-mails, to correlating data onto spreadsheets, to answering customer requests.
The scope is broad, and the fees are low to start with, but if you can see yourself doing a number of these tasks, you can sign-up with the following sites:
Fiverr
PeoplePerHour
mTurk
FigureEight
Clickworker
Rev.com
GigWalk
EasyShift
If you get into these types of gigs and enjoy them, you may want to try out a more long-term gig like being a virtual assistant.
Or freelancing.
It's all about experimenting and getting experience without the pressure.
Earning Potential: $10 – $100 per month
Freelancing
Freelancing gigs can be anything creative from
writing,
graphic design,
coding,
peer-to-peer (P2P) tutoring,
transcribing,
voice over work,
admin and data entry tasks.
Freelancing just means you work for yourself and hire yourself out to clients who need your skills on a part-time, once-off, or regular basis.
As a freelancer, the world is your oyster. You work the hours you want and are not tied down to a single job or company. If you start freelancing at school, by the time you leave, you'll have an impressive portfolio and job experience.
VA's or virtual assistants help clients with office and admin tasks remotely. You can charge an hourly fee or fixed rates depending on the type of freelancing you do.
If writing is your strong point, you could write content and copywrite for websites, popular blogs, and affiliate marketers.
The best sites for freelance gigs are:
Upwork
Guru
Freelancer
Hubstaff
Flexjobs
Fiverr
Freeeup
SolidGigs
These sites are all legit freelancer's dream sites. Most are free to sign-up with, and most charge a fee to the freelancer per job. Some will charge you to sign-up. (SolidGigs costs $2). And some don't even take a cut, like Hubstaff.
You can also find freelance gigs for transcription work (writing out audio files), and voice over work.
Check out these sites:
For transcription gigs:
Quicktate
Scribie
Tigerfish
Rev
TranscribeMe
For voice over gigs:
Bodalgo
VoiceBunny
Covoco
Voice123
Freelance tutoring is also an option, even if you are a teen. Many foreigners want to learn conversational English, and if you speak English well and have a fast internet connection, this could be the paying freelance gig for you.
And it is not like Teaching English As A Foreign Language (TEFL), so you don't need degrees and diplomas to qualify.
For conversational English tutoring:
Palfish
Samespeak
VIPKID
Cambly
Earning Potential: $10 – $400 per month. (Or maybe more if you get lucky and get a voice over job for the next Lion King! LOL!)
Buy and Sell
This kind of sideline can rake in loads of profit for teens that have an eye for bargains.
Do you enjoy trolling markets, second-hand stores (pawn shops), and garage sales? Or are you a crazy collector of stamps, comics, and toys-still-in-their-box?
Are you handy enough to restore or transform old items like mirrors,
lampstands, and furniture? Or do you love making jewelry or sewing?
Try these sites if you like flipping goods:
Etsy
eBay
Bonanza
TradeMe
Gumtree
Newegg
Earning Potential: Unlimited
Sites like eBay are great platforms to buy and sell from. Both my cousins were selling the most random things on eBay before they even turned 14!
Start Your Own Media Management "Company"
These last two ideas don't involve signing-up to sites.
Are you a social media fiend with a business mind?
Social Media Management
Firstly you could start your own business by hiring out your time and expertise on social media platforms.
How? Your clients will be individuals and small businesses that don't have a social media presence. This type of job would involve hunting down companies and people, either locally or online. You can offer to post regularly, take photos, create pages, and anything else that is needed to boost their profiles, talents, products, or services.
Secondly, you could be a blogger.
You may also like: How to start a podcast in one day.
Become A Blogger
How? Start your blog. If you love chatting, writing, and sharing, then blogging could be your hidden talent. It is easy to start your own blog. Check out this guide for beginners: How to start a WordPress blog.
Blogging is an excellent platform to share your passion, and why not make some money while you at it?
And You ARE Hired!!
Getting accepted onto one or more of these sites is a great way to start doing what you love for cash. While you still go to school!
Also, you get valuable experience doing things you might not have realized you're good at, and making your own money gives you a good feeling. Freedom and independence are great confidence boosters.
So, get cracking, your future awaits!