WordPress gives its users the power to build websites as they like. With a plethora of themes and plugins to select from, even a novice can make a website using WordPress. But there are a few limitations too. Once your site starts growing, you run into several technical issues which seem daunting to an average user. If those issues are not addressed at the earliest, they might lead to a site outage which might hit your bottom line if the site is your source of revenue. Building a website with WordPress is very easy, but maintaining it to perform at its optimal level is tedious.
Maintenance, updates, and troubleshooting are just a few activities to keep a website up and running. Running a WordPress business is difficult since site development never truly ends. In reality, a substantial amount of upkeep is required to maintain the site operational.
In this article, we will discuss the advantages of establishing a retainer relationship with a WordPress Development Agency and why it is important for keeping your website well maintained and secure.
A solid and functional website that generates quality leads and generates revenue is just the beginning of what a great agency partner can do for you.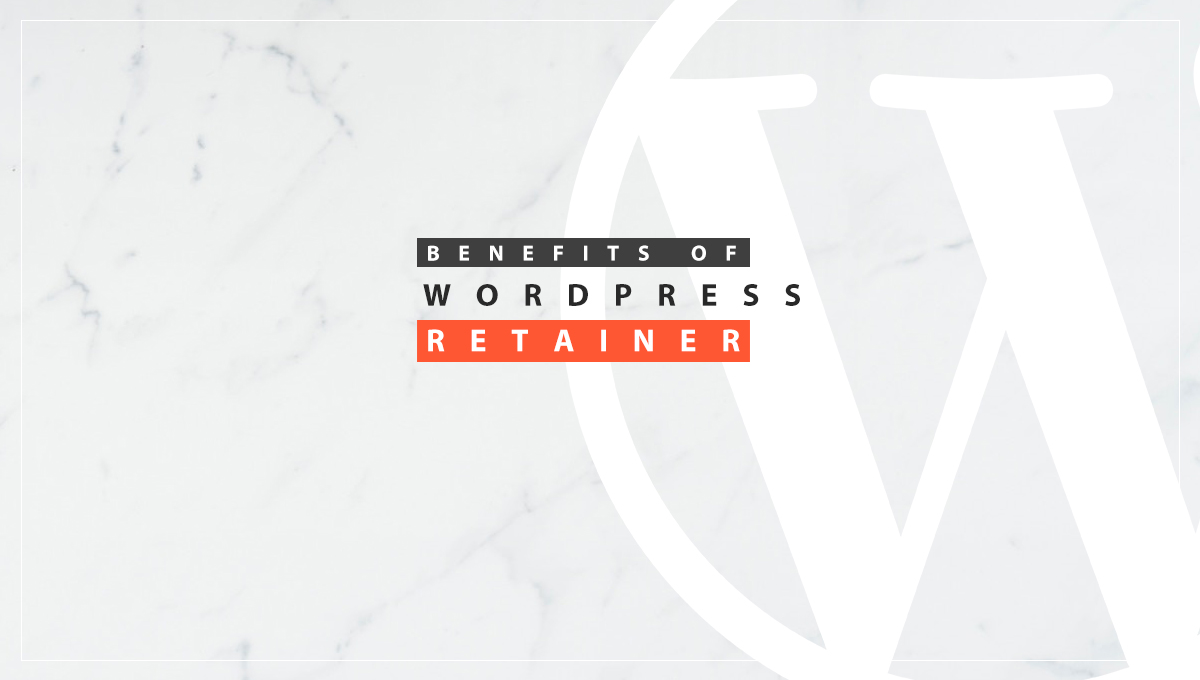 What is a WordPress Retainer
As the name suggests, a retainer is someone or something you can keep for yourself by paying a basic amount at fixed intervals. So, by WordPress retainers, we mean a person or company you hire on a monthly, quarterly, or yearly basis to help you with ongoing development and maintenance of your site.
You can engage a retainer service if you need assistance keeping your WordPress site online. WordPress Retainers provide on-demand assistance with both technical issues and routine maintenance. They'll keep an eye on things to ensure your site doesn't crash and do whatever else you need for your website. A WordPress Agency as a retainer can also assist with adding new features and functions. Additionally, they will aid in the management of your complete site.
Benefits of WordPress Retainer
1. Fast and Dependable
If you hire an agency and keep them on retainer, they will know exactly what you want from your website. As a result, when you need maintenance done on the website, briefing the team is quick and straightforward because they are already familiar with your site.
The greatest firms will also offer same-day assistance and consistently allocate sufficient resources to complete your project when needed.
A WordPress-focused agency spends all day, every day, learning the platform's ins and outs, making them proficient in handling any technical issues of WordPress.
2. Ensures the safety of your website
A WordPress retainer keeps an eye on your site all the time, making it much simpler and quicker to spot any signs of hacking. In addition to maintaining regular backups, your support partner may eliminate malware and fix any issues with your site. They will be able to identify malicious software, conduct thorough security checks, block spam, and much more.
A WordPress support expert will keep your site up-to-date, check the functionality of your theme and plugins, and handle any other issues that may arise.
3. Cost-Effective
Keeping a site up and running is a full-time job. Hiring a WordPress professional (team or agency) may be the best option if your company is on a restricted budget. In exchange for a small regular payment, you can use their support whenever you need it.
If you hire a service on a monthly retainer, you'll always know how much budget you'll have to set aside for that service. On the other hand, it is more challenging to allocate budget for the services of a WordPress specialist if you just bring them in for emergencies. An established monthly cost can be guaranteed with a retainer.
Moreover, retainers help your company's in day-to-day operations and can provide additional to your in-house teams. A service familiar with your company's brand and service may be relied on to do a good work.
Moreover, you can reduce or increase your budget according to your need as they provide multiple plans to select from, each catering to the needs of different businesses.
Additionally, suppose you hire someone to build a website and when some issue develops in the future. In that case, it gets quite difficult to find and hire the same developer, and hiring another developer to fix the issue might prove more costly as it will take him more time to locate the cause of the issue. In contrast, if you have retainers, they will be capable of finding the issue very quickly as they had developed the website, so they know your website's code inside out.
You may Like: Codeable Review
4. A WordPress Retainer acts as Your Technology Partner.
An agency with a team of efficient developers can be a great partnership. They act as your technology partners. While you manage your business, they take care of all the technical aspects of your business website, ensuring that your site runs without developing any snags.
Moreover, they are in the development field so they know about every new technology that is introduced and hence they can provide some great suggestions and implement new technology assessing your business needs.
Developing such a partnership proves quite beneficial for both sides.
5. Prime concern offering
All other work takes a back seat to retainer projects. Quicker responses are guaranteed in the event of an issue. At the time of your greatest need, you may rely on their quick assistance. If you're one of the fixed payees, you might think they'd assume responsibility for any problems with your WordPress site. It's not just about getting paid; establishing and maintaining solid professional relationships is also crucial.
6. Constant Upgrading
WordPress users can take advantage of frequent updates that boost performance and add new functionalities. If you choose an agency to handle your website maintenance, you can rest assured that you will get the most out of this feature.
You risk losing functionality and exposing your site to security threats if you don't actively manage your website in the context of regular updates and releases from WordPress and any plugins you might be utilizing. With WordPress retainers at your side, you can leave the responsibility of updating on their shoulders.
Read Our Article: WordPress Development – Hiring A Freelancer or An Agency
7. Peace of mind
A professional WordPress development agency available on call is your best bet during peak periods. Hiring a WordPress expert on retainer will ease your worry. They will monitor the site for you and fix any issues that arise, so you won't have to worry about keeping track of it. With the help of your retained professionals, you can rest assured that any unforeseen circumstances won't financially impact you.
Conclusion
So, having a Retainer Service is like having an in-house team at a very low cost. They work with you side by side and provide any assistance you require regarding any technical issue. Websites issues don't occur with a warning, so a retainer service is a good option. It is cost and time efficient, giving you peace of mind and time to do what you are best at- managing business operations.