In this post, I will answer the most critical questions about permalinks in WordPress. And I will define the term 'permalinks' and explain why they are so crucial for every website owner.
I will advise you on how to choose a proper permalink structure and how to correctly optimize your website by taking SEO in the consideration, as well as how to edit permalinks in WordPress.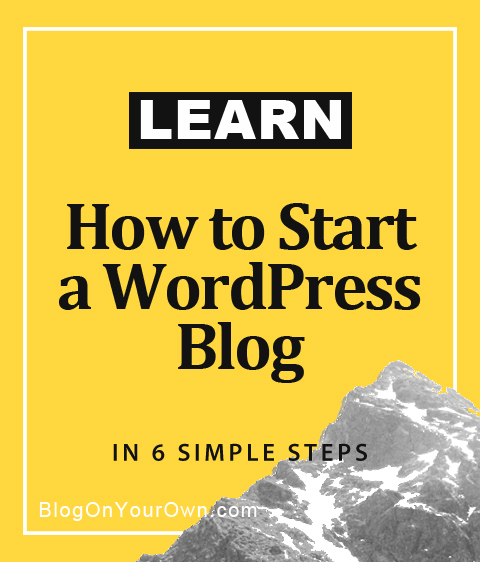 To learn more about how to start a WordPress blog and what is a blog – the definition of a blog, read my articles.
So, let's begin!
Here is an overview of what I am going to cover:
1. What are permalinks
2. What permalink structure should we choose
3. How should we edit permalinks in WordPress
What are permalinks?
You may also like
Permalinks are fixed and unique URL addresses of particular posts, pages, categories or tags on your WordPress blog site.
Permalink is visible in the top browser bar. It is nothing else but an internet address making a link from a post published on your blog.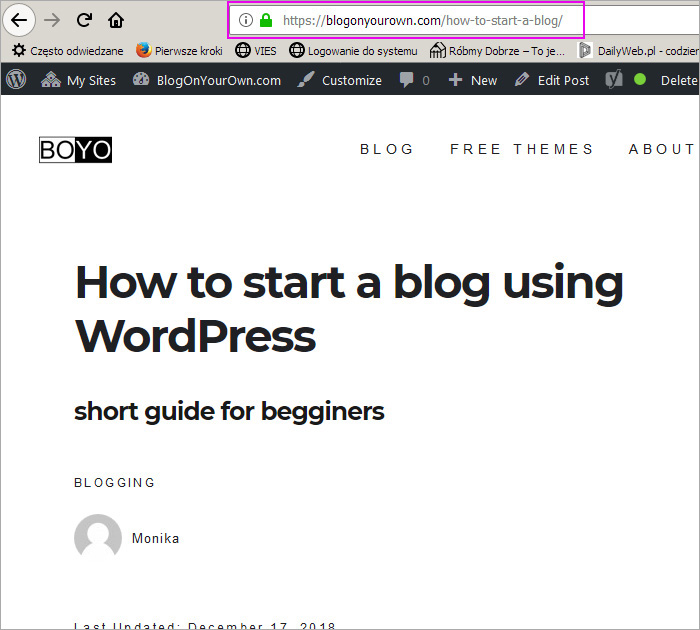 Permalink should be fixed and never change, which is also visible in its name: permanent link – permalink.
Permalink on the post that you are currently reading:
https://blogonyourown.com/permalinks-in-wordpress
Why permalinks are so important?
First of all, it is thanks to the permalinks that other people can find your content on the Internet. Each permalink is given to one, specific site.
You use permalinks while sharing your content on social media or by sending your friend an e-mail with a link to an interesting article. Permalink will also be used by another blogger, who wants to refer to your article, etc.
The URL address of all your posts should not change, because people may use them to access your individual posts. Permalinks should be permanent (long-lasting).
Permalinks are also very important when we take SEO into consideration. They help in positioning your page in the search results, which is one of the most important functions of optimization that directly affects optimization for SEO.
Set correct permalink structure
When we are installing WordPress, we are installing default settings at the same time, so it is important to remember that some of those settings should be changed before we start to blog.
Permalinks should be regarded with special care. Their default structure in WordPress contains question marks and meaningless numbers. You can see an example here:
where 123 is a Post ID number.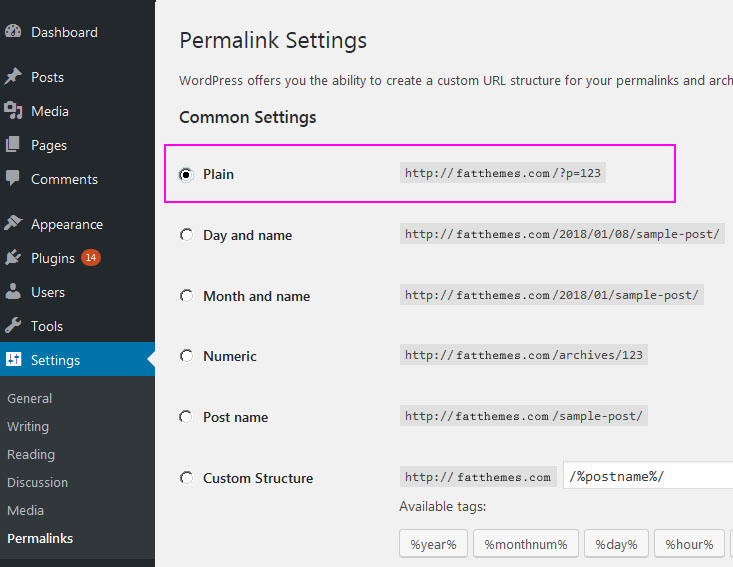 URL address such as this one is a cluster of unmeaning signs. It is very hard to remember and is showing nothing to your readers or to browsers. The positioning of a blog with this kind of link is very difficult.
They are also not connected in any way with your post's content and they cannot be used for your post's identification.
Wouldn't it be better if our permalinks looked like this:
https://blogonyourown.com/what-are-permalinks/
This permalink immediately indicates what is the content of your article. It gives a clear message to your readers and search engines.
---
REMEMBER
A site's URL structure should be as simple as possible.
---
According to Google, the best kind of URL address is the simple one, so let's stick to that :). Google has some great suggestions here: Keep a simple URL structure.
WordPress uses the term "Pretty" Permalinks. It is an idea that URLs should not be filled with incomprehensible parameters because they should make sense to people who often see and click on them.
---
REMEMBER
use "pretty permalinks" for better SEO
---
Permalinks' structure in WordPress:
Plain
Day and name
Month and name
Numeric
Post name
Custom Structure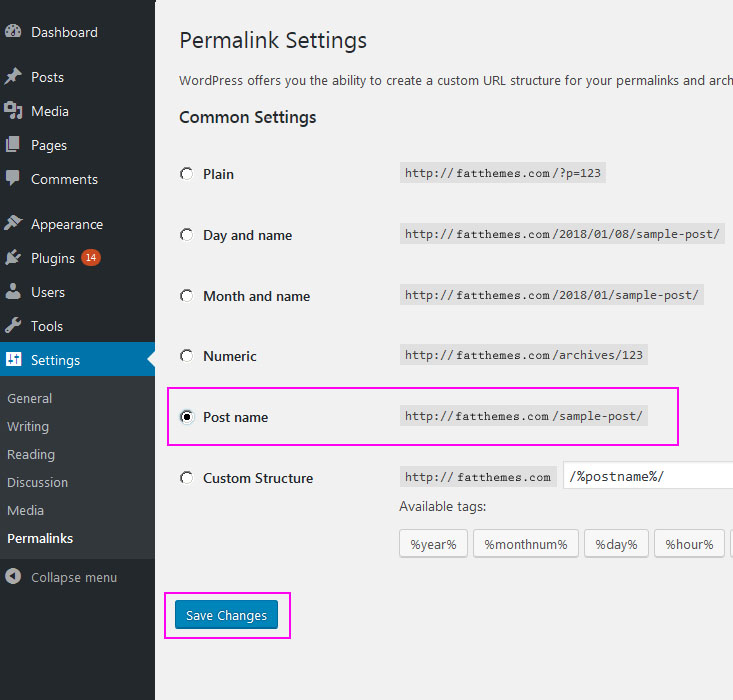 In my opinion 'Post name' is the best option. It is simple, legible and doesn't have unnecessary dates, signs or words. Naturally, it will only work if your posts have different titles.
WordPress also offers different permalink structures containing dates, which may also apply to a multi-author blog with duplicated post titles or to those who write few posts per day.
If you write rarely don't use the option containing a date. It may have a bad impact on your blog's popularity because all of the older posts will seem to be outdated, even though the information that they carry maybe still relevant.
Custom URL structures ('Custom Structure') are also worth mentioning. Thanks to them, you may build your own permalink structure. It will work out if you want to add a category or an author's surname.
Making it easier for a user to navigate their way through your website is a big asset of adding categories to permalinks. A user may modify a link's text in their browser in order to move to another section, for example, to a specific category.
The troubles may start when your article will belong to many different categories. This way, permalink contains all of these categories and it will no longer be as simple and legible as it was before, which may have a negative influence on your website.
---
REMEMBER
Permalink should:
be short, simple and easy to memorize,
refer to the content of your website,
contain, if it is possible, a focus keyword,
be written in small letters and specific words should be separated with hyphens
---
How can you change permalinks in WordPress
Don't worry about the thing. Changing permalinks structure in WordPress is very easy, you only have to remember about the most important thing:
---
REMEMBER
change permalink structure before posting on your blog.
---
Related posts
If you already published posts or pages on your blog, do not change permalinks. Such change may cause the existing posts to have non-working links and they will not be screened. They will disappear and Error 404 page will show up instead. In this situation, you should ask a professional WordPress developer for help.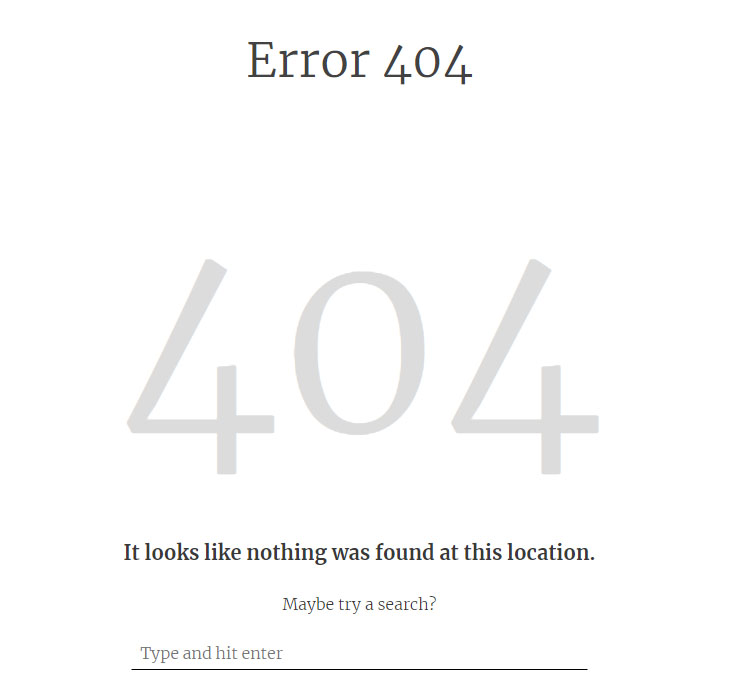 In order to change permalinks in WordPress you should:
Choose a permalink structure – Enter Dashboard < Settings < Permalinks, select the 'Post name' option and then click 'Save Changes' at the bottom of the page.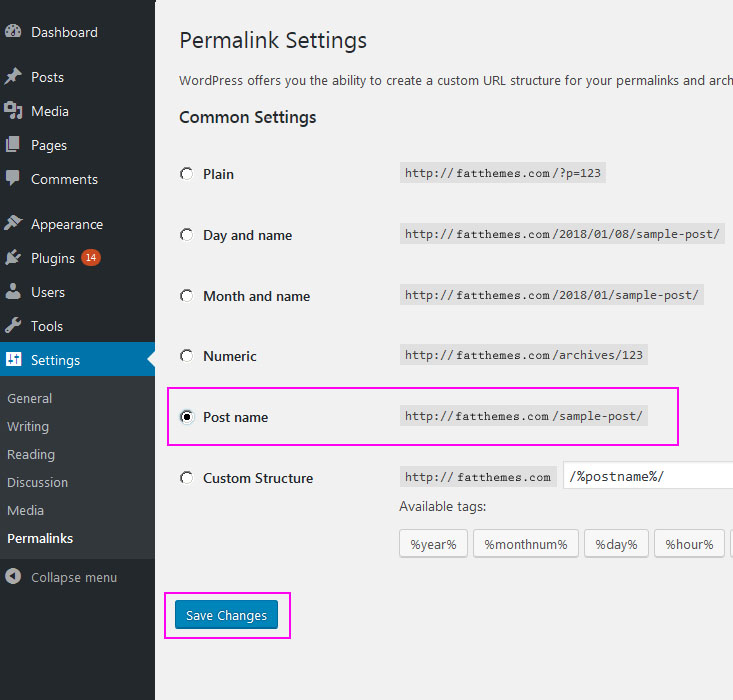 After choosing a general permalink structure you can change permalinks of your posts and pages
---
REMEMBER
The title of your post or page doesn't have to be the same as a permalink
---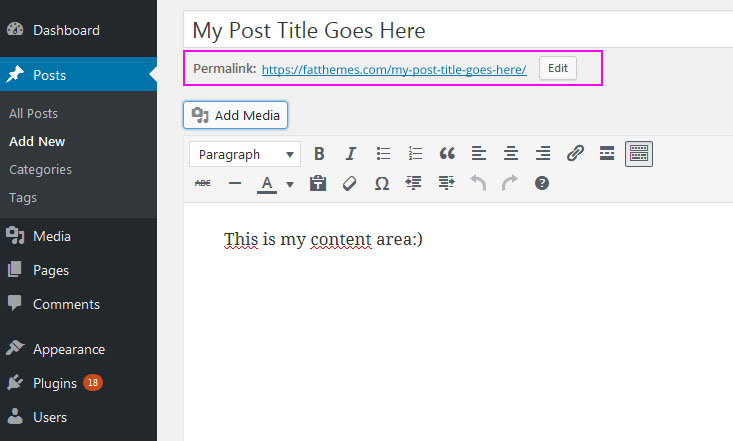 Why change a single post/page permalink?
Permalink of a single post or page on your blog is created automatically on the basis of a title.
The title must be interesting to a user in order to catch their attention and convince them to read the article that is supposed to introduce them to the topic and is usually quite long.
Permalink, on the other hand, should be short, simple and friendly for both users and bots.
The whole title is usually a permalink, but if it's too long, then don't be afraid to change a permalink. The more simple version of it will be better.
For example, if the title of the post is What are Permalinks, then its permalink is just permalinks-in-wordpress.
To change a single permalink, enter the editor of a post or page.
Immediately under the title, you will find an automatically generated Permalink and the button 'Edit' next to it. Click on it and adjust the permalink as you see fit.
Don't forget to save changes by clicking the 'Publish' button.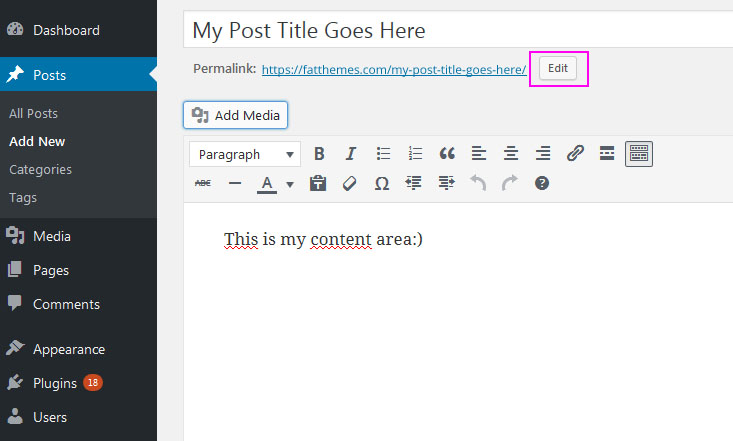 It is time for a brief summary
You may also like
Permalinks in WordPress are one of the most important settings, that you need to configure right after you start any kind of site in WordPress.
Do it before you publish anything, because changing them after publishing something may cause you a lot of troubles. Luckily, setting the right permalink structure in WordPress is very easy.
While creating the most suitable permalink structure, remember that they should be:
– short, simple and easy to memorize,
– refer to the content of your page,
– contain focus keywords, if it's only possible.
That all about permalinks in WordPress.
It wasn't so difficult to get through this topic, right? 🙂