In the vast, ever-expanding cosmos of the digital age, where every click, scroll, and tap propels us further into uncharted virtual territories, there exists a luminous beacon of creation and connection. At the heart of this digital universe stands WordPress. The almighty content management system that has redefined the way we construct and communicate on the web. But to reap the full benefits of WordPress, one need to follow some WordPress Blogs.
Imagine a vast canvas stretching beyond the horizon, awaiting the stroke of a virtual brush to paint your thoughts, passions, and ideas. This is WordPress, not merely a platform but a portal to the boundless realms of online expression. In the realm of ones and zeros, it is the inkwell from which countless narratives, dreams, and visions flow.
With the keystrokes of millions of users, WordPress has birthed a thriving ecosystem of blogs, each a world unto itself. These blogs, diverse as the stars in the night sky, range from the meticulously coded to the elegantly designed, from the profoundly philosophical to the unabashedly whimsical.
And so, dear traveller of the digital age, as we embark on this journey through the boundless reaches of the WordPress blogosphere, we shall encounter these celestial realms of creativity and information. Each blog is a testament to the human spirit's insatiable curiosity. A testament to the power of words and images to shape, inspire, and transform.
So, fasten your digital seatbelts and prepare to navigate this celestial labyrinth of WordPress blogs. In the words of Walt Whitman, "Do I contradict myself? Very well then, I contradict myself; I am large, I contain multitudes." Similarly, WordPress contains multitudes, and within its virtual embrace, we shall uncover a multitude of worlds, each waiting to be explored, cherished, and celebrated.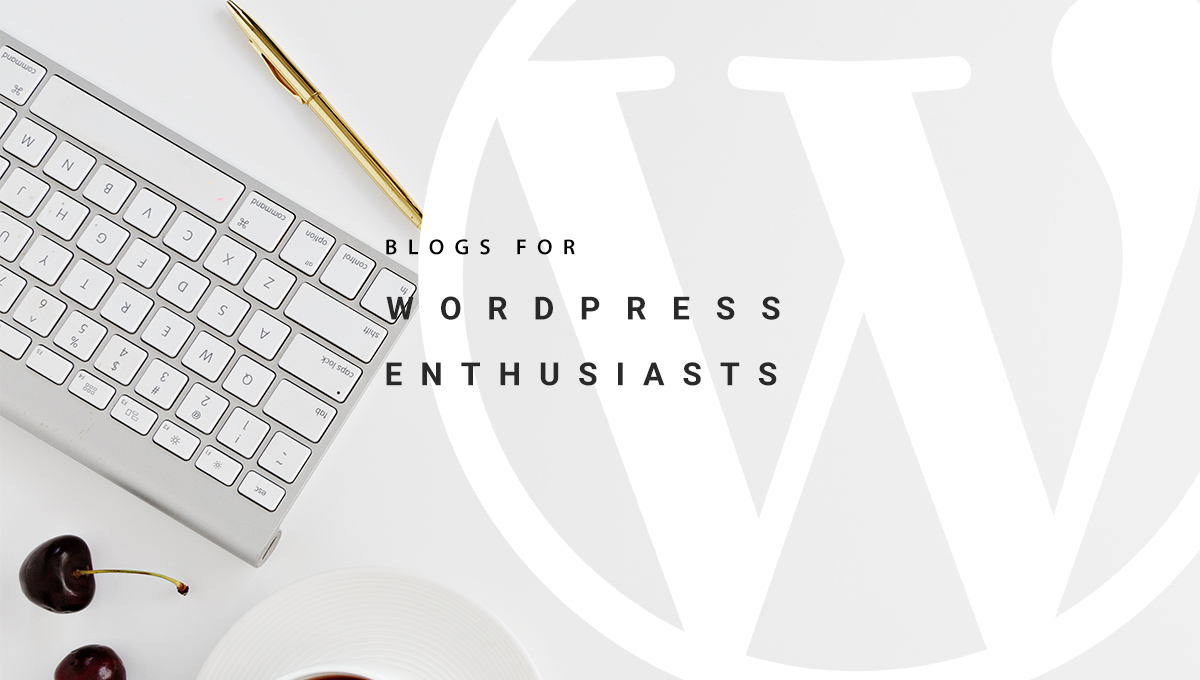 Best WordPress Blogs
WPBeginner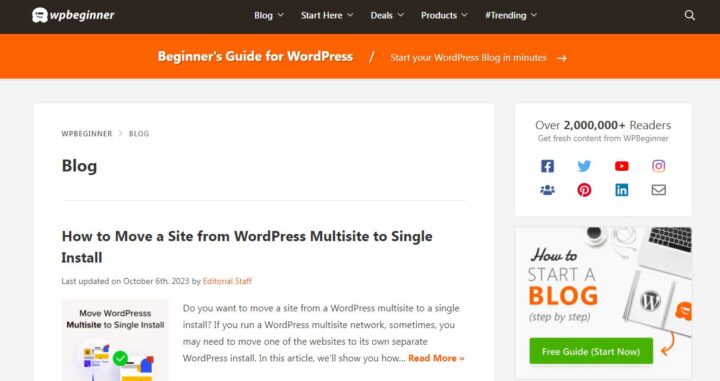 In the ever-expanding universe of WordPress, where websites and blogs flourish like galaxies, WPBeginner shines as a guiding star for those embarking on their journey through the intricate cosmos of website creation. Founded by Syed Balkhi, this WordPress blog has become a trusted companion for both novice and experienced WordPress users.
What sets WPBeginner apart is its unwavering commitment to demystify the complexities of WordPress. It offers a ton of tutorials, tips, and how-to guides that transform the seemingly daunting into the delightfully achievable. From mastering essential WordPress functions to customizing themes and optimizing performance, WPBeginner equips users with the knowledge and skills needed to navigate this powerful platform with confidence.
The blog's user-friendly approach is complemented by Syed Balkhi's genuine passion for WordPress and his dedication to simplifying the often-intimidating world of web development. His articles and video tutorials are like a friendly hand guiding you through the digital labyrinth.
WPBeginner's impact stretches far and wide, helping countless individuals, businesses, and organizations establish their online presence. It stands as a testament to the democratizing power of WordPress. Where even the most intricate coding and design elements are made accessible to all.
You May Also Like: Best Personal Blogs
WPMU DEV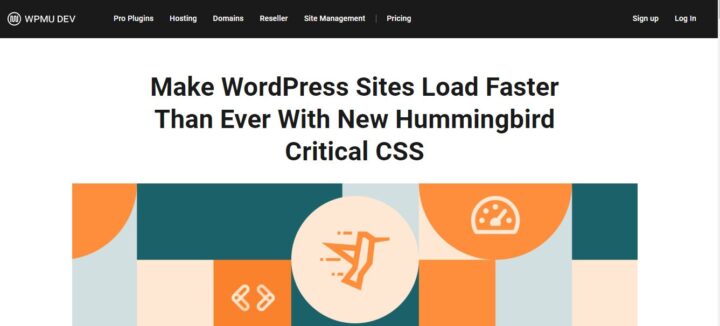 As a premium WordPress development and support service, WPMU DEV is distinguished by its commitment to excellence in both its products and its dedication to improving WordPress websites.
What makes WPMU DEV unique is its comprehensive collection of premium plugins, themes, and hosting solutions. These tools are carefully designed to improve the functionality, design, and performance of WordPress websites. From optimizing sites to ensuring security and facilitating e-commerce, WPMU DEV empowers website creators with essential resources.
Furthermore, WPMU DEV is recognized for its exceptional support and resources. Their team of WordPress experts is readily available to provide technical assistance and guidance, ensuring users can make the most of their WordPress installations.
In a digital era where a robust online presence is crucial, WPMU DEV continues to lead the way in WordPress innovation. It is more than a service. It is a dependable partner in the pursuit of digital excellence, where quality is not just a goal but a standard. WPMU DEV remains a trusted resource for those seeking to create, optimize, and manage WordPress websites with unmatched quality and ease.
You May Also Like: Best Blogs for Women
Elegant Themes Blog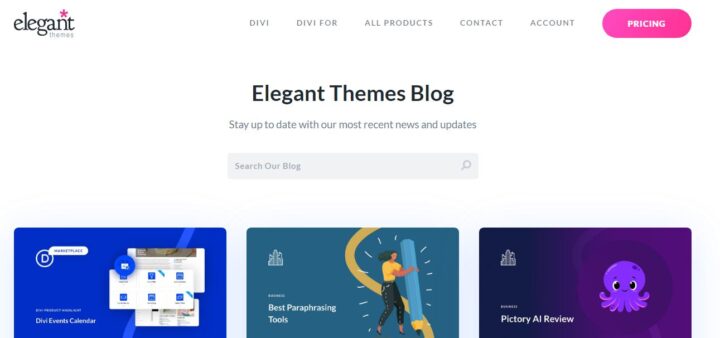 As the blog counterpart of Elegant Themes, a renowned provider of premium WordPress themes and the iconic Divi Builder, this platform is not merely a blog but a wellspring of knowledge and innovation for web designers, developers, and WordPress aficionados.
It serves as a treasury of resources, tutorials, and insights, empowering users to create visually captivating and highly functional websites. Irrespective of whether one is a novice or an expert, this blog offers a rich tapestry of wisdom on WordPress, web design trends, and best practices in the realm of creativity.
The Elegant Themes Blog also serves as a showcase for Divi, their flagship theme and Page builder. Through in-depth tutorials, case studies, and design exhibitions, it unveils the limitless potential of Divi, providing a canvas for crafting unique and captivating websites.
Beyond design aesthetics, the blog delves into various facets of web development, SEO strategies, and content creation. Hence making it a comprehensive resource for those seeking to elevate their digital presence.
In a digital landscape where aesthetics and user experience reign supreme, Elegant Themes Blog stands as a guiding light. Inspiring and equipping users to transform their digital visions into captivating web realities.
You May Also Like: Best Male Blogs
The Yoast Seo Blog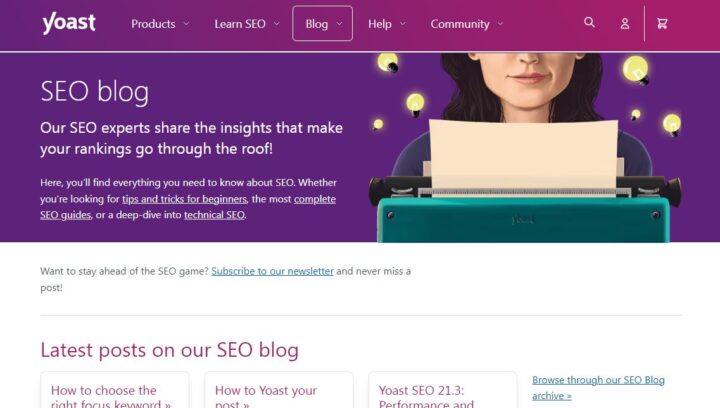 The Yoast SEO Blog is an authoritative guide, illuminating the path to mastery in search engine optimization (SEO). As an integral component of Yoast, a globally recognized name synonymous with SEO excellence, this blog serves as an invaluable wellspring of knowledge and insights for webmasters, content creators, and digital marketing professionals.
The Yoast SEO Blog is committed to elucidating the complex and ever-evolving realm of SEO. It offers an extensive repository of articles, comprehensive guides, and meticulously crafted tutorials designed to empower users to enhance their website's discoverability on major search engines, most notably Google. Whether one is an SEO novice navigating the labyrinthine intricacies of optimization or a seasoned professional seeking the latest techniques and strategies, this blog delivers invaluable guidance with unwavering authority.
Beyond technical SEO intricacies, the blog explores the art of content optimization, user-centric experience, and cutting-edge digital marketing strategies. This multifaceted approach ensures that users attain a comprehensive understanding of how to effectively traverse the digital landscape. And conquer the competitive terrain, and engage their online audience with precision.
In an era where digital visibility is the linchpin of online success, the Yoast SEO Blog emerges as a trusted North Star—a beacon of SEO wisdom, expertise, and authority. It is an indispensable resource for those who aspire to dominate the digital realm, establish prominence, and elevate their online presence with utmost precision and finesse.
You May Also Like: How To Do Keyword Research
CodeinWP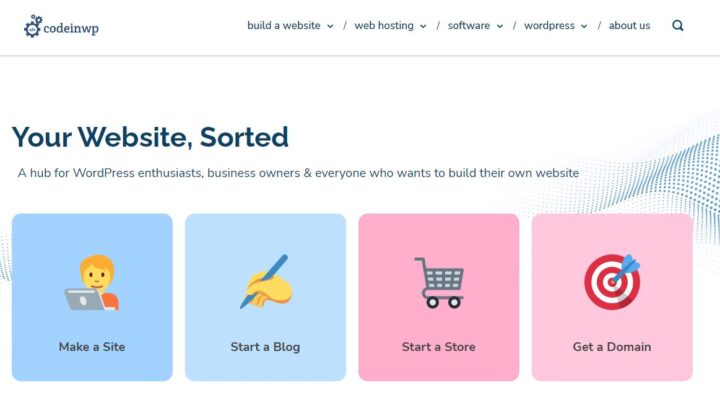 CodeinWP is another great WordPress Blog. It was founded by Ionut Neagu. According to them more than 5 Million users have used their resources to build their website. It provides some of the basic tutorials in WordPress Development. Every week they publish new tutorials and highly researched articles, providing users with in depth knowledge of the WordPress Content Management System.
Moreover, they regularly review popular WordPress Plugins and themes, offering honest assessments and recommendations. Occasionally they feature some free resources such as downloadable templates, icons or design assets. These are quite beneficial for web designers and developers looking to enhance their projects.
They also feature Guests posts from industry experts, which adds diverse perspective and expertise to their blog's content.
You May Also Like: How to Start a Podcast
WPTavern Blog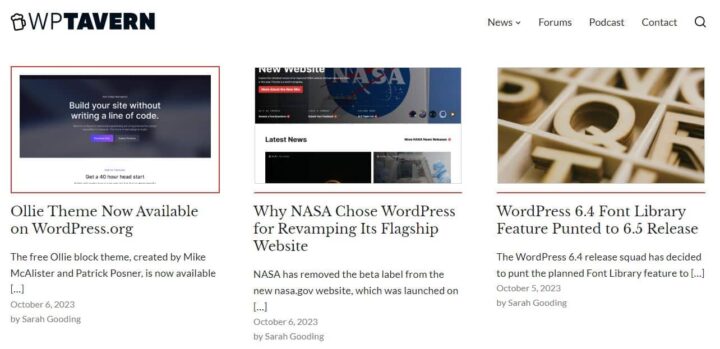 WPTavern is a renowned WordPress blog that provides essential news, reviews, and insights about the WordPress ecosystem. WPTavern's coverage spans WordPress core updates, plugin and theme reviews, and community events like WordCamps. The blog encourages active community engagement and discussions through its forums, connecting WordPress users and experts.
Additionally, WPTavern offers a platform for interviews with prominent figures in the WordPress community, offering unique insights into the industry. It emphasizes open source advocacy, promoting the principles of accessibility, inclusivity, and transparency within the WordPress project. With its extensive archives, WPTavern serves as a valuable resource for tracing the history and evolution of WordPress.
You May Also Like: Best Christian Blogs
WordPress Official Blog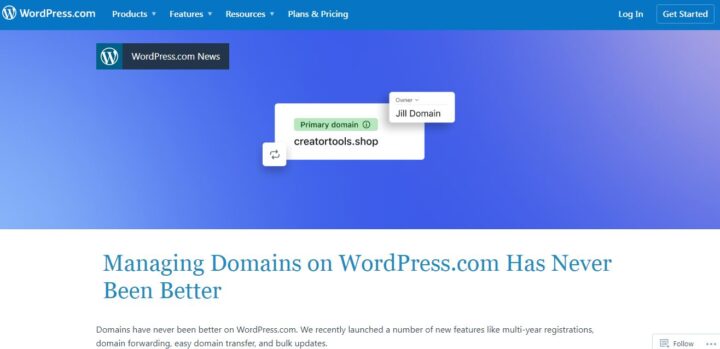 WordPress, a widely recognized platform for website and blog creation, hosts an informative and dynamic blog that serves multiple purposes. This official blog has been a cornerstone for WordPress users and website enthusiasts.
At its core, the WordPress Official blog serves as a primary channel for communicating official updates. It announces new features, enhancements, and any changes that impact the WordPress ecosystem.
A significant portion of the blog is dedicated to tutorials and guides. These resources empower users to harness the full potential of WordPress. Topics range from website setup and theme customization to SEO optimization and plugin utilization, making it an
invaluable asset for both beginners and experienced users.
Additionally, the blog showcases user success stories, spotlighting websites and blogs created on WordPress. This not only celebrates user achievements but also offers inspiration to those embarking on their online journey.
The blog occasionally delves into broader industry trends, providing insights into web development, online publishing, and digital marketing. It offers practical tips and best practices for website management, content creation, and effective online marketing strategies.
Furthermore, community engagement is a key feature. The blog stimulates a sense of belonging by promoting community events, challenges, and contributions from WordPress users and developers. Guest contributors occasionally share their expertise on the blog.
You May Also Like: Best Blogging Platforms
MonsterInsights Blog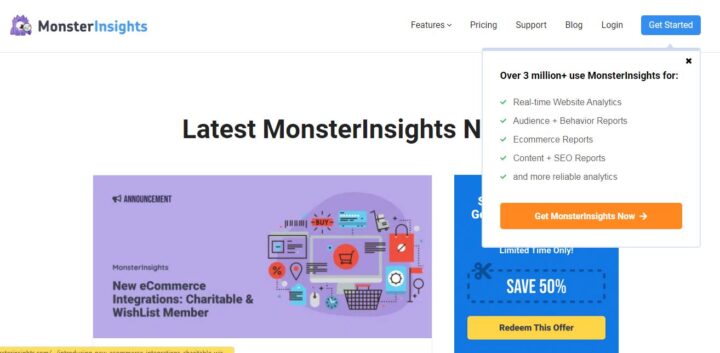 The MonsterInsights blog is a one stop destination for website owners. Especially those utilizing WordPress, seeking to maximize their analytics capabilities. The blog primarily centers on Google Analytics insights. It offers comprehensive guides, tutorials, and tips for effectively implementing and optimizing Google Analytics on WordPress websites. Users can find detailed instructions on configuring tracking features and leveraging analytics data to enhance their online presence.
Additionally, the blog delves into SEO and marketing strategies, emphasizing data-driven decision-making in digital marketing efforts. It also occasionally covers WordPress and WooCommerce related topics, providing insights into optimizing these platforms for improved analytics and performance. User stories and case studies showcase real-world applications of MonsterInsights, inspiring readers with practical examples of its benefits.
It is a great source of information for those seeking to harness the power of analytics for website growth and improvement.
You May Also Like: 6 Most Common Mistakes Amateur Bloggers Make
Smashing Magazine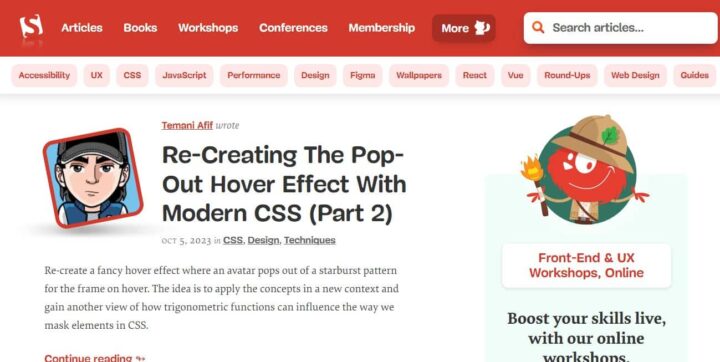 Smashing Magazine is a revered online publication at the forefront of the web development and design community. Renowned for its extensive and insightful content, Smashing Magazine serves as a guide for professionals and enthusiasts alike.
The magazine boasts a broad spectrum of topics that encompass web development, design, and user experience (UX). Its comprehensive articles delve into coding, front-end development, responsive design, typography, accessibility, and more. What sets Smashing Magazine truly apart is its dedication to providing in-depth tutorials and how-to guides, often accompanied by practical code examples. This approach empowers developers and designers to enhance their skills and stay up-to-date with industry trends.
Additionally, Smashing Magazine is a source of design inspiration, showcasing exceptional web designs, UI/UX examples, and creative projects. It is also a platform for industry experts to share their knowledge, contributing advanced articles that offer valuable insights.
The magazine actively engages with its community through discussions, forums, and events. It has been instrumental in advocating responsive web design principles.
Furthermore, Smashing Magazine extends its reach through print and digital publishing, compiling its best articles and tutorials into books and eBooks.
You May Also Like: Must Follow Sustainability Blogs
Torque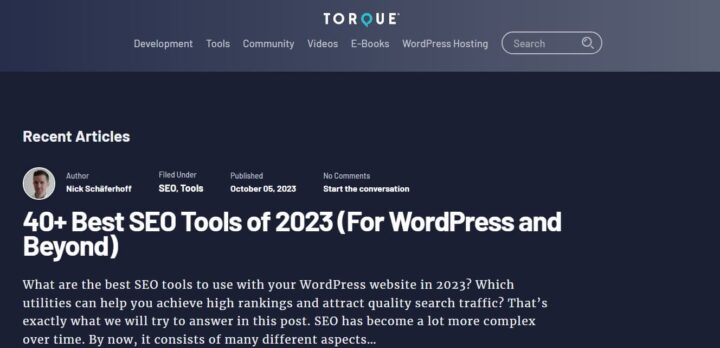 Torque, a prominent online publication, has established itself as a premier source for all things WordPress. With a primary focus on this popular content management system, Torque's blog has become an indispensable asset for a diverse audience of WordPress users, developers, designers, and enthusiasts.
It provides the latest WordPress news and updates. The blog continuously informs about core releases, plugin updates, and important security advisories.
Beyond news, Torque offers an extensive library of tutorials and how-to guides. These comprehensive step-by-step articles cater to users of all skill levels, guiding them through WordPress setup, customization, and troubleshooting. From basic tasks to advanced development techniques, Torque covers it all.
The blog is equally valuable for those seeking recommendations. Torque often features reviews and insights on plugins and themes. This helps users discover the best tools to enhance their WordPress websites.
Torque actively engages with the WordPress community by covering WordCamps, conducting interviews with influential WordPress figures, and supporting community-driven initiatives. Developers and programmers can find a ton of information related to coding techniques, best practices, and emerging technologies in the WordPress development sphere.
In addition to written content, Torque offers a multimedia experience, including podcasts and videos that explore a wide range of WordPress-related topics.
You May Also Like: Best Self Improvement Blogs
Kinsta Blog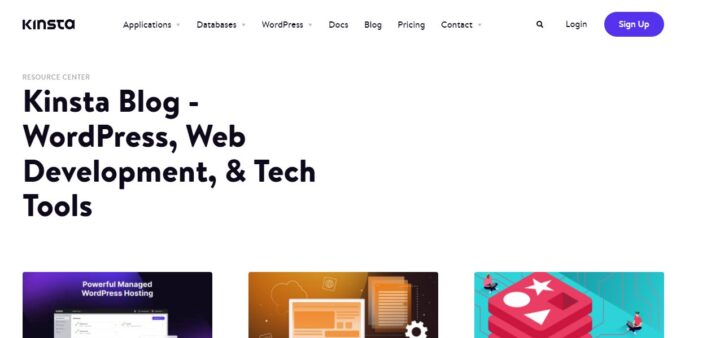 Kinsta's blog stands as an asset within the WordPress community. Renowned for its premium managed WordPress hosting services, Kinsta complements its hosting expertise with a blog tailored to WordPress users, developers, and website proprietors.
Within the blog, you'll find a diverse array of content, encompassing comprehensive WordPress tutorials and insightful tips. These guides address an array of WordPress-related topics. Empowering users to fine-tune their websites, bolster security measures, and enhance SEO rankings.
Kinsta's dedication to optimizing website performance shines through their blog, with articles delving into advanced techniques for accelerating WordPress sites. These encompass server-side optimizations, the integration of content delivery networks (CDNs), and effective image compression methods.
Security is of paramount importance. And the blog serves as a source of enlightenment on WordPress security best practices, equipping readers with the knowledge required to robustly protect their websites.
For those intent on strengthening their SEO endeavours, Kinsta furnishes comprehensive articles on SEO strategies, proficient keyword research, and astute on-page optimization techniques.
Developers are catered to with technically-focused content, exploring coding methods, server configurations, and advanced WordPress development subjects.
The inclusion of case studies spotlights the tangible impacts of Kinsta's hosting services, showcasing success stories from businesses and websites that have achieved remarkable outcomes.
You May Also Like: The Best Personal Finance Blogs
WP Engine Blog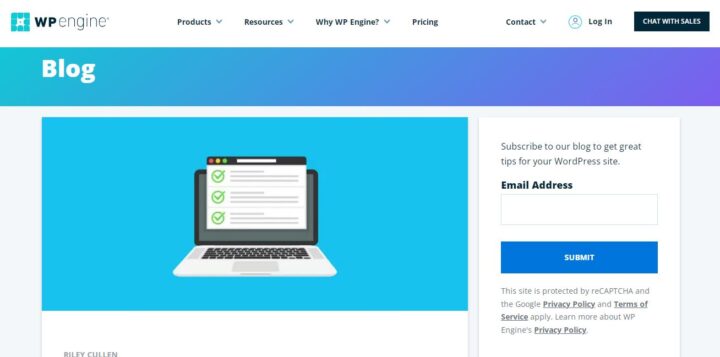 Imagine WP Engine's blog as a digital treasure chest in the vast sea of the internet. Within its virtual pages, you'll find a bounty of WordPress wisdom, lovingly curated for users, developers, and digital navigators.
Dive in, and you'll discover a coral reef of tutorials and tips, glistening like pearls, waiting to elevate your WordPress site to new heights. These pearls of wisdom unveil the secrets of optimization, the treasure map to speed and performance, and the enchanted keys to secure your digital fortress.
Venture deeper, and you'll uncover the mystical forest of development, where the ancient scripts of coding come alive, and the whispers of technical prowess echo through the trees.
And beyond, you'll journey through time, tracking industry trends like explorers chasing shooting stars, while tales of customer successes shine like constellations in the digital night sky.
You May Also Like: How to Start a WordPress Blog [6 Simple Steps]
Time To Wrap Up
The WordPress ecosystem thrives on a rich tapestry of blogs that cater to a diverse audience of users, developers, designers, and enthusiasts. These blogs, with their wealth of insights and knowledge, play a pivotal role in empowering WordPress Users.
From the authoritative and community-driven reporting of WPTavern to the user-friendly tutorials of WPBeginner, WordPress enthusiasts are spoilt for choice when it comes to educational resources. The dynamic Torque Magazine covers news and events within the WordPress community, while CodeinWP presents practical solutions.
Elegant Themes delves into design, Kinsta prioritizes performance, and MonsterInsights specializes in analytics. Each of these blogs contributes uniquely to the WordPress landscape, making it more accessible, functional, and enjoyable for users worldwide.
These WordPress blogs serve as beacons of knowledge, illuminating the path for novices and experts alike. They foster a sense of community, provide valuable insights, and celebrate the versatility of WordPress. Whether you're seeking technical expertise, design inspiration, or the latest industry trends, the best WordPress blogs offer a gateway to endless possibilities in the world of web publishing.