Recently, survival blogs have grown in popularity thanks to the bizarre global pandemic of 2020, that shook the world into a new reality, however temporary. People from all walks of life are now paying attention to survival blogs. Previously viewed by many with a touch of humor and a pinch of salt, survivalists and preppers get viewed by mainstream society as a fringe element, living in perpetual suspicion of mainstream philosophies and systems.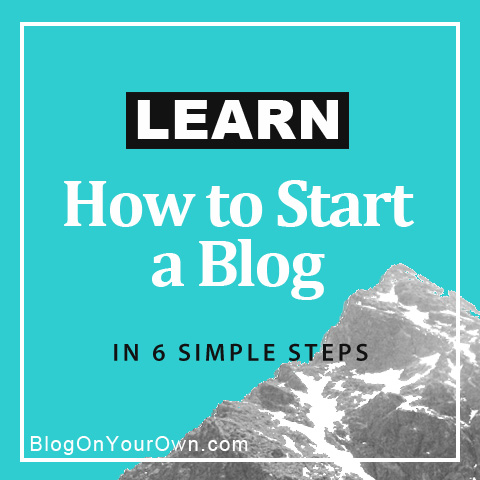 Now, however, people have realized just how practical and relevant survival blogs are for general preparedness. Survival blogs are an excellent resource for anyone enthusiastic about being self-sufficient and ready to handle any situation that gets presented.
Today I want to introduce you to an interesting, and at times, eccentric variety of survival bloggers and their popular blogs. We'll look at who the target market is for this blog niche, what topics get covered, and how you can make money by starting a survival blog.
Let's Prep!
What are Survival Blogs all about?
The focus of many survival blogs is on family preparedness and personal freedom. And as with all blog niches, there are different micro-niches within the survival blog niche.
The first two macro niches in this genre can be split into urban survival blogs and wilderness survival blogs. Some blogs will showcase both while others may hone in on one or the other. But in both genres, attention is given to:
Food storage,
Security,
Back-up fuel supplies, and alternative energy sources,
Self-reliance,
Water purification,
Survival skill and techniques.
The skills and techniques you need for wilderness survival differ from those needed for urban survival. Even the motivations are different. Many wilderness survivalists are attracted to the idea of living off the land. They want to learn how to start a fire without matches, build a shelter, hunt, fish, and forage for food, and defend themselves.
These blogs often focus on military-type preparations. Firearms feature strongly, as do crossbows, surveillance equipment, and self-defense techniques. The wilderness survivalist is often kitted out in camo (to blend in with his surroundings). And many share the same political and religious affiliations. But as a group they are decentralized. The desire to stay anonymous is strong and they guard their privacy and living locations to the point of paranoia.
The urban survivalist
The urban survivalist is in a different situation. They have no direct access to hunting and fishing grounds and are fairly limited (physically) just by the way cities and suburbs are designed. These folks will sometimes have a back-up plan to flee the cities. And may very well have cabins, and other locations, they have prepared for any eventuality.
Then there are the Doomsday Preppers. These folks can appear pretty extreme to outsiders. They are preparing for a disaster of apocalyptic proportions. It is often this group that people associate survivalists with. These folks live, waiting for the end of the world. And as such, their outlook is based on scripture and prophecy. The other types are usually, but not always, anarchists, opposed to government, paying tax, and being controlled or watched. These are the "Big Brother is Watching" types of preppers.
What are Survivalists and Preppers preparing for?
These are the main reasons why preppers prep:
Fear of socio-economic collapse,
Natural disasters,
Pandemics,
Terrorist attacks,
Religious persecution and prophecies,
The Apocalypse (not just any apocalypse, but THE apocalypse),
Fear of government control and losing basic civil liberties, like the right to bear arms,
Power outages, EMP, and nuclear fallout.
All these reasons seem plausible but there is a common thread that runs through everything. Fear and lack of trust in a system run by politicians with crooked agendas. But I am generalizing. Some enjoy the idea of absolute personal freedom.
There are also groups that prep because they want to live an alternative lifestyle. They strive for complete self-sufficiency. They do not want to depend on the government for anything, whether it's food, medical care, education, or employment. And often this is where an overlap occurs.
On one end of the survivalist spectrum, you have homesteading and off-grid living. People that enjoy these blogs are often into simple, frugal living, natural and organic food and cosmetics, peace and love. They surely read beauty blogs, health blogs, or food blogs. And there is a definite absence of fear-based content.
On the other end, you have your hardcore preppers, armed to the teeth, stocking up on foods that are anything but fresh and organic, and ready to die defending their homes and families.
It's on this end of the spectrum that I will find my best blogs – Top 14 Survivalist Blogs today.
Survival Bloggers and Their Target Audience
Previously, as I mentioned, preppers and survivalists were a definite niche group. But this group is changing to include a wider audience. The economic shut down of the entire world has many people re-evaluating the way they live. And now the idea of "be prepared" is a reality.
Just like many blogs, the aim is to create content in order to earn an income. Successful blogs have seen bloggers leaving full-time jobs to become full-time bloggers. The survival blog niche is no different. In some ways, it is the perfect niche for turning a blog into an online store or to incorporate affiliate marketing into blog posts.
No. 1 – Affiliate marketing
Affiliate Sites, Authority sites, and Niche sites, all blog to generate income from multiple streams of revenue. Affiliate marketing is a major player in this regard.
According to Authority Hackers, there are 3.7 million confirmed preppers. Prepping is a $7.8 billion a year industry. And 55% of adult Americans buy survival gear and supplies regularly.
There are many affiliate programs for survival bloggers to sign up with.
Here are 8 survival affiliate programs that offer a good commission on products sold. Bloggers can earn between 5-10%, if not more, with these programs.
Survival Life
Survival Frog
Legacy Food Storage
Titan Survival
Sportsman's Guide
3V Gear
SecureIt Gun Storage
Crate Club
No. 2 – Other Revenue Streams
As with other blogs, digital products and free resources attract traffic. And hopefully, boost subscriber numbers. But there are also courses and self-defense classes on offer through these sites. And many survival bloggers are business owners who sell survival apparel and accessories themselves. So they will have online stores to go with the blog. There is even Survival Realty, with the focus on selling the out of the way, off-grid properties.
What do most Survival Blogs have in common?
These are the types of things prepper and survival blogs cover:
Homeschooling,
Food storage – canned and other non-perishables, foraging, growing your own,
Security – weapons, alarm and surveillance systems, self-defense skills,
Alternative fuel sources,
Self-sufficiency – all levels,
Alternative power supplies – batteries, torches, generators, etc.
Medical emergencies – first aid skills and first aid kits,
Water filtration – water tanks, purification systems.
Survival bloggers want to share their expertise and knowledge with other like-minded people, who are already preppers. Being prepared means having alternative sources of gas, power, electricity, fuel, food, and medical assistance.
Prepping can also appeal to those who are fed up with the way things are going in cities and who want to change their lifestyles. Many folks are tired of being part of a system that they are not 100% happy with, and are fast losing faith in.
Survival blogs appeal to more than just preppers and survivalists. Anyone interested in:
living off the grid,
homesteading,
living simpler, less cluttered lives,
organic farmers,
people who want to live in rural areas,
or people that live in urban settings who want to be prepared in the event of blackouts, natural disasters, and another global economic collapse.
All these groups can benefit from the blogs I'm sharing today. They offer loads of practical advice on:
budgeting,
growing and storing food,
and having security systems in place.
Security includes owning firearms and learning basic self-defense moves.
From homeschooling to learning basic life skills (like cooking, sewing, hunting, farming, and more), survival blogs are a reminder that there is always a way to survive anything. BUT you need to plan. And be prepared.
Men – the target market
A large section of the target market is men. Traditionally it is the man's duty to protect and provide for his family. As a man, the pressure is there to make sure his family will be safe in any circumstance. He needs to safeguard his home from home invasions, to be prepared for fires, floods, accidents around the home, aliens landing…
It is his responsibility to also provide financial security so that the children can be educated, well-dressed, and never hungry. He needs to save for vacations, college, retirement. The pressure on modern man is great. Today the western world makes a huge commotion about equal rights and gender equality, and yes absolutely, life is different from how it was 20 or 50 years ago. But at the core of a man's makeup is the primal instinct to be the provider and protector.
So there are a lot of resources on:
firearms,
DIY projects – from making your own biofuel, to learning how to hunt and build shelter,
homebrewing,
and creating off-the-grid power supplies.
Different niches within the Survival blog niche
On the broadest scale, survival blogs could fall under the macro blogging niche – LIFESTYLE blogs. This is because Survival blogs represent a certain lifestyle choice that preppers, fans of prepping, and survivalists embrace, for many different reasons.
Also in the Lifestyle blog category, you'd find these blog niches:
Off-grid living
Frugal living
Homesteading
Minimalist blogs
Survival blogs
Prepper blogs – The prepper blog niche has many more women involved than the survivalist blog niche has. Which is why the Survival Mom was a great name and idea. Hat off to Lisa!
Craft and Hobby blogs
Gardening Blogs
The target audience for the blogs listed above would probably be interested in most of the blog niches listed here. As you can see the content you find in these lifestyle blogs are totally different to the content of the lifestyle blogs below, that focus on:
So without any further ado, let's jump in and discover the marvelous world of prepping.
Survival blogs are known for promoting survival techniques and preparedness, in any conceivable situation. They had a surge in popularity back in 2009 when the economy crashed and left many Americans homeless and jobless.
But survivalist blogs have been around since the very beginning of blogging. The most well-known survival blog is my No.1 ranking survival blog. It was started in 2005, by James Wesley Rawles. And remains at the top of the pile still!
This blog has evolved with the times but is also a template for any blogger wanting to start and run a successful survival blog.
1. Survival Blog (survivalblog.com) – A Daily Blog for Prepared Individuals Living in Uncertain Times
Started by James Wesley Rawles in 2005. Jim is former US Army Intelligence, a technical writer, and now a full-time survivalist author, part-time blogger, and retreat consultant. Survival Blog is considered the "Grandaddy of Survival blogs." He has stepped back and, although still involved, does have others to help.
In the "About Us" section you will find a long list of subsections.
You'll find:
Rawlesian Percepts
Discussion Guidelines
Prayer
Kudos
Ten Cent Challenge.
James is a prolific writer so this blog is a reflection of his many thoughts, ideas, and philosophies.
His blog has an ongoing non-fiction writing contest with awesome prizes up for grabs. It also features an excellent resource section and there is access to the archives that contain well over 25,000 posts!
James is very respected, and has built a solid reputation for himself within the survival/prepping community.
You can also read about: Best Male Blogs to Follow
2. The Survival Mom (thesurvivalmom.com) – I Help Moms Worry Less and Enjoy Their Families More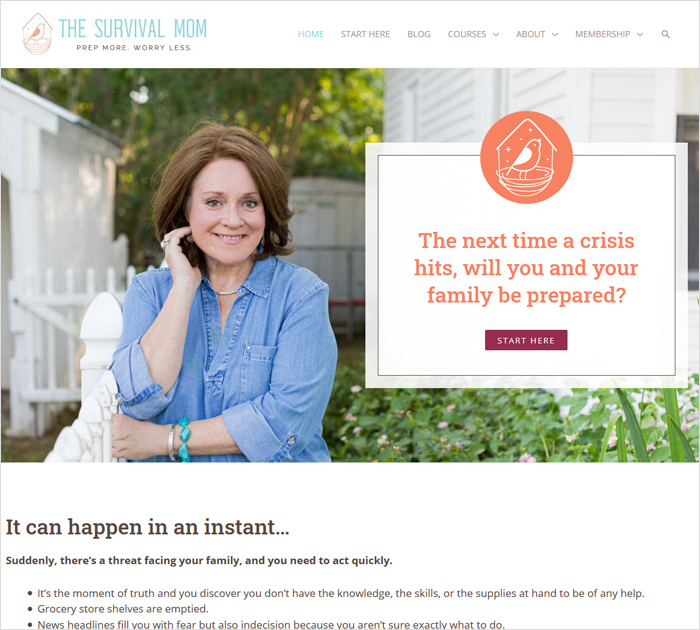 Lisa Bedford started her blog in 2009. Motivated by angst after the 2008 financial crisis, she decided to get prepared. She is a wife, mom of two, a homeschooler, and now a dedicated prepper. The Survival Mom is a blog for women, and especially – as the name suggests – it is a blog for moms.
Lisa usually writes about:
Survival and Preparedness
Important Skills to Learn
Maintaining a Balanced Home and FamilyLife
Homeschooling
Frugal Living
3. The Prepper Journal (theprepperjournal.com) – Best Survival Blog for ALL Prepping Resources (my words)
This blog started by Pat Henry, in 2013, and sold in 2017, to "Wild Bill". Just like Pat, that's his pen name.
I love this blog, even though it's a bit busy! It's broken into 3 main categories and those are further broken down into organized sections. So it's easy to navigate and find what you are looking for. The main categories are Prepping Basics, Survival Basics, and Prepper Resources. And from there you'll find everything else.
The Prepper Journal is choc-a-bloc with guest posts from various people. And they run a Prepper's writing contest on an ongoing basis. With the first prize being a $300 Amazon Gift Card. Not too shabby! This is one of the most informative, well put together blogs I have read, in any niche!
Read more about: Sports Blogs That Will Inspire and Motivate
4. Modern Survival Blog (modernsurvivalblog.com) – Defend the Constitution of America against all enemies: foreign and DOMESTIC
Read more about
Ken Jorgustin is the owner of this blog. And yes, Ken is his pen name. Ken's professional background is in electrical, mechanical, technical engineering, and product management. And through the years he has acquired many very handy skills to prepare for any situation.
I love the layout of Modern Survival Blog. You arrive on the landing page and the most recent posts are all in block form with an image and title. A cool addition: the number of comments per post. And there are a lot of comments.
One thing I have noticed is how much interaction there is among survival blogs. It's really cool. It is a very community -based niche. Another thing I see is that they all support and advertise for each other so there is camaraderie instead of competition.
If you want to browse you can click on the hamburger icon in the top right corner. This takes you to the drop-down menu of all the blog post categories.
Modern Survival Blog has well over 2,000 articles. The focus is on practical, sensible preparedness, self-reliance, and the pursuit of Life, Liberty, and Happiness.
5. Preparing for SHTF (prepforshtf.com) – Knowledge is the key to survival when shtf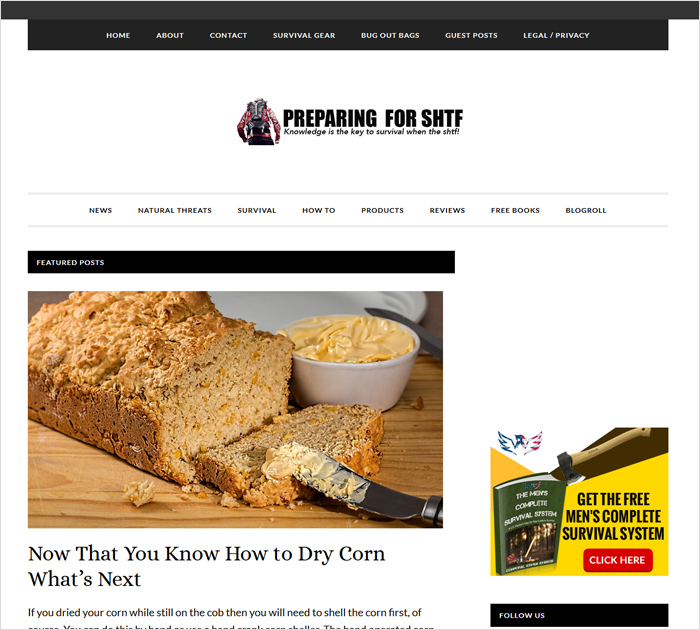 The about page on this site doesn't give much away as to who is behind it. But it has all the usual things survival blogs have.
It does however have a nice "How To" section. There are over 180 posts in this category and it's cataloged according to topic. Also, if you go to the bottom left of a page you'll be able to see a complete index of categories and topics, as well as how many articles there are on that particular subject. So that is a cool little tool to navigate with.
This is a slightly impersonal blog but only when compared to the top sites that have been going for a while. It has good product reviews and is great for anyone wanting to shop for survival gear.
The "News" section is also pretty cool. You can catch up on current affairs (the USA and abroad)
6. Prepper Website – Great resources to other sites (my words)
This is an interesting site. But only because Todd Sepulveda is quite an interesting chap. He is an ordained minister and pastor. He's also an educator. He also has more than one site. This site is the go-to site for many preppers as it's a directory also.
His Prepper Website has this mission statement – "to provide links to quality articles and websites that focus on preparing for emergencies, survival, homesteading, bushcraft, DIY, frugal living, simple life and alternative news so that you can love your people, get prepared and live free!"
Indeed, this site has great resources and articles. And there are no frills about. From the font to the layout, it's all about giving people links to more info. The landing page has links to the latest articles. The sections include:
Alt. News hub – because the mainstream media sucks!
Page 2 news – a continuation of Alt. news
Conspiracy Galore – self-explanatory
Shooter's Gallery – firearms and weapons
Frugal Living
DIY
Homesteading
Todd's other site is: toddsepulveda.com and is based on education. He also tweets daily. And his podcast is theprepperwebsitepodcast.com
7. American Preppers Network (americanpreppersnetwork.com) – National Family Survival and Preparedness Organization – Freedom Through Teaching Others Self-Reliance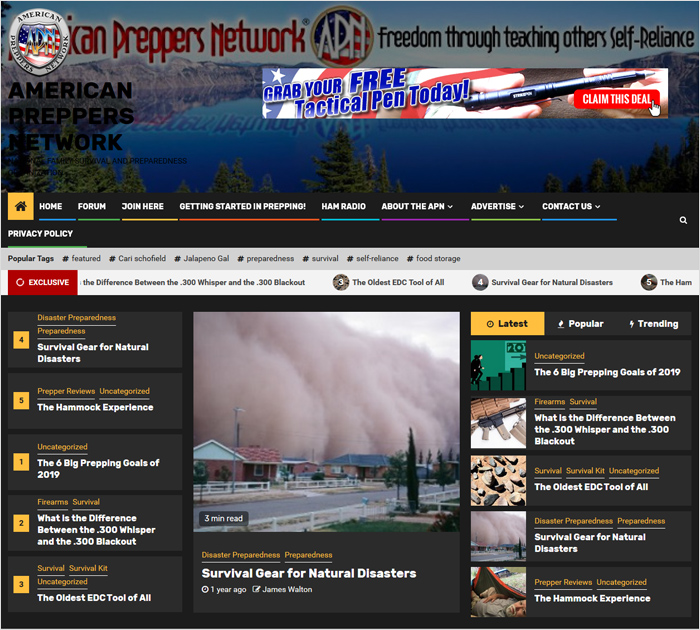 As the title and the tagline suggest, this is a veritable network. It includes a forum that is currently still very active and it is an organization as opposed to a privately owned blog.
"The APN is a Christian, Pro-American, Pro-Republic, non-Conspiracy Theory and Conservative PRIVATE Organization." But they encourage all people to participate as long as everyone remains respectful and civil. They promote self-reliance and preparedness. The About page describes the organization's core beliefs and what they hope to achieve through the network.
Read more about: Best Christian Blogs.
8. Survival Cache (survivalcache.com)
The blog is managed by its 14 contributors who together create a mix of military men, outdoor enthusiasts, woodsmen, marksmen, survivalists, and preppers. The scope of their combined life experiences and survival skills makes this a top site with quality posts.
Most survival blogs sell gear and supply reviews. They also offer discounts and specials on survival equipment and other necessities. But this blog stands out for me. Maybe because it is less cluttered than some of the others. Quite a few are littered with ads and information that make the pages seem quite busy. So if you are shopping for survival goods it's pretty easy to plan your shop.
The sections are divided into:
Survival Kits
Gear Guides
Weapons
Scenarios
Articles
They deal with urban, bushcraft, and wilderness scenarios.
9. Survival Pulse (survivalpulse.com)
Read more about
This blog was bought by Elise and Thomas Xavier. Initially, they kept the format the same. The format was originally a go-to site for news and articles from all over the web, all to do with prepping and survival.
But when social media platforms started censoring they were forced to pull back and resorted to newsletters. But due to demand they have now gone back to the favored format, with changes that allow them to run without censorship.
Survival Pulse is different from other survival blogs because they are a news site and supply links to sites and articles from all over the web.
A definitive survival directory. It is updated every day, more than once. An excellent resource. The site has great articles too. Elise and Thomas also own More Than Just Surviving. This is their personal survival blog. And it's where you'll find their blog posts on Wilderness Skills, Knife Guides, First Aid, and more.
10. Modern Survival Online (modernsurvivalonline.com) – Thoughts on Survival and the World today
I'm ending off on a high note. This blog is probably 2nd on my list if I were ranking. Started in 2010 by John Rourke, it was taken over by Dan Stevens. He is helped by fellow preppers who contribute content in their respective fields of expertise.
They have a great pdf – 20 Common Survival Items, 20 Uncommon Uses. You need to give your email to get it. And their categories are displayed clearly on the home page. Each category has a mix of reviews, informative articles and practical advice.
Categories are:
Alternative Power
Bushcraft
Communication
DIY
Economic collapse
EDC (Every Day Carry)
EMP
Gear
Homestead
Reviews
Survival and Preparedness
Urban Survival
Weapons
Survival food
11. Prepared Housewives (prepared-housewives.com) – Simplified: Food Storage, Emergency Prep, Survival Skills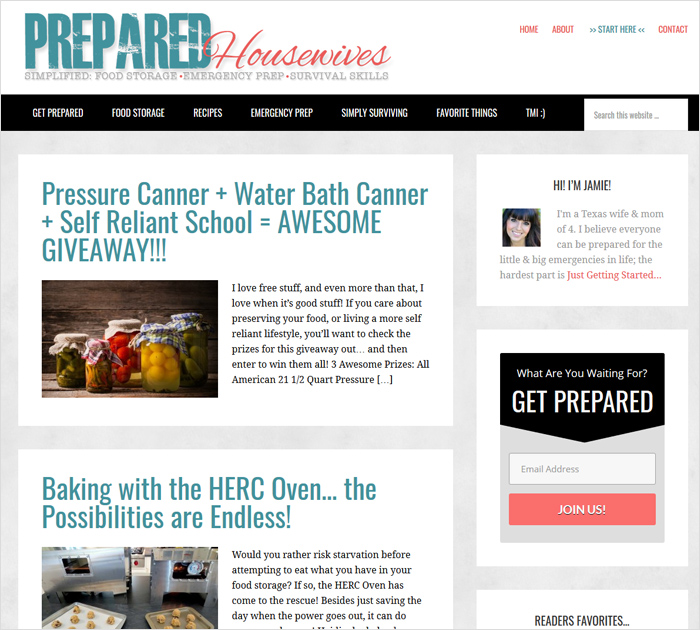 This Texan mom of 4 has put together a comprehensive collection of resources and reviews for stocking up and general preparedness. Her categories include:
Get Prepared
Food Storage
Recipes
Emergency Prep
Simply Surviving
Favorite Things
12. Survivopedia (survivopedia.com)
Survivopedia occupies a distinguished digital space as a preeminent platform committed to the dissemination of essential knowledge, practical skills, and a comprehensive understanding of self-reliance and preparedness. As an authoritative voice in the domain of modern survivalism, this survival blog serves as a reservoir of indispensable insights, catering to a discerning readership that seeks to navigate the intricate tapestry of contemporary existence with both confidence and competence.

With a resolute focus on empowering individuals to navigate a spectrum of scenarios, Survivopedia expounds upon a wide array of subjects, ranging from emergency readiness and tactical proficiency to self-sustenance and homesteading practices. Its curated content is emblematic of a holistic approach that bridges the chasm between theoretical knowledge and actionable application, thereby fostering a sense of agency among its readership to surmount unforeseen challenges.

The hallmark of Survivopedia's distinctiveness lies in its unwavering commitment to fostering self-sufficiency. The platform not only elucidates concepts but engenders a culture of proactivity. This ethos resonates through its comprehensive guidance on diverse skillsets, be it food cultivation, water purification, or the construction of rudimentary shelters.
13. Tactical Intelligence (tacticalintelligence.net) – The Tactics You Need to Confidently Survive and Thrive in Good Times and Bad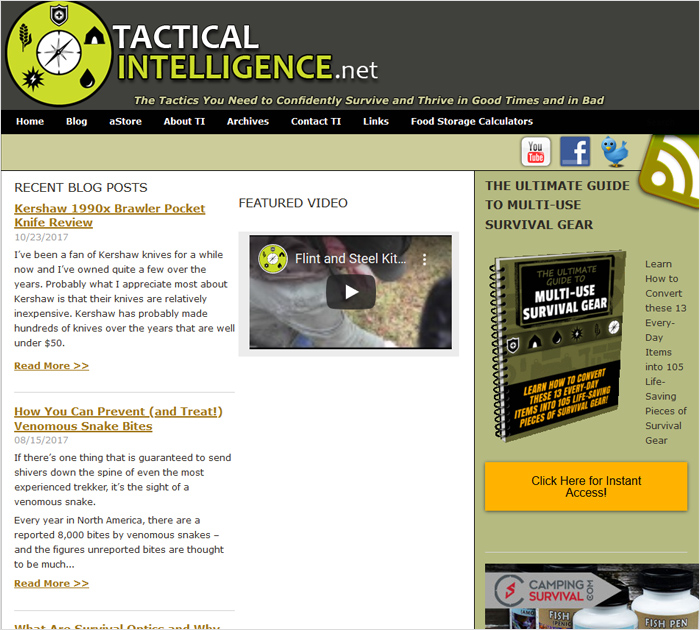 This blog is owned and run by Erich. It covers the usual; emergency preparedness, personal security, modern and primitive means of survival, and self-reliance. Erich is very experienced in all these fields but insists he is still a student, as there is so much to learn.
A quote at the end of his 'About" page sums the mission of survival blogs up perfectly, "Don't waste life in doubts and fears; spend yourself on the work before you, well assured that the right performance of this hour's duties will be the best preparation for the hours and ages that will follow it." – Henry David Thoreau
The blog posts are informative, easy to read, and full of solid info. I don't usually include blogs that don't have current updates and recent articles. And this blog stops posting in 2017. But I included it because there is so much info on the site and it is pretty much evergreen content. Evergreen content, for those of you learning about blogs, is content that never goes out of style or loses its relevance.
14. The Herbal Survivalist (herbalsurvival.blogspot.com)
I'm not going to lie to you. This site is a bit of a nightmare to navigate. But only because it is jam-packed with useful info. AND if you click on "categories" you'll have an easier time looking for articles of interest. It has loads of good info on herbs, recipes, prepping, and remedies.
You'll find lots of video resources here too.
Here are some (not all) of the topics you'll find on The Herbal Survivalist site:
Top Herbal Books
Herb List
Essential Oils List
Tactical Operations
Wild Edibles Video Resource
Natural Dog and pet Solutions
News and Events
Realtime Prepper and Economy News
Recipes and Formulas
Food Preservation
Vital Survival Herbs
Natural Concepts
Before We Head to The Hills…
Thanks for reading my article, Top 14 Survival Blogs. I hope you enjoyed the content. Now that you know more about survival blogs maybe this is the niche for you. There are so many survival blogs out there and so little time. So in closing, I'd like to leave you with the names of 10 more survival blogs, that you might like to look up.
Here they are:
Self-Reliance Outfitters
Frugally Sustainable
Ready Nutrition
Peak Prosperity
Surviving in Argentina (ferfal.blogspot.com)
Survival Topics, Spot, Life
The Survival Podcast (podcast)
SHTF Plan
Happy prepping!