This article is going to be an interest one. We are going to compare the top 2 CMS platforms side by side. We will see who gonna win in the match of WordPress Vs Drupal. So let's begin.
Open-source content management systems have changed the internet more than almost anything else. They have made it possible even for a novice to construct and maintain their website, which has helped people launch businesses, blogs, and other online endeavours.
When compared to other options, WordPress has established itself as the market leader. More than a two fifth of all websites on the internet are run using this content management system.
WordPress is not, however, the only available content management system. Drupal is another widely used open-source CMS, especially in larger organisations.
It is the second most popular option among the top 10,000 websites in the world, well behind the leader, WordPress. About 52.4% of the top 10,000 sites are run by WordPress, whereas Drupal runs just 7.2%.
WordPress and Drupal share many similarities; both are CMSs that are free, open-source, community-driven, and built on PHP.
Both Drupal (in 2001) and WordPress (in 2003) saw their initial public releases around the same time.
Platforms, meanwhile, vary greatly from one another. They're all good for different tasks and have their own pros and cons.
This article aims to provide a comprehensive analysis of both platforms, assessing their features and highlighting their differences.
You May Like: What is WordPress Multisite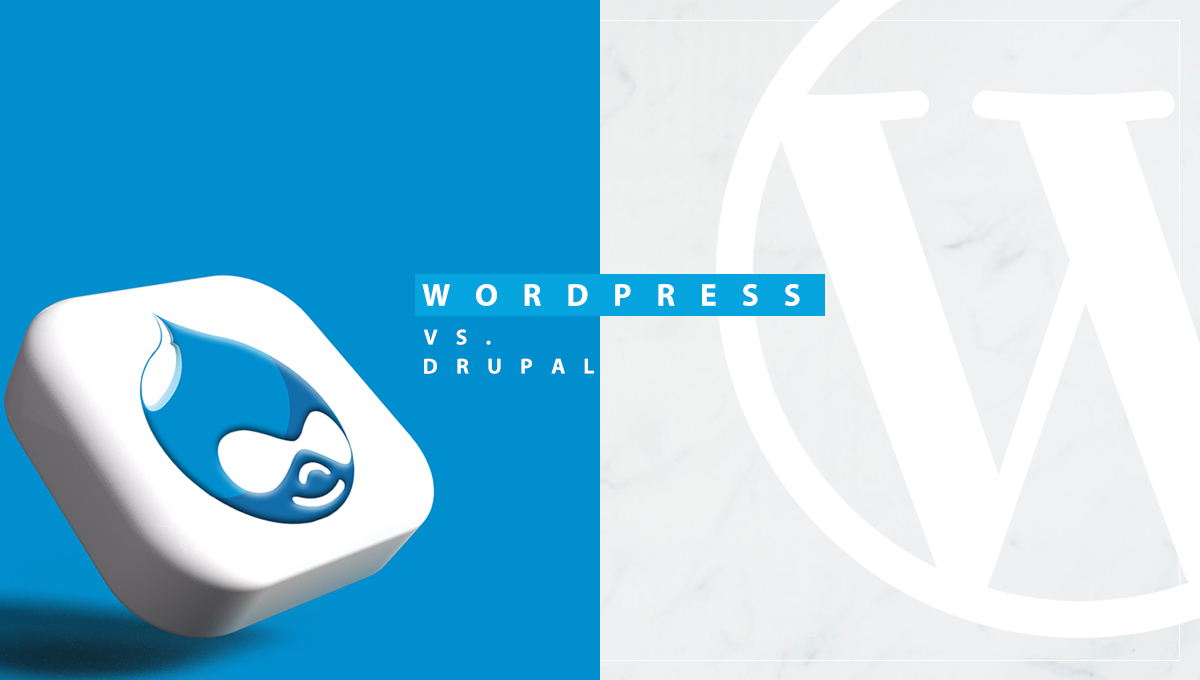 Some Stats about WordPress And Drupal
WordPress
43.2 percent of all websites on the web are built with WordPress
Since 2011, WordPress usage has climbed by 12% year on average.
About 65.2% of websites with a content management system do so with WordPress.
WordPress powers 36.2% of the top 1 million websites.
To date, there are 59,825 free plugins available in the WordPress plugin directory.
There are presently 9,124 free themes available in the official WordPress theme library. Furthermore, there are currently around 31,010 WordPress themes that one may use for free or a fee.
Drupal
Drupal is used by 1.2% of all websites and accounts for 1.9% of the CMS market.
7.2% of the top 10,000 websites and 1.2% of the top 10 million websites globally use Drupal's open-source back-end framework.
With over 1.39 million users and 124,000 contributors as of March 2022, Drupal has more than 48,300 free modules that users may use to extend and enhance its capabilities.
3000+ free themes are available
Now, let's compare some of the common features of WordPress and Drupal (WordPress Vs Drupal)
WordPress Vs Drupal: Round 1
Ease of Use
One of the places where the two platforms part ways is right here. WordPress is easy to use and does not require any prior knowledge of programming (though experienced web developers can certainly make tweaks to code). Because WordPress offers a large variety of free plugins and themes, it is incredibly simple for someone, not a developer, to make a website using WordPress quickly. Consequently, tens of millions of people and businesses, particularly small enterprises, now use WordPress as their primary content management system.
To put it in perspective, Drupal has a steeper learning curve. Installing and customising Drupal modules will be necessary to implement many of the platform's functionalities. Because it gives developers the ability to perform more difficult things than they could with WordPress, constructing a website using Drupal may become a challenging endeavour in itself. Drupal is typically utilised by enterprise developers who wish to design more complex websites.
So Who is The Winner: WordPress
You May Like: What is Full Site Editing
WordPress Vs Drupal: Round 2
Speed and Performance
The default installation of WordPress isn't exactly optimised for speed by any stretch of the imagination. This is mostly and in large part related to the way WordPress operates: When someone visits a page on your website, WordPress dynamically constructs the page by pulling data from various sources, such as your WordPress database and theme files, then combining the data into an HTML file, which is then sent to the visitor's browser. This process happens whenever someone visits a page on your website. Developing pages "on the fly" in this manner isn't always the most efficient approach when it comes to performance.
Additionally, the WordPress themes and plugins you have downloaded and installed will still consume significant server resources in the background even if you aren't currently using them on your website. Your web server's resources will be depleted if you have too many things running on it at once, which will also cause your pages to load more slowly and affect conversion.
But, There is a Big But
In spite of this, there are a number of different strategies that one can implement to speed up WordPress. For example, if you can do image optimization, use a website caching plugin, select a high-quality host, and download a reputable theme, you will have a website that loads very quickly.
Now coming to Drupal. Drupal can assist in producing websites with very high performance and great loading speed. This means server communication and response times can be ramped up to lightning speeds. The fact that the CMS requires a relatively low amount of resources to run is one of the primary reasons for this.
As a result, Drupal can manage websites that contain thousands of pages more efficiently. You will also be able to add additional extensions, such as enabling website caching, to improve performance even further.
So, Who is The Winner: Drupal
WordPress Vs Drupal: Round 3
Security
Since WordPress is currently the most popular content management system, it is also likely to be the target of a significant number of cyberattacks. WordPress's core, plugins, and themes are the three areas that raise the most concerns regarding the platform's overall level of security. Automattic is responsible for developing and maintaining the core (the company behind WordPress). This indicates that professionals are striving to maintain the core's safety. But since the community members, and not Automattic, develop WordPress plugins and themes, there is an elevated risk of being subjected to a malicious attack if you download a particular plugin or theme that contains a vulnerability that has not yet been disclosed.
According to the findings of a survey conducted by Wordfence, WordPress plugin vulnerabilities account for 55.9% of all known entry points utilised by malicious actors. Overall, 74% of the hacked websites that Sucuri investigated were using WordPress as their content management system.
Drupal is widely acknowledged as being among the safest content management systems available. This is due to the fact that the Drupal security team manages vulnerabilities not only in the core of Drupal but also in modules that the community has contributed.
Drupal modules and themes are also more vulnerable than Drupal core; however, you can decrease the level of risk you are exposed to by adhering to stable releases of Drupal modules and themes. Keep an eye out for the message, "Stable releases for this project are covered by the security advisory policy." This message will appear at the bottom of contributed projects that opt into the security policy.
So, who is The Winner: Drupal
You May Like: WordPress Plugins for Business Websites
WordPress Vs Drupal: Round 4
Scalability and Deployment
Depending on your company's size, you can be in charge of dozens, if not hundreds, of different websites. This is where the ability for automatic deployment becomes crucial. In Drupal 8 and beyond, the configuration management system is YAML-based, which greatly facilitates the deployment of pre-configured websites tailored to your organization's specific needs.
Commercial Drupal cloud providers like Acquia and Pantheon.io offer advanced deployment automation capabilities that have been tested with hundreds of sites.
WpVIP.com also provides automated, scalable deployment for WordPress. However, unlike Acquia, which has been around for 15 years and counting, it is still relatively new.
So, Who is The Winner: Drupal
WordPress Vs Drupal: Round 5
Flexibility
The customization of Drupal is handled through the use of extensions and modules. Themes and plugins allow for a level of customization somewhat comparable to that of WordPress.
It is up to you to locate, install, and configure the vast majority of these extensions entirely on your own, and the process is not as user-friendly as WordPress. As a direct consequence, you have a great deal of leeway to modify your Drupal website. But on the other hand, if you do not know how to code, implementing these adjustments may be more challenging.
Most Drupal sites are custom-built by experienced developers, which is why the majority of Drupal sites are so unique.
Suppose you do not have the necessary development skills. In that case, you will likely be required to either purchase a Drupal theme designed professionally or investigate thoroughly some of the available free options.
The number of available plugins and themes for WordPress is enormous. Your website will have its foundation established with the help of a theme, and then more functionality can be added with the help of plugins.
Many free and paid plugins and themes are available in the WordPress repository. Usually, the premium versions are of higher quality, have more features, or come with professional assistance.
WordPress is a flexible content management system (CMS) that enables users to create websites without coding knowledge.
So, Who is The Winner: WordPress
You May Like: Best Blog Hosting Sites
WordPress Vs Drupal: Round 6
SEO
Drupal has native caching, title-based URL nodes, user-customizable meta tags, and built-in search engine optimization tools. In addition, Drupal can handle the resource description framework, which is the basis of the semantic web.
The Drupal platform has many available modules that can increase its SEO capabilities. Several modules are available; some examples include the XML Sitemap Module, the Redirect Module, the Alternate Hreflang Module, the Schema Module, and the Yoast SEO Module.
If you optimise Drupal for search engine optimization (SEO), you can achieve your marketing goals more quickly than ever. To carry out this activity, you will need to be familiar with several caching technologies. These tools will assist in accelerating the loading time of your Drupal website. Drupal has powerful caching mechanisms built in.
Several plugins for WordPress can assist with various areas of search engine optimization (SEO). The Yoast SEO Plugin is specifically recognised as being one of the most widely used. By utilising the Yoast plugin, you can easily modify the titles, meta descriptions, sitemaps, open-graph data, and other components of on-page SEO.
In search engine optimization, speed also plays a vital role as a ranking factor. You might try using a plugin such as W3 Total Cache to assist with the speed at which the website loads.
So, Who is The Winner: WordPress
You May Like: How To Optimize Core Web Vitals
WordPress Vs Drupal: Round 7
eCommerce
Drupal users have access to Drupal Commerce, an e-commerce platform built on top of Drupal. In contrast to other robust e-commerce platforms, Drupal Commerce is often built from the ground up.
This simply means that Drupal Commerce provides basic eCommerce features and opportunities for integration and expansion. But Drupal is meant to be coded and customised in the long run.
A WordPress plugin designed for eCommerce, like WooCommerce, must also be installed before an online store can be launched. WooCommerce is an e-commerce plugin with a user-friendly, streamlined interface and a wealth of advanced functionality. WooCommerce now holds around 23.5% of the e-commerce market, with 5,106,506 active websites using it.
So, who is The Winner: WordPress
WordPress Vs Drupal: Round 8
Costs
Some web hosting providers offer paid add-on services or functionality to simplify deployment and continuous management. WordPress and Drupal are both free and open-source content management systems. You will, of course, need to host the installation somewhere, so you will need to take into account the expense of either online hosting or managing an environment on your premises, regardless of which option you choose.
When deciding between Drupal and WordPress, it is important to take into account the costs associated with learning and training. To learn Drupal, you should allot extra time in your schedule. Be aware that if you hire outside professionals, you may end up paying more for Drupal developers because they may be difficult to find. This is something to keep in mind.
Both systems allow customizing your website at no cost by providing free themes, plugins, modules, and templates. However, as we have discussed earlier, Drupal requires good coding knowledge compared to WordPress, which may add some expenditure to your site development if you are not a coder.
So, Who is The Winner: Although it might seem to be a tie but using Drupal needs more time investment and better coding knowledge, so if you are not much of a coder, then building sites with Drupal might be more expensive. So WordPress might have a slight advantage in this round.
You May Like: Best WordPress Tools For Maintenance
Winner of WordPress Vs Drupal KnockOut
Well as we can see WordPress won 4 rounds and Drupal 3 with a one tie, but on a serious note there is no actual winner or loser. Both the CMS Platforms have their own pros and cons, so basically it depends upon your requirements. The one that best suits your needs is the right one for you.
Advantages of WordPress
WordPress requires little to no technical knowledge to use. Compared to Drupal, it is the go-to choice for webmasters without a technical background. There is a learning curve, but once you've worked with the system for a while, you'll be amazed at how much you can achieve.
The vast WordPress plugin and theme community further add to the platform's flexibility. Moreover, the price is very reasonable. In addition to a web server and a domain name, all you need to create a fully functional WordPress website are the free themes and plugins that are readily available.
One of WordPress' many benefits is its huge online community. When there is an issue, the answer is a search or post away.
You May Like: What is Sustainable Website?
Advantages of Drupal
It has a sophisticated permission control system that facilitates streamlined management and control. When compared to WordPress, it's more comprehensive.
Second, Drupal's default installation supports multiple languages. It's adaptable, and you can tweak it to fit your specific content needs. In addition, it features a comprehensive taxonomy system and a wealth of content types.
Drupal facilitates a wide variety of page formats and enables the addition of user-generated content. Drupal's content customisation capabilities are noteworthy. The only real expenses are the ones associated with getting your site online: hosting and a domain name.
You May Like: Over 75 Useful Blogging Statistics You Need To Know
Final Thoughts
Choosing a content management system appropriate for your website is an important step in planning its future. If you make the wrong decision, you could find yourself in quite a bit of difficulty right from the start.
WordPress and Drupal offer out-of-the-box features and several other advantages that set them apart from one another. Choosing between the two content management systems requires careful consideration of your level of development expertise as well as the needs of your company.
So to sum it up there is no CMS Platform which is altogether good or bad, each one has some pros and cons and each one must be used keeping your demand and need in perspective.