Cooking is a passion for many people, and with the growth of technology, the internet has become a hub for food enthusiasts to find new and exciting recipes. Blogs have become an essential tool for these food lovers to find inspiration and try out new dishes. With so many blogs available, choosing which one to follow can be difficult. That's why, in this article, we have curated a list of top recipe blogs that are guaranteed to keep your taste buds tantalised.
From healthy and nutritious meals to indulgent treats, these blogs offer something for everyone. They not only provide easy-to-follow recipes but also give a sneak peek into the lifestyles of the bloggers behind the scenes. With beautiful photography and descriptive text, these blogs take you on a culinary journey. They also offer cooking tips, tricks, food-related news, and information. Whether you're a seasoned cook or a beginner in the kitchen, these recipe blogs are sure to help you up your cooking game.
This article will introduce you to the top recipe blogs that are a must-follow for food lovers and home cooks everywhere. From classic comfort foods to international cuisines, these blogs have got you covered. So, get ready to put on your aprons and cook with the best of the best.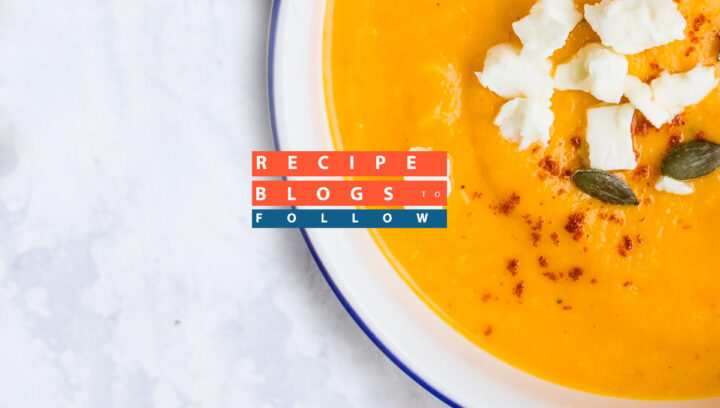 Why Recipe Blogs Have Become So Famous
Convenience: With the internet and smartphones, people have access to thousands of recipes at their fingertips. Recipe blogs make it easy for people to find, save, and cook new dishes.
Inspiration: Recipe blogs offer endless inspiration for home cooks looking to try something new. Whether it's a new cuisine, ingredient, or cooking technique, recipe blogs are a great source of ideas for meal planning.
Visual Appeal: Most recipe blogs have beautiful food photography that entices people to try the dishes for themselves. The images provide a visual representation of the final product, making it easier for people to understand how the dish should look.
Personal Touch: Recipe blogs often provide a personal touch, with bloggers sharing their own experiences, cooking tips, and advice. This creates a connection between the blogger and their audience and makes the recipes feel more approachable.
Accessibility: Recipe blogs cater to a wide range of skill levels and dietary restrictions. Whether you're a beginner cook, vegan, gluten-free, or have other specific dietary needs, there's a recipe blog out there for you.
You may also Like: 14 Best Food Blogs and Bloggers You Need to Follow
Top 25 recipe blogs to follow in 2023
Here is a list of 25 top recipe blogs to follow in 2023:
Smitten Kitchen
Simply Recipes
Cookie and Kate
Love and Lemons
A Pinch of Yum
Damn Delicious
Budget Bytes
Averie Cooks
Minimalist Baker
Cafe Delights
Natasha's Kitchen
Drizzle and Dip
Brown Eyed Baker
Baked by an Introvert
Food52
Sprinkles and Sprouts
Half Baked Harvest
How Sweet Eats
All The Healthy Things
Healthy Little Foodies
The above list is not in any particular order. There are many other great recipe blogs out there, so feel free to explore and find one that best fits your needs and interests.
1. Smitten Kitchen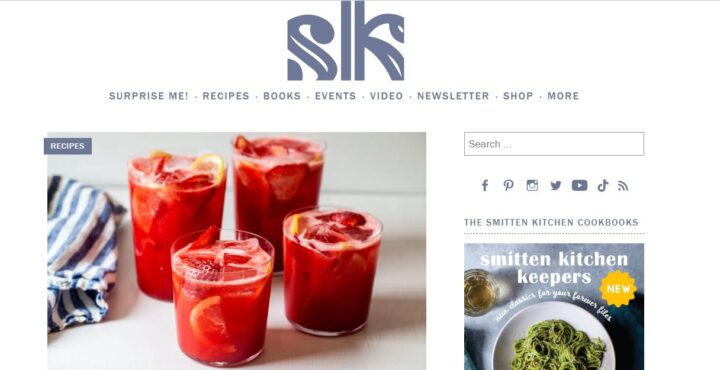 Smitten Kitchen is a popular recipe blog founded by Deb Perelman. She began her online writing career in 2003 while working as an art therapist. In 2006, she launched the Smitten Kitchen blog.
Perelman claims that in November 2012, Google Analytics showed that her blog had almost 10 million page views and 6 million unique visitors. Additionally, she has been featured on a number of websites and on The Martha Stewart Show. Smitten Kitchen took home the Bloggie for best food blog in 2012.
It features a wide range of recipes, from comforting classics to innovative dishes, emphasising approachable and delicious home cooking. The blog is known for its beautiful food photography, clear and concise recipe instructions, and personal anecdotes from the blogger.
Smitten Kitchen covers a variety of cuisines, cooking techniques, and ingredients, making it a great resource for home cooks looking for inspiration. The recipes are easy to make, making it easy for even novice cooks to follow along. Whether you're looking to whip up a quick weeknight meal or impress guests with a special occasion dish, Smitten Kitchen has got something for you.
In addition to its extensive recipe collection, Smitten Kitchen also offers cooking tips, kitchen product recommendations, and articles on food-related topics. The blog has a loyal following of fans. Smitten Kitchen is a must-follow if you're looking for a reliable source of home cooking inspiration.
You may also like: 28 Best Travel Blogs and Bloggers
2. Simply Recipes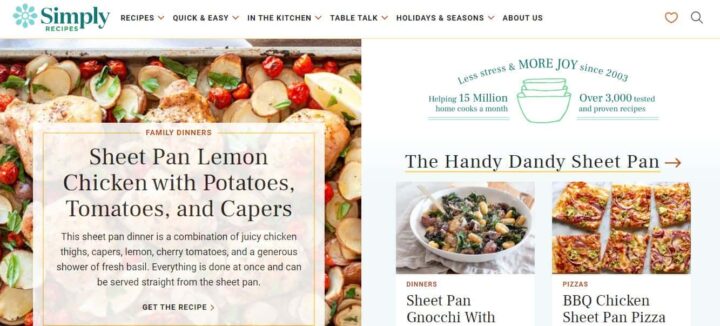 Bauer started blogging in 2003 to collect and share her family recipes. Elise Bauer started the recipe blog Simply Recipes. Simply Recipes was bought by Fexy Media in 2016 and later by Dotdash in 2020. It is one of the most popular recipe blogs out there on the internet.
It had over 500 recipes and over a million monthly visitors by January 2007. Simply Recipes won the Best Food Blog award for 2006 from the Well Fed Network. Bauer was named one of Forbes' "Eight of the Very Best Food Bloggers" in 2010. Maggie Wrobel of The Globe and Mail praised the website's categorisation of recipes, which made it easy for her to locate recipes of interest.
3. Cookie and Kate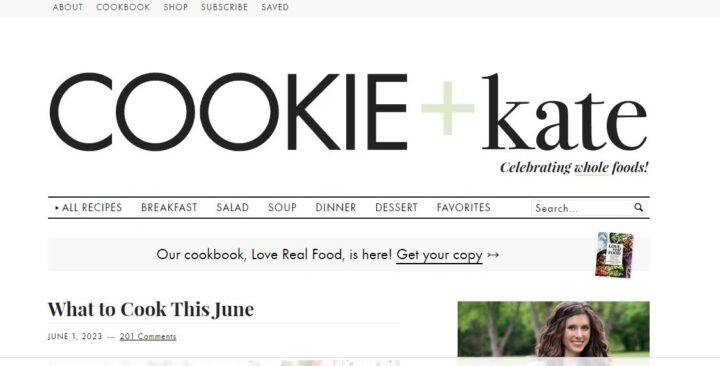 Another popular recipe blog Cookie and Kate was created in 2010 by Kathryne. Kathryne is an Oklahoma native and self-taught photographer and cook who loves to share her recipes with other foodies.
This blog is not only a fantastic location to find a wide variety of food recipes, but also a fantastic place to learn how to launch and grow a food blog. If you're interested in starting a food blog, there are a tonne of helpful guides that can show you the ropes.
They have a free app where you can get voice instructions and visuals that help you prepare meals.
4. Love and Lemons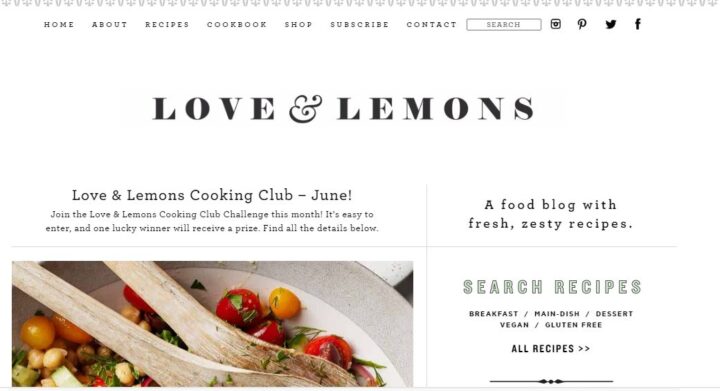 Jeanine Donofrio and her husband, Jack Mathews, are the creators of Love and Lemons. Jeanine's fondness for fresh, in-season cuisine that she often brightens up with a dash of lemon juice inspired the blog's title. The majority of dishes on the website are vegetarian.
Since its inception in 2011, the blog has garnered praise from numerous publications. These include Food & Wine, Food52, Refinery29, SELF, and Oprah Magazine, to name a few. It earned Saveur's Readers' Choice award for Best Cooking Blog in 2014. It also received Saveur's Editor's Choice award for Best Food Blog in 2016.
You can filter your search for recipes by season, holiday, special diet, meal style, and ingredient. Surprisingly, only six recipes list lemon as an ingredient.
If you are food lover and love trying out new recipes then this a must recipe blog to follow.
You may also like: 25 Best Christian Blogs
5. Pinch of Yum
Those looking for delicious recipes might check out Pinch of Yum. The dishes on Pinch of Yum are simple and nutritious. After Lindsay Ostrom found her Facebook feed overrun with pictures of her meal in 2010, she decided to build a website where she could compile her food-related ideas and recipes.
The food blog that started as a pastime has grown into a full-time business.
With an incredible 1.5 million unique monthly visitors, Pinch of Yum has established itself as the premier recipe website. It is one of the most popular recipes blogs out there.
6. Damn Delicious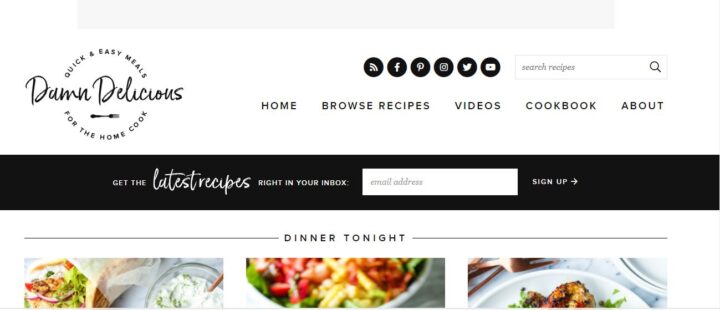 Chungah Rhee publishes her recipes on her website, aptly named Damn Delicious. Chungah was raised in a conventional Korean household and currently resides in Los Angeles.
Damn Delicious has a wide range of cooking recipes and detailed guides for making meals, including baking and slow-cooking tips.
In 2011, she started a Tumblr account to publish some of her favourite recipes online, which eventually evolved into her Damn Delicious blog. Since then, the website has attracted a group of people dedicated to improving its recipe database.
It offers recipes, step-by-step tutorials, and videos demonstrating visitors how to prepare simple and quick meals as a home cook.
7. Budget Bytes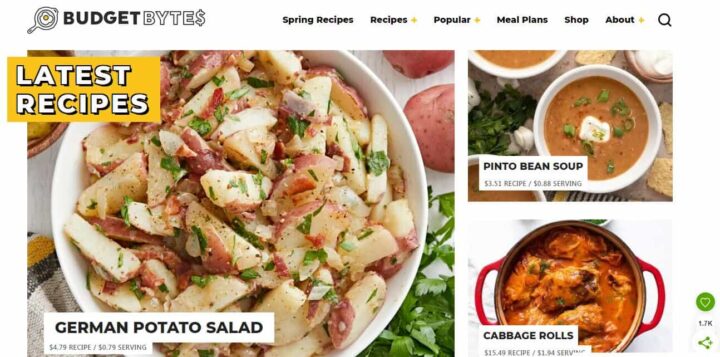 Beth Moncel founded Budget Bytes in 2009 while she was struggling with student loan debt and a modest hourly job.
Beth, a former microbiologist, has a flair for creating healthy, inexpensive meals. She insists that delicious meals may be prepared without breaking the bank or needing a degree in gastronomy. Her blog includes topics such as meal planning, recipes, how-tos, and even some fun challenges.
Budget Bytes is a recipe blog worth adding to your recipe blogs lists.
8. Averie Cooks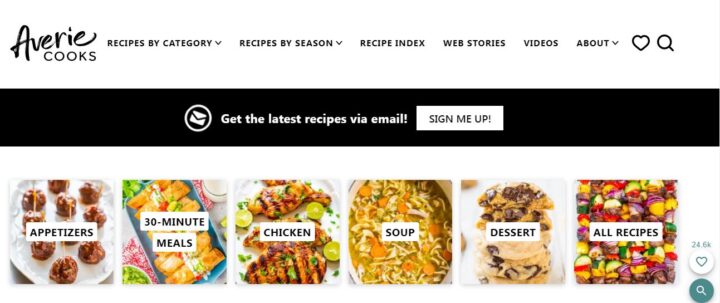 In 2009, Averie Sunshine started a blog as a hobby while living in San Diego, California. Since then, she's amassed an extensive collection of budget-friendly, delicious recipes on her website, Averie Cooks. And the greatest part is that she uses items that are readily available at your local grocery store.
Her dishes are quick to prepare and take less than 30 minutes from start to finish. Every Monday, Wednesday, and Friday, you may find a new recipe posted by Averie. She enjoys sharing her culinary creations with her readers and interacting with them.
The Huffington Post named Averie one of the ten best food bloggers. Her work has been published in Better Homes and Gardens, Martha Stewart's Martha's Circle, Gourmet Live, Glamour, and other places.
You may also like: 21 Best Personal Blogs
9. Minimalist Baker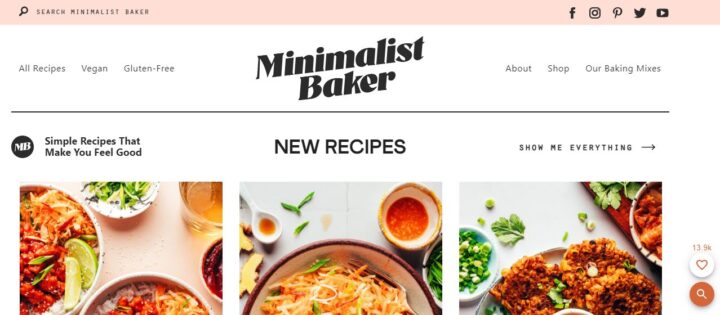 Minimalist Baker caters to all types of eaters, whether they need a gluten-free option, are vegetarian, or enjoy eating meat. You may easily narrow your search by cuisine type, ingredients, dietary restrictions, and more according to the site's well-thought-out filtering system. And the best part is that one can prepare the dishes with minimal effort. That's why they're known as "minimalist bakers": they only post recipes that call for 10 ingredients or less.
10. Cafe Delites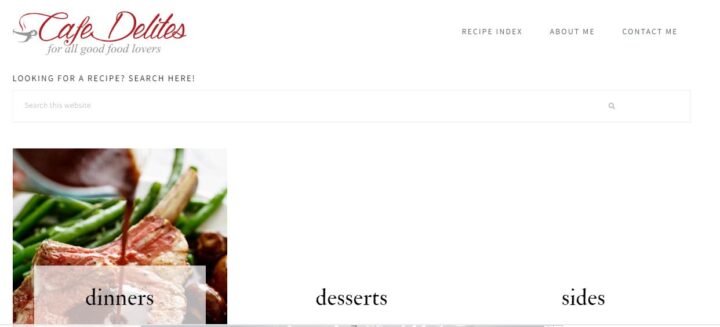 If you're seeking for means to strengthen your bond with your body and food, Cafe Delites is the blog to check out. The blog was created by Karina, a self-described "balanced foodie," It is essentially a collection of low-fat, low-calorie, and Weight Watchers-compliant recipes.
On rare occasions, she will also provide a few delicious low-carb recipes and treats to savour on your cheat days.
The focus of Cafe Delites is on delicious, nutritious food that you can feel good about consuming. If your recipe blogs list does not have Cafe Delites, then consider adding this recipe blog.
11. Natasha's Kitchen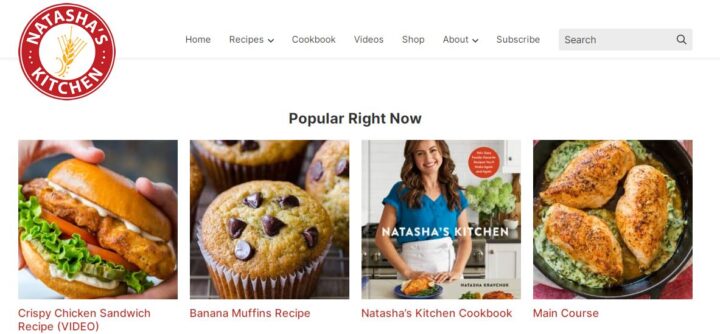 Natasha's Kitchen is a collaborative effort of Natasha Kravchuk and her husband, Vadim.
There are over two million subscribers to Natasha's Kitchen's YouTube channel, averaging over seven million monthly views.
Every dish that Natasha publishes or records is one she and her family have tried and loved.
She offers a lot of well-known favourites, but many of her dishes also reflect the flavour of her Ukrainian roots.
This recipe blog has lots of delicious, healthful, and family-friendly recipes.
12. Drizzle and Dip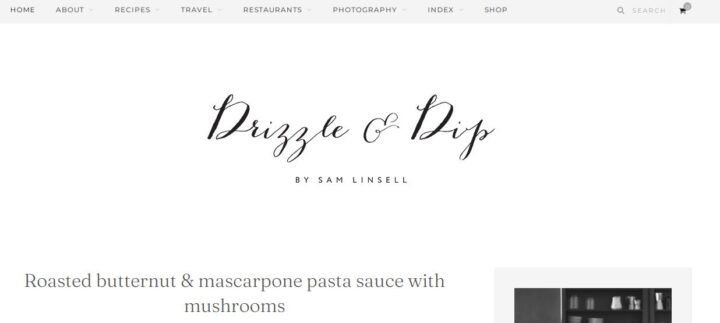 Drizzle and Dip is a South African food blog created by Sam Linsell. The blog features a wide range of recipes, including appetisers, entrees, desserts, and more, focusing on fresh, seasonal ingredients and simple, flavourful dishes. Sam Linsell is also the author of a cookbook called "The Foodie Diaries", which features a collection of recipes inspired by her travels and experiences in the food world. The blog and cookbook both showcase Sam's passion for food and her ability to create delicious and easy to make dishes for home cooks.
You may also like: 10 Best Blogs for Women
13. Brown Eyed Baker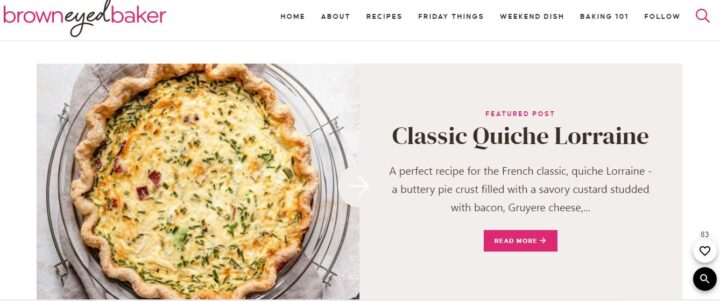 Brown Eyed Baker is a food blog created by Michelle, who is a self-taught baker and cook. The blog features various recipes, including baked goods, main dishes, side dishes etc., focusing on classic American cuisine. Michelle shares her passion for baking and cooking and offers step-by-step instructions and photos to help home cooks recreate her dishes with ease. In addition to recipes, the blog also includes baking tips, product reviews, and food-related articles. Michelle's goal is to inspire and educate home cooks, and her recipe blog has become a popular destination for those who love to cook and bake.
14. Baked by an Introvert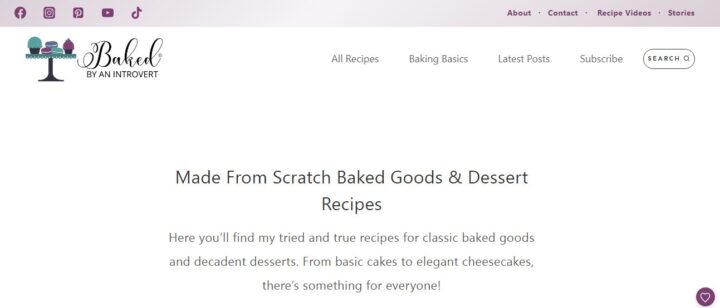 Baked by an Introvert is a recipe blog created by Ashley. Ashley is an introvert who finds joy in the kitchen and expresses her creativity through baking. She shares her passion for baking on her blog by sharing recipes for sweet and savoury baked goods, including cakes, cookies, breads. Ashley's recipes are easy to follow, making them perfect for home bakers of all levels. In addition to recipes, Ashley also shares her thoughts on baking and the creative process, providing inspiration for fellow bakers and introverts.
15. Food52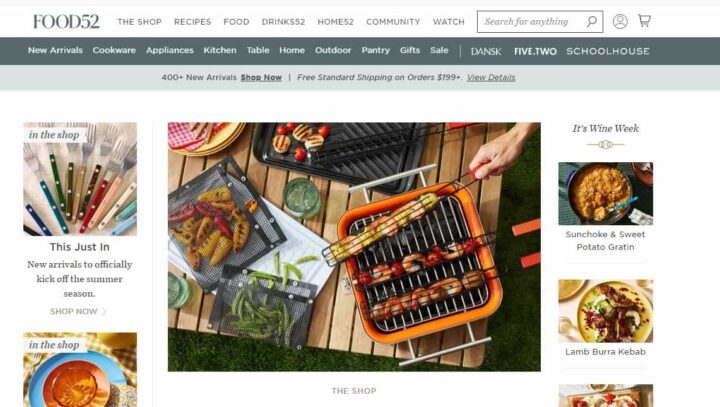 Food52 is a popular food and recipe website and community. Launched in 2009, Food52 offers a wealth of information for home cooks and food lovers, including recipes, cooking techniques, and product recommendations. The website features recipes submitted by home cooks, professional chefs, and food bloggers, providing a diverse range of dishes to inspire and excite home cooks. Food52 is also a vibrant community of food lovers where members can share their own recipes, ask questions, and connect with others who share their passion for food.
In addition to the website, Food52 has also published several cookbooks and offers a range of kitchen and home goods through its online shop. The company's mission is to make home cooking more accessible and enjoyable for everyone, and its focus on community and collaboration sets it apart from other food websites. Food52 has a wealth of recipes, techniques, and inspiration for anyone looking to explore and improve their culinary skills.
You may also like: 30 Best Lifestyle Blogs to Follow
16. Sprinkles and Sprouts
Jessica, an avid cook and foodie, started the recipe blog Sprinkles and Sprouts to share her recipes and thoughts to the culinary world. All of Jessica's recipes are created to be simple to follow and delicious in order to make cooking and baking accessible and fun for everyone. The site focuses on seasonal ingredients and simple recipes, and it contains a wide range of ideas for main courses, sides, and desserts.
In addition to recipes, Jessica also shares cooking tips, kitchen organisation ideas, and product reviews, making the blog a comprehensive resource for home cooks. Jessica's writing style is engaging and friendly, and her passion for food and cooking shines through in every post.
The blog has a warm and welcoming community of followers who enjoy Jessica's recipes and tips and who share their own recipes and cooking experiences in the comments section. With a focus on healthy, seasonal ingredients and easy-to-follow recipes, "Sprinkles and Sprouts" is a great resource for anyone looking to try something new and mouth-watering recipe.
17. Half Baked Harvest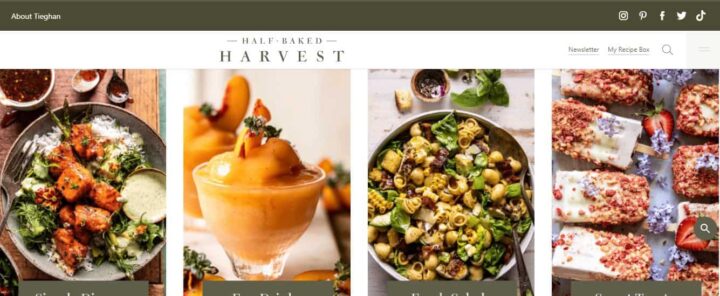 Half Baked Harvest is a visually stunning and compelling recipe blog that showcases the culinary prowess of its creator, Tieghan. Tieghan's passion for cooking and baking shines through in each and every recipe, infusing her unique style into classic and modern dishes alike. The blog is a feast for the eyes, featuring visually stunning photography that will inspire you to get into the kitchen and start cooking.
Tieghan uses seasonal ingredients and bold, innovative flavours to create dishes that are delicious and appealing. Her recipes are accessible and easy to follow, with step-by-step instructions and mouth-watering photography to guide you every step of the way.
Half Baked Harvest is much more than a food blog – it's a lifestyle. Tieghan's warm and inviting writing style, combined with her passion for food, creates an equally comforting and exciting experience. With a focus on healthy, wholesome ingredients and bold, creative flavours, "Half Baked Harvest" is the perfect source of inspiration for anyone looking to elevate their culinary game.
18. How Sweet Eats
How Sweet Eats is a delectable and visually stunning recipe blog crafted with care by its creator, Jessica. Jessica creates and shares a wide range of easy to prepare and delicious recipes.
How Sweet Eats focuses on sweet treats and desserts, making it a great resource for anyone with a sweet tooth.
How Sweet Eats is a popular and well-regarded food blog that offers a wealth of delicious recipes, beautiful photography, and engaging writing that is sure to inspire and delight anyone who loves food and cooking.
You may also like: 10 Best Fitness Blogs in 2021
19. All The Healthy Things

All the Healthy Things is a health and wellness blog that focuses on helping people lead a healthy and balanced lifestyle. The blog is written by Ashlea Carver and features a wide range of content related to healthy eating, fitness, and overall wellness.
On All the Healthy Things, you will find simple, whole-food recipes that are flavourful and made using readily available ingredients from local supermarket. Ashlea is of the firm opinion that healthy eating need not be difficult. All you need is a few basic ingredients to whip up a nutritious and tasty lunch that the whole family will love.
20. Healthy Little Foodies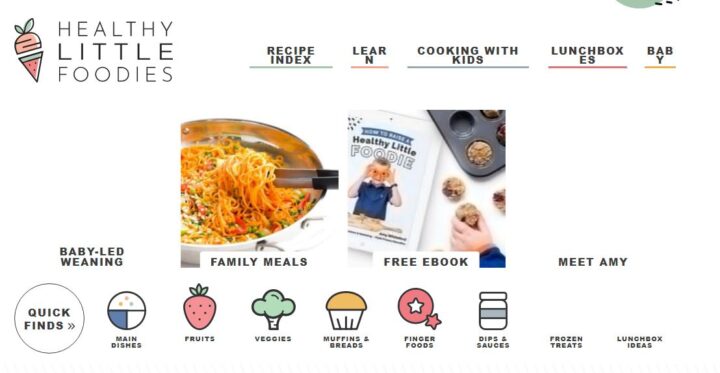 You may find recipes and tips for feeding infants and toddlers on the Healthy Little Foodies blog. Veggies and fruits are the foundation of every recipe here, and the site only uses a pinch of salt and no refined sugar.
Amy does everything for Healthy Little Foodies, including recording the audio, taking the photos, and creating the recipes. She was born in Scotland and now lives in Sydney, Australia.
There is a Recipe for Everyone
The realm of the internet brims with an abundance of culinary-centric blogs that are a delectable delight for food aficionados and gastronomic gourmets. Whether you're on the hunt for mouth-watering and nutritious recipes, cutting-edge baking ideas, or simply seeking inspiration from fellow food enthusiasts, the vast array of recipe blogs available is sure to leave you feeling satiated. From the iconic Smitten Kitchen and Minimalist Baker to the enticing How Sweet Eats and Baked by an Introvert, the list of scrumptious food blogs to follow is seemingly endless. So, why wait? Embark on a gastronomic adventure today and indulge in the world of food!