Almost every one of us on the planet has a favorite sport that we play or follow. So finding the Best Sports Blogs is no small feat! But I guarantee, you will be stoked with this really cool selection of sporting blogs. Whether you're into NFL, NFA, MBL, kayaking, cricket, baseball, gymnastics, badminton, rock climbing, or chess, there is going to be a Sports Blog (or five) that you will become addicted to!
The sporting culture runs deep, and sports played at school and college level are totally geared for producing future star athletes across the board.
Despite some lengthy and extreme surfing and googling sessions, I still can't define the different sports blog niches completely. It's a vast and seemingly endless array of non-stop action. One thing I did decide, in my quest to find the creme de la creme, was to leave out sporting blogs that involved betting. I reckon those blogs would fall under gaming. What do you guys think?
Sports blog niches
Here's a sample of typical sports blog niches:
Action Sports Blogs (also called Adventure or Extreme Sports)
Aquatic Sports Blogs (Ocean Sports, Water Sports)
Contact Sports Blogs
Olympic Games Sports Blogs
Leisure Sports Blogs
Spectator Sports Blogs (Tennis, Cricket, Grand Prix)
Sports News and Entertainment Blogs
Strange and Bizarre Sports Blogs
Specialized Sports Blogs (like Archery, Equestrian Sports, Chess, and Snooker)
This is by no means a complete list of possible categories, but it'll pretty much cover the main sports (and top blogs) that I want to showcase today.
As with all blogging genres, the many blogging niches within the Sports category are an open invitation to create your own sports blog. Anyone that loves writing about sports could start a Sports Blog. And as you'll see from Our Top 38 Sports Blog selection, many companies that sell sports gear include amazing blogs that keep you all updated on the latest results, games, matches, news, and other sporting events.
Competitive sports will usually have an "official" sports blog. These are usually the most informative. But variety is the spice of life. There are also 1000s of sports blogs dedicated to amateur sports and people who enjoy taking part in different sports just for the social and fitness aspects.
So let's jump straight in!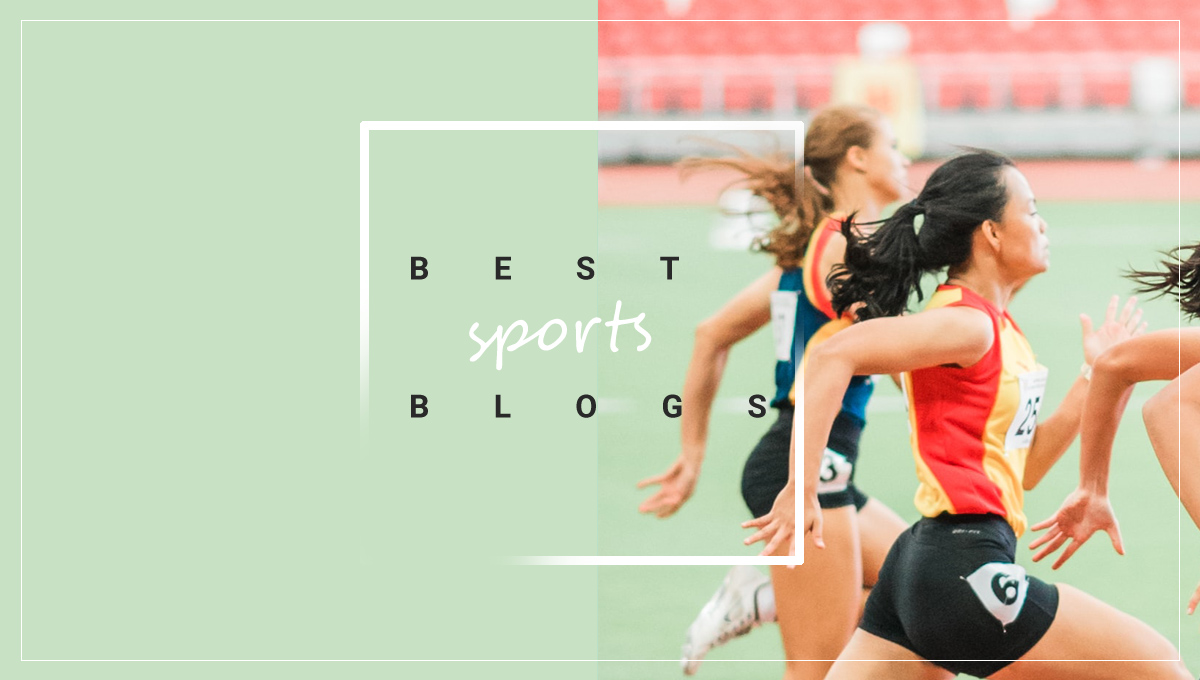 Action Sport Blogs
Action sports are sports that involve speed, risk, or fighting the elements. Such blogs often sell the gear that goes with it. So you'll find lots of product reviews. You'll also get a nice mix of travel, adventure, lifestyle, and fitness thrown in.
The following list describes popular action sports.
Cycling
Mountain Biking
Skydiving
White Water Rafting
Abseiling
Rock and Mountain climbing
Motor X
Motor Racing
Surfing
Wakeboarding
Kite Surfing
Skiing
Snowboarding
Skateboarding
And the list goes on. Many of you probably take part in one, or more, of these sports. Not all sports are competitive. Although, having said that, most of us have a built-in competitive streak that finds us competing with our mates even if it's just for fun. Sometimes sports bloggers will merge sports with lifestyle, fitness blogs, and travel blogs. So the target audience can be quite broad at times. Other sports blogs will target a small niche audience.
The following blogs will interest anyone that actively engages in these types of sports, as well as people that enjoy following the careers of athletes who take part in these sports professionally.
Popular Blogs that cover a multitude of different action sports
1. Mpora (mpora.com)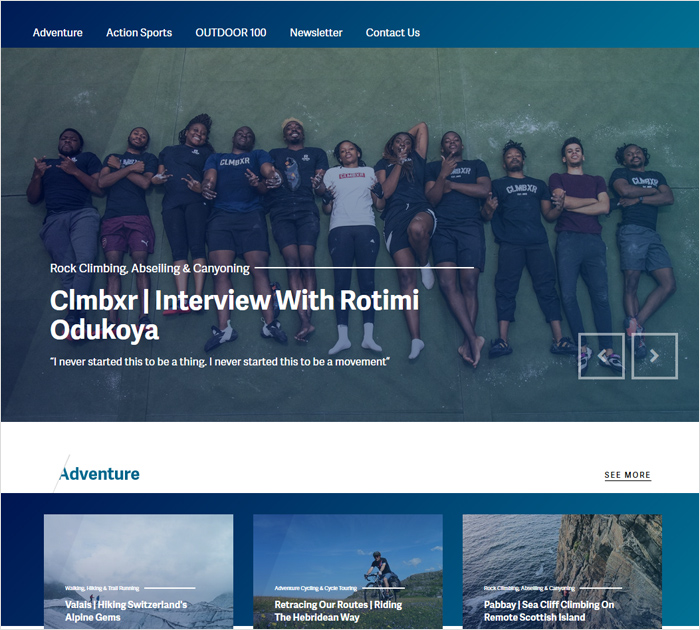 Mpora is jam-packed with exciting, current news from the adventure sports world. Not only will you find excellent digital magazine articles, but they also have blog posts that can be accessed by clicking on their Outdoor 100 tag. Here you'll find advice and reviews on all the action and adventure sports around.
Their Sports Blog covers:
Rock Climbing, Abseiling, and Canyoning
Walking, Hiking, and Trail Running
Adventure Cycling, Mountain Biking, and BMXing
Mountaineering
Skiing and Snowboarding
Surfing, Skateboarding, and more.
You can also read about: What to Blog About – 14 Ways to Choose a Blog Topic
2. Surfdome (surfdome.com)
Surfdome is an Adventure Sports fan's one-stop-shop. Their online store caters to men, women, and kids. You will find top-notch brands from Adidas to Billabong to Ray-Ban and Volcom. They cover gear for surf, snow, skate, and outdoor sports as well as top fashion for athletes. Click on the Sustainability tag to get to the 2 blogs.
One is called Sustainability blog, the other is Lifestyle blog.
Here are the latest blog titles in the Sustainability blog:
While over on their Lifestyle blog you'll find articles like this:
O'Neill – Women Of The Wave
Are etnies shoes true to size?
Core Classics
You may also like: How To Make Money Blogging – Blog Content Marketing Strategies
3. Move United Sport (moveunitedsport.org/blog)
Disabled Sports USA has merged with Adaptive Sports USA to become Move United Sport. This site, with its blog, is geared towards starting conversations that will lead to positive change for a diverse and inclusive environment to fully represent the people they serve.
These are the latest blog post titles of this sports blog:
The Hartford Becomes Title Sponsor Of National Adaptive Sports Competition
Team Usa Hockey To Play In First-Of-Its-Kind Exhibition Game
U.S. Delegation Fairs Well At International Wheelchair And Amputee Sports World Games
4. Olympic Games (olympic.org)
This is the official Olympic Games site. The olympic.org site, being the official games site, is the place you want to start out if you have been bitten by Olympic fever. Everything from the Ancient Games to Paralympic Games to the opening and closing ceremonies can be found here.
If you click on the news tab you'll find categories that have relevant news. Winter, Olympics, YOG (Youth Olympic Games), Legacy, Sustainability, IOC news, you name it, it's all here. Watch videos, find info on teams, athletes, results of previous games, and more.
Best Rock and Mountain Climbing Sports Blogs
5. Climbing (climbing.com)
Climbing is a magazine for climbers at more advanced levels. But beginners will be inspired and motivated by the climbing locations and adventure trails written about here. This sports blog gives you an enormous amount of practical advice on climbing techniques, training schedules, diet, and gear.
Subscribers get access to even more info, not available to casual guests. Click on the news tab to access a choice of excellent articles or go to climbing.com/blog to get to their blog posts. The blog is full of content on first ascents, competitions, accidents, and more!
6. Rock Climbing for Women (rockclimbingforwomen.com/blog)
This awesome climbing blog for women focuses on climbing techniques, essentials, and reviews that cover everything from chalk bags to helmets, harnesses, and shoes. You will find articles on indoor and outdoor climbing. And there is a blog with articles that cover current events, news from the world of women climbers, and articles on various climbing venues and locations. This sports blog is full of information and sports enthusiasts will love it for sure.
You may also like: 10 Best Blogs for Women
7. Rock Climbing Central (rockclimbingcentral.com)
Paul is a rock climber from Leeds, in the UK. And this is his personal blog. He shares what he has learned to help others avoid the rookie climbing mistakes he has made. The landing page has a great block layout, featuring the latest articles. Here are some of the titles of these informative posts:
Why Do Rock Climbers Scream?
Why Do Climbers Hate Slab Climbing? Is Slab Climbing Easy?
How Do You Start & End a Bouldering Problem?
How often should you climb as a beginner?
To access the blog post archives, that are loaded with more helpful information for beginners, go to rockclimbingcentral.com/blog.
You can also read about: Best Male Blogs To Follow in 2020
8. The Rockulus (therockulus.com)
Jake and Katherine Harmer are the authors (and avid rock climbers) of this blog. It's a blog with a simple yet striking layout. It's easy to navigate and the blog posts get accessed from the home page. Just click on "Latest Posts".
The Rockulus covers canyoneering and rock climbing. Under the "Recommended Gear" section you will find sound advice, especially if you are just starting out and don't know much about gear. They keep it simple for beginners to grasp. The gear section covers everything from ropes to helmets to belay devices.
Their sports blog covers:
Adventures
Canyoneering
Gear Guide
How-to Articles and
Tips
Best Ocean Sport Blogs
9. Surfer Magazine (surfer.com/blogs)
Surfer, the magazine, has been going since 1960! And it's as popular as ever. You will find articles and ripping surf news under Features, Videos, How-To, and Gear.
For blog posts click on the Magazine tab. Or type in surfer.com/blogs/ to access the sports blog posts.
For gnarly videos and shredding gear reviews, Surfer remains one of the top surfing sites online. The articles are super casual, humorous, and are peppered with typical surf jargon and lingo.
10. The Surfer's View (thesurfersview.com)
The Surfer's View has surf cams set up so you can check out the surf, live! Check the waves at Long Island Beach, Hawaii, California, and even internationally. For blog posts click on the Features tab.
Here you'll find a list of topics to choose from:
Surf News
Pro Corner
Events
Surf Fitness
Reviews
Stories
And more.
11. Still Stoked (stillstoked.com)
"Daring Dreams, Wild Paths"
This digital online magazine is free to download! When you download you'll get access to:
The Still Stoked Tribe
Coaches and Courses
Life Hacks and Advice
Exclusive Member discounts
Downloadable Guides
First to hear exclusives
General RADness
The feature articles on the site are focused on female surfers. And this is definitely more of a mag for surfers chicks than it is for dudes. Blog posts under "features" have titles like:
Surfing During Pregnancy: What to expect in trimester three
Eight Environmentally Friendly Lifestyle Swaps
Lake Surfistas: Women of the Great Lakes Surfing Community
Still Stoked also covers lifestyle topics like yoga, fitness, nutrition, beauty, travel, and photography.
Read more about: 10 Best Mom Blogs and Bloggers
12. ZigZag Magazine (zigzag.co.za)
Another surfing mag that has a huge digital following around the globe. Zig Zag is a South African surf mag. And for surfers, you know the hype surrounding iconic surf spots all along the South African coastline. From Durban's Salt Rock to the lower South Coast's many surfing beaches to the epic barrel rides in J-Bay, this mag features a surfer's paradise.
And like all great surf mags, this one covers everything from environmental issues to the latest surf news. The interviews, an artist's corner and more, will keep you entertained for hours, perfect for a flat day.
Other Excellent Water Sports Blogs
Water Polo and Swimming
13. Swimming (swimming.org)
"The Home of Swimming, Diving, Artistic Swimming, and Water Polo"
This is a UK-centered swimming site. But all water babies will enjoy the swimming news features, the tips and training advice, and the general information. There is a new blog post every day. Much of the content is focused on getting swimmers back into the water after the year that 2020 was. So it is relevant to swimmers worldwide that are itching to get back to their training.
You will also find articles featuring swim coaching, water polo, artistic swimming (synchronized swimming), and more!
14. Total Waterpolo (totalwaterpolo.com)
Total Waterpolo is a highly regarded online platform dedicated to providing comprehensive coverage of the sport of water polo. With its extensive coverage, insightful analysis, and up-to-date news, Total Waterpolo has established itself as a trusted resource for water polo enthusiasts worldwide.
This sports blog features a wealth of content, including news articles, in-depth features, interviews with players and coaches, and analysis of major water polo events. Total Waterpolo keeps its audience well-informed by providing coverage of international tournaments, updates on club competitions, and profiles of notable figures in the sport.
Total Waterpolo prides itself on delivering accurate and reliable information, ensuring that readers receive the latest developments and insights in the world of water polo. The platform's dedicated team of writers and contributors ensures the content is thoroughly researched and presented with professionalism.
Additionally, Total Waterpolo fosters a vibrant and engaged community by encouraging readers to share their thoughts and opinions through comments and discussions on the website. This interaction allows water polo enthusiasts to connect, exchange ideas, and deepen their engagement with the sport.
Overall, Total Waterpolo is a valuable resource for anyone passionate about water polo. With its comprehensive coverage, insightful analysis, and active community, Total Waterpolo continues to be a go-to platform for staying informed and connected within the water polo community.
It is a renowned sports blog which has a massive fan following.
You may also like: How to Start a Podcast
15. Water Polo Planet (waterpoloplanet.com)
This site is geared at college level water polo. The blog section is under the Articles tab. It's broken up into many categories. Find articles on proper training and nutrition for water polo players as well as information on the different training techniques.
They also cover water polo rules, water polo tactics and stories, team building, and lots more. Very informative, well-laid out. If you are thinking of playing water polo in college, this is a good site to bookmark.
16. USA Water Polo (usawaterpolo.org)
This is the official USA Water Polo site. It has many articles and contains all the information a water polo player needs, with regards to the structure of the zones across the States. News for the teams, clubs, and individuals can be found here. To access all past blog posts of this sports blog, type in usawaterpolo.org/archives.
17. Waterskiing and Wakeboarding
International Waterski and Wakeboard Federation (iwwf.sport)
This is the official site for wakeboarding and waterskiing in America. If you follow the sport or participate at a competitive level, then you'll find all the latest news, events, and results here.
You will also find all their archived news pieces as well as archived results of competitions past.
Winter Sports Blogs
18. Snowboarding Days (snowboardingdays.com)
Geared for snowboarders at all skill levels, this sports blog is loaded with awesome photos, great blog posts, and informative advice.
From learning how to snowboard to where the best snowboarding locations are, this blog covers it all.
Read more about: 29 Best Tech Blogs You Must Follow in 2020
19. The Ski Monster (theskimonster.com)
This is a site that sells skiing and snowboarding gear and accessories but they also have a blog that reviews all these goods. The blog covers topics from food to cameras to breaking news to interviews. Skimonster.com has a really cool backstory.
Skimonster was started in 2007, in a college dorm, by George Michaelsen and Eric Gerrmann. They made their first online sale in 2008 and in 2014, opened a store along with three ski-crazed friends. Between 2015-2019 they grew from 5 to 25 staff.
The blog posts are a collaboration of authors, all mad about snow sports. This blog is genuine. Not an official site with news and not a corporation masquerading as a blog, but an authentic blog and online store that became so successful so fast that the founders went into it full time in 2009. And haven't looked back since.
20. Snowboard Addiction (snowboardaddiction.com)
This is an excellent, well-organized site for all snowboard enthusiasts. Whether you are a beginner, an intermediate, an expert, or anywhere in between, you will find helpful guides on how to become better at snowboarding. They describe how you can train using certain apparatus, like trampolines, before you hit the snow. It is a must read sports blog for snow boarders.
There are loads of tutorial video clips that also cover the technical aspects of setting up your snowboard as well as advice on mental preparation. An excellent site for snowboarders. Bookmark it!
21. Old Guys Rip Too (oldguysriptoo.com)
This is the blog and website of Dave Van Etten and Chris Forgham, two ex-pro skateboarders, and snowboarders. Their sports blogs are prolific with both guys adding posts throughout each month. Dave is based in Pocatello, Idaho, and Chris is in Denver, Colorado. Together, but apart, they give fantastic, knowledgeable reviews on gear they promote, test, and sell for various brands.
They also interview skateboard and snowboard legends. A great review blog for anyone wanting solid advice on what gear to buy, how it works, and why you need it. They also blog about injury prevention, the latest industry news, and give resort reviews.
Motor Sports and Motor X Blogs
22. MotorSport (motorsport.com)
Whether you're into F1, NASCAR, WEC, Open Wheel, Formula E, and more, MotorSport covers it.
The site features news, articles, videos, racing schedules, results, drivers, and teams.
Motorsports.com is a premier destination for motorsports enthusiasts to stay up-to-date on the latest news, results, and analysis from the world of auto racing. With a comprehensive coverage of everything from Formula 1 to NASCAR, this website is a one-stop-shop for all motorsports fans.
One of the standout features of Motorsports.com is its sports blog, which provides insightful commentary and analysis on the biggest stories in the world of racing. Whether you're a casual fan or a die-hard racing enthusiast, the blog offers something for everyone, with articles ranging from in-depth race previews and recaps, to driver profiles and interviews with industry experts.
The blog is updated regularly with new content, ensuring that readers always have access to the latest news and insights. Additionally, the website's user-friendly design and intuitive navigation make it easy to find exactly what you're looking for, whether you're interested in a specific race series or simply want to browse the latest headlines.
Overall, Motorsports.com is a must-visit destination for anyone who loves motorsports. With its comprehensive coverage and insightful analysis, the website is sure to keep you engaged and informed, whether you're a casual fan or a seasoned racing enthusiast.
23. RacerX Online (racerxonline.com)
RacerX is a MotoCross magazine that brings its readers more than just results and information. They dig deeper to deliver excellent content that will leave you entertained and better informed. Whether it's the latest MotoX news or behind-the-scenes action, RacerX covers the world of MotoX.
24. Motocross Action Magazine (motocrossactionmag.com)
"The World's Leading Publication About motocross and Supercross"
This online magazine has features, news, bike tests, and more. It's a multimedia site with lots of action, racing clips and bike tests going back to the 2000s.
Here is a sample of what you get under the "Features" section:
Ask MXperts
Interviews
Mid-week Reports
Two-Stroke Tuesdays
Rumors and Gossip
Thursday Theatre
Jody's Box And more!
Top Contact Sports Blogs
Some sports are classed as low-contact, non-contact and full-contact sports while others may get labeled, collision sports. Sports like tennis, cricket, baseball, gymnastics, and golf, fall under non-contact or low-contact. Collision sports include football, basketball, and ice hockey. And then you get full contact sports like boxing, wrestling, and MMA.
Blogs that cover these types of sports often include sports news and entertainment.
Best Contact Sports Blogs that cover football, basketball, baseball, etc.
25. ESPN (espn.com for general sports news or espn.com/espn/blogs for blogs)
"Serving Sports Fans. Anytime. Anywhere."
ESPN covers most mainstream sporting events. At the top of the page are tabs: MLB, NFL, cricket, tennis, boxing, football, soccer, rugby, and more. Clicking on your sport of preference will take you to those particular sports highlights, current affairs, match results, upcoming events, and more.
If you type in espn.com/espn/blogs you will go to a page that has a wide choice of blogs on specific amateur leagues and college teams. Choose from college basketball, NFL, racing, fantasy football, college sports, recruiting, mixed martial arts, and much more. Sports blog heaven is what this is. Whatever team or sport you support, you will find blogs here.
Best MMA (Mixed Martial Arts) Blogs
26. MMA Today (mma-today.com)
This blog covers MMA, BJJ (Brazilian Jiu-Jitsu,) Boxing, and Muay Thai. Their target audience of this sports blog is anyone wanting to learn and train in these arts. All the instructors and authors are mixed martial arts experts.
Under each discipline you'll find gear reviews, how-to articles, and guides. They offer courses and tutorials.
Here are some of the titles of blog articles from MMA Today:
Best Punching Bags for Boxing
Best Heavy Bag Gloves for Boxings.
Best Boxing Gloves for Women In 2022
8 Best Boxing Headgear Options Of 2022
27. The MMA Guru (themmaguru.com)
This is a definite go-to for MMA blogs. You'll find tips and advice on everything on this sports blog. From setting up your own MMA gym at home to how to eat and train to the latest news on UFC.
Here are 5 blog post titles, to entice you to read this very practical and informative MMA blog:
THow Much Money do UFC Fighters Make in 2023?
The Hottest Female UFC Fighters in 2023
Top 15 Deadliest Martial Arts in the World
The 12 Best Kickboxers of All Time
Which Black Belt Takes the Longest Time to Achieve?
28. MMA Warfare (mmawarfare.com)
This is another proper sports blog that you'll love if you are into MMA. Get excellent gear reviews, training and fighting tips, and read entertaining blog posts, like these:
How Tall is Mayweather?
Conor vs Khabib
Types of Punches
Best Boxing Blogs
29. ExpertBoxing (expertboxing.com)
"Boxing Training, Theory, and Technique"
This sports blog is a great choice for boxing enthusiasts and fitness fanatics that want to take up boxing. They cover everything from punching to footwork and defense. There is also a section just for beginners. Here are the titles of their three latest blog posts:
Boxing Punch Trackers Review 2023
SECRETS to Boxing Defense
Sidekick Boxing Gloves Review
Best Golfing Blogs
30. Golf (golf.com)
News, Instruction, Gear, Lifestyle, Travel, Pro Shop, Leaderboards, Videos, and Podcasts. You have everything you need in one place with golf.com. Watch podcast episodes straight from the blog, no need to use an app.
The articles are a mix of reviews, tips, and advice on how to improve your swing, which clubs to use, where the best golf courses are, and who is ahead in the leaderboards. Whether you follow US Open Championships or Safeway Open, it's all here.
Under Travel you will find articles titled:
How The Busiest Golf Course In The World Is Coping With A Strange New Reality
Here Are The 6 Different Types Of Golf Courses Explained
Course Rater Confidential: What Makes Golf course Routing So Hard, And So Important.
Click on the Instruction tab and find articles like:
10 short game tricks to lower your score
My favorite swing-short of all time came from Paula Creamer
And under Lifestyle, you can find the trendiest golf attire and apparel for 2021.
Read more about: Best Podcasts For 2020 – 100 of The Top Podcast Picks
Best Tennis Blogs
31. Feel Tennis (feeltennis.net)
Tomas Mencinger lives in Slovenia and coaches tennis. He sells his coaching courses online and has received many favorable testimonies from happy tennis players. The blog posts cover a range of topics but focus largely on how to improve your game.
Not only will you find tips on techniques and advice on developing your style, but you will also get information on the psychological aspects of the game on this sports blog. These are some popular blog titles from feeltennis.net:
How to Avoid Overthinking: Examples from a real tennis lesson
3 Things You Need to Play Tennis the Natural Way
Tennis Illusions – Roger Federer's forehand technique
Timing in Tennis and How To Improve It
32. Tennis Now (tennisnow.com)
Out of the few tennis blogs I looked at this one, although not strictly a blog, delivers a nice clean platform to get all your tennis news from. It is a news site and will appeal to followers of the competitive side of tennis. It is in contrast to the tennis blog I mentioned above, which is totally geared toward people who want to learn tennis or improve their skill set.
Tennis Now has results, matches, TV, and blogs. Get the latest news on players. This is an interactive, multimedia site, besides written content and video, you can access Instagram and Twitter feed as well.
Best Gymnastics Blogs
33. The Medal Count
"An Old School Gymnastics Blog"
This is a blog with a difference, created for hardcore gymnast fans and gymnasts who love gymnastic history. Here you will find articles on all the women gymnasts of the past. Read about gymnasts from every era, starting from 1928 right up until today's current squad.
The articles are written to appeal to everyone from gymnastic fans to new followers of the sport. This sports blog provides tons of useful information.
34. GymnasticsHQ (gymnasticshq.com)
If you are a young gymnast or the parent of a young gymnast, this is the sports blog for you. The site sells gym equipment and apparel, as well as checklists and grading sheets that help young gymnasts with their training.
The blog includes reviews on gym kit, like leotards as well as items like gym mats and more. You'll also find inspiring interviews with pro gymnasts and lots of tips and advice on how to improve your training and technique.
Top Cricket Blogs
35. Cricbuzz (cricbuzz.com)
This sports blog is dedicated to Cricket. A great Cricket blog for those who love the gentleman's game. It gives you the latest news on Cricket and live score of the ongoing matches.
Here you can find all sort of statistics, be it a player record or a team. They also provide interviews with famous Cricket players.
Cricbuzz gives thorough insights of teams performance. They have a good archive of videos. For cricket lovers I think it is one of the best sports blog out there.
36. Wisden (wisden.com)
In my opinion anyone interested in cricket must have heard about Wisden.
Here visitors can access a wealth of cricket-related content, including news, articles, features, match reports, analysis, and opinion pieces. The website covers international cricket events, including Test matches, One-Day Internationals (ODIs), and Twenty20 matches, as well as domestic cricket tournaments from various countries.
Wisden provides in-depth coverage of cricketing topics, including player profiles, team analysis, historical moments, and trends in the game. The website is a valuable resource for cricket enthusiasts, offering insights from experienced journalists, cricket experts, and former players.
Additionally, Wisden offers digital subscriptions and access to the digital edition of the Wisden Cricketers' Almanack, allowing cricket fans to read the comprehensive cricketing content online.
General Sports Blogs
37. SportsRec (sportsrec.com)
This blog is for people who enjoy taking part in sport to stay fit and healthy. The blog posts cover topics from nutrition to training. They feature yoga articles and lots of at-home-workouts. Click on the hamburger icon and the list of sports that get covered will appear. You can look for blog posts that talk about all these sports.
They feature everything you can think of under these topics:
Fitness – swimming, biking, cardio, strength training
Yoga – stretching, yoga practice
Recreation – billiards, golf, archery, etc
Sports – lacrosse, fighting, soccer, volleyball, etc
38. Sports Dieticians Australia (sportsdietitians.com.au)
This site, with its blog, is an excellent resource for any athlete, professional or amateur, that wants to keep their diet at an optimal level. You can find the sport you participate in and then get information on the type of diet best suited to that sport.
Blog post titles include:
SDA Female Athlete Symposium: Clarifying the Evidence
SDA Coaches Toolkit
12 Tasty and Nutritious Recipes
Media Release – Half-Time Snacks For Active Kids
The Final Countdown
This concludes my round-up of interesting, action-packed sports blogs. If you read this to find great blogs, thanks for visiting, and please share if you enjoyed our selection. If you are thinking of starting your own Sports Blog, check out our Step-by-step Guide here.