Music is the essence of life! That's a pretty bold statement, right? But think about it. We have hearts, and they beat. Music is all about the beat! For some of us, music is the side dish to our daily lives. For others, it's the whole enchilada! Music blogs list in the top 10 most popular blogging niches year after year. Reason, and you'll see why!
We use music to remind us of memorable moments. We listen to music when we exercise. And of course, we could not dance without a beat. There is music for every occasion. We use background music for ambiance. We turn up the volume when we want to let our hair down, and we play music so we can sing along. Think karaoke. Music is life's "cherry on top." So today, I'm sharing my top 40 Music Blogs with you all.
I listen to music all the time, but I don't have one single music blog on my feed…yet! Shocking, I know. So when I started looking into music blogs, I was not sure what I was going to find. According to one music blog, aptly named everynoise.com, there are over 4,000 music genres!
That means a possible 4,000 music blog niches! And that's just genres. What about all the other components that make up the vibrant world of sound? So I jumped straight in and did some serious searching. And I can't wait to show you the treasures I found.
Let's get started!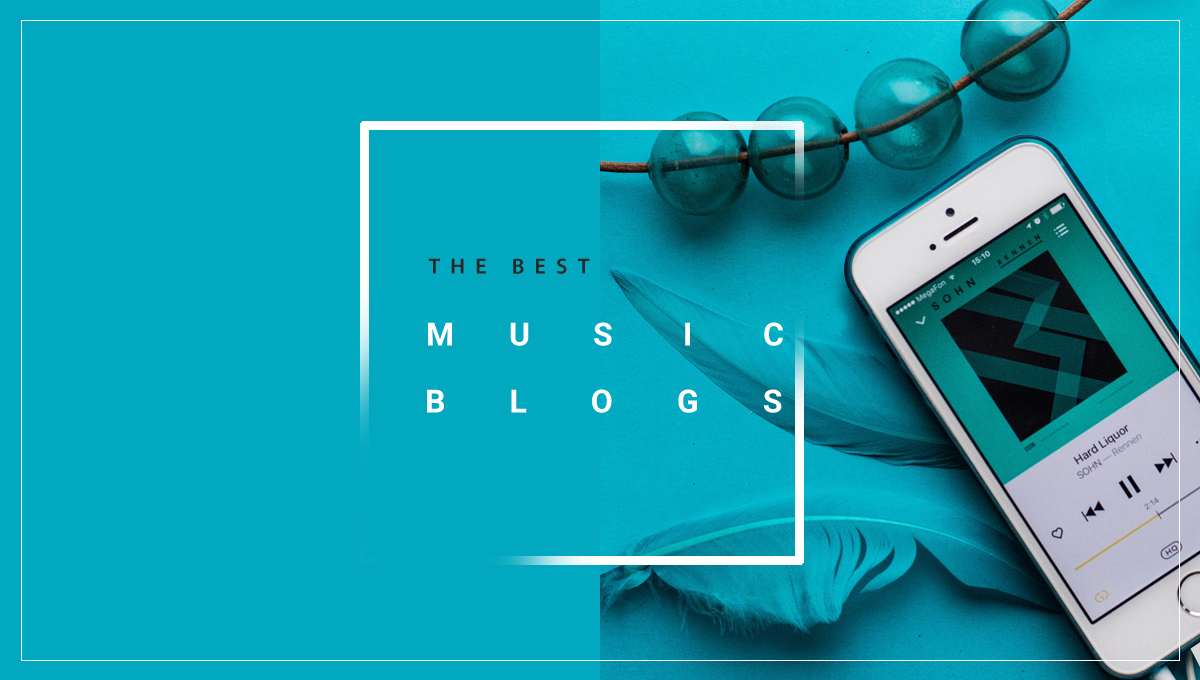 What content will you find in Music Blogs?
Billions of people listen to music. And everyone has their favorite type of music, or a favorite musician, that they listen to. But how many of us read music blogs? Music is universal, and it can't be boxed into an industry. So to try and "box" the topic is futile.
What I discovered is that the target audience for music blogs are often musicians and aspiring musicians. There are hundreds of music blogs that offer to sell the music of independent, unsigned artists. And much like podcast or blog hosting platforms, these sites (with "rocking" blogs) have various contracts to suit a whole range of musicians' needs.
There are also many blogs dedicated to one specific genre.
Here's a list of typical blog niches in the world of Music Blogs.
Music Blogs that
focus on a specific genre like blues, jazz, reggae, hip hop, etc.
educate.
focus on instruments and review music equipment.
show you how to play instruments, how to compose lyrics, how to mix tracks.
are dedicated to one musician (fan sites).
list new/best albums and artists.
focus on live concerts and festivals.
deal with the business side of music.
function as directories.
are tribute sites.
showcase the latest technology in music and review the equipment.
accept submissions from musicians.
feature music news, reviews, interviews, and videos.
talk about music history.
scour the internet and put together collections of music that many people would never find (my favorite).
Join me on a sound journey through time and space! Let's delve into the best blogs of all time and discover musical talent from artists around the world. New and old.
Top 40 Music Blogs Of All Time
Music blogs that accept submissions and promote artists
Among the most popular music blogging niches are those that accept submissions from unsigned artists. The blogs offer informative and helpful articles for musos trying to get their music heard, or even better, get signed. In addition, there's also lots of news, reviews, and opinion pieces. Many music blogs have embedded players for instant listening.
1. Ditto Music (dittomusic.com)
Ditto Music offers musicians the opportunity to get their music played on platforms like Spotify and Apple Music. You can sell your songs and get playlisted. They offer 3 different distribution packages.
How it works: Ditto charges a yearly fee to get unlimited songs playlisted on top sites like Spotify and iTunes. There are no hidden costs. They allow the musicians to keep 100% of the royalties. Monies get paid directly into the artists' bank accounts.
Here are 3 recent blog titles of this music blog:
How To Write a Song | 12 Songwriting Tips from the Pros
AI Tools for Artwork: 10 Awesome Apps to Build Your Artwork
A Guide to LinkedIn for Musicians
You may also like: The Top 13 Survival Blogs of 2020.
2. A&R Factory ( anrfactory.com)
A&R (artist and repertoire) is an award-winning independent music blog. Started in 2012, their target audience is record label owners, music producers, and publishing PR executives. They offer to promote musicians with the help of their Artist Development Team.
The blog reviews its artists' latest tracks, which is a great way to introduce the material to the talent scouts.
A&R accepts all genres for submission.
You may also like: 36 Sports Blogs That Will Inspire and Motivate
3. Xttrawave (xttrawave.com)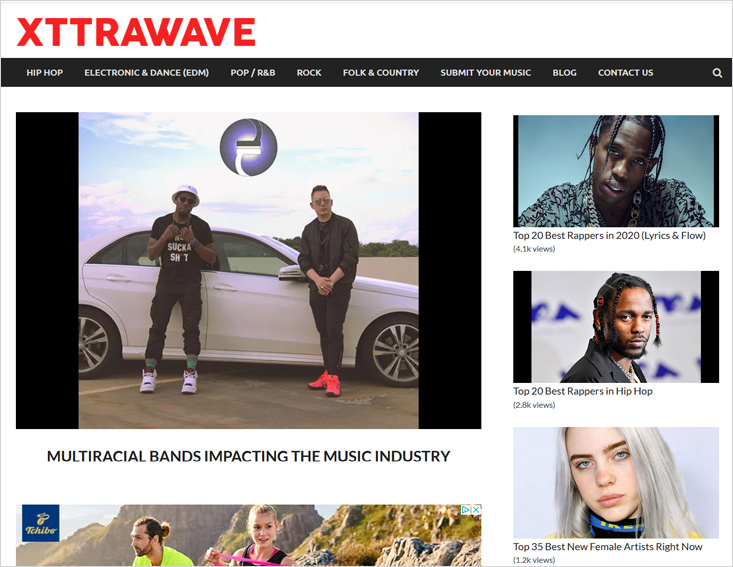 In addition to accepting submissions, they also do reviews on the following genres:
Hip Hop & Rap
Electronic and Dance
Pop and R&B
Rock
Folk and Country
This music blog features articles with titles like:
17 Best Vocal Effects and Processing Plugins for Music Productions
7 Essential Steps on How to Become a Successful Rapper
5 Best Rock Bands That Met In College
You may also like: Best Christian Blogs for You.
4. Xune Mag (xunemag.com)
Xune mag is fantastic. Well-laid out and designed for listening to, and reading about, new indie music from around the world. They add regular reviews on the latest releases, with a teaser of each song they review.
Then there are the Live Reviews. Xune contributors attend live shows and report back. This site is full of excellent videos from emerging artists that you could easily miss (just because there is so much music out there). They also have a News section, although it hasn't been updated in about 5 months. But the music reviews are current and come through fast and furious.
5. Planetary Group (planetarygroup.com)
Planetary Group is a boutique music marketing company that offers "innovative strategies to represent diverse artists from all walks of life." Planetary Group offers to promote musicians across multiple platforms. They offer radio, online, and international promotion, and get artists booked at events and festivals. They also consult with the understanding that each artist needs tailor-made strategies.
Their music blog has articles with titles like:
How Much Does Spotify Pay Per Stream In 2023?
How To Discover New Music
7 Ways To Promote Your Upcoming Concert
Read more about: Best Blogs for Women.
Music blogs that share news, reviews, and interviews
Almost all music blogs that review music, do so to get emerging artists exposure. Some blogs are small affairs powered by individuals, or a bunch of friends, who love music. Other blogs are more like businesses, and they attract the attention of music execs, promoters, and producers.
Sometimes it's hard to separate music blogs into definite niches. The next batch of blogs are a great mix of reviews and playlists.
These personal blogs are often started by music lovers who have a passion for music to the point where they are prepared to spend an inordinate amount of time looking for and discovering brilliant tunes. If you ever feel the need to branch out and find new artists, these blog types are winners. I love them!
Music blogs are unique in that listening to music is a big part of the blog. So, in addition to short reviews, you get access to the song at the same time. Some of these blogs also accept submissions, but they are not doing it to sell music on behalf of the artists; they do it for love.
6. Aurgasm (aurgasm.us)
Want to find artists from all over the world that play everything from Italian house to folk? This site will blow your mind. Paul Irish started Aurgasm in 2004. Together with his fellow contributors, he's created a music blog where music lovers can spend hours upon hours listening to and discovering music in genres ranging from classical, Israeli, experimental, folk, and jazz to pop, funk, Scandinavian, reggae, and more.
7. A New Band A Day (anewbandaday.com)
Joe Sparrow started this site in 2008 and was dedicated to posting, as the name suggests, a new band a day. After a while, he had to become less prolific due to work/time constraints. But Joe didn't just stop. He let his audience know that he was slacking off. This is an excellent music blog because Joe has made it personal, and he writes with humor.
He is still active on Twitter, and the blog is still going. You can access the archives easily. This is a genuinely entertaining blog, with very readable posts. It's not just reviews and playlists. Definitely worth a look.
8. Indie Pulse Music Magazine (indiepulsemusic.com)
This is an online music magazine that delivers reviews, interviews, and the latest music news. They feature Indie Music. They are always looking for, and I quote:
Artists / Bands to Interview and Review
Article topics and suggestions
Record Stores and Online Retailers to Promote
Independent Labels to Talk about and Promote
Local and National Venues, Cafe / Coffee Shops, and Locations that have Live Music
General Content and Writers that want to Submit Content
Syndication Partners
Read more about: 15 Best Wedding Blogs Ideas & Inspiration.
9. Aquarium Drunkard
An eclectic journalistic online music mag. Loaded with interviews and album reviews. Well-written and interesting. Music lovers will get lost in the joy of reading all the content spread out over their blog.
The blog has an AD Interview section, a "Mixtape" section, that reviews albums from artists going way back to the 60s and 70s, and podcasts. There's also access to their weekly newsletter archives.
In their own words, "Digging globally, AD bridges contemporary sounds with psych, jazz, avant-garde, folk, garage, funk and beyond. For heads, by heads."
10. Digital Music News
This music news blog is for people in music. Much of its content focuses on music business news and technology. You'll find articles with titles like:
Kanye West A Footnote On Forbes' 'Richest Celebrities' List, Which Welcomes Jimmy Buffet
Karol G Takes Issue with GQ Photoshopping: 'My Face Does Not Look Like This'
Sync music licensing: Secrets for scoring deals and maximizing revenue.
You will find info on the music industry, music tech, entertainment law, and pop culture.
11. Kings of A&R (kingsofar.com)
This blog is not affiliated with A&R Factory, mentioned above. It's a site dedicated to finding new music without using algorithms. They use their human instinct. As such, they've garnered a good reputation for themselves – CNN has mentioned them, Billboard Magazine, UK's Financial Times, etc. They've also been voted, in many online polls, as one of the top music blogs around.
The blog is in 3 categories; Face to Face, Indie Invaders, and The Latest.
12. Pigeons and Planes (complex.com/pigeons-and-planes/)
Best in New Music Discovery and Curation
The name Pigeons and Planes has a sweet origin story. Both represent flight, but one is big and mainstream, the other, not so much. It's a great representation of the music and artists you will find here.
This music blog is all about discovering and supporting new artists and music. The content is thoughtful and musically sound, pun intended. I found it a bit difficult to navigate, compared to other sites. Still, their Pigeons and Planes YouTube channel is excellent. Follow them on Twitter and Instagram.
You may also like: 15 Best Lifestyle Blogs to Follow.
13. Pitchfork (pitchfork.com)
The Most Trusted Voice in Music
A great music blog. The reviews are in-depth. There are many contributors, each one bringing their expertise on certain musical genres, and artists. Even if you don't follow a specific genre you may be tempted to take a listen, based on the reviews.
Choose a category:
News
Reviews
Best new music
Features
The Pitch
Video
Podcast
Staff picks
Events
There are many cool things about this blog. For instance, if you click on The Pitch, you'll see "genres" in the top right corner. You can choose which genre you're interested in, and only those articles will come up. Nifty, hey?
You may also like: Photography Blogs to Inspire.
14. Native Instruments Blog (blog.native-instruments.com)
This blog is completely unique in that the focus is on the equipment and techniques used in modern music production. The menu is 4 main parts, namely; categories, topics, products, and genres. Under each of these headings, you'll find sub-categories. All choices take you to various articles. This music blog is a wealth of useful information for musicians and music lovers.
"Categories" have the following choices:
DJing
Production
Interviews
Tips and Tricks
Free Stuff
Features
There's also a lot of good stuff in "Topics." These include:
Beat Making
Effects
Scoring
Sampling
Sound design
Synthesis
Video Games
The blog translates into 6 languages, including Japanese and Mandarin, French and German.
Music blogs that are genre-specific
The next set of music blogs all focus on one main genre. Many of these blogs also have the latest news and reviews pertaining to that genre.
Under the electronic music genre, you will find everything from trance to lounge to house to acid, and everything in between. It took me decades to wrap my head around the fact that people like "fake" music, which is how I still view electronic music. Even experiencing the London rave scene in the early 90s couldn't change my mind. And still, to this day, I cannot dance to electronic music. Sad face (but not really).
You may also read about: Best Beauty Blogs.
15. Classic Alex Burns (classicalexburns.com)
This music blog is a dream come true for anyone wanting to learn about the classical composers of old. Alex Burns has structured this blog beautifully. The posts are engaging and educational. If you didn't know much about classical music before, you will after this. Really fascinating content. This blog is a keeper.
16. I Care If You Listen (icareifyoulisten.com)
Albums, concerts, essays, concerts, watch and listen, and "out of context" split this classical music blog into sections that are filled with content that caters to classical music lovers.
Thomas Deneuville started this blog in 2010. He wanted to start a conversation in layman's terms, on contemporary classical music. In 2015, he launched icareifyoulisten.tv as an outlet for classical musicians to submit their work to.
You can access the articles by choosing Today, This Week, This Month, or All. Blog titles include:
Out of Context #8 Privilege and Creative Consequence
Active Listening #5 Towers by Shelley Washington
5 Questions to Yaz Lancaster (Interdisciplinary Artist)
The content in this blog will appeal to a wider audience than just Classical Music aficionados. If you're interested in the social issues, and current events of the music world, check this blog out.
17. The Cross-Eyed Pianist (crosseyedpianist.com)
Launched in 2010 by Frances Wilson. Wilson is an acclaimed pianist, writer, and music lover who blogs on pianism, classical music, and culture. In 2012, she began the "Meet the Artist" series. Francis interviewed composers, conductors, and musicians, asking excellent questions, loosely based on the Proust questionnaire.
The series became so popular that, in 2017, a separate blog was launched to include other genres besides classical music.
The Cross-Eyed Pianist gets over 20,000 visits a month.
18. Speakin' the Blues (speaktheblues.blogspot.com)
Started in 2008 by Ali Sleeq. He started off slow, picked up speed in 2011-2016, and slowed again, with only 16 posts in 2018, and 1 in 2019. He promises fans of the blog that he will be posting more frequently again. Ali posts mainly about Blues History but has been known to posts bits and pieces on Blues News.
19. The Blues and Roots Music Blog (thebluesmusicblog.blogspot.com)
Marty owns a record store. Also known as a music store (considering vinyl LPs have only made a comeback in recent years.) This music blog is dedicated to all Blues and Roots music. Click on any album cover, and you can read a review.
20. Twangville (twangville.com)
A music blog featuring Alt-Country, Americana, Indie, Rock, Folk, and Blues.
This blog has been going since 2005. It was started as a place to post playlists for friends. 15 years later, they must be doing something right!
The layout makes it easy to navigate. A panel down the left side will take you to Reviews, Why it matters Interviews, Weekly Playlist, Reader's Picks, Weekly email updates, and a release calendar.
21. Reggaemani (reggaemani.wordpress.com)
The founder of this musical gem is from Sweden. Eric Magni is the sole editor and writer of the blog. A self-confessed music addict and record collector, he has put together a fine tribute to the genre that is Reggae.
In Eric's own words, "Reggaemani is a music blog dedicated to reggae music and culture. It covers almost all aspects of reggae and its many subgenres, including ska, rocksteady, early reggae, roots, dub, dancehall, and ragga. Reggaemani aims to broaden musical horizons and cover new and veteran artists and groups from all around the world.
The site is based on interviews, columns, news, and reviews of records, books, and documentaries. Interviews range from widely known singers like Stephen Marley, Maxi Priest, and Busy Signal, to lesser-known artists like Hezron and Kiddus I. Covered are also the people behind the scenes – producers and label owners.
22. Country Thang Daily (countrythangdaily.com)
This is quite a commercial-based blog. News and highlights from the world of Country Music.
23. Indie Shuffle Music Blog (indieshuffle.com)
This blog isn't a blog. But every single song on the site is accompanied by a written review and a listening option, going back all the way to 2010. Founded by Jason Grishkoff, this music blog has remained consistent for the last 10 years. Along with a fairly large team of editors, writers, and contributors, Indie Shuffle reviews 15 songs every month.
What we have here is an awesome collection of songs. You can access the best new songs by going to the Home page, or go through each year and month. Each month features 15 reviewed songs.
And, of course, you can play and listen to every single song too! This one is definitely worth bookmarking.
24. World Music Central (worldmusiccentral.org)
Your connection to traditional and contemporary world music, including folk, roots, ethno, and global fusion.
This site has articles of high quality. You'll find CD reviews, artist interviews, and extremely well-written articles with titles like:
The wonderful experimental folk of the Rheingans sisters
Spirited Venezuelan Plains Music in Spanish and Pumẻ
Rediscovering the wonderful fiddle sound of Jutland
The world resources section is also great. Click on that, and you get to choose a musician biography from any country, literally from A-Z. Go to glossaries, and you'll find a list of musical instruments from across the world.
Another blog to bookmark, for sure!
25. Awesome Tapes of Africa (awesometapes.com)
I added this blog because of the fantastic African music I could access. In many African countries, they still produce tapes! And it's normal to find these cassettes getting sold at roadside markets and from street vendors. Two days ago, I stumbled onto this site, and now when I went back to do the write-up, it's down.
But they say it will be back in 2 days. I really hope it gets back online. It is a wonderful resource for listening to African music that will never make it in the mainstream music world. The talent is phenomenal.
You can also read about: Best Travel Blogs and Bloggers
Music blogs featuring children's music
26. Minds On Music (kindermusik.com/mindsonmusic/)
Kindermusik is a child development education model that helps to develop cognitive, sensory, and fine motor skills. Also, musical skills and socio-emotional development is furthered. They have studios around the world, and 2020 saw the introduction of digital classrooms.
The blog is called Minds on Music. If you land on kindermusik.com's homepage and hover over the About heading, you will find the blog. Expect great blog posts like:
3 Ways Music-Based Rituals Help Alleviate Back-To-School Changes
7 Ways To Make Musical Moments At Home
27. Zooglobble (zooglobble.com)
A blog dedicated to finding and reviewing kids' music. This blog is excellent, and it's not just for kids! Discover new instruments and sounds from classically trained musicians. Listen to musicians that play traditional instruments from around the world. This blog is loaded with fantastic resources for parents and kids to access.
You may also like: The Best Mom Blogs and Bloggers.
Music blogs that focus on teaching music and musical education
28. Musicaroo (musicaroo.com)
Singing, Violin, Trumpet, DJing, Guitar, and Fun.
These are the categories on Musicaroo's site. And you'll find useful advice in the blog's posts. Camila Rabin is a music teacher, and as such, this blog is dedicated to teaching aspiring singers and musicians how to become better at what they love doing.
Besides cool articles with titles like:
Breathing Exercises for Singing
How to Ship a Guitar Without a Case (So it arrives safely)
Who Invented the Trumpet? (And a History of the Trumpet)
You'll also find reviews on what microphones, guitars, trumpets, and DJ equipment to buy.
29. Take Lessons (takelessons.com/blog/music)
A great resource for tutorials, guides, and step-by-step instructions on how to play instruments, from guitar to piano to ukulele. The site also offers courses in languages, academics, and the performing arts. The blog posts cover all these topics.
30. Ukulele Music Info (ukulelemusicinfo.com)
Learn to play the ukulele. Enjoy reading blog posts with titles like:
55 Famous Ukulele Songs
55 Plus Famous Ukulele Players You Should Know About
11 Ukulele Apps
You'll also find guides on guitar playing and reviews on ukuleles, guitars, and their accessories.
31. Thinking About Music (thinkingaboutmusic.com)
This is " a multi-authored academic blog on all aspects of music. Created with the intention of collaboration, communication, and exploration." Dr. Zach Moir is the editor, and an impressive team of musical academics backs him up. This aspect of the music world is fascinating and informative. Anyone interested in getting into the academic side of music will enjoy these blog posts.
Typical blog post titles include:
Remembering Keith Tippet
How Does This Work Then? (for music cello)
My Top 5 Songs of 2017
32. Alfred Music (alfred.com)
"We Help The World Experience The Joy Of Making Music"
Alfred Music, the institute, has been going since 1922! You'll find resources here that cover methods, techniques, performance, and reference materials for students and teachers. They have helped over 10 million people to teach, learn, and play a wide variety of instruments, using their pedagogically sound methods. I had to look up what pedagogical means. It means teaching through theory and practice, using influences that are social, political, and psychological. Nice!
33. Brassy Bone Blog (trombonelesson.com/blog)
Brassy Bone blog is authored by Diane Liechty, trombone musician, childcare provider, and the founder of Trombone Lesson (dot com). But you'll find articles that cover way more than just the art of playing trombone. Here are the 4 most recent blog posts:
8 Instruments That Will Make You A More Valuable Musician
10 Best Music Blogs For Music Students
Best Boston, Somerville, and Cambridge Area Music Stores
5 Ways To Be Successful Learning Trombone
You may also like: Best Male Blogs To Follow
34. Rachel Rambach Listen and Learn Music (listenlearnmusic.com)
Rachel Rambach is a board-certified music therapist and the creator of "Listen and Learn Music." She has created a book of educational and innovative songs and materials for music therapy students. Her blog also focuses on how music therapists, students of music therapy, and interns can make a living from their passion.
Music Blogs that talk about music production, instruments, and best equipment (music blogs for musicians)
34. Optoproductions (optoproductions.com)
"Everything Music Production"
Melvin Rijlaarsdam studied composition and music production. He's played music since he was a small child, drumming on pots and pans and eventually progressing to actual instruments, the guitar being one. After he graduated, he noticed much of what he was taught wasn't readily available online. This blog is his contribution.
Blog post titles include:
Can I Master My Own Tracks?
What Is Fader Riding?
8 Creative Ways To Use Distortion In Your Tracks.
36. Sound-Unsound (sound-unsound.com)
This blog is a review site, authored by sound engineers and musicians. It is a resource for musicians and people wanting to get advice on what instruments and accessories to buy.
Their target audience is people who want to study music production or learn to play a specific instrument. You'll find info on string and wind instruments, piano, guitar, and percussion.
37. Music Radar (musicradar.com)
Music Gear, Equipment, News, Tutorials, and Reviews
Here are the most recent blog post titles:
Nine Inch Nails' Alessandro Cortini is selling his ultra-rare Buchla 406 Synth: "If you know what this is and you're interested, DM me. If you need to ask the price, you probably can't afford it."
The Beginner's Guide to Garage Music.
Learn some new old-school heavy metal with Spirit Adrift's Nate Garrett.
Behringer's first ARP 2500 Eurorack modules are here, and they're seriously cheap.
38. Pro Musician Hub (promusicianhub.com)
Pro Musician Hub deals with music, musicianship, promotion, production, distribution, and music business. Their mailing list goes out to over 30,000 artists every month.
Here's what you can look forward to from this blog:
Here's how much Apple music pays you per stream.
How non-exclusive music licenses work in the music business
How to get your music on Pandora
9 Best music industry blogs for Indie musicians
You'll also find a plethora of info on:
Music learning apps
Production software
Digital distribution
Promotion strategies
Brilliant Music Sites Without Blogs
39. EveryNoise (everynoise.com) Best music blog for discovering and listening to new genres
This site will blow your mind! Literally. Every genre that exists is right at your fingertips. Algorithms connect you to an astounding 4798 genres. You can choose to explore by country or type an artist's name into the search bar to get the genre.
Every single genre is accompanied by samples. This site is mind-blowing. And loads of fun.
Discover Dutch Experimental, Korean Punk, Japanese Black Metal, Orquesta Cubana, and 1000s more!
40. Truefire (truefire.com)
The world's leading online guitar academy
And "the #1 most trusted online resource for guitar players of all skill levels."
This site gives you access to over 40,000 video guitar lessons. It's free to join. Once you log in, you fill out a form with your skill level, guitar and music style preference, and your level of experience. From there, you get guided to the relevant "Learning Path" and "personalized course recommendations."
Conclusion
Here's what I learned from writing this article on the Best Music Blogs of all time.
Music blogs are blogs that go beyond text and images.
They are unique; they often don't fit the "blogging formula."
Music bloggers are a lovely blend of die-hard music lovers and experienced artists and music educators.
Music bloggers blog for the love of music more than the blog for revenue (compared to other niches).
There are so many niches for music blogs, and it makes sense to me why they remain in the top 10 Blogging Genres.
Whether you want to listen to old music, discover new music, sell your music, learn to play musical instruments, or just indulge in your favorite musician, there's a music blog out there just for you!
Got any music blogs you think I should know about? Please tell me about them in the comment section. And if you want to stay up to date with our latest tips and advice on blogs and blogging, it's easy! Subscribe to our newsletter!
And Keep on Rockin' to Da Riddim! One Love!