Getting married is one of life's major events. No matter how simple or extravagant you want it to be, it still takes an inordinate amount of planning and attention to detail. Thank goodness for wedding blogs!
Wedding blogs can make the planning of a wedding far less stressful than it needs to be. They cover all the important aspects. Whether you opt for a small intimate affair or a grandiose proclamation of your undying love for each other, it takes proper planning, a budget, and a few good wedding blogs!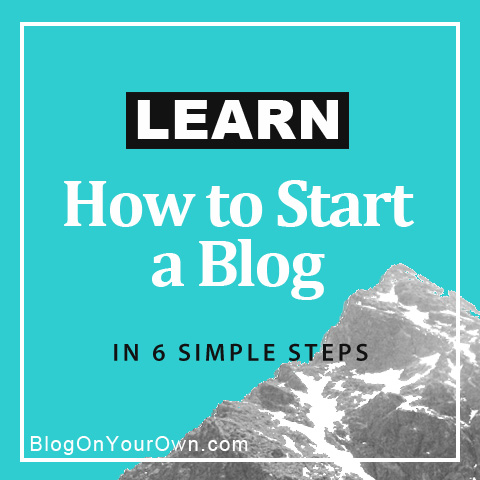 Those who can afford it, hire wedding planners to take care of all the essential details. But most brides (and sometimes the grooms too) have been dreaming of this day since forever! And they'll be scouring wedding blogs, for tips and ideas, on how to pull off a wedding that reflects their style. But still fits their budget.
The wedding blogs featured here are loaded with original wedding ideas, reliable resources, and sometimes even free giveaways. You'll find everything you need to make the big day unique and unforgettable.
So let's jump straight in!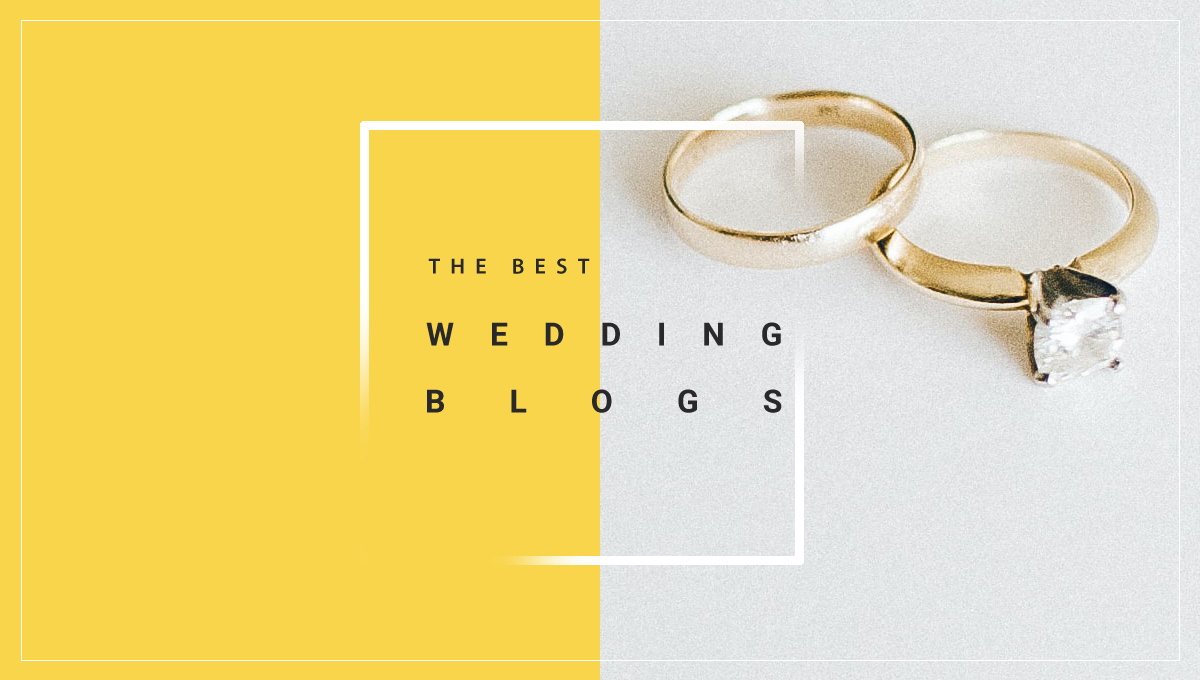 Wedding Blog Essentials
Wedding blogs are created to act as one-stop-shops for couples to find vendors, dresses, rings, venues, and more. Besides wedding blogs are often found on websites of businesses that have something to do with weddings. Wedding planners and wedding photographers often have wedding blogs on their sites.
For example, my friend hires out stretch tents for events. But a fair amount of her clients hire the tents for wedding receptions. So she has included a blog with content aimed at people who are looking for wedding venues, unconventional celebrants to marry them, DIY wedding bars, and even honeymoon venues. She also includes a detailed resources page, where you can find everything from ice suppliers, to getting licenses to sell alcohol (if it's not at a venue with an established bar), to musicians and caterers.
Wedding ideas and inspiration
Wedding Blogs are excellent resources to get your wedding ideas and inspiration from. A good wedding blog will cover every aspect that goes into planning a wedding. Here's a list of almost everything that a bride and groom (or the wedding planner) need to plan for:
Invitations
Venue – for the ceremony and the reception
Accommodation for out of town guests
Music (you can also check best music blogs)
Bridal party
Drinks
Catering
The Outfits – from the wedding gown and groom's outfit to the bridesmaids and groomsmen's attire. Even extending to the mother of the bride, at times.
The Reception
Registry
Music and /or entertainment
Speeches
Photography/Videographer
Gifts for the Bridal Party
The Rings
Hair and Makeup (see best beauty blogs for inspiration)
Finding a celebrant to officiate
Transport to and from the Church, Temple, Magistrate's office, Reception, etc.
Flowers
Honeymoon
The main topics
Wedding blogs also cover topics like:
Wedding etiquette
Wedding traditions in different cultures
Weddings from around the world
Financial advice: How to budget, or save, for the big event
Legal obligations and contracts
Destination weddings
Elopement (yip, you can now plan an elopement, it's quite the trend nowadays)
Relationship advice
I'm excited about the best blogs I get to share with you today. They are all successful and each one has something unique to offer. The success of a blog relies on good content, trustworthy resources, quality images, and consistency. It's the same for wedding blogs. So without further delay, let's get started.
My Top 17
Forget diamonds!
Pinterest is a girl's best friend!
Especially when it comes to planning for your dream wedding. If you are a bridezilla in the making and have a vision board the size of a small country…..there is no better place to draw inspiration from. And almost everything on Pinterest comes from blogs and websites.
But weddings are expensive affairs. In today's economic climate people feel the squeeze. And as such, many soon-to-be-married couples take on the tasks that would previously have been shopped out to a professional wedding planner (who comes with a legion of worker bees and a large network of contacts).
By curating this list of fantastic personal blogs, I hope to save you some time (and money – see: The Best Personal Finance Blogs} so you can get the ball rolling for the upcoming nuptials!
1. Junebug Weddings (junebugweddings.com)
Best Wedding Blog Directory
Junebug Weddings is a long time favorite wedding blog of mine, for several reasons. The main one is that it's such a good example of what a successful blog looks like. It also shows that you don't have to be part of a major media company to get ranked high by Google. Another factor that makes it a great blog is, of course, the content.
This blog delivers on so many levels. It displays a wide range of topics without straying from the main theme (weddings). It has managed to get through to the target audience, (people getting married) but it also appeals to people who just enjoy the artistic aspect of the photography and inspirational ideas. I love the way it mixes affiliate marketing with the information that brides and grooms are looking for, in such a natural way, making it unobtrusive and genuinely helpful.
Jam-packed with advice
It's jam-packed with advice that you can use, regardless of how far along in the wedding planning process you are. And even if you're not getting married it has trendy, stylish content on decor, photography, and travel (destination weddings). But it never loses the feel of being a wedding blog.
It acts as a global directory for wedding vendors. They supply links to photographers, videographers, venues, wedding planners, and florists.
And welcome everyone in the wedding business to submit info so they can grow their directory. It's a fantastic resource for any couple planning a destination wedding. Want to get married in Morocc, Spain? Or South Korea? Or Vietnam? You can find the relevant info here. And we haven't even mentioned Junebug Weddings' blog yet!
The blog content is above average, in quality and quantity. You can submit your wedding, to be featured, or if that's not your style, you can still enjoy engagement and wedding photos from weddings around the world. Or get inspired by the "ideas" category.
They even have photo contests for wedding photographers. The categories include destination, engagement, and wedding photos.
Expect to find blog posts like these:
How To Make The Most of Your Wedding Hair and Makeup Trial
8 Outfit Ideas for Summer Engagement Photos
9 Wedding Trends Inspired By Recent Celebrity Weddings
2. Brides (brides.com)
Best Wedding Blog For Ideas and Inspiration
There are 7 main categories on brides.com. They are as follows:
Rings
Real Weddings
Ideas & Advice
Fashion & Beauty (see also the best blogs for women)
Showers & Events
Registry & Gifts
Relationships
This wedding blog has an amazing array of inspirational posts. From current news like Brooklyn Beckham's Rumored Wedding Sparkle to facts on the meaning of the historical Claddagh ring. You'll find practical advice in the Complete Guide on How To Set A Diamond Ring.
This is truly an exceptional blog. They have covered everything you can think of.
Love & Dating
Marriage Proposal Ideas
Wedding Guest Attire
Celebrity Wedding & News
Flowers & Bouquets
Destination Weddings
Venue
Wedding Decor
In fact, Junebug may have to take second place to Brides.
3. The Knot (theknot.com)
Best Wedding Blog For Virtual Wedding Planning
The Knot is laid out to make planning your wedding as streamlined as possible. Under the section "Planning Tools", you'll find a dashboard where you can record and plot out what you need to do before the big day. It's very handy and I think brides will enjoy using this site to keep their plans on schedule.
When you use the "Vendors" section, all you have to do is enter the category, reception venue, photographers, etc. Add your State, or the State you want to be in for your wedding. And go from there.
Ideas and Advice is the main feature of this wedding blog. Here you'll find great content on all things "wedding." But my favorite tool on this site is, for sure, the Registry section. You can create your entire Registry from The Knot. It's awesome! It's every woman's online fantasy shop fest! I created my own just for fun!
4. Style Me Pretty (stylemepretty.com)
Style Me Pretty is a veritable treasure trove of wedding inspiration, a digital sanctuary where dreams of the perfect wedding day take shape. With a reputation that precedes it as a pioneer in the world of wedding blogs, Style Me Pretty has earned its place as a beloved beacon for couples seeking creativity, elegance, and authenticity in their nuptial celebrations.

The blog's virtual pages are an enchanting gallery, showcasing a symphony of real weddings, styled shoots, and captivating editorials. Each photograph is a brushstroke on the canvas of love stories, capturing the essence of couples' journeys with a blend of artistry and emotion. From opulent ballroom affairs to intimate elopements in the wild, Style Me Pretty embraces the diversity of love, celebrating it in all its forms.


Beyond the captivating visuals, Style Me Pretty serves as a lighthouse guiding couples through the tumultuous seas of wedding planning. Its pages are adorned with advice on everything from floral arrangements and colour palettes to table settings and bridal fashion. The blog's voice is both friendly and knowledgeable, offering insights that feel like counsel from a trusted friend who knows the ins and outs of wedding preparation.

Style Me Pretty is not just a blog; it's a curation of dreams, aspirations, and moments frozen in time.
Some Recent Blog Post are:
Springtime Wedding Inspiration At Chateau Martinay In The South Of France
A Wow-Worthy Wedding Inspired by Summertime in Montana
Classic Southern Charm at Kiawah Island Golf Resort
5. Wedding Wire (weddingwire.com)
Best Wedding Blog Forum
And just when I had finished gushing about The Knot's awesome concept for planning your entire wedding online, I came across WeddingWire. They have the same concept and tools available.
WeddingWire has an active forum. It's a great idea to create space for an online community. You can ask questions and get advice, based on other's experiences, as well as share your own.
Both sites carry the same information on a lot of things, like the wedding dress designers and the venues, for instance. But they are displayed differently and although similar, are not identical.
You set your search filters based on budget, location, tastes, and preferences.
WeddingWire's blog appears under the title "Ideas". They cover topics like:
24 Honeymoon Dresses for Your First Newlywed Vacay
These 15 Cabin Wedding Venues Have All the Rustic Vibes
The Prettiest Floral Bridal Earrings for a Garden-Chic Look
31 Beautiful Dresses to Wear to Your Next Summer Wedding
6. Here Comes The Guide (herecomestheguide.com)
The Original Wedding Blog Database!
This blog started before the internet even existed! When Lynn Bradwell was planning her wedding, back in 1989, she wanted something less conventional than the normal. But couldn't find enough information to choose an alternative wedding venue.
And that was how the company started. Today, herecomestheguide.com remains a small "GirlPower" based company that offers couples a personalized, streamlined-yet-sassy service.
You immediately get the feel that this blog is personal, professional, and fun. It has stood the test of time. Not only is it the forerunner of the wedding blogs we have today, it is still at the top of its game.
It maintains a clean, stylish design. It exudes simplicity and femininity. You can find everything you need here. From what you should be adding to your checklists to getting ideas for flowers, venues, photographers, accommodation, and transport. Their content is spread out over each category, so you won't find a separate "blog". But you will find info on all types of wedding scenarios from barn weddings to beach weddings.
7. My Wedding (mywedding.com)
Best Wedding Blog Posts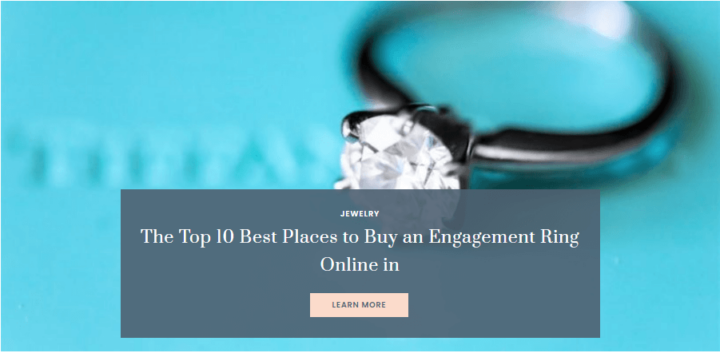 MyWedding.com is split into 5 simple categories:
Engagements
Wedding Planning
Fashion and Beauty
Jewelry
Travel
The Travel section covers honeymoon and destination wedding planning. Many wedding sites offer services like finding venues and vendors. Or creating a virtual wedding planner. But this is purely a blog and it has a fantastic selection of articles, under each category.
You'll find loads of reviews because mywedding.com is also an online shopping experience. You can buy everything from wedding gifts to decor to bags, shoes, dresses, and even furniture.
In "Engagements", you'll find 3 subsections, rings, parties, and proposals and announcements. Here are some examples of post titles:
15 Elopement Dresses Just as Special as the Day Itself
14 Chalkboard Details for Your Modern Wedding
9 Sparkly Mother of the Bride Dresses That Are Totally Wow Worthy
14 Denim Must-Haves to Pack for Your Honeymoon
In the "Travel" section, you can browse idyllic honeymoon destinations or get expert advice on how to plan the perfect destination wedding. This blog is easy to navigate and has plenty of content on celebrity weddings and who wore what.
Definitely worth bookmarking if you want to follow some good wedding blogs.
You may also like: Best Christian Blogs for You.
8. HuffPost Weddings (huffpost.com/life/topic/weddings)
HuffPost Weddings stands as a virtual sanctuary for couples embarking on the journey of a lifetime. Nestled within the vast digital landscape, this blog is a compass, guiding soon-to-be-wedded pairs through the intricate tapestry of wedding planning with wisdom, inspiration, and practical advice.

With its finger on the pulse of modern love, HuffPost Weddings bridges the gap between the timeless and the contemporary. Through a mosaic of articles, real-life love stories, and expert insights, it captures the essence of matrimony in all its myriad shades. From intimate elopements to grand celebrations, the blog beautifully weaves tales of commitment, promising a space where every couple's unique narrative is celebrated.

HuffPost Weddings is not confined to the romantic crescendo of wedding vows alone; it is a comprehensive compendium that understands the holistic essence of the wedding experience. It delves deep into the art of wedding planning, offering meticulous advice on budgeting, venue selection, guest list management, and the myriad other elements that comprise the grand symphony of the big day.
9. Wedding Spot (wedding-spot.com)
Top Wedding Blog for Venues
Wedding Spot is a site that focuses exclusively on wedding venues. It offers an extensive database for couples to browse through. You can find wedding venues, venues for engagement parties, and venues for destination weddings.
The venues can be barnyard, beach, church, temple, private estate, loft, etc.
Have your wedding at a historical landmark or somewhere with a beautiful backdrop of mountains. Enter a location and find venues with price information. Search for budget venues, rustic venues, or nature venues, like a park, garden, or rainforest.
The blog, however, has content on everything that falls under the topic of "Getting Married".
Most recent blog posts include:
Beach Wedding Ideas You and Your Guests Will Love
The Minimalist Wedding Trend Explained
Mother-Son Dance Songs for Any Wedding Theme
April Showers Bring Beautiful Spring Wedding Flowers
A 6 Month Wedding Planning Timeline for Couples Getting Hitched in a Hurry
10. A Practical Wedding (apracticalwedding.com)
Best DIY Wedding Blog
This wedding website is perfect for DIY wedding planning. If you are not hiring a wedding planner to take care of everything, including the budget, this is where you need to be. Apracticalwedding.com was started in 2008, by Meg Keene. She got inspired to start a blog after she became engaged.
So, you know how some people like lists? I mean, like really like. If you are that person this wedding blog will knock your socks off! It's the ultimate blog for spreadsheets and lists! Meg and her small power team of "mostly women" have your wedding spreadsheets all lined up for you. You can download 10 separate spreadsheets or the entire workbook. Or just work online through google.docs, and have everything saved in the cloud.
You can leave your email and receive a complete Wedding Checklist Ebook. In addition, you might want to access the Complete Wedding Workbook for either a Formal Wedding or a DIY affair. Also free.
Besides nifty features like this, you will find articles that advise on everything you can imagine. APW has a vendor database but they don't feature venues. They do have ample advice on issues you may never think twice about. Like this article, "How to tell your guests they have been uninvited to your wedding."
The Wedding Advice column
The Wedding Advice column is the main body of the blog, although you'll find content in every category. Wedding Advice category is broken down further, into these sections:
Etiquette
Friends & Family
Wedding Party
Guest List
Love and Marriage
Crowd-Sourced Advice
Getting Married in Pandemic
All Advice
This company is all about giving you the tools to plan and execute an awesome DIY day to remember. Check out APW's DIY section for inspiration and ideas:
Then there's "Real Weddings". You can gain valuable insight into planning for:
Weddings under $10k
Weddings under $20k
Large Weddings
Small Weddings and Elopement
City Hall Weddings
Backyard Weddings
LGBTQ Weddings
All Real Weddings
This blog has 700,000 readers per month! A direct reflection of how practical and handy this blog is! They claim to be the biggest independently-owned wedding site online and appear in the World's Top 5 Wedding Publications in English language.
11. One Fab Day (onefabday.com)
The No.1 Wedding Website in Ireland
One Fab Day is based in Dublin, Ireland. One Fab Day was founded about 10 or so years ago, by Naoise Mcnally and Susan Gallagher.
If you are getting married in Ireland, you'll get more than just excellent content. You will find vendors and wedding suppliers across Ireland. And get resources from the invites to catering, dresses, and cakes. There are fantastic write-ups on Irish Bridal Boutiques. And they showcase designers from places like New Zealand and Australia.
This site is very polished. A lovely combination of sleek yet whimsical. But always professional. A lot of organizing and planning has gone into this site. It deserves the title of No.1 Wedding website in Ireland.
12. Wedding Bells (weddingbells.ca)
Canadian-Based Wedding Blog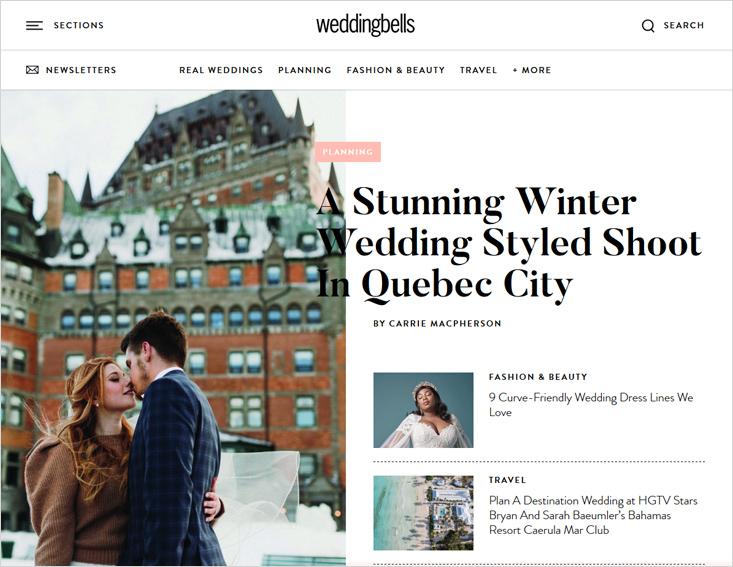 Canada-based wedding site. The content is divided into 6 sections:
Planning
Real Weddings
Fashion and Beauty
Travel
Local Vendors
2022 Wedding Trens
This blog's theme is almost identical to onefabday.com's theme and layout. But the content is completely different and original. If you are planning to get married in Canada, weddingbells.com has everything you need. Under "Real Weddings" you will find stunning wedding photos of venues around Canada.
This is very much a professional site. It contains a lot of sponsored content. It is one of the ways blogs make money.
Here are three recent blog post titles:
5 Wedding Registry Dos and Don'ts
14 Things You Didn't Know You Could Put on a Wedding Registry
Unique Wedding Songs That Your Guests Will Love
13. Woman Getting Married (womangettingmarried.com)
A Great Wedding Blog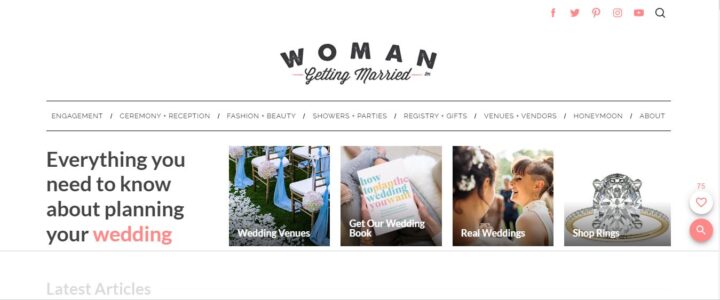 Woman Getting Married is a popular wedding blog that provides a wide range of resources, advice, and inspiration for brides-to-be. The website offers articles, tips, and recommendations on various aspects of wedding planning, including venues, vendors, wedding dresses, decorations, and more.
On the Woman Getting Married website, you can find information about wedding venues and locations, along with venue reviews and recommendations. They also provide a directory of vendors, including photographers, florists, caterers, and more, to help couples find the right professionals for their wedding day.
The website features articles and guides on wedding planning topics such as budgeting, guest list management, wedding etiquette, and timeline creation. They also provide inspiration through real wedding features, showcasing the unique and beautiful celebrations of couples from around the world.
Additionally, Woman Getting Married offers tools and resources like wedding planning checklists, budget calculators, and a wedding planning podcast to assist couples in organizing and executing their dream weddings.
Find the podcast, The Forever Bride Show, on YouTube. You may also like: How to start a podcast.
14. Wedgewood Weddings (wedgewoodweddings.com)
A Remarkable Approach to Romantic Weddings
Wedgewood Weddings offers 57 venues, mainly in California and Colorado. But they also have a few options in New England, Texas,Arizona and Nevada. Once you choose your venue you can sign up (no strings attached) and choose your package.
The package includes things like catering, the officiant, reception details, music, and the decor. It will also depend on the venue chosen. The packages start with a basic "Build your own" and end with the Elite, where absolutely everything is done for you.
They have a great blog with articles like:
50 Questions: Deepen Your Romantic Connection
Your Go-To Wedding Vendor Checklist
How To Get A Wedding Team Just for You
Save The Date Cards: Etiquette & Trends
Win Back Your Time: Wedding Planning Made Easy
15. Offbeat Wed (offbeatwed.com)
Best Indie Wedding Blog
Okay, so with a name like Offbeat Wed, you know off the bat, this is going to be a wedding blog with a difference. And it is! It's kinda like a breath of fresh air, even though Ariel Meadow Stallings' language gets quite colorful at times. I love her! She's real, quirky, and fun. And her blog is really cool. What I love most is how her personality comes through.
First and foremost she's an author. She has three published books . You can find the details at offbeatwed.com. There is also a sister site called Offbeat Home & Life.
But back to Offbeat Wed. Let me tell you a bit more about this blog. When you arrive you land on the blog and can dive straight in. Read articles on real offbeat weddings, and much more.
Ariel's 3 categories are Vendors, How To, and Shop. One of her main affiliates is Brilliant Earth, a jewelry vendor. She also has a resources section where you can find vendors that cater specifically to a clientele that want non-traditional, alternative weddings. Clicking on "vendors" will take you to offbeatwed.com/wedding-vendors/ and from here you will find the drop-down menu with categories on everything from Attire & Accessories to Venues & Transport.
Then there are the blog categories, you can dig into the archives and find more whacky, original, and totally inspiring content.
Find online vendors from the United States, Canada, the UK, Ireland, Australia, and New Zealand.
16. Bridal Musings (bridalmusings.com)
Best Romantic Wedding Blog
Bridal Musings follows the same pattern as many of the popular wedding blogs. They too have the general categories that include real weddings, fashion, decor, travel, planning, and beauty. Also, in the top, right-hand corner you'll find Inspo & Advice, Wedding Shop and Tools & Resources.
The content is helpful and interesting. And the high-quality photos and images are stunning. Read their featured destination wedding article that took place in Carmel Valley Ranch. It was a luxurious, fairytale affair, you'll be blown away by the photos, and be warned, you may turn slightly green, with envy!!
Here are bridalmusings.com's latest posts:
The Ultimate Guide: Choosing the Perfect Manly Band for Your Man
This Zion National Park Elopement Shows Why Sunrise Weddings Are Worth It
A Perfect Fit: The 25 Best Plus Size Bridesmaid Dresses
This is yet another awesome blog to shop from if you're planning your wedding. It has a very definite "feel." Luxurious, sophisticated, romantic, and feminine.
17. Bridal Guide (bridalguide.com)
Best Bridal Magazine
Last but not least, we are going out with a bang! The fabulous Bridal Guide is an actual printed magazine that you can subscribe to. But if you prefer online reading, they have done a beautiful job here too.
Bridal Guide pays attention to every detail you can think of. It's a very easy site to navigate because under each category you will find a drop-down menu, with the subcategories. Click on any one of those and you get a boatload of content to read through. Each post is accompanied by breathtaking photography.
They regularly run competitions. At the time of writing, they had their cover wedding gown up for grabs as well as Mexican Honeymoon Package. To give you an idea of how detailed, yet simplified, the site is click on the heading "Planning." There you'll find three subheadings; Getting Started, Etiquette & Advice, and Details. Under each of these headings, you get given an entire list of relevant options. From Etiquette Q & As to Thank You Notes to Favors & Gifts, it's all here.
Here's a sample of their most popular articles:
All About Britney Spears' Gorgeous Wedding Rings
Sweet Father/Son Moments
7 Unique Ways to Honor Your Mom on Your Wedding Day
9 Signs You're in the Right Relationship
Top 10 Flowers for Spring Weddings
Another great feature is the Bridal Guide slideshows. And don't even get me started on the Wedding Gown section. Of all the blogs I found Bridal Guide had the most interactive Wedding Gown feature. Here you get to scroll through the top bridal gown designers, fill out your preferences, and also view the 'Quick Search" gallery.
There Goes The Bride…
I sincerely hope this short guide on the Best Wedding Blogs has not left you feeling totally overwhelmed! I think it would be a wise decision to start planning your wedding right now, regardless of whether you actually have a partner in the wings or not. There are way too many choices and I can only give you one piece of advice. Just breathe!
I think I am finally starting to understand why some girls have been planning their weddings since forever. And I'm also starting to see the upside of divorce… you get to plan another fantasy wedding one day! LOL!
Are you in the process of planning your wedding or have you recently tied the knot? Give me a shout out. And share your favorite wedding blogs with me in the comment section below.